Syria violence fuels kidnapping threats in Lebanon
updated 10:31 PM EDT, Wed August 15, 2012
STORY HIGHLIGHTS
Saudi Arabia, Qatar, the UAE and Kuwait urge their citizens to leave Lebanon
Family of a man held by Syrian rebels claims retaliatory abductions
Lebanon's president says "spreading chaos" won't help
Beirut, Lebanon (CNN) -- Several Persian Gulf states called on their citizens to leave Lebanon on Wednesday after the civil war in neighboring Syria fueled protests and kidnapping threats there.
Groups of youths protesting the abduction of a Lebanese citizen by Syrian rebel forces burned tires and blocked the road to Beirut's international airport late Wednesday as soldiers in riot gear and armed with tear gas stood by. Saudi Arabia, Qatar, Kuwait and the United Arab Emirates urged their nationals to get out of Lebanon immediately, with Kuwait warning of a "deteriorating security situation" in the country.
The UAE said its embassy in Beirut had been warned that Emirati citizens were targets of possible kidnappers "because of the difficult and sensitive circumstances in Lebanon," Undersecretary of the Foreign Ministry Juma Mubarak Al Jenaibi told the state news agency WAM. And Saudi Arabia noted "threats by unknown sources to abduct Saudi nationals and others" in urging its people to get out.
Lebanon is now hosting 36,000 Syrian refugees, and the conflict next door threatens to upset the careful sectarian political balance that has managed to prevail since the end of a 15-year civil war in 1990. President Michel Sleiman called on all parties to keep the peace and to stop threatening to kidnap anyone.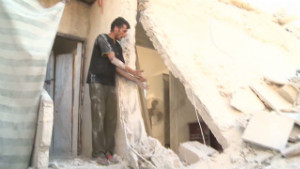 Syrian regime attacks hospital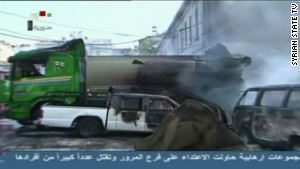 Tanker explodes near Damascus hotel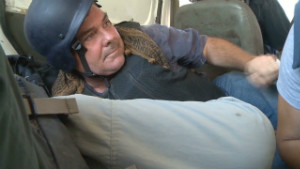 CNN crew sneaks in and out of Aleppo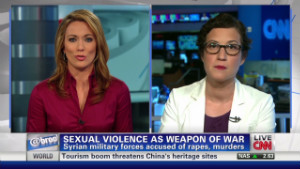 Sexual violence as weapon of war
"Spreading chaos does not bring back any kidnapped nor restores any right," Sleiman said in a statement quoted by the official news agency NNA. "Instead, it shatters all rights and endangers the lives of citizens, and threatens the state's entity which guarantees people's lives and rights."
Lebanon was long dominated by Syria, which kept troops there until 2005. It supports the anti-Israel militia Hezbollah, the Shiite Muslim movement that has become a powerful force in Lebanese politics. Saudi Arabia, Qatar and the UAE, along with Turkey and some Western powers, have been supporting the Syrian opposition, while the Lebanese are split between supporting the opposition or the embattled government of Syrian President Bashar al-Assad.
The latest unrest in Lebanon was triggered by the kidnapping in Damascus of a Lebanese man, Hassan Salim Meqdad, by Syrian rebels who accused him of being a Hezbollah member. The rebel Free Syrian Army distributed a "confession" by Meqdad in which he said he was one of 1,500 Hezbollah fighters operating in Syria.
In response, Meqdad's brother Hatem Meqdad told Lebanon's state news agency that his family had kidnapped 26 Syrians living in Lebanon and warned that citizens of the Persian Gulf monarchies and Turkey would be next. Two of the captives were displayed for cameras, appearing beneath a black tribal banner.
The violence in Syria has been spilling over into Lebanon since May, when a group of Shiite pilgrims were kidnapped in Syria. That has raised fears that factional rivalries could erupt into outright warfare in a country where power is constitutionally balanced among Shiites, Sunni Muslims and Christians. A series of gun battles, riots and angry protests that month left at least 11 people dead that month.
CNN Correspondent Arwa Damon contributed to this report.

Part of complete coverage on
Syrian crisis

There's more to the Syrian civil war than rebels versus the regime. Syria's neighbors in the Middle East also have a stake in the conflict.
updated 5:13 PM EDT, Thu May 9, 2013

Israel is taking steps to defend itself against threatened retaliation from Syria after claims it launched airstrikes on Damascus.
updated 12:36 PM EDT, Tue May 14, 2013

Domestic political will is a necessary for intervention and polls show Americans are reluctant to support military interventions in Syria.
updated 1:38 PM EDT, Mon May 6, 2013

Syria's claim that Israel launched airstrikes presents a dangerous escalation of Israel's involvement in Syria's war, writes Fawaz Gerges.
updated 5:41 AM EDT, Tue May 7, 2013

The U.N. says a Syrian rebel group may have used a nerve agent -- it would not be the first time the al-Qaeda-affiliated group used chemical weapons.
updated 2:00 PM EDT, Wed May 1, 2013

Having willfully avoided direct military involvement in Syria for the past two years, Obama may not be so lucky anymore, writes Aaron David Miller.
updated 5:44 AM EDT, Fri May 10, 2013

What began as a protest movement became an uprising that metastasized into a war, a vicious whirlpool dragging a whole region toward it.

A devout man prays. A fighter weeps over a slain comrade. These are a few faces of the Syrian conflict captured by photographer LeeHarper.
updated 4:59 AM EDT, Thu April 25, 2013

A group of pro-Syrian regime hackers that has targeted major news organizations but its cyber attacks can have real-life impact.
updated 6:24 PM EST, Thu March 7, 2013

The role of women in Syrian uprising is little reported, but many have played a key part as activists and medics since the bloodshed began.

Are you in Syria? Share your stories, videos and photos with the world on CNN iReport, but please stay safe.