Assange asylum decision coming Thursday, Ecuador says
updated 12:13 AM EDT, Thu August 16, 2012
STORY HIGHLIGHTS
Foreign Minister Patiño announces an announcement -- on Thursday
WikiLeaks founder Julian Assange is holed up in Ecuador's embassy in London
Patiño says British authorities have threatened to "assault" the embassy
"We are not a British colony," he says
(CNN) -- Ecuador's foreign minister says his government has made a decision on WikiLeaks founder Julian Assange's request for asylum and will announce it Thursday morning.
In a televised address Wednesday, Ricardo Patiño said that the Ecuadoran government had received a written notice from British authorities that they would "assault" the country's embassy in London if Ecuadoran authorities failed to hand over Assange to British authorities.
"We are not a British colony," he said. "Those times are passed."
Ecuador: Assange decision coming
In response, a spokesperson for Britain's Foreign and Commonwealth Office said "The UK has a legal obligation to extradite Mr. Assange to Sweden to face questioning over allegations of sexual offenses and we are remain determined to fulfill this obligation."
The spokesperson added, "We are still committed to reaching a mutually acceptable solution."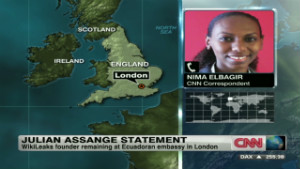 Assange resisting extradition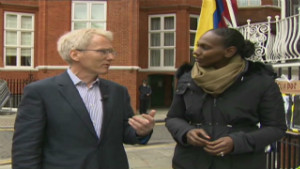 Will Assange achieve asylum?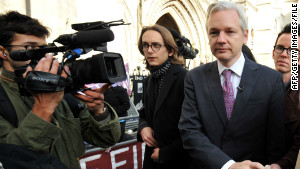 Friend says Assange 'running for justice'
Assange has been holed up inside the Ecuadorian Embassy in London since petitioning for asylum in June. He is seeking to avoid being sent to Sweden over claims of rape and sexual molestation, and said he fears that if extradited, Swedish authorities could hand him over to the United States.
Assange was arrested in Britain in 2010 because Swedish authorities wanted to question him about the allegations. Two women have accused Assange of sexually assaulting them during an August 2010 visit to Sweden in connection with a WikiLeaks release of internal U.S. military documents. Assange denies the allegations and argues they are retribution for his organization's disclosure of American secrets.
His bail conditions required he spend his nights at the home of a supporter outside London. He is subject to arrest for breaking the terms of his bail, London's Metropolitan Police said the day after he entered the embassy.
WikiLeaks has published about 250,000 U.S. diplomatic cables, causing embarrassment to the U.S. government and others. It also has published hundreds of thousands of classified U.S. documents relating to the conflicts in Iraq and Afghanistan.
Assange sought refuge at the embassy five days after the Supreme Court in Britain dismissed his bid to reopen his appeal of the decision to send him to Sweden, his last option in British courts.
Fake New York Times op-ed a Wikileaks hoax
Julian Assanges' mother arrives in Ecuador

Part of complete coverage on
WikiLeaks
updated 12:38 PM EST, Thu November 10, 2011

From "Climategate" to leaked diplomatic cables, CNN takes an inside look at the WikiLeaks organization.
updated 10:07 AM EDT, Thu August 16, 2012

From the issuing of an arrest warrant, to a decision on Assange's asylum, see how the story has developed.
updated 3:49 PM EDT, Sat June 30, 2012

Julian Assange is waiting to hear if Ecuador will grant him asylum. He's dangling from a cliff, for sure. Hanging by a pinky next to him -- WikiLeaks.
updated 12:25 PM EDT, Mon October 29, 2012

Holed up in Ecuador's Embassy in London, Julian Assange talks at length about his life and motivations.
updated 10:27 AM EDT, Fri August 17, 2012

Ecuador's President Rafael Correa and Assange have mutual interests and support the idea that the U.S. is a power that has to be checked.
updated 8:20 PM EDT, Sun August 19, 2012

Assange's move is dramatic, but he's not the first person to seek an escape route through a diplomatic mission. Here are some key precedents.
updated 5:31 AM EDT, Wed May 30, 2012

Assange is a self-appointed champion of free speech and the founder of a web operation that has greatly antagonized the U.S. government.

An in-depth look at the young soldier suspected of leaking U.S. military intelligence published by WikiLeaks.
updated 9:02 PM EDT, Thu July 5, 2012

WikiLeaks said it has begun publishing some 2.4 million e-mails from Syrian politicians, government ministries and companies dating back to 2006.
updated 8:39 PM EDT, Tue April 17, 2012

Julian Assange is expected to host a talk show, "The World Tomorrow," on a state-funded Russian television network.