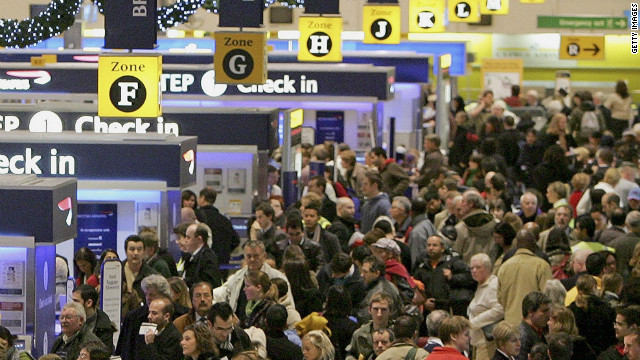 London's Heathrow has more international passengers than any other airport, according to Guinness World Records, with 64.7 million in 2011.
Holding the record for the world's closest airports are the gateways to Papa Westray and Westray, neighboring islands in the Scottish Orkneys. A flight between the two takes an average of 96 seconds (2 minutes if you include taxiing time).
Hartsfield Jackson Atlanta International Airport holds two records, according to Guinness World Records. It is the busiest airport in the world in terms of the number of aircraft taking off and landing -- 924,000 in 2011 -- and also has the most passengers traveling through -- more than 92 million last year.
The world's shortest commercially serviceable runway is at Juancho E.Yrausquin Airport on the island of Saba, Netherlands Antilles, in the Caribbean. The runway is just 396 meters (1,300 feet) in length; most aircraft carriers are only slightly longer than this.
The world's highest airport sits at 14,219 feet above sea level. Surrounded by mountains, Qamdo Bangda Airport in Tibet operates a scheduled airline service but requires an extra-long runway (13,794 feet) to accommodate the extended stopping distance caused by the lack of atmospheric resistance at that altitude.
The world's largest airport building is in Dubai. First opened in 2008, the 12.76 million square foot Terminal 3 has boosted the handling capacity of Dubai International Airport to 60 million passengers a year.
Hong Kong International Airport won the World's Best Airport award at the World Airport Awards 2011. At a reported $20 billion, it is one of the most expensive airport construction projects. It is also the world's busiest airport for cargo (freight and mail) and international freight (excluding mail).
Mataveri International Airport on Easter Island is the world's most isolated airport, situated a remote 3,759 km from the nearest city -- Santiago, Chile.
Most international passengers
World's closest airports
World's busiest airport
World's shortest runway
Highest airport in the world
Largest airport building
Busiest cargo airport
World's most isolated airport