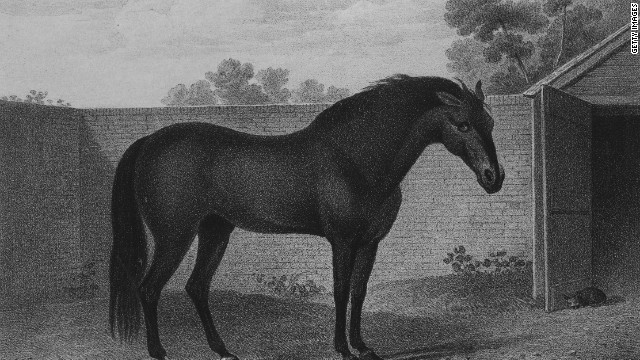 Every thoroughbred horse can be traced back to one of three stallions, and 95% of those go back to one -- the Godolphin Arabian, pictured. Named after his owner, Earl Francis Godolphin, the stallion lived from 1724-1753 and sired some of the greatest racehorses in history, with Seabiscuit and Man o' War just two of his direct descendants.
Sired by the Darley Arabian --one third of the thoroughbred stallion trifecta, along with the Godolphin Arabian and the Byerly Turk -- Flying Childers is often credited as the first true "great racehorse."He was retired to stud after winning all six of his races in the early 18th century. His British owner, the Duke of Devonshire, once reportedly received an offer to buy the stallion for the price of its weight in gold.
Grand foal of the Godolphin Arabian, Eclipse is perhaps the greatest thoroughbred ever to race. After 18 wins from 18 starts in only 17 months, Eclipse was retired to stud in 1771 due to lack of competition, as nobody would bet on the other horses. The Eclipse Stakes at England's Sandown Park are a testament to his legacy.
Potoooooooo (often spelled "Pot-8-Os") is responsible for a key element of horseracing -- that of abstract and often ludicrous naming. Sired by the great Eclipse, he was originally to be "Potatoes" but after a stableboy misspelled his name on a feedbin the horse's breeder -- the 4th Earl of Abingdon -- found the mistake so humorous he decided to keep it that way.
In 1878 Wilfrid Scawen Blunt, pictured, and his wife Lady Anne Blunt established what would become Britain's foremost thoroughbred stud farm. Crabbet Arabian Stud was founded after the Blunts decided -- while on holiday in Syria -- to bring back some of the best Arabian horses for breeding in England. Now, 90% of all Arabian horses can be traced back to Crabbet.
Persimmon, depicted here with his owner King Edward VI, is the first horse to be captured on film. The 1895 filming of the Epsom Derby fast became a worldwide cultural phenomenon, with thousands of people flocking to exhibitions to witness racing on film for the first time. Persimmon accumulated what would be $3.5 million in on-track prize money by modern standards.
American horse Man o' War won 20 of 21 races he started, raking in more than $7.5 million in today's equivalent prize money. For six races as a two-year-old, his handicap of 130 pounds was one of the heaviest ever carried.
Black Caviar, pictured, is the most successful sprinter in the world with a unbeaten record of 22 wins. There have been rumors the Australian mare has been promised to champion stallion Frankel, who has a record of 12 wins undefeated. If true, then their offspring could well be a racehorse with the genetic potential to be even better than Man o' War or Eclipse.
A history of the thoroughbred
The first great racehorse
The greatest racehorse of all time
It's all in the name
The Aleppo connection
Horses on film
The greatest horse since Eclipse
The next generation
STORY HIGHLIGHTS
Scientists discover "speed gene" within horse DNA which governs physical ability
Test allows trainers to learn what sort of runner their horse will develop into
Thousands of breeders and trainers around the world have already taken the test
Results of the test are already being published by Australian blood stockist OTI Racing
(CNN) -- Spotting the "next big thing" in sport is an expensive business. Millions of dollars and countless hours are spent on talent identification, but it's an unpredictable science.
Except perhaps in horse racing, where major strides are being made in picking out potential winners in an industry where huge rewards are at stake.
Thoroughbred stallion Fusaichi Pegasus, for example, became the most expensive horse in history in 2000 after being sold to Ireland's Coolmore Stud for $60 million, having been bought as a yearling for $4 million.
So just imagine what it would mean to breeders if they could determine how successful a horse would be before buying or selling them as a foal?
-- The myostatin gene is present within every horse

-- At a certain point in that gene either the letter C or the letter T will appear

-- As every horse has two chromosomes, the letters appear twice

-- There are three possible combinations for any horse:

C:C The early maturing, sprint archetype (e.g. Black Caviar)

T:T The slower maturing, stamina archetype (e.g. I'll Have Another)

C:T A more versatile combination of the other two (e.g. Big Drama)

Understanding the "speed gene" (these results will hold true 99% of the time):

Two C:C horses will produce a C:C foal 100% of the time

Two T:T horses will produce a T:T foal 100% of the time

Two C:T horses will produce a C:T foal 50% of the time, a C:C foal 25% of the time and a T:T foal 25% of the time


A company involved in thoroughbred research, Equinome, has been analyzing a particular strand of DNA within a horse -- dubbed the "speed gene" -- which can determine just how well equipped it will be for racing.
Such chromosome information can also be a powerful tool for breeders as it helps them determine just what type of horse will be produced by different types of coupling.
The mating game: Will Frankel and Black Caviar breed superhorses?
"At first we had a positive response, and now over the last 18 months things have really taken off," Equinome's managing director Donal Ryan told CNN.
"Every region is interested -- New Zealand, Singapore, the United States -- and breeders have already used our test thousands of times."
Equinome maintains a strict policy of confidentiality with its clients, but Ryan did reveal that the first horses bred following speed-gene testing are already racing professionally.
Breeders are also offered the $1,500 "elite performance test," which analyzes 54,000 genetic factors. While its results may not provide the meticulous levels of accuracy the "speed gene" test delivers, it categorizes how likely a horse is -- genetically speaking -- to win.
"Horses are placed within one of four class bands; a class one would be 11 times better than a class four," said Ryan.
"The criteria obviously differ from subject to subject. With a sprint horse we would be looking at traits such as lactate metabolism and vascularization, whereas a horse with stamina we might analyze heart physiology and respiration."
Robin Oakley, turf columnist for "The Spectator" magazine and author of three books on the world of racing, dubbed the research as "almost the holy grail for breeders and trainers."
"For years they have searched for a way to remove the gamble inherent within breeding -- imagine, not having to fly mares all over the world, mating with all those different studs just trying to get the right results," he said.
Another milestone for fantastic Frankel at Glorious Goodwood
In Australia, Widden Stud farm in New South Wales has produced six former Australian champion sires since its foundation in 1867. It is the first breeder to include Equinome's "speed gene" results in its stud brochures.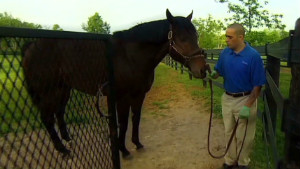 Breeding Kentucky Derby studs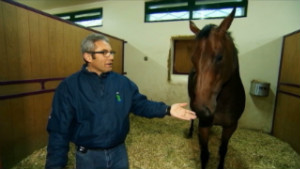 Horse trainer's Arabian adventure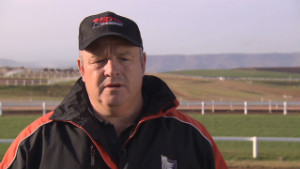 South Africa's master trainer
"The test is certainly very interesting to us," says Widden Stud's general manager Derek Field.
"Breeders have been searching for years for ways to do their job more efficiently, and there are a lot of pieces to the puzzle but this is certainly a key to unlocking it.
"People have looked in-depth at hearts and other organs but have come and gone. These speed gene tests can help develop studies in the right direction. It's worth keeping a close eye on."
However, Ryan stresses that genetic research is only one piece of the puzzle of breeding winners.
"Genetics is only 35-55% of the battle. The rest is down to the way the horse is raised, from insemination through to foaling to its upbringing and race training; the aspects that will always be most important are not genetic," he said.
"We aim to guide the trainers and breeders, so they can correctly focus their efforts."
Ryan insists Equinome's work will not detract from the competitive spirit of the sport.
"It is simply a tool to be utilized. It is ineffectual if not applied properly," he said.
"I cannot see it taking away from the 'fun' of the sport, as some have put it."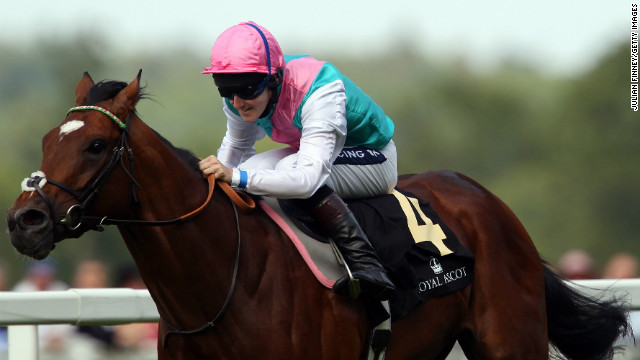 Frankel is unbeaten in 12 races and, under the stewardship of jockey Tom Queally, the four year-old has brought home winnings of just over $2.8 million for his owners.
Black Caviar turned heads at Royal Ascot and has an impressive record on tracks in her home nation of Australia too -- winning 22 races overall. At 136, she is the highest-rated filly of all time according to race statisticians Timeform.
Trainer Henry Cecil has put his all into schooling Frankel. He has even installed a closed circuit TV system in the horse's stable to ensure he is safe at night.
Trainer Peter Moody with Black Caviar after the mare's win in the 2012 Diamond Jubilee Stakes at Royal Ascot. He is undecided if she will race again.
Both horses have spawned a micro marketing industry. Frankel flags were the order of the day at Glorious Goodwood this year. There is also an impressive line in Frankel fleeces, mugs and hats available online.
The Australian High Commission in the UK had to hold a ballot for Ascot tickets, such was the demand from the expat community to see Black Caviar on British soil. She also has an online store with cufflinks selling for $42.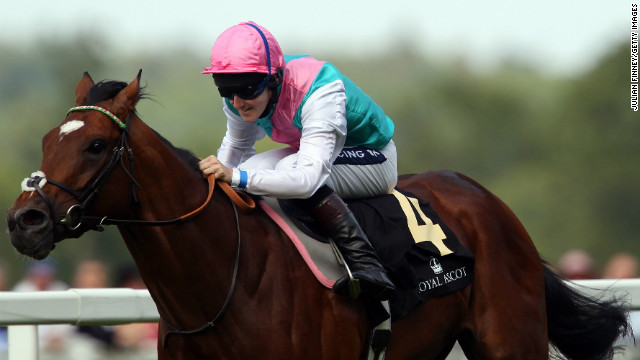 Frankel & Black Caviar: A perfect stud partnership?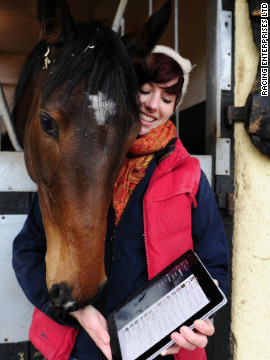 @peopleshorse: "Really enjoying my little holiday - getting a serious tan! NOL."
@blackcaviar2006: "Goodbye UK, and thank you for your hospitality Your Majesty. I enjoyed my time in Newmarket and racing at Royal Ascot xx."
@frankel_horse: "Thanks for all ur kind messages...hopefully the news I may run an extra race has put a smile on your faces."
@Ill_HaveAnother: "Borrowed IPhone so I can write one last thing re: NYT and MSNBC pieces of shoddy "journalism" SANCTIMONIOUS. Now back to quarantine."
@AnfieldCat: "so it turns out Andy Murray is infact Scottish, not British."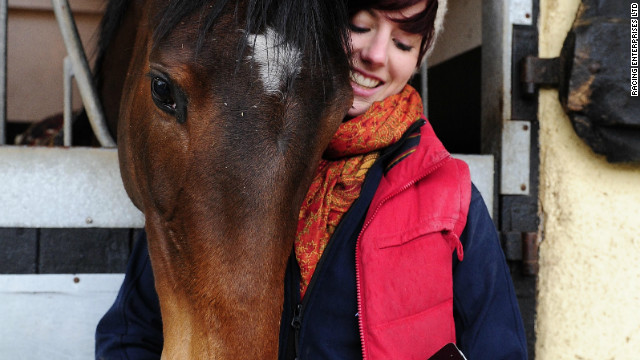 Racing horses take to Twitter
Field agrees: "The idea of mating horses more efficiently has been around since the sport began. This discovery does nothing to detract from the competition."
Twitter: From the horse's mouth
Australia's OTI Racing and Bloodstock Management has also utilized Equinome's tests. But rather than breed its own horses it instead buys them as "tried" yearlings, often imported from all over the world.
These horses are then raced internationally, predominantly in Great Britain and France as well as Australia.
As OTI's reputation, not to mention profits, rely on the performance of its yearlings, it needs to buy the right horses and send them to the correct trainer.
"We were approached by a representative from their marketing team," OTI co-owner and director Terry Henderson said of its relationship with Equinome. "I was fascinated by the science -- the sound logic and good research which they applied appealed to me. We made sure to do our own research to put their methods to the test.
"We took 12 blood samples from 12 different horses and sent them for a blind testing at Equinome -- this way they would have no idea if the blood was from a broken-down old mare or a champion sprinter. The correlations produced by their results gave us great confidence."
Fame and fillies: Meet the celebrity racehorse owners
Henderson says the professional racing community has reacted cautiously to Equinome's research.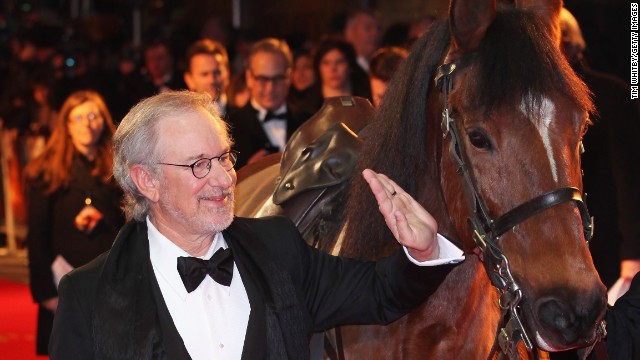 Oscar-winning director Steven Spielberg's interest in horses does not stop at the movie set. He co-owned racehorse Atswhatimtalkingabout, which came fourth in the 2003 Kentucky Derby. He is also an investor in Biscuit Stables, the Delaware-based race trainers.
Actor and director Kevin Costner, right, part-owns a number of racehorses which mainly run at Hollywood Park in California. He also supported the industry by voicing a documentary called "Laffit: All About Winning," celebrating the life and career of one of horseracing's most decorated jockeys, Laffit Pincay.
Pop icon MC Hammer, or Stanley Kirk Burrell on his passport, invested in and created his own Oaktown Stables. Hammer owned 19 racehorses at one stage, including the multiple Grade 1 stakes winner Lite Light and the aptly named Dance Floor -- which was third at the 1992 Kentucky Derby.
Rolling Stones guitarist Ronnie Wood runs Sandymount Stud in Ireland. He has also raced his own horses, including Sandymount Earl -- a gelding which won three times in three months at The Curragh, home of the Irish Derby.
Songwriter Burt Bacharach, left, has owned horses since 1980 and has seen them run in the Dubai World Cup and the Breeder's Cup. He has had notable successes with three horses over a near 30-year ownership period: Soul of the Matter, Afternoon Deelites and Heartlight No. 1.
American TV cook and celebrity restauranteur Bobby Flay is leading a new generation of celebrity into the racehorse business. He struck lucky on his first run, with Mrs. Kipling winning on her debut in 2009. Since then his horses have finished in the top three 16 times in 36 outings.
Soccer icon Alex Ferguson is a renowned owner of racehorses. Seen here with latest runner Forgotten Hero, the Manchester United manager was involved in a legal battle with Coolmore stud owner (and then major United shareholder) John Magnier about the stud fees of 2002 European Horse of the Year Rock of Gibraltar.
Racehorses are a popular subject in the Old Trafford dressing room, with former Manchester United striker Michael Owen also taking a big interest. He co-owns Manor House Stables -- the Cheshire-based racehorse trainers, as well as being the owner of a few horses himself.
Manchester United striker Wayne Rooney initially bought three horses -- Pippy, Tomway and Switcharooney -- but it was Yourartisonfire who provided his first win at English course Haydock Park on July 5.
Eddie Jordan (right) is no stranger to horsepower, having owned the Jordan Formula One team. The Irishman owns a number of horses in training with the Michael "Mouse" Morris stable in County Tipperary.
Britain's Queen Elizabeth is a renowned racehorse owner, with her first victory coming in her Coronation year of 1953 when Choir Boy won at Ascot. She is pictured here collecting the Queen's Vase after her horse Estimate triumphed at Royal Ascot this year -- her 21st win at the prestigious meeting.
As owner of the prolific Godolphin stables, United Arab Emirates ruler Sheikh Mohammed bin Rashid Al Maktoum has seen his racing unit secure nearly 200 Group 1 victories around the world every year -- creating an annual prize fund of $16.8 million. Godolphin has stables in Dubai, Ireland and the UK.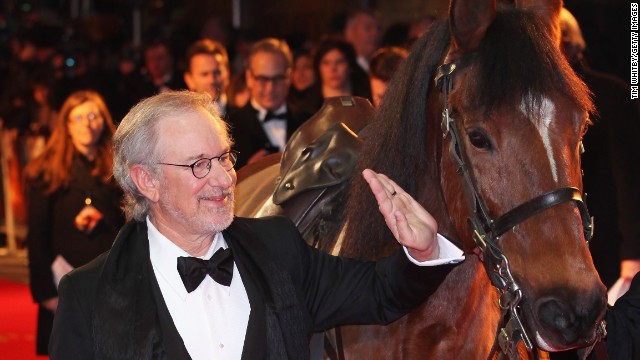 Celebrity racehorse owners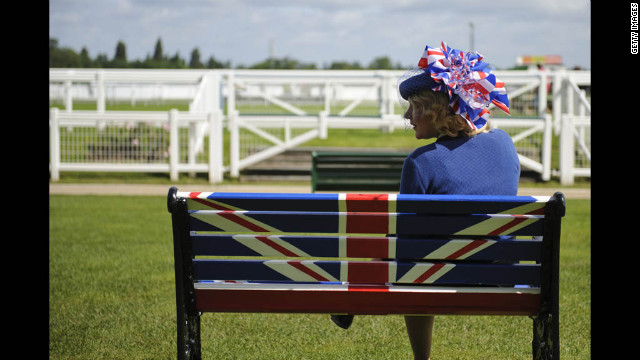 A race-goer attends day five of the Royal Ascot races in Ascot, England, on Saturday, June 23.
Queen Elizabeth II and Prince Philip, Duke of Edinburgh, arrive at the course on day four of the races.
A sign and flags hang in the air.
Attendees escape the rain under their umbrellas on day four.
An attendee examines a booklet with descriptions of the racers.
Riders race during the Diamond Jubilee Stakes on day five of Royal Ascot races Saturday.
Two onlookers congratulate each other with a high-five.
A large hat resembling the British flag sits atop a woman's head.
Racehorse Black Caviar neighs after carrying his rider across the finish line for the win on Saturday.
Racegoers sit at a table and study the form on Friday.
Queen Elizabeth II and Prince Philip, Duke of Edinburgh, and other members of the royal familly arrive in the Parade Ring at the Royal Ascot on Ladies Day on Thursday, June 21. Ladies Day is traditionally the fashion highlight of the five-day race meeting.
Rain falls on the race-goers attending the Royal Ascot.
A couple stand in a puddle at Royal Ascot.
Frankie Dettori celebrates riding Colour Vision to win The Gold Cup during Ladies Day at Royal Ascot.
A woman shows off her unusual hat.
Race-goers wear plastic rain covers over their dresses during some showers.
Frankie Dettori riding Colour Vision, center, to win the Gold Cup.
Larisa Katz shows off an umbrella hat design at Royal Ascot.
A visitor to Royal Ascot photographs her friends.
A woman poses with a striking hat and equine-themed umbrella.
A group of women in striking hats poses for a photo.
It's the end of the day in the silver ring during Ladies Day at Royal Ascot .
A race-goer poses on day three of the Royal Ascot.
Princess Anne and Princess Beatrice attends Ladies Day.
A worker checks benches in the grandstand.
Pat Smullen riding Princess Highway wins The Ribblesdale Stakes during Ladies Day at Royal Ascot at Ascot racecourse.
A worker attempts to dry tables and chairs at a Champagne bar on Ladies Day at Royal Ascot.
A bench is decorated with a Union Jack flag in the Grandstand on Ladies Day at Royal Ascot.
Top hats are worn by race-goers at the Royal Ascot in England on Wednesday, June 20. The five-day meeting is one of the highlights of the horse racing calendar and the season. Thousands of race fans are expected to attend.
Runners take the bend away from the grandstand at Ascot racecourse.
A visitor to Royal Ascot holds a race guide and a glass of Champagne.
Race-goers from The Royal Enclosure watch the arrival of the royal family.
Two women chit-chat on day one of the races.
Lisa Scott Lee attends day two of Royal Ascot.
Photographers in top hats snap photos of Royal Ascot attendees.
Queen Elizabeth II smiles as she arrives.
A dress code assistant holds a basket of pashminas at the main entrance to Royal Ascot. Visitors are expected to keep to a strict dress code.
Visitors to Royal Ascot enjoy a picnic before the start of racing.
A race-goer wearing a flamboyant hat poses for the media.
Race-goers sit together on a bench.
A woman in a striking hat attends day one of the races.
A woman wearing an elaborate hat designed to look like a bird cage attends day one of the races.
The Tootsie Rollers retro girl-band entertains visitors.
A race-goer poses for photographers at the races.
Race-goers ride an escalator down from the private boxes of the Royal Enclosure.
Jackie St. Clair attends day two of Royal Ascot.
Black Caviar, ridden by Paddy Bell, gallops before the Royal Ascot race meeting on June 14.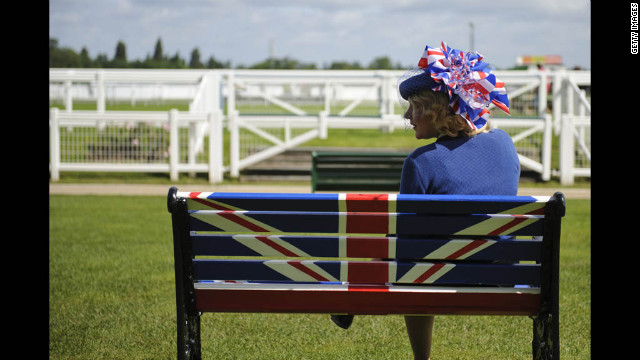 Photos: Royal Ascot 2012
"I was skeptical too at first. So much rubbish science is presented to the horse racing industry. So many ideas and tools claim to be unique but fail to deliver that professionals are gun-shy -- rarely is anything supported by the depth of research that Equinome offer," he said.
OTI has not fully embraced the testing yet, but the company is at an "advanced testing" stage working towards a more complete relationship.
"It's very encouraging, but it'll still be two to three years before our confidence is at 90%-plus," Henderson said.
"Right now we're testing half of our purchases. Sometimes, what with the rate at which we complete transactions or because of contractual obligations, we do not have time to take the test. We do aim to test all of our domestic purchases, though."
The British Horse Racing Authority says such testing is "a commercial issue and it would not be appropriate for a regulatory body to comment."
Henderson believes it poses no threat to the industry's competitive balance.
"This is no different to the developments made in breeding 100 years ago. Innovations will always divide opinion -- it will be gospel to some and rubbish to others," he said.
"It's the most significant development we've seen in a while but it won't unbalance the playing field, that's for sure."