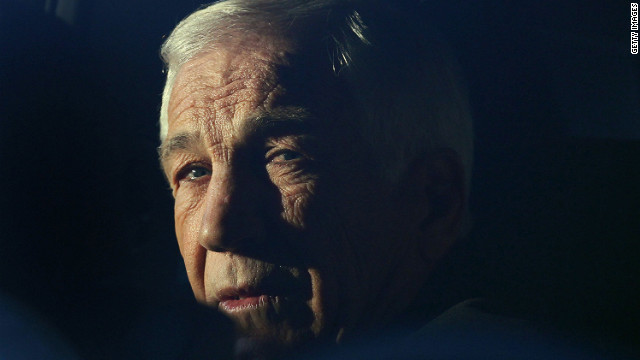 Ex-Penn State defensive coordinator Jerry Sandusky was arrested in November 2011 on charges that he preyed on boys he met through The Second Mile charity. In June 2012, he was convicted of 45 counts involving 10 young victims, and in October, he was sentenced to 30 to 60 years in prison. In July 2012, the NCAA imposed sanctions against Penn State, including a $60 million fine, scholarship reductions, the vacating of 112 wins, five years' probation and a bowl ban for four years. Click through the gallery for other notable NCAA scandals.
Penn State University head football coach Joe Paterno on the sidelines during a 2004 game. Paterno's legacy was tarnished in the wake of the Jerry Sandusky child abuse scandal. The fallout included NCAA sanctions in July 2012 that struck 111 of Paterno's 409 wins from the record book. The stripped victories stretched back to 1998 and removed Paterno's crown as winningest college football coach in history. He died of cancer in January.
Head coach Jim Tressel with his Ohio State Buckeyes at the 2011 Sugar Bowl. Tressel admitted he knew several star players were trading memorabilia for cash and tattoos in violation of NCAA rules. The NCAA banned the Buckeyes from postseason play for the upcoming season, and OSU voluntarily vacated all 2010 wins. Tressel "resigned" in May 2011, a move OSU later deemed a retirement.
University of Miami quarterback Jacory Harris throws a pass during a 2011game. Harris was one of 13 Hurricanes initially ruled ineligible after the NCAA began investigating allegations by Nevin Shapiro, an imprisoned former booster, that he for eight years provided 72 athletes with benefits that violated NCAA rules. Shapiro is incarcerated for running a $930 million Ponzi scheme. After Miami petitioned for the players' reinstatements, one player was vindicated, while the other 12, including Harris, were reinstated after serving suspensions and/or paying restitution. The investigation into the Shapiro scandal is ongoing.
Reggie Bush of the University of Southern California carries the ball past Fresno State's Matt Davis in 2005. The NCAA announced sanctions in June 2010 against USC, finding that Bush and basketball star O.J. Mayo had received lavish gifts. Bush voluntarily forfeited his Heisman Trophy, while USC was given four years' probation, stripped of 30 scholarships and had to vacate 14 wins, including a national championship.
Members of the Duke men's lacrosse team listen to the national anthem at their season opener in 2007. In 2006, members of the team hired stripper Crystal Mangum for a party, and she accused three players of raping her. The scandal forced the cancellation of the men's lacrosse season that year and the resignation of team coach Mike Pressler. The allegations later proved to be false, and prosecutor Mike Nifong was disbarred for ethics violations.
The NCAA has found the University of Alabama football program in violation of its rules at least three times in the last two decades. The most notable incident came in 2000 when a booster paid a high school coach to steer a recruit to the Crimson Tide. An investigation found numerous other violations, and Alabama was placed on five years' probation, among other sanctions. In 1995, the NCAA forced Alabama to vacate wins after it learned coaches were aware one of the school's All-Americans had secretly signed with an agent, and in 2009 the university was sanctioned for misuse of its textbook distribution program by 16 athletic programs, including football.
Jim Harrick Sr., then head coach of the University of Georgia Bulldogs, yells from the sidelines during the 2002 NCAA Division I men's basketball tournament. Harrick resigned as UGA's head basketball coach in 2003 after his son, Jim Harrick Jr., was accused of giving an A to three basketball players who didn't attend class and paying a phone bill for one of them. The NCAA punished UGA with four years' probation, and the school was forced to vacate 30 wins from 2001-2003.
Baylor University basketball player Carlton Dotson reaches for the ball against Montana State in a 2002 game. In June 2003, Baylor's Patrick Dennehy went missing. Dotson confessed to killing him and was sentenced to 35 years in prison. The NCAA later determined that Coach Dave Bliss had instructed his players to lie to investigators and tell them that Dennehy dealt drugs to cover up the coach paying thousands of dollars of Dennehy's tuition. The NCAA put the school on probation until June 2010. It also was banned from playing nonconference games for a season.
Chris Webber strolls upcourt during a home game in 1993. Webber pleaded guilty in 2003 to being paid by a University of Michigan booster to launder money from an illegal gambling operation. The NCAA put the program on four years' probation and banned the team from postseason play for the 2003-04 season. Charged with lying to federal investigators, Webber pleaded guilty to misdemeanor criminal contempt and paid a $100,000 fine.
The Southern Methodist University football team warms up in 1988, two years after a scandal broke that SMU boosters had been giving football players thousands of dollars from a slush fund with university officials' knowledge. In what was the first and last time it gave the "death penalty" to a football program, the NCAA suspended SMU from playing its 1987 season and banned it from recruiting. The school also was not allowed to play at home in the 1988 season and lost dozens of scholarships.
Bill Musselman watches court action during a 1990 NBA game as head coach of the Minnesota Timberwolves. In 1975, Musselman left as head coach of the University of Minnesota Golden Gophers. The NCAA later found 127 violations from his four-year tenure at the school, including direct payment to players for rent and transportation.
Kentucky celebrates the 2012 national championship in April. Sixty years earlier, the NCAA opened an investigation into the University of Kentucky Wildcats basketball program, following a national championship season in which three players had been arrested in a point-shaving scandal. The subsequent probe revealed that 10 players had received impermissible financial aid. The NCAA banned the school's entire athletic program from playing for a year -- in effect, marking the advent of the so-called "death penalty," even though the penalty wasn't given the nickname until the 1980s.
Notable NCAA scandals
Notable NCAA scandals
Notable NCAA scandals
Notable NCAA scandals
Notable NCAA scandals
Notable NCAA scandals
Notable NCAA scandals
Notable NCAA scandals
Notable NCAA scandals
Notable NCAA scandals
Notable NCAA scandals
Notable NCAA scandals
Notable NCAA scandals
STORY HIGHLIGHTS
NEW: The warning will put more pressure on Penn State to reform, a CNN analyst says
The Middle States Commission warns Penn State its accreditation is in jeopardy
The warning is related to the school's governance, reporting, financial issues
It is not about academic quality, a school official says
(CNN) -- The organization that grants academic accreditation to Penn State has warned the school that it is in danger of losing that crucial status in the wake of the Jerry Sandusky child sex abuse scandal, the university announced this week.
The move by the Middle States Commission on Higher Education is the latest blow for the beleaguered university, which has seen its reputation clobbered and its football program hobbled after investigators found school leaders did too little to stop the abuse.
Were the commission to pull Penn State's accreditation -- which it has not done -- the school would face the loss of eligibility for federal student aid programs, guaranteed student loans, federal research grants and could lose eligibility for state aid, commission spokesman Richard Pockrass said in July.
Paterno family wants to appeal Penn State sanctions
Penn State will resolve the commission's concerns, promised Vice Provost for Academic Affairs Blannie Bowen.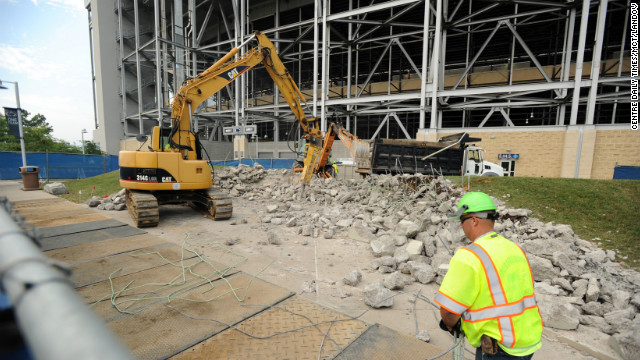 Workers on Tuesday, July 24, remove the concrete landing area and wall where the Joe Paterno statue once stood in State College, Pennsylvania.
A girl takes a picture at the site where the statue of former Penn State University football coach Joe Paterno stood. It sits empty now after it was removed by workers outside Beaver Stadium on Sunday, July 22.
The statue was removed exactly six months after Joe Paterno, the winningest coach in Division I football history, died of lung cancer.
Workers wrap the statue of late Penn State football coach Joe Paterno in preparation for its removal on Sunday.
The 900-pound bronze statue will be stored in a "secure location" in the wake of the Jerry Sandusky scandal, university President Rodney Erickson said.
Onlookers battle emotions as the statue is removed Sunday.
Visitors gather around the Paterno statue on Saturday, July 21.
Though the statue was removed from Beaver Stadium, the university library will continue to bear Paterno's name.
Fans like Rachel O'Brien, center, 20, of Mifflinburg, Pennsylvania, have been steadily flocking to the site since Paterno's death in January.
The removal of the statue comes ahead of sanctions on Penn State from the NCAA, to be announced Monday.
A tribue to Paterno sits at the base of the statue on Saturday.
Visitors gather around the statue on Saturday.
The Paterno statue continued to draw visitors Saturday, a day before it was removed from the stadium.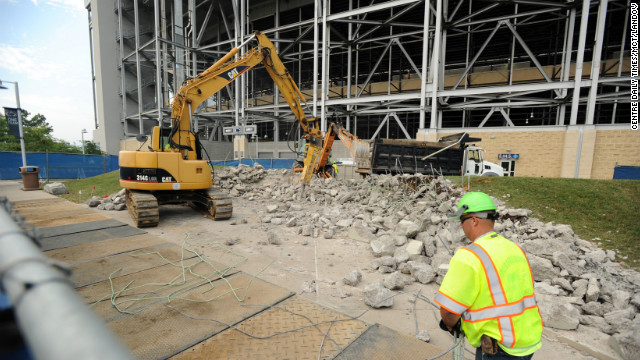 Final tributes, Paterno statue removed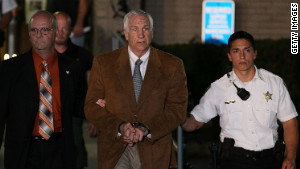 Penn State's plan for Sandusky costs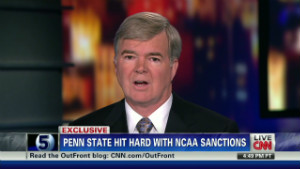 Emmert: It was the board's decision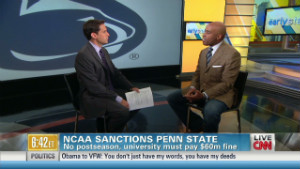 Tiki Barber: NCAA sanctions are 'harsh'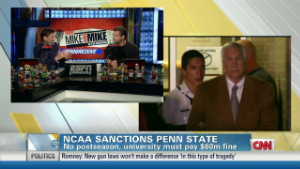 'Mike & Mike' on Penn State's sanctions
"This action has nothing to do with the quality of education our students receive," Bowen said in a statement posted Monday to the school's website. "Middle States is focusing on governance, integrity and financial issues related to information in the Freeh report and other items related to our current situation."
The commission voted August 6 to place the school on warning status. Two days later, it notified Penn State officials that the school's accreditation was "in jeopardy" based on information contained in former FBI Director Louis Freeh's report on Penn State's handling of the sex-abuse allegations against Sandusky and a National Collegiate Athletic Association action against the school.
Freeh found that Penn State's leadership showed "total and consistent disregard" for youths sexually abused by Sandusky, the former assistant football coach convicted by a jury in June on 45 counts involving child sex abuse. He is scheduled to be sentenced in September.
Among other things, authorities say school officials failed to properly address a report that Sandusky had been seen in a football complex shower, apparently engaged in sexual contact with a young boy.
Timeline of the Penn State scandal
Last month, the NCAA fined Penn State $60 million, banned the football program from bowl games for four years, stripped scholarships and took away the team's wins from 1998 to 2011.
The commission also said it had insufficient evidence that Penn State officials had followed commission rules about how schools are to be governed and whether it had provided "accurate, fair and complete information" about what was happening at the school, according to the letter.
The commission asked Penn State to report by September 30 on the steps it is taking to ensure full compliance with accreditation requirements, as well as information about the school's financial capacity to meet ongoing obligations considering the potential fallout from civil lawsuits expected over the scandal.
A team assembled by the commission will visit Penn State after the September report to evaluate the school's performance, the commission said.
Bowen said the commission "wants us to document that steps we have already taken and are planning to take will ensure our full compliance with its requirements" and emphasized that the school expects no loss of accreditation.
"It is critical to emphasize that Middle States does not issue a warning unless the commission believes that an institution has the capacity to make appropriate improvements within a reasonable period and then sustain itself to stay in compliance," Bowen said in the statement. "This certainly is true for Penn State. We're confident that our monitoring report and the site visit will confirm this to the commission."
CNN legal analyst Jeffrey Toobin said the warning seemed to be a bit of "piling on" in light of the sanctions already in place against Penn State. But it may be another factor to further motivate the university to comprehensively deal with the scandal, he said on CNN's "Starting Point."
"It all creates pressure on Penn State to make sure it has policies in place to make sure nothing like this ever happens again," Toobin said.
Former senator to be integrity monitor for Penn State athletics