STORY HIGHLIGHTS
A police official says two International Security Assistance Force troops were wounded
27 "green-on-blue" incidents have killed 37 people this year, the ISAF says
The attacker had links to the Taliban, a spokesman says
An Afghan-led force arrested a Taliban leader in the same province, the ISAF says
Kabul, Afghanistan (CNN) -- An Afghan policeman opened fire on NATO troops Monday, wounding two in the latest "green-on-blue" attacks in the country, a police official said.
The attacker fired on troops with NATO's International Security Assistance Force (ISAF) and Afghan security forces in the Achin district of eastern Nangarhar province, according to Maj. Martyn Crighton, an ISAF spokesman. There were no ISAF fatalities, he said.
The attacker escaped, Crighton said.
The ISAF said that so far in 2012, there have been 27 "green-on-blue' incidents that killed 37 people.
Shootings by Afghan forces take growing toll on NATO troops
Abdullah Hazem Stanikzai, police chief of eastern Nangarhar province, said the attacker was in civilian clothes when he opened fire. ISAF forces returned fire, injuring an Afghan intelligence officer, he said.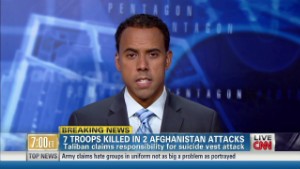 7 Troops killed in 2 Afghanistan attacks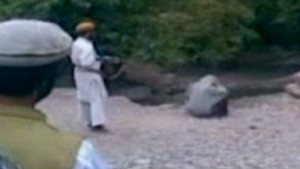 Afghanistan execution sparks outrage
The attacker had links with the Taliban and had been waiting to carry out such an attack, a Taliban spokesman said.
In an e-mail message to the media, Taliban spokesman Zabiullah Mujahid identified the attacker as Shir Ali. Mujahid also said that Ali killed three U.S. troops and wounded four others, including an Afghan Intelligence officer.
Mujahid said Ali escaped with his gun and joined the Taliban in the same district after the attack.
There has been a wave of such attacks recently.
On Friday, a man in an Afghan military uniform killed three U.S. troops in southern Afghanistan, according to the ISAF.
On Twitter, the ISAF said almost 500,000 Afghan soldiers and police "work toward safety and security of (Afghanistan) alongside ISAF without incident."
Elsewhere in the country Monday, two local officials and three civilians were killed when their vehicle hit a roadside mine in northeastern Afghanistan's Takhar province, a spokesman for the provincial governor said.
The mayor of Eshkamish district and a member of the Provincial High Peace Council were killed, said Faiz Mohammad Tawhidi.
The mine was planted by the Taliban, Tawhidi said.
In its operational update Monday, the ISAF said an Afghan-led security force supported by coalition troops arrested a Taliban leader in Nangarhar province. "The leader was responsible for the movement of weapons and insurgents throughout the region, and is responsible for multiple attacks on Afghan and coalition forces."
Also, an Afghan and coalition security force arrested a senior leader of the Islamic Movement of Uzbekistan in Chahar Darah district, Kunduz province, the ISAF said. The leader had directed attacks using improvised explosive devices in Kunduz province. He also acquired IEDs, rockets and other weapons and distributed them to insurgents throughout the region, the ISAF said.
Elsewhere around the country, insurgents and suspected insurgents were detained, the ISAF said.
"In Sabari district, Khost province, an Afghan-led security force, supported by coalition troops, conducted an operation to arrest a Haqqani weapons supplier today," the ISAF said. Officials have blamed the Haqqani network for numerous acts of violence in Afghanistan.
"The Haqqani weapons supplier coordinates attacks against Afghan and coalition forces and smuggles weapons into the district for use in attacks against Afghan and coalition forces," the ISAF said. "During the operation, the security force detained several suspected insurgents and seized multiple weapons."
CNN's Masoud Popalzai and Josh Levs contributed to this report.