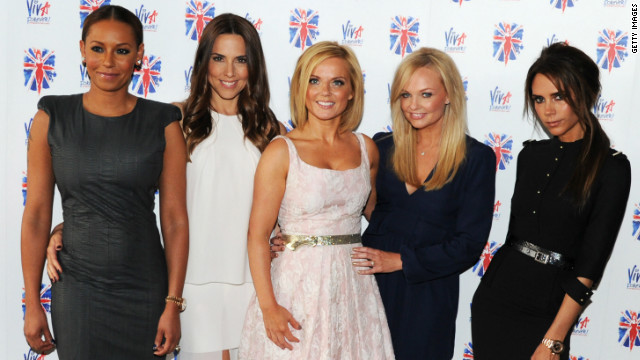 The
musical
"Viva Forever,"
which was based on their songs,
closed in
June 2013
. What else have the Spice Girls been up to since their heyday in the '90s?
The artist formerly known as Posh Spice scored big by marrying hunky soccer player David Beckham, with whom she has four children. She has also made a name for herself as a fashion designer and stayed visible in Hollywood with appearances on shows like "Project Runway" and "American Idol."
Brown has also remained in the limelight despite keeping busy with three children (one of whom was fathered by actor Eddie Murphy) with acting roles. In 2007, she came in second place on "Dancing With the Stars." She was a judge on "America's Got Talent" and is currently a judge on "The X Factor."
Baby Bunton now has babies of her own. The mother of two is engaged to British singer-turned-professional chef Jade Jones and was the face of
Halliwell is the mother of one daughter and has popped up occasionally as a judge on the British version of "The X Factor" and "Australia's Got Talent." She also reportedly designed a line of swimwear.
According to the Mirror
, she planned to do an Olympic-distance triathlon in 2014.
Chisholm has continued to make music, releasing several albums over the years. Her latest, "Stages," was released in September 2013 and included a duet with Bunton. Chisholm split with her boyfriend of 10 years, Thomas Starr, who is the father of her daughter, Scarlet.
Spice Girls: Where are they now?
Group reunion
Victoria Beckham (Posh Spice)
Melanie Brown (Mel B./Scary Spice)
Emma Bunton (Baby Spice)
Geri Halliwell (Ginger Spice)
Melanie Chisholm (Mel C./Sporty Spice)