Jennifer Aniston engaged to actor Justin Theroux
updated 11:59 AM EDT, Mon August 13, 2012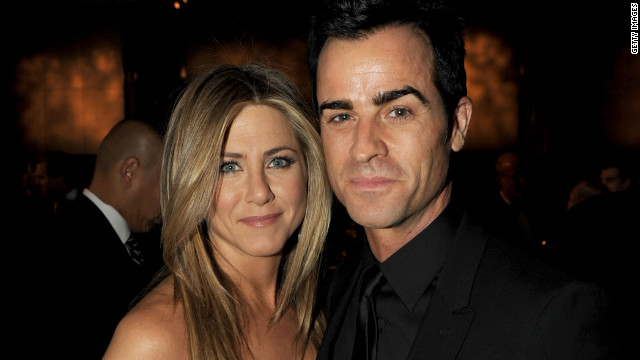 Jennifer Aniston hasn't always been lucky in love, but she may have finally found her prince in
fiancé
Justin Theroux. Here's a look back at some of Jen's men:
"Shadow Days" are over
now, in 2010 Mayer opened up to
Rolling Stone
about his split with Aniston, saying, "I've never really gotten over it. It was one of the worst times of my life."
John Mayer and Aniston, pictured here in 2009, dated on and off for about a year. Though his
Real-life couple Vince Vaughn and Aniston co-starred in 2006's "The Break-Up," which is coincidentally what the couple did later that year.
Brad Pitt and Aniston, shown here at the premiere of "The Mexican" in 2001, began dating in 1998. The pair married in 2000 and announced their separation in 2005, the same year Pitt and Angelina Jolie's "Mr. and Mrs. Smith" hit theaters.
Tate Donovan and Aniston were engaged in the mid-'90s. Before the couple called it quits, he appeared on "Friends" as the boyfriend of Aniston's character, Rachel Greene.
Aniston and Charlie Schlatter appeared side by side on NBC's "Ferris Bueller" series in1990. The sitcom was short-lived, as was the couple's relationship.
Justin Theroux
John Mayer
Vince Vaughn
Paul Sculfor
Brad Pitt
Tate Donovan
Adam Duritz
Charlie Schlatter
STORY HIGHLIGHTS
Aniston accepts a wedding proposal from Theroux on his birthday, their reps say
The "Friends" star was married between 2000 and 2005 to actor Brad Pitt
Theroux is a screenwriter and actor, appearing in "American Psycho" and "Wanderlust"
(CNN) -- Jennifer Aniston is heading back to the altar, after accepting a marriage proposal from Justin Theroux, representatives from both actors said Sunday.
The love life of Aniston, who was married from 2000 to 2005 to actor Brad Pitt, has been a subject of tabloid fodder for years, where she has been linked to a number of men, including musician John Mayer and comedic actor Vince Vaughn.
The 43-year-old actress has kept busy since departing the hit NBC sitcom "Friends" in 2004, including roles in films such as "Horrible Bosses," "Marley and Me" and "The Break-Up." Still, fans questioned whether she'd find a soul mate, especially after Pitt united with actress Angelina Jolie and their family grew.
It's official: Brad Pitt, Angelina Jolie engaged
"Having experienced everything you don't want in a partner over time, it starts to narrow down to what you actually do want," the actress told InStyle earlier this year. "As I get older, I realize what qualities are important in love and what suits me. And what I won't settle for."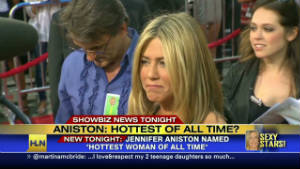 2011: Aniston: Hottest of all time?
Her quest ended Friday, when she got engaged to Theroux on his 41st birthday, Aniston's representative Stephen Huvane said.
"Justin Theroux had an amazing birthday Friday, receiving an extraordinary gift when his girlfriend, Jennifer Aniston, accepted his proposal of marriage," Theroux's representative Ina Treciokas said Sunday.
Theroux has established himself in Hollywood on several fronts. According to the entertainment website IMDb.com, he was a screenwriter for the films "Tropic Thunder," "Iron Man 2" and "Rock of Ages" and has been in a number of films and TV series since the mid-1990s. These include "American Psycho," "Mulholland Drive," "Zoolander" and, most recently, "Wanderlust" along with Aniston.
Justin Theroux: From Aniston's friend to fiance
Jennifer Aniston: Through the years
What Jennifer Aniston digs about Justin Theroux
CNN's Douglas Hyde contributed to this report.