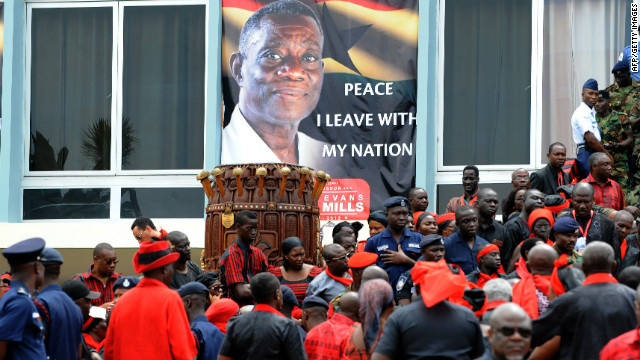 World leaders and mourners gathered Friday in Accra for the funeral service of late Ghanaian president John Evans Atta Mills, who died at a military hospital on June 24 after a period of illness.
The coffin of Mills is escorted Friday to the Independence Park in Accra for the funeral service. A military cortege conveyed Mills' body from the State House parliamentary complex, where it had lain in state since Wednesday, to Independence Square, where more than 10,000 people had gathered.
Ghana began three days of funeral rites for its late president on Wedneday. A man holds a supporter of the ruling National Democratic Congress in tears after viewing the body of Mills.
A mourner plays his drum amid a long queue of people gathered Thursday to pay respects to Ghana's late president.
John Dramani Mahama, who was sworn in as Ghana's president after the death of Mills, and his wife arrive Wednesday to parliament to pay their respects.
Former Ghanaian president John Kufuor arrives to pay respect to Mills at the parliament in Accra on Wednesday.
A hearse carries the body of Mills Wednesday to Accra's parliament. The late president was a former law professor and a tax expert. He was Ghana's vice president from 1997 to 2000.
Before his political career, Mills taught at the University of Ghana and also was a visiting lecturer at Temple University in Pennsylvania and Leiden University in the Netherlands. He ran for president unsuccessfully in 2000 and 2004 before narrowly winning a runoff in 2009.
Liberian president Ellen Johnson Sirleaf is escorted by Ghanaian foreign minister Muhammad Mumunis upon her arrival Thursday in Accra to attend the funeral.
Nigerian president Goodluck Jonathan also arrived Thursday to Ghana, one of the many heads of state attending the burial of Mills.
U.S. president Barack Obama visited Ghana in July 2009, where he met president Mills and addressed the West African country's parliament. This was Obama's first presidential visit to sub-Saharan Africa. At the time, he bypassed his father's native Kenya and visited Ghana, which is hailed as a beacon of peace and democracy in a volatile region.
Soldiers stand on a platform behind mourners queuing Thursday outside the parliament to pay tribute to Mills.
Members and staff of Ghana's parliament arrive to pay their last respects to Mills on Wednesday.
Thousands of Ghanaians wearing their traditional black garb and red tops paid respects to their late president. Part of a former British colony, Ghana was among the first African countries to gain independence, in 1957.
A newspaper vendor in Accra holds a copy a daily Wednesday featuring Mills on the front page. The president's death came several days after he celebrated his 68th birthday. He had said he would run for re-election in December.
Members of Ghana's parliament weep on hearing the news of Mills' sudden death on July 24.
John Atta Mills funeral held in Ghana
John Atta Mills funeral held in Ghana
John Atta Mills funeral held in Ghana
John Atta Mills funeral held in Ghana
John Atta Mills funeral held in Ghana
John Atta Mills funeral held in Ghana
John Atta Mills funeral held in Ghana
John Atta Mills
John Atta Mills funeral held in Ghana
John Atta Mills funeral held in Ghana
Meeting U.S. president Barack Obama
John Atta Mills funeral held in Ghana
John Atta Mills funeral held in Ghana
John Atta Mills funeral held in Ghana
John Atta Mills funeral held in Ghana
John Atta Mills funeral held in Ghana