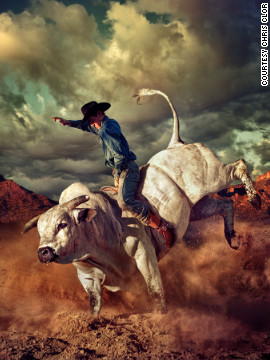 Chris Clor's dramatic photograph of this bull rider won the Communication Arts Photography Competition. Combining separate shots of the bull, the rider, Superstition Mountains and the sky, he knitted them together in Photoshop. Although it was shot for a client selling boots, the image represents a possible reality because of Clor's composition.
Don Farrall's image was also a winning entry in the competition. "These 'Sound Sculptures' exist for a fraction of a second; they are created as paint is propelled by sound waves," he said. "Variations in the viscosity and the pattern of the paint, along with variations in the frequencies used to put the paint in motion, produce unique images that exhibit a natural balance."
Photographer Mike Mellia uses lighting to make his images dynamic, almost evoking a movie set with their tone. This photo, from his Action Hero series, examines how we look at heroes in movies as children, versus our view of them as we age.
In his "Monday Morning: Wall Street & America" series, Mellia created an entire ecosystem that explores the neverending cycle of finance and economy. He used models and scenes with exaggerated facial expressions and actions to make a statement in his series.
To achieve harsh shadows and a Hitchcock feel, Mellia put a bright spotlight on his subjects, plunging the background into harsh shadows. Representing the consumer in his "Wall Street" series, Mellia used 400-600 pound models.
Mellia focuses largely on emotion in his photos, like this image from his Psychological Portrait series. He believes it is at the heart of what fine art photography is all about. His focus on lighting also allows the subjects to pop off the page in a 3-D way.
Mellia tries to avoid any normal devices of photography that make his images resemble photos. For example, in this "Wall Street" scene, every detail is incredibly sharp, rather than blurring into the background.
To Bryan Peterson, the camera is a blank canvas. For 30 years, he has traveled the world creating images. He takes inspiration from walking around locations and making observations about what makes them unique. Then, Peterson turns the observations into concepts he pursues in the moment or plans over time with models and locations.
Peterson is fond of including a focal point that stands out from its surroundings, like a red ball in a pool of cool blue water or this black cat amid a palette of purple and yellow.
By placing a red light source in this mailbox, Peterson transformed what would have been a normal street scene into a menacing mystery and storytelling image.
The literal contrast between white and black, and the size of the two people against two trees, allowed Peterson to play with depth of field and composition.
By illuminating one henna-covered hand, Peterson created a layered image with scene-setting elements and a dynamic atteniton to detail.
Matthew Brandt takes the idea of an "organic" experience with his photography to a new level by incoporating his subject material into the development process. This photo of Big Bear Lake was also soaked in the lake water.
Brandt began incoporating subject matter material in his photos because he felt it brought an objectivity to his work. Soaked in lake water, this image, called "Mary's Lake," appears almost impressionistic.
When photographing trees, Brandt has also used handmade paper using the wood from the park he's using as a location, like this silkscreen print of a tree in George Bush Park.
Although an "organic" image of Sylvan Lake, Brandt's work is evocative of an abstract swing in fine art photography.
Brandt didn't know how soaking prints in lake water, like this American Lake image, would come out, but his experiementation proved to swirl the colors in a magnificent way.
Liz Darlington began her Constructs series by traveling the world with a couple of cheap, low-end film cameras collecting source material. These raw images were then combined digitally to create an impression of place and time rather than a factual document.
The resulting pictures in Darlington's Constructs challenge the supposedly objective nature of travel photography by embracing a more romantic but arguably more accurate representation of the lived experience, she said.
Darlington's photography is rooted in an interest in nostalgia. Her pictures explore the fragmentary, fictional nature of memory, and in so doing they undermine the documentary realism generally expected of photography.
In her Half-Remembered series, Darlington photographs places where people spend time together: the beach, the mountains, the countryside. Unlike the Constructs, these images represent a single moment in time and space.
Darlington said her Half-Remembered images recall both the longing we have to recreate the past - the family vacation, the weekend day trip, the childhood visit to the seaside -- and the disturbing tendency of contemporary reality to intrude upon our nostalgic fantasies.
David Allan Brandt cites finding his vision as one of the most important things that ever happened to him. After spending so much time as a commercial photographer, he became creatively bored. But rediscovering his vision in abstract portraiture transformed Brandt.
Brandt also explored realism in his vision, like this portrait of a woman, Mayti, and her children.
No matter what kind of image Brandt makes, he wants viewers to have the imaginary quality to ask how he created it.
Photographing a creative reality
Photographing a creative reality
Mike Mellia
Mike Mellia
Mike Mellia
Mike Mellia
mike mellia wall street 2
Bryan Peterson
Bryan Peterson
Bryan Peterson
Bryan Peterson
Bryan Peterson
Matthew Brandt
Matthew Brandt
Matthew Brandt
Matthew Brandt
Matthew Brandt
Liz Darlington
Liz Darlington
Liz Darlington
Liz Darlington
Liz Darlington
David Allan Brandt
David Allan Brandt
David Allan Brandt
STORY HIGHLIGHTS
Digital manipulation hit 10 years ago and changed the landscape of fine art photography
Photographers are starting to pull back from relying on manipulation as the end-all
A new trend for "organic" photography is on the rise
(CNN) -- In the age of Instagram and smartphones, it seems anyone can be an artist. Add a filter to your cluttered concert photo and the image suddenly transforms into a nostalgic, moody scene straight out of Rolling Stone.
The trend playing out on social media is a reflection of what's been going on in the commercial and fine art photography world over the last decade.
Some photographers have thrown every filter and post-processing technique at a photo and called the result art.
The problem was that the images themselves, the backbone of the art presented, weren't great to begin with, said award-winning commercial photographer David Allan Brandt. Technology was expected to make the mediocre extraordinary.
"I always believed that you have to start with the image, make that image as strong as possible, and then use the style to enhance the vision you're trying to say," Brandt said.
But what happens when you can do anything?
The digital age made that possible and offered a way for artists to bring life to images that previously existed only in their imaginations.
When Brandt showcases an image of a man hanging off the bottom of an airplane speeding through the upper atmosphere, he wants people to question its reality.
The brain behind your visual receptors knows that the man couldn't survive, but to Brandt, the important aspect is that a person has the imaginary quality to ask how.
"As an artist, you still have to get that quality, the intangible imagination, that makes people question how, even if they know. Something about an organic feel gives it that quality," Brandt said.
Viewers of commercial and art photography now assume images have been manufactured, regardless of whether they've been retouched.
"It's like reality isn't good enough; it has to be taken to another level of polish and expression," Sarah Leen, senior photo editor at National Geographic, said of commercial photography.
The tenets of photojournalism require that she never do more than crop, or perhaps tweak a color profile, of an image.
"I don't mind because it's not trying to pass itself off as real or documentary. I appreciate the skill it takes to create those magical images of fine art photography, and I know that's what they are."
The "hyper digital quality" Brandt witnessed in professional art may be on its way out. Brandt was a judge for the 2012 Communication Arts magazine competition, which selects some of the best photography in the world each year.
After watching artists place the emphasis on the tool over the image for so long, this year's entries reflected a new vision.
"I was impressed that people were using the digital process as a tool in their belt rather than the end-all," Brandt said. "They were starting to think about the image artistically again. The organic feel of photography is becoming much more of a trend now."
Patrick Coyne, editor of Communication Arts, has also witnessed this change, what he calls a maturity in art photographers, to step back from relying on technology.
Photoshop CS, released in 2003, was the kind of technological breakthrough that causes artists to go overboard and then pull back, Coyne said. It's part of the learning curve for artists. Complete access to manipulation software and the Internet gave everyone the chance to see everything and expand their vision.
But because people are able to push the imagery so much further with digital retouching, the technology got in the way of the idea. Coyne admits to seeing great artwork done on the iPhone, but it's about the master using the tools, not just the tools available.
No matter the technical aspects in photography, which change dramatically from year to year, Coyne has kept the competition about compelling images.
"I think there is a desire for some more sense of realism in reaction to all of the digital manipulation that we've seen," Coyne said.
Teaching the real art of photography
Photographers and photography educators have also had to analyze the tipping point of "when Photoshop becomes a plastic toy, versus a real honest-to-goodness vehicle that allows you to become creative," said Bryan Peterson, commercial photographer and creator of the Picture Perfect School of Photography.
He said he gets frustrated when he leads a workshop for students who don't realize that they have to work to create the images in the first place. The tools in Photoshop, such as Content-Aware Fill from version CS5, allow people to remove anything from a photo with one click.
While useful at times, it has created what Peterson refers to as "visually lazy photographers." Rather than capturing a scene in the camera, or reshooting to fix a mistake on site, they prefer to take the bad image and work on it in Photoshop.
"I would rather make love to a woman than watch porn," Peterson said. "It is a truly organic experience. When you're sitting in front of a computer, it is a sterile environment, and as a result, you can't speak with any eloquence as to what took place when you made this picture."
With resources like Google Images that show us everything we want to see, photographers are also left to question what to document. And what makes art photography art after the arrival of the digital age?
To Liz Darlington, fine art photographer and a professor at Savannah College of Art and Design, several factors have a hand in defining the new world of art photography.
Amidst billions and billions of images, Darlington believes it is how we assess their quality that has changed. Photographers must put concept first, and think of their work as a body of work, rather than one-hit wonders.
"I think that is the biggest change in the art world," Darlington said. "They want to see that photographers have a consistency of vision. That is what's lacking on these Flickr sites: lots of pretty pictures, but nothing that shows the intent of the artist. The intent of someone taking a snapshot with an iPhone and running it through Instagram is very different than someone working on an idea for a long time and shooting with intention."
She teaches her students about the importance of maintaining vision in all things.
"A lot of them think if they can apply all of the right filters, composite and change the lighting and exposure after the fact, that they can be great photographers. Photography has become so easy that a lot of students don't realize how phenomenally difficult it is."
The essence of manipulation
History isn't something most people think of when they use Photoshop, but a lot of the techniques available in the software were created by classic photographers.
Mike Mellia, a young photographer who finds himself at the crossroads of commercial and art photography, has made a study of the history of his craft.
Ansel Adams, one of the greatest photographers of the 20th century, retouched his images. In the darkroom, Adams would burn his shadows darker and dodge the brightness lighter to create dramatic black and white photos.
Mellia compares it to modern-day HDR, or high dynamic range, photography, which expands the limited range of the camera by layering the same photo taken at different exposures. Dodge and burn are tools in Photoshop that digital photographers use as well.
Adams, a piano player, believed that photographers should use every part of the process to create an image.
"He said that the negative from your camera is the musical score and it tells you where to go," Mellia said. "When you make the print, you go in the darkroom and that's the actual performance of the music."
Mellia believes his emphasis on lighting his dramatic, movie set-style photos comes from studying painters like Vermeer, who conceptualized light to make their art jump off the canvas.
Brandt notes that photography evolved out of a long history of art forms, painted portraits and realism that aimed to represent reality. Photography helped diminish that quality of art, and the response was abstraction paintings.
"One of the directions photography is going in is expressionistic," Brandt said. "That could transform photography the same way that photography transformed painting."
A new kind of organic photography
Looking at one of Matthew Brandt's lake prints may take you a minute to see the subject through the dizzyingly colorful haze, but it's there in more ways than one. The photo of the lake is also dipped in the lake water.
See more of Matthew Brandt's work on the CNN Photos blog
"There is an organic process I like to embrace in the manipulation," he said. "For me, it's about retaining a certain level of objectivity and virtue to what I'm trying to represent."
Recently named one of "Forbes' 30 Under 30" for his unique approach to art photography, Brandt, son of David Allan Brandt, is frequently asked "How do you feel that anyone can take a great photo now?"
Rather than making him question if photography is dead, Brandt believes that it makes photographers work even harder to make photos that aren't like the images someone can take on their iPhone with no knowledge of the craft.
Darlington has witnessed artists creating photos that appear to have been taken decades ago, which carry an inherent imperfection within them as well. It contributes to the search for elusive organic photography.
"I think it is about lamenting the loss of the old processes, which were imperfect," she said. "You only had one chance to get it right. It's about slowing down the process and going back to vision."
Brandt sees deliberateness among his peers to create "haphazard imagery." It causes the viewer not to question the technique of an artist, but since there are so many manipulating options, why the particular one used in the photograph?
He feels that he's part of something, a swing that melds photography and abstraction.
"Artists are thinking about the very materials they use in photography," he said. "It's not a nostalgia, but cherishing the craft of photography because of it becoming 0s and 1s digitally."
How do you feel about digital manipulation in photography? Is it inherent or an obstacle? Let us know what you think in the comments below.