Tropical Storm Ernesto nearing 2nd landfall
updated 4:15 PM EDT, Thu August 9, 2012
STORY HIGHLIGHTS
NEW: Ernesto is 5 miles from Mexico's Gulf coast
NEW: It is expected to weaken as it moves over land
NEW: A tropical storm warning is in effect for the region
The storm surge could reach 3 feet, forecasters say
Are you preparing for Tropical Storm Ernesto? Share your story with CNN iReport.
Mexico City (CNN) -- Tropical storm Ernesto skirted the Mexican coast Thursday with top winds of 60 miles an hour, the U.S. National Hurricane Center said.
As of 2 p.m. ET, the storm was about 5 miles north of Coatzacoalcos, which is southeast of Mexico City along the Gulf of Mexico, the Hurricane Center said. A tropical storm warning was in effect from Veracruz to Chiltepec, about 60 miles inland.
Ernesto is expected to move slowly over southern Mexico later Thursday and on Friday and weaken as the center of the storm moves over the high terrain of Mexico, the Hurricane Center said.
NASA study links extreme weather, climate change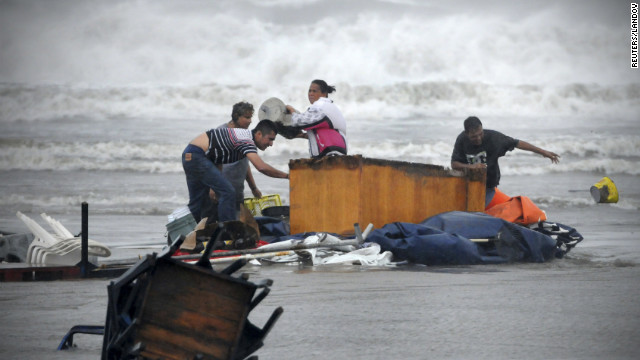 People try to recover belongings being washed away by the flood in Boca Del Rio on the outskirts of Veracruz on Thursday, August 9. Tropical Storm Ernesto skirted the coast of the Gulf of Mexico on Thursday, sending wind gusts and showers across the state of Veracruz, home to some of Mexico's busiest ports and oil installations.
The swelling ocean takes a food stand in Boca Del Rio.
Soldiers stand amid debris left after the passing of Hurricane Ernesto in Mahahual, Mexico, on Wednesday, August 8. After crossing the Yucatan Peninsula, the storm is expected to make landfall a second time on Mexico's coast by Thursday evening.
Residents get creative to take shelter from the rain near the beach of Mahahual.
Soldiers remove fallen branches and other debris from a beach in Mahahual.
Residents move a boat that was dislodged by the storm in Mahahual.
Residents of Felipe Carrillo Puerto, Mexico, cross a street flooded by the rains from Hurricane Ernesto.
A woman and her children prepare to evacuate via bus as Ernesto approaches Mahahual on August 7.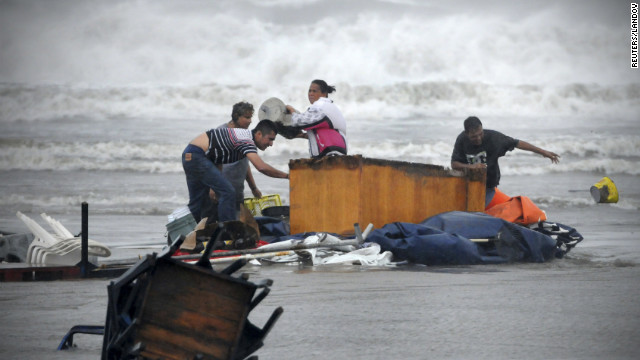 Hurricane Ernesto
The storm could bring as much as 10 inches of rain to the state of Veracruz and neighboring Tabasco, Puebla, and Oaxaca through Friday, and may produce life-threatening flash floods or mudslides over high terrain, the hurricane center said.
It also warned of a storm surge of 1 to 3 feet above normal along the coast, along with large and dangerous waves.
Ernesto made initial landfall Tuesday night as a Category 1 hurricane in the Mexican state of Quintana Roo, on the Yucatan Peninsula, before moving back into the Gulf.