NOAA revises forecast, says more storms likely this hurricane season
updated 1:59 PM EDT, Thu August 9, 2012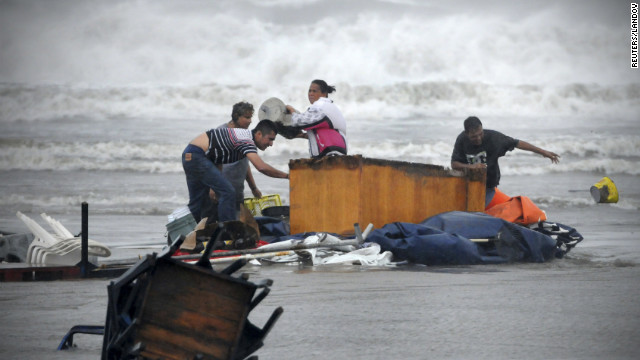 People try to recover belongings being washed away by the flood in Boca Del Rio on the outskirts of Veracruz on Thursday, August 9. Tropical Storm Ernesto skirted the coast of the Gulf of Mexico on Thursday, sending wind gusts and showers across the state of Veracruz, home to some of Mexico's busiest ports and oil installations.
The swelling ocean takes a food stand in Boca Del Rio.
Soldiers stand amid debris left after the passing of Hurricane Ernesto in Mahahual, Mexico, on Wednesday, August 8. After crossing the Yucatan Peninsula, the storm is expected to make landfall a second time on Mexico's coast by Thursday evening.
Residents get creative to take shelter from the rain near the beach of Mahahual.
Soldiers remove fallen branches and other debris from a beach in Mahahual.
Residents move a boat that was dislodged by the storm in Mahahual.
Residents of Felipe Carrillo Puerto, Mexico, cross a street flooded by the rains from Hurricane Ernesto.
A woman and her children prepare to evacuate via bus as Ernesto approaches Mahahual on August 7.
Hurricane Ernesto
Hurricane Ernesto
Hurricane Ernesto
Hurricane Ernesto
Hurricane Ernesto
Hurricane Ernesto
Hurricane Ernesto
Hurricane Ernesto
STORY HIGHLIGHTS
New predictions released Thursday expect more activity
Wind patterns and warm seas are conducive to more storms
There have been six named storms so far this year
(CNN) -- The National Oceanic and Atmospheric Administration revised its predictions Thursday, saying more named storms are likely in this year's Atlantic hurricane season.
The agency now predicts between 12 and 17 named storms from the period that started on June 1 and will end on November 30. NOAA's original May prediction was between nine and 15 named storms.
The chance of an above-normal hurricane season rose to 35%, said Gerry Bell, the lead hurricane season forecaster at NOAA's Climate Prediction Center. There is a 50% chance of a "near-normal" season.
NOAA predicts that five to eight of the named storms will become hurricanes, and that two to three of those could be major hurricanes. A hurricane that reaches Category 3 or greater (with winds of at least 111 mph) is considered major.
Tropical Storm Ernesto gains steam, nears second landfall
A "normal" hurricane season produces 12 named storms, including six hurricanes, of which three are major hurricanes.
"We are increasing the likelihood of an above-normal season because storm-conducive wind patterns and warmer-than-normal sea surface temperatures are now in place in the Atlantic," Bell said. "These conditions are linked to the ongoing high activity era for Atlantic hurricanes that began in 1995. Also, strong early-season activity is generally indicative of a more active season."
This season has already produced six names storms: Alberto, Beryl, Chris, Debbie, Ernesto and Florence. Chris and Ernesto became hurricanes.
This year was also the first time since 1908 that three named storms formed before the June 1 start of hurricane season.
However, Bell said that other factors oppose some of the indications of an above-average storm season.
One of these is the weather phenomenon known as El Niño, which he said will probably develop later in the season.
"El Niño is a competing factor, because it strengthens the vertical wind shear over the Atlantic, which suppresses storm development," he said.
Laura Furgione, acting director of NOAA's National Weather Service, stressed in a conference call with reporters the importance of being prepared for a hurricane.
Apathy about preparedness is a challenge that the public faces, she said.
"People should be ready now," she said.
The warning is not just for coastal residents, Furgione added, as flooding from hurricanes can affect residents far inland.
Complete coverage of extreme weather
CNN's Dave Hennen contributed to this report.

Part of complete coverage on
Superstorm Sandy
updated 8:17 AM EST, Mon November 5, 2012

A mother learns that her newborn is part of a hospital evacuation. Facebook posts from a member of the HMS Bounty turn ominous. A man worries about the wind and rain, but another force of nature hits home.
updated 2:53 PM EST, Thu November 29, 2012

Tourists become volunteer rescue workers. The connected provide power outlets and Wi-Fi. Performers lift spirits. Photographers preserve images. Doctors work overtime to keep hospitals running and patients alive.

Get to know the victims of Superstorm Sandy through our interactive feature.
updated 10:42 AM EST, Fri November 30, 2012

It has been in operation only since October 30, but the Facebook page for "Giving back to those affected by Sandy" has a longer timeline than most Facebook members.
updated 3:07 PM EST, Sun November 25, 2012

It's important to remember that even as the effect of Superstorm Sandy recedes from the news, there are still devastated areas that are without electricity, heat or hot water.
updated 11:46 AM EST, Sat November 24, 2012

The rapper 50 Cent brought a little holiday cheer and Thanksgiving food to New Yorkers hit hard by Superstorm Sandy.
updated 12:10 PM EST, Wed November 21, 2012

Our AmeriCares "Operation Muck-Out" team immediately got to work, ripping out the interior walls and removing the insulation until only wooden beams were standing.
updated 12:19 PM EST, Tue November 20, 2012

Ashley Murray became the first female president of Liberty Industrial Gases and Welding Supplies Inc. in Brooklyn. But now the family history Murray was charged with preserving is at risk of ending after Superstorm Sandy.

Truckloads of donations from across the country, carrying everything from bottled water to diapers, are arriving at places of worship.
updated 12:16 PM EST, Tue November 20, 2012

The adage says "a picture is worth a thousand words," but when Leeann Lewandowski happened upon a photograph of her late mother on Facebook after her home was destroyed in Superstorm Sandy, she was speechless.
updated 12:52 PM EDT, Fri November 2, 2012

Roots ripped out of the ground as a large oak tree fell toward Olga Raymond's front door. With it came a power line.

iReporters share their photos, videos and stories of living in the path of the superstorm.