Why Olympians bite their medals
updated 9:49 AM EDT, Fri August 10, 2012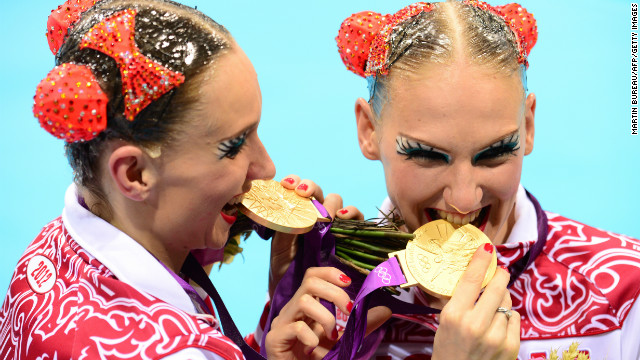 Russia's Natalia Ishchenko and Svetlana Romashina bite their medals after winning gold in the duets free routine final during the synchronized swimming competition at the London 2012 Olympic Games.
Silver medalist Michael Tinsley of the United States and gold medalist Felix Sanchez of Dominican Republic bite their medals after the men's 400-meter hurdles final.
Serena Williams of the U.S. poses on the podium with her gold medal after defeating Russia's Maria Sharapova in the women's singles gold medal match.
Alexander Vinokourov of Kazakhstan bites his gold medal after winning the men's road race cycling event.
South Korea's Kim Jang-mi bites her gold medal on the podium after victory in the women's 25-meter pistol final.
Jamie Lynn Gray of the U.S. bites her gold medal after winning the women's 50-meter rifle three positions shooting finals.
Oh Jin-hyek of South Korea bites his gold medal after winning an archery competition.
Gold medalist France's Teddy Riner bites his medal after winning a judo event.
South Korea's Song Dae-nam bites his gold medal after winning a judo event.
Italy's Luca Tesconi bites his silver medal as gold medalist South Korea's Jin Jong-oh stands behind him. They competed in the 10-meter air rifle men's final.
Matt Grevers of the U.S. celebrates with his gold medal during the medal ceremony for the men's 100-meter backstroke.
Yana Shemyakina of Ukraine bites her gold medal after defeating Britta Heidemann of Germany in the women's epee individual fencing finals.
Athletes taste victory
Athletes taste victory
Athletes taste victory
Athletes taste victory
Athletes taste victory
Athletes taste victory
Athletes taste victory
Athletes taste victory
Athletes taste victory
Athletes taste victory
Athletes taste victory
Athletes taste victory
STORY HIGHLIGHTS
Olympians sometimes pretend to bite their medals while posing for pictures
Olympics expert David Wallechinsky says photographers request the pose
Money handlers used to bite coins to verify their authenticity, one expert says
Gold medals for the 2012 Olympics contain only 1.34% gold, about 6 grams
(CNN) -- It's a familiar pose by now: Fresh-faced Olympian grins while pretending to take a bite from the hard-won gold medal hanging around his neck.
But why do athletes feign chomping on their prized medallions, anyway?
Most likely to satisfy the pose-hungry media, says David Wallechinsky, president of the International Society of Olympic Historians. There are only so many things to do with a medal, and the excited champions are usually appeasing requests from the gallery of Olympic photographers when they bite down on their booty.
"It's become an obsession with the photographers," says Wallechinsky, co-author of "The Complete Book of the Olympics." "I think they look at it as an iconic shot, as something that you can probably sell. I don't think it's something the athletes would probably do on their own."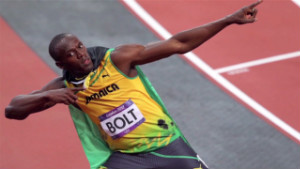 Bob Marley's daughter an Olympic designer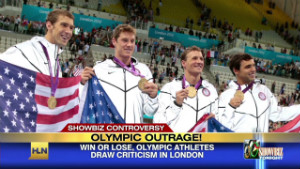 America's Olympic heroes get slammed!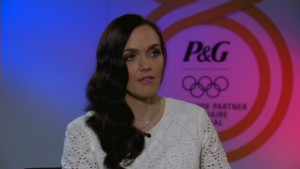 Cycling Olympic star pondering future
He's seeing the practice more this year than ever before, especially among swimmers -- though he has no idea why.
Gallery: Sobbing Olympians of the 2012 "crying games"
Photogs have caught star gymnast Gabby Douglas, track champ Sanya Richards-Ross and swimmer Ryan Lochte giving their medals some tooth. Lochte's shots sometimes feature the added bonus of a jewel-encrusted "grill."
It's not just an Olympic phenomenon, though. Spanish tennis player Rafael Nadal famously gnaws his trophies when he wins.
Historically, the practice of biting into metal seems to have its roots in money counterfeiting. Money handlers would bite down on coins to test their authenticity, said David W. Lange of Numismatic Guaranty Corporation. Gold is a relatively soft metal and would show wear when distressed.
They nailed it! Fans pay artistic tribute to Olympics
Since coins have not contained precious metals for about the past 50 years, it would be silly to try munching on them nowadays.
So how much of an Olympic gold medal is actually gold? It varies by the Games.
This year, the gold medal consists of 1.34%, or about 6 grams, of gold. The remainder is 93% silver and 6% copper.
The amount of gold used to make a medal shrunk after each of the two World Wars, according to Olympic medal collector and expert Jim Greensfelder. Gold medals were made of solid gold at three Olympics -- in 1904, 1908 and 1912 -- but the medals themselves were smaller.
Complete coverage: Olympics 2012
Would you bite your medal if you were a winning Olympian? Share your thoughts in the comments section below.