Florida prosecutors mistakenly release confidential Zimmerman case documents
updated 5:25 AM EDT, Fri August 10, 2012
STORY HIGHLIGHTS
A photo of Trayvon Martin's body is mistakenly released
Released court documents also include George Zimmerman's school records
The prosecutor's office asks the media not to use the information
A judge had ordered that photos of Martin's body should be sealed
(CNN) -- A grainy black and white photo of Trayvon Martin's body and school records for George Zimmerman were among court documents that prosecutors in the controversial case said they mistakenly released Thursday.
Special Prosecutor Angela Corey's office later issued a statement asking reporters to "please disregard and do not use the information contained in the initial e-mail. It was inadvertently attached."
The photo and records were among 76 documents released by Corey's office Thursday.
The state attorney's office later sent reporters a redacted version of the court documents, which did not include the Martin photo or the Zimmerman school records.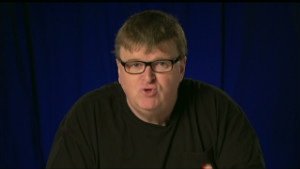 Michael Moore on Trayvon Martin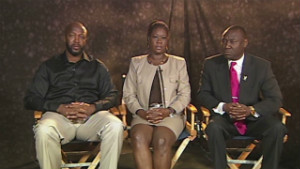 It's Trayvon Martin's parents' turn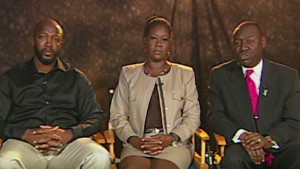 Tracy Martin on talking to Zimmerman: No
In June, Circuit Judge Kenneth R. Lester Jr. ruled that photographs of Martin's body after the February 26 shooting would not be released to the public.
Judge in Zimmerman case says he won't step aside
Zimmerman is charged with second-degree murder in the death of 17-year-old Trayvon Martin, who was shot and killed while walking through Zimmerman's Sanford, Florida, neighborhood in February. Zimmerman says he shot Martin in self-defense during a struggle, but prosecutors say he racially profiled the youth and ignored a 911 dispatcher's advice not to follow him.
In his six-page order sealing some court documents in June, Lester noted the media scrutiny of the case.
"News stories have been routinely disseminated presenting opinion and rumors as fact. Any person who has logged onto a news website in the last three months has at the least seen a headline relating to the case," he wrote. "As noted, common sense tells this court that the full disclosure of information, as sought by the media interveners, will irreparably harm the ... ability to receive a fair trial."
Zimmerman's wife pleads not guilty on perjury charge
Timeline of events in Trayvon Martin case

Part of complete coverage on
Trayvon Martin shooting
updated 10:51 AM EST, Tue February 26, 2013

February 26, 2012. That was the day two strangers -- Trayvon Martin, and George Zimmerman -- met for the first and only time.
updated 10:47 AM EST, Tue February 26, 2013

The shooting death of Trayvon Martin one year ago continues to resonate among the consciousness of many Americans.
updated 1:16 PM EST, Tue February 26, 2013

The final, violent moments in the life of their son, Trayvon Martin, no longer dominate the national news, as they once did.

One year after an explosion of press attention, the question seems obvious: Has the news media learned anything about covering race issues in the wake of the Trayvon Martin shooting?
updated 8:55 AM EDT, Thu March 22, 2012

Supporters of Trayvon Martin rallyed in New York's Union Square during a "Million Hoodie March" on Wednesday, March 21, 2012.
updated 4:00 PM EST, Tue February 26, 2013

"Murderer," one e-mail's subject line said. These venom-drenched words are just a smattering of at least 400 e-mails and letters, all sent to George Zimmerman over the past 10 months.

The shooting of Trayvon Martin prompted Florida, and other states, to take another look at the law pivotal to this case, the so-called "stand your ground" law.
updated 7:55 AM EDT, Thu July 19, 2012

George Zimmerman gave his first television interview, saying he had to act after Trayvon Martin said "you are going to die tonight" and reached for Zimmerman's gun holster.
updated 11:13 AM EDT, Fri May 18, 2012

Florida, urged prosecutors to take George Zimmerman into custody after arguing his killing of Trayvon Martin was "ultimately avoidable."
updated 8:50 AM EDT, Wed May 9, 2012

The police chief in Sanford, Florida, said communities should "take a good, hard look at who is selected" for neighborhood watch programs.
updated 11:33 AM EDT, Fri March 30, 2012

Just like most any other teenager, Trayvon Martin enjoyed listening to music, going to the movies and the roller rink with his friends, friends and family said.

The Martin case renewed scrutiny of Florida's 2005 "Stand Your Ground" law -- and others like it.
updated 10:10 PM EDT, Wed April 18, 2012

The judge in George Zimmerman case has received high ratings from defense lawyers but isn't known as a "soft touch."
updated 5:31 PM EST, Mon December 3, 2012

See photos of an injured George Zimmerman that his attorneys say it were taken the night unarmed teen Trayvon Martin was killed in Sanford, Florida.