No 'viable basis' to prosecute Goldman, Justice Department says
updated 7:13 AM EDT, Fri August 10, 2012
STORY HIGHLIGHTS
A Senate subcommittee spent two years on an investigation
The Justice Department says it conducted an exhaustive review of the congressional report
The department determines there is no basis for criminal prosecution
A Goldman Sachs spokesman says "We are pleased that this matter is behind us"
(CNN) -- The Justice Department says after a "careful review" it has determined there is no basis for bringing a criminal prosecution against Goldman Sachs or its employees in regard to allegations set forth in a congressional report.
In an unsigned statement from the Justice Department issued Thursday night, it said the department conducted an exhaustive review for more than a year examining allegations in the Levin-Coburn Report.
Headed by Sen. Carl Levin, D-Michigan, and Sen. Tom Coburn, R-Oklahoma, the 635-page report in 2011 singled out Goldman and Deutsche Bank as examples of Wall Street firms that reaped huge profits by marketing securities backed by subprime mortgages as safe investments to clients, even as the banks bet against these very same securities.
"In my judgment, Goldman clearly misled their clients and they misled Congress," Levin told reporters on a conference call in April 2011.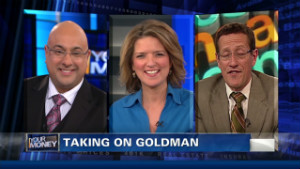 Goldman Sachs as creepy as we think?
The Senate subcommittee, which spent two years on the investigation, based its report on thousands of internal company documents and e-mails, as well as hundreds of interviews and congressional testimony.
While the department concluded that the burden of proof for a prosecution could not be met, "(it) commend(s) the hard work of those involved in preparing the report and thank the Senate's Permanent Subcomittee on Investigations for its cooperation in regard to the criminal investigation."
Goldman Sachs spokesman David Wells said in a statement, "We are pleased that this matter is behind us."
CNN's Terry Frieden contributed to this report.

Part of complete coverage on
Banking crisis
updated 10:52 PM EDT, Sat August 18, 2012

A British parliamentary report slammed Barclays bank on Saturday for its "disgraceful" actions that led to a rate-rigging scandal.
updated 8:02 AM EDT, Thu August 16, 2012

Standard Chartered is far from the only bank to be implicated in illegal transactions with sanctioned nations.
updated 9:50 AM EDT, Thu July 12, 2012

Barclays has been in the spotlight recently, but the rate-fixing scandal which lost its boss his job looks set to reach far further afield.
updated 5:18 PM EDT, Wed July 4, 2012

CNN's Richard Quest talks to Lord Levene about the Barclays scandal. Levene says London's culture of money must change.

Read texts and emails between Barclays traders about their often successful attempts to manipulate global benchmarks for interest rates.
updated 5:07 PM EDT, Tue July 3, 2012

There are many pieces to the global banking scandal. CNN's Richard Quest explains how they all fit together.
updated 1:31 PM EDT, Thu July 5, 2012

Richard Quest says the Libor scandal has confirmed what many of us already knew: There is something smelly in the London financial world.
updated 7:47 AM EDT, Tue July 3, 2012

Stephen Hester writes an open letter about the banking crisis, and why, although we may be angry with the sector, we can't give up on banks.
updated 7:05 PM EDT, Mon July 2, 2012

CNN's Richard Quest breaks down the LIBOR and explains how this benchmark rate affects the banking system.