Ernesto weakens, but new strength forecast
updated 8:18 PM EDT, Wed August 8, 2012
STORY HIGHLIGHTS
Ernesto continues to weaken but is expected to become a hurricane again
The storm's intensity drops after making first landfall in Mexcio
The storm is expected to enter the Bay of Campeche Wednesday afternoon
Another landfall is predicted for Thursday
Are you preparing for Tropical Storm Ernesto? Share your story with CNN iReport.
(CNN) -- Despite weakening, Tropical Storm Ernesto poured heavy rains Wednesday on Mexico and portions of Central America, the National Hurricane Center said.
Ernesto, once a Category 1 hurricane, was moving into the Bay of Campeche where it is expected to become a hurricane again.
As of 8 p.m. ET, the storm was about 20 miles (35 kilometers) east-northeast of Ciudad del Carmen, Mexico, the center reported. Ernesto was moving west at 7 mph with maximum sustained winds of 50 mph. Officials in Ciudad del Carmen reported one gust of 58 mph.
The storm is expected to make landfall a second time on Mexico's coast on Thursday.
Mexico issued a hurricane watch along the coast from Barra de Nautla to Coatzacoalcos, an area that includes the coastal city of Veracruz.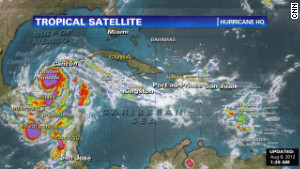 Hurricane Ernesto is expected to weaken as it crosses the Yucatan before emerging in the Bay of Campeche.
Between 4 to 8 inches of rain are expected in some areas of the region, with as much as 12 inches in parts of the Mexican states of Tabasco and Veracruz.
Belize, the southern Yucatan Peninsula and northern Guatemala may see as much as 4 inches of rain, the hurricane center said.
Ernesto will cause a surge when it reaches the coast, increasing water levels by as much as 1 to 3 feet above normal tide levels in the area near and north of where the storm makes landfall, the hurricane center said.
NASA scientist links climate change, extreme weather
Ernesto made initial landfall Tuesday night as a Category 1 hurricane in the Mexican state of Quintana Roo, on the Yucatan Peninsula.
In Chetumal, the state capital, officials asked residents to remain indoors throughout the night as the storm hit.
Some areas were flooded or without electricity Wednesday morning.
Civil protection officials worked throughout the storm to evacuate some residents living in low-lying areas who had initially refused to leave, a local journalist, Carlos Perez, told CNN en Español.
Shelters were open throughout the area, providing food, he said.
In Honduras, classes were canceled in the northern part of the country, where the effects of the storm were felt. There was flooding in some areas, but no major damage.
Journalist Elvin Sandoval contributed to this report.

Part of complete coverage on
Superstorm Sandy
updated 8:17 AM EST, Mon November 5, 2012

A mother learns that her newborn is part of a hospital evacuation. Facebook posts from a member of the HMS Bounty turn ominous. A man worries about the wind and rain, but another force of nature hits home.
updated 2:53 PM EST, Thu November 29, 2012

Tourists become volunteer rescue workers. The connected provide power outlets and Wi-Fi. Performers lift spirits. Photographers preserve images. Doctors work overtime to keep hospitals running and patients alive.

Get to know the victims of Superstorm Sandy through our interactive feature.
updated 10:42 AM EST, Fri November 30, 2012

It has been in operation only since October 30, but the Facebook page for "Giving back to those affected by Sandy" has a longer timeline than most Facebook members.
updated 3:07 PM EST, Sun November 25, 2012

It's important to remember that even as the effect of Superstorm Sandy recedes from the news, there are still devastated areas that are without electricity, heat or hot water.
updated 11:46 AM EST, Sat November 24, 2012

The rapper 50 Cent brought a little holiday cheer and Thanksgiving food to New Yorkers hit hard by Superstorm Sandy.
updated 12:10 PM EST, Wed November 21, 2012

Our AmeriCares "Operation Muck-Out" team immediately got to work, ripping out the interior walls and removing the insulation until only wooden beams were standing.
updated 12:19 PM EST, Tue November 20, 2012

Ashley Murray became the first female president of Liberty Industrial Gases and Welding Supplies Inc. in Brooklyn. But now the family history Murray was charged with preserving is at risk of ending after Superstorm Sandy.

Truckloads of donations from across the country, carrying everything from bottled water to diapers, are arriving at places of worship.
updated 12:16 PM EST, Tue November 20, 2012

The adage says "a picture is worth a thousand words," but when Leeann Lewandowski happened upon a photograph of her late mother on Facebook after her home was destroyed in Superstorm Sandy, she was speechless.
updated 12:52 PM EDT, Fri November 2, 2012

Roots ripped out of the ground as a large oak tree fell toward Olga Raymond's front door. With it came a power line.

iReporters share their photos, videos and stories of living in the path of the superstorm.