STORY HIGHLIGHTS
South Africa's Mark Boucher rules out a quick return to cricket
Boucher was forced to retire from international cricket with an eye injury
The wicketkeeper lost the pupil, iris and lens in his left eye after being hit by a bail
Boucher is the most-capped wicketkeeper in the history of Test cricket
(CNN) -- Mark Boucher has revealed that his hopes of returning to competitive cricket following a serious eye injury are "unlikely" in the near future.
Boucher, whose 147 Test match caps is a record for a wicketkeeper, lost the lens, iris and pupil in his left eye after being struck by a bail during South Africa's tour of England in July.
The 35-year-old has undergone numerous medical procedures since the incident and had hoped to continue his career playing for the Cape Cobras in his homeland.
But he ruled out a speedy comeback as he does not want to risk any further damage to his eye.
"It has been a difficult time for me mentally and physically," Boucher said in statement on Wednesday.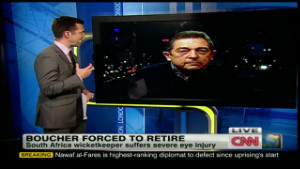 Bacher: Boucher one of the 'Greatest'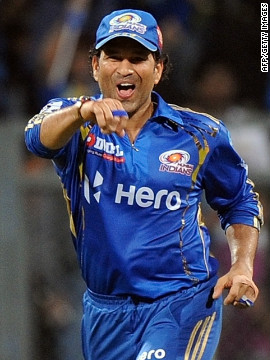 Cricket legend Sachin Tendulkar's nomination to the Indian parliament has drawn mixed reactions across the country. The Times of India said it makes "little sense," while many lawmakers welcomed the celebrated batsman to their ranks.
Tendulkar cemented his place in history when in March he became the first cricketer to score 100 international centuries. The 39-year-old insists cricket will remain his priority, adding: "I have been nominated because I am a sportsman and not a politician."
Tendulkar's supporters held a hunger strike on April 24, demanding the government award him India's highest civilian award. Chairperson Justice Markandey Katju hit back, arguing that giving the Bharat Ratna to cricketers and film stars who have "no social relevance" makes a mockery of the prize.
Tendulkar, pictured with his wife Anjali, was honored at the "Real Heroes Awards" ceremony in Mumbai in March, run by the Reliance Foundation and CNN affiliate broadcaster CNN-IBN.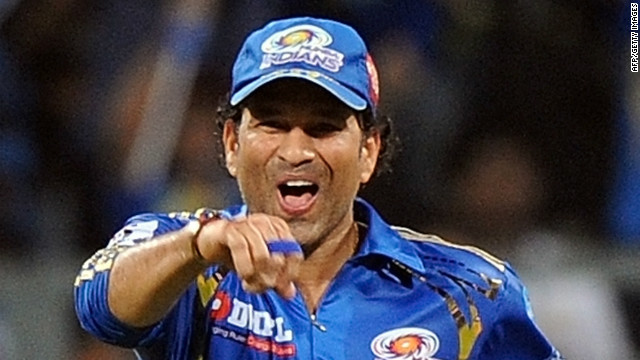 Tendulkar: From cricket to politics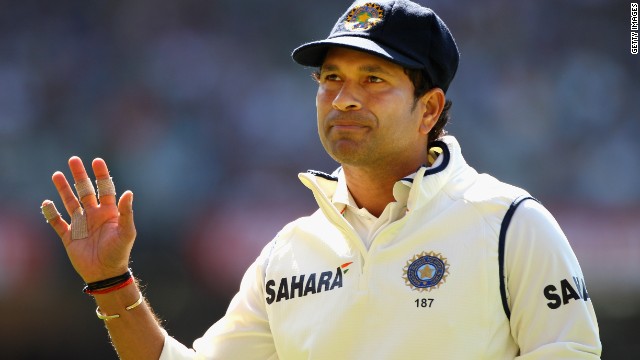 Sachin Tendulkar will end his record-breaking cricket career following his 200th Test match, against the West Indies in his home city of Mumbai.
A face-painter with a queue of spectators outside Mumbai's Wankhede Stadium. The match is not being covered by the world's leading photo agencies due to a dispute with Indian cricket's ruling body, which dates back to 2012.
Security was tight around the ground, which could have been sold out 10 times according to local reports.
Tendulkar helped his Indian Premier League side Mumbai Indians to win the Twenty20 limited-overs tournament earlier this year.
Indian painter Jagjot Singh Rubal touches up his painting commemorating Tendulkar's famous cricketing milestone.
Tendulkar became the first man in cricket history to score 100 international hundreds when he made 114 in a limited-overs match against Bangladesh on March 16, 2012.
Tendulkar visited the residence of Bangladesh's Prime Minister Sheikh Hasina Wazed, right, to mark his achievement.
He had been stuck on 99 since the 2011 World Cup, when he closed to within one of the milestone with a ton against South Africa. Tendulkar helped India win the final against co-hosts Sri Lanka in his home city of Mumbai on April 2. He scored only 18 in that match, but was India's top runscorer as his country won the 50-over tournament for the first time.
Cricket fans had been waiting for the milestone, which came 33 innings after the South Africa game. Tendulkar went close during India's disappointing tour of Australia -- against whom he has scored 20 tons, more than any other nation.
Tendulkar is the first and only player in cricket history to score 15,000 Test match runs, achieving the feat in November 2011.
Having scored a triple century as a schoolboy, and then passing 100 on his first-class debut in 1988, Tendulkar made his international debut the following year at the age of 16 against Pakistan.
Tendulkar scored his first international century in the five-day format the following year on India's tour of England, hitting 119 not out in the second Test at Old Trafford.
Debate still rages as to whether Tendulkar can be considered greater than Australian legend Donald Bradman, whose Test career ended in 1948 with an incredible average of 99.94, scoring 6,996 runs in 52 matches.
England's players applaud after Tendulkar scores 193 in Leeds in 2002, passing Bradman's record of 29 Test centuries. He has now played 188 Tests, notching 51 hundreds.
Tendulkar, left, became Test cricket's highst runscorer in October 2008 when he passed Brian Lara's previous record of 11,953 during a home series against Australia.
Tendulkar became the first batsman to score 17,000 runs in one-day internationals with a knock of 175 against Australia in Hyderabad on November 5, 2009.
Tendulkar's next foray into three figures saw him become the first batsman to score 200 in a 50-over international -- against South Africa on February 25, 2010. Indian schoolchildren in Amritsar celebrated their national hero's landmark feat.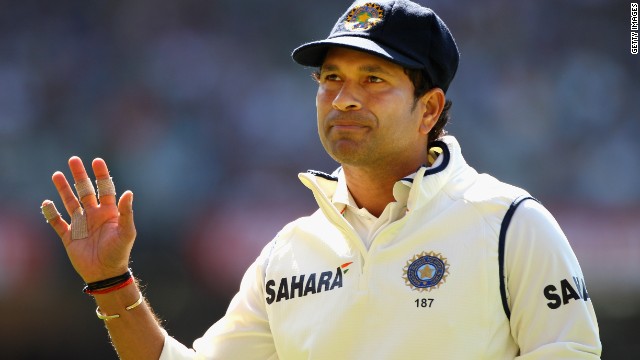 Sachin Tendulkar retires from cricket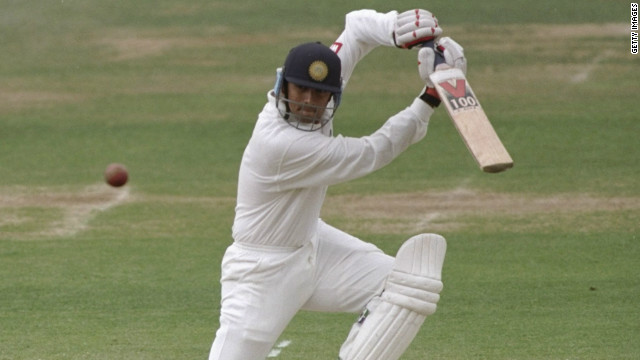 Rahul Dravid made his Test debut for India in 1996 against England at Lord's. He made a fantastic start, scoring an impressive 95.
Dravid smashed 145 in a 318-run partnership with Sourav Ganguly during a match with Sri Lanka at the 1999 World Cup, a record in the one-day form of the game.
Against Australia in Kolkata in 2001, Dravid destroyed one of the greatest bowlers to have played the game -- Shane Warne. Dravid came to the crease with India needing 45 runs to avoid an innings defeat. He eventually led them to a thrilling victory with a knock of 180, hitting Warne for 41 off 51 balls in the process.
Dravid hit four centuries in four consecutive Tests in 2002, recording three against England before grabbing another in India's first match of a series against the West Indies.
Dravid's first Test as India captain came against New Zealand in Mohali in 2003, standing in for Ganguly. He endured a frustrating match as the team's leader, with India eventually rescuing a draw.
Dravid became the first player to score centuries in every Test-playing nation with a ton against Bangladesh in December 2004.
India, led by Dravid, earned a 1-0 win in England in 2007's four-Test series. Dravid is pictured here with fellow cricket legend Sachin Tendulkar, who is currently stuck on 99 international centuries in his bid to become the first man to reach 100 hundreds.
Dravid endured an unsatisfactory 2008, but he did end the year on a high with a century against England in Mohali in December.
India were blown away by England in a 4-0 Test series defeat in 2011, a result which saw them usurped at the top of the world rankings by their opponents. But Dravid was in fine form despite the loss, scoring 461 runs in the series, including three centuries.
Dravid is contracted to play in the forthcoming Indian Premier League Twenty20 series, where he will represent the Rajsthan Royals. The franchise is partly owned by Bollywood star Shilpa Shetty.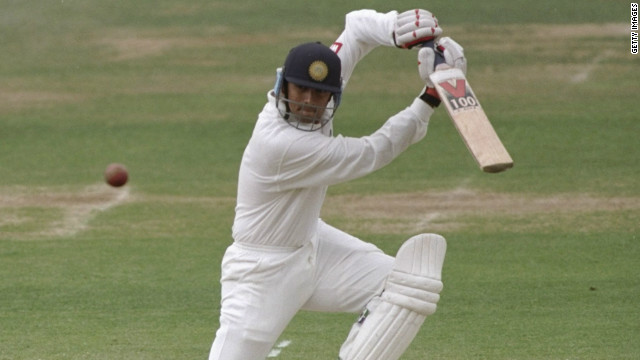 Rahul Dravid: One of cricket's greatest batsmen
"I have lost the lens, iris and pupil in my left eye. There was severe damage to my retina. I have had two major operations and four blood draining operations in the past three weeks and physically, at times, I have been in a lot of pain.
"It is unlikely that I will play any professional cricket again in the near future, which is very unfortunate as I was looking forward to contributing as a player for the Cobras."
Boucher made his Test debut for South Africa in 1997 and went on to score 5,515 runs and claim a record 555 dismissals for the Proteas before being forced to call time on his international career last month.
He said he was initially unsure what had happened to him during the match in Taunton.
"All I felt was a bail hitting my eye," he told CNN. "Jacques (Kallis), who was standing at slip, seems to think that the ball actually helped the bail into my eye. I knew I was in trouble when my head hit the floor.
"I knew some fluid was coming out of my eye. I thought it might have been blood ... when I saw there was no blood in it and there was sort of white stuff coming out of it I knew I was in a bit of trouble."
The Cape Province native initially prepared himself for the worst where his eye was concerned, but he is now feeling positive about his ongoing recovery.
"When I first went to hospital the doctor said, 'Listen, you know your eye is pretty messed up. I asked him to be honest with me and he said to me, 'It's too early to say, but be mindful you might never get vision back in your eye.'
"The pupil can be replaced, the iris can be replaced, the cornea can be replaced, the retina can be replaced. The biggest thing is the retina; that is mine and the doctor's biggest worry."
Boucher said many people had expressed sympathy for the sudden end to his top-level career.
"A lot of people have said to me, 'Shame, I feel sorry for you.' If you would have told me at the beginning of my career I would have played 147 Test matches I would have taken it!
"I had plans, hopefully with both eyes working, to do quite a lot of things. I believe you get dealt certain cards that you might not enjoy, but things you can handle and I know I can handle this.
"Yes it's going to be tough, tough on me, tough on a few other people. But I believe I've got the strength to be able to handle it."