Older Olympians bring experience to the Games
updated 6:04 PM EDT, Tue August 7, 2012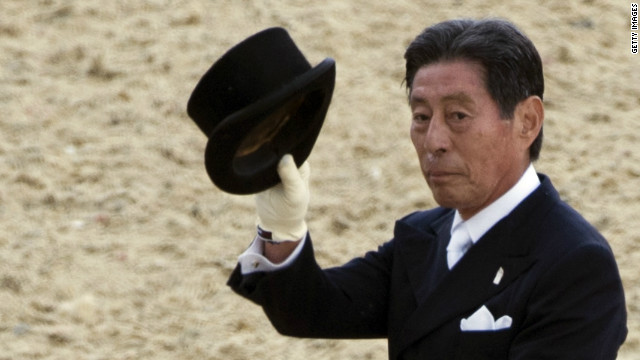 Who says an Olympic athlete has to be young to be spry? Seventy-one-year-old Hiroshi Hoketsu, competing for Japan in dressage -- a choreographed equestrian exercise that shows off a horse rider's command of their horse -- is the oldest competitor at the London Olympics.
So far in the 2012 Summer Games, equestrian Nick Skelton is the United Kingdom's oldest gold medal winner. He is 54.
Jessica Crisp, 42, part of Australia's 2012 Olympic wind surfing team, competes in the RS-X women's sailing event at Weymouth Harbour in Weymouth, England.
Lesley Thompson-Willie, far right, is the 52-year-old coxswain of Canada's silver-medal-winning women's rowing team.
Karen O'Connor, 54, of the United States' equestrian team, rode her horse Mr. Medicott in the cross-country Olympic competition. She is the oldest member of U.S. Olympic contingent to compete in London.
United Kingdom jumper Yamilé Aldama, 39, competed in the triple jump on Day 9 of the Summer Games. She'll be 40 this month.
Bulgaria's "Silver Fox," Jordan Jovtchev, 39 (seen here in the 2008 European Men's Artistic Gymnastics Championships), specializes in rings and has competed in six Olympic games.
Italy's Giovanni Pellielo, 42, won Olympic medals for trap shooting in 2000, 2004 and 2008. He's back again to try his luck in London.
Ian Millar, 65, is riding Power Star, representing Canada in the Olympic power jump qualifiers. He's competing in his 10th Olympic Games.
Vintage Olympians
Vintage Olympians
Vintage Olympians
Vintage Olympians
Vintage Olympians
Vintage Olympians
Vintage Olympians
Vintage Olympians
Vintage Olympians
STORY HIGHLIGHTS
Jessica Crisp, 42, is competing with Australia's 2012 Olympic surfing team
Equestrian Nick Skelton is the UK's oldest gold medal winner so far at 54
Lesley Thompson-Willie, 52, is coxswain of Canada's women's rowing team
Horseman Ian Millar, 65, is competing in his 10th Olympic Games
(CNN) -- At 13, swimmer Adzo Kpossi of Togo is the youngest Olympian competing in the London Summer Games. At the other end of the spectrum is Hiroshi Hoketsu. Dressed elegantly in top hat and tails, the 71-year-old represents Japan in the dressage equestrian competition.
There are plenty of athletes competing in the 2012 Games who span the age range between Kpossi and Hoketsu, some of them well past their 30th year.
Photos: Celebrating the Olympians of the 1948 Games
Jordan Jovtchev, who turns 40 in February, made it to the finals of the men's gymnastic rings competition on Monday. Though he didn't earn a medal, Jovtchev gained notice for competing in an astounding sixth Olympic games. His silvery hair stands out as much as his powerful work on the rings in a sport known for its youthful competitors.
As the world focuses on the competition and pageantry in London this summer, athletes over 30 are putting on one spectacular show. Learn more about the Games' well-seasoned athletes in the gallery above.
They nailed it! Fans pay artistic tribute to Olympics with patriotic nail decor