(CNN) --- Forget Rick Moranis glasses, starchy button-ups and pocket protectors.
Meet the new generation at NASA: Bobak Ferdowsi, better known as "Mohawk Guy." Ferdowsi was spotted wearing a red-and-black mohawk with yellow stars dyed on the sides of his head during the U.S. space agency's overnight landing of its Mars rover, "Curiosity."
The Internet quickly turned him into a meme, superimposing text like "The Mohawk That Landed a Rover on Mars" and "Becomes an Internet sensation ... Too busy landing a robot on Mars to notice" over his images.
In case you'd forgotten, here's what the old guard at NASA looked like: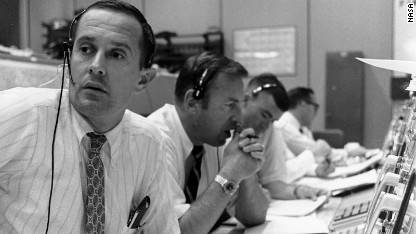 That's from the Apollo 11 landing.
Maybe the contrast, in part, explains "Mohawk Guy's" popularity.
There's an entire Tumblr blog dedicated to Ferdowsi, and several recreations of his likeness, including one that looks to be done in watercolors (but that might just be Instagram). And BuzzFeed has at least a half-dozen images of him on its site, from "Busy Bobak" to "Teamwork Bobak" and "Talking Bobak," which links to this video of him talking about Saturn (to some really bizarre music).
That's pre-mohawk, of course. It sounds like he changed his hair for this mission:
https://twitter.com/tweetsoutloud/status/232279626695733248
On Twitter, some people lauded him as the face of a new generation in science:
https://twitter.com/LindsayPavlas/statuses/232327256998043649
And just gawked:
https://twitter.com/katietiedrich/status/232336370641809408
https://twitter.com/nycsouthpaw/status/232333383261368321
https://twitter.com/justinpickard/status/232333610349375488
https://twitter.com/newscientist/status/232333342534664192
A feed that mocks North Korea's leader asked him for help:
https://twitter.com/KimJongNumberUn/status/232439443712249856
Meanwhile, Ferdowsi seems to be a pretty good sport about the whole thing:
https://twitter.com/tweetsoutloud/status/232374893507928064
For more (and more-serious) info on "Curiosity," check out CNN's news story on the topic. And we have the photos.
Via The Atlantic, Buzzfeed, The Guardian