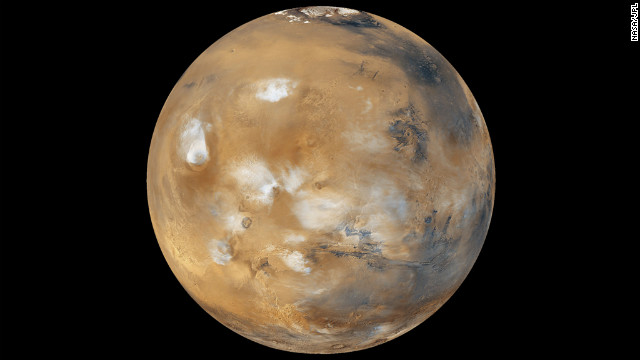 Water-ice clouds, polar ice and other geographic features can be seen in this full-disk image of Mars from 2011. NASA's Mars Curiosity Rover touched down on the planet on August 6, 2012. Take a look at stunning photographs of Mars over the years.
Check out images from the Mars rover Curiosity
.
This image was captured in 1976 by Viking 2, one of two probes sent to investigate the surface of Mars for the first time. NASA's Viking landers blazed the trail for future missions to Mars.
The Valles Marineris rift system on Mars is 10 times longer, five times deeper and 20 times wider than the Grand Canyon. This composite image was made from NASA's Mars Odyssey spacecraft, which launched in 2001.
The Nili Fossae region of Mars is one of the largest exposures of clay minerals discovered by the OMEGA spectrometer on Mars Express Orbiter. This image was taken in 2007 as part of a campaign to examine more than two dozen potential landing sites for NASA's new Mars rover, Curiosity, also known as the NASA Mars Science Laboratory.
NASA's Mars Phoenix Lander descends to the surface of Mars in May 2008. Fewer than half of the Mars missions have made successful landings.
Phoenix's robotic arm scoops up a sample on June 10, 2008, the 16th Martian day after landing. The lander's solar panel is seen in the lower left.
In 2006, NASA's Mars Exploration Rover Spirit captured a 360-degree view known as the McMurdo panorama. The images were taken at the time of year when Mars is farthest from the sun and dust storms are less frequent.
The European Space Agency's Mars Express captured this view of Valles Marineris in 2004. The area shows mesas and cliffs as well as features that indicate erosion from flowing water.
This view is a vertical projection that combines more than 500 exposures taken by Phoenix in 2008. The black circle on the spacecraft is where the camera itself is mounted.
A portion of the west rim of the Endeavour Crater sweeps southward in this view from NASA's Mars Exploration Rover Opportunity in 2011. The crater is 22 kilometers (13.7 miles) across.
A photo captured by NASA's Mars Global Surveyor in 2000 offers evidence that the planet may have been a land of lakes in its earliest period, with layers of Earth-like sedimentary rock that could harbor the fossils of any ancient Martian life.
A U.S. flag and a DVD containing a message for future explorers of Mars, science fiction stories and art about the planet, and the names of 250,000 people sit on the deck of Phoenix in 2008.
A rock outcrop dubbed Longhorn and the sweeping plains of the Gusev Crater are seen in a 2004 image taken by the Mars Exploration Rover Spirit.
Although it is 45 kilometers (28 miles) wide, countless layers of ice and dust have all but buried the Udzha Crater on Mars. The crater lies near the edge of the northern polar cap. This image was taken by NASA's Mars Odyssey Orbiter in 2010.
NASA's Opportunity examines rocks inside an alcove called Duck Bay in the western portion of the Victoria Crater in 2007.
Pictured is a series of troughs and layered mesas in the Gorgonum Chaos region of Mars in 2008. This photo was taken by Mars Orbiter Camera on the Mars Global Surveyor.
An image captured in 2008 by NASA's Mars Reconnaissance Orbiter shows at least four Martian avalanches, or debris falls, taking place. Material, likely including fine-grained ice and dust and possibly large blocks, detached from a towering cliff and cascaded to the gentler slopes below.
This 2008 image spans the floor of Ius Chasma's southern trench in the western region of Valles Marineris, the solar system's largest canyon. Ius Chasma is believed to have been shaped by a process called sapping, in which water seeped from the layers of the cliffs and evaporated before it reached the canyon floor.
Pictured is the Martian landscape at Meridiani Planum, where the Mars Exploration Rover Opportunity successfully landed in 2004. This is one of the first images beamed back to Earth from the rover shortly after it touched down.
An image from the Mars Global Surveyor in 2000 shows potential evidence of massive sedimentary deposits in the western Arabia Terra impact crater on the surface of Mars.
The Mars Reconnaissance Orbiter captures a dust devil blowing across the Martian surface east of the Hellas impact basin in 2007. Dust devils form when the temperature of the atmosphere near the ground is much warmer than that above. The diameter of this dust devil is about 200 meters (650 feet).
Soft soil is exposed when the wheels of NASA's Mars Exploration Rover Spirit dig into a patch of ground dubbed Troy in 2009.
An image from NASA's Mars Reconnaissance Orbiter shows the floor of the Antoniadi Crater in 2009.
The larger of Mars' two moons, Phobos, is seen in 2008 from the Mars Reconnaissance Orbiter.
Earth and the moon are seen in 2007 from the Mars Reconnaissance Orbiter. At the time the image was taken, Earth was 142 million kilometers (88 million miles) from Mars.
Exploring Mars
Exploring Mars
Exploring Mars
Exploring Mars
Exploring Mars
Exploring Mars
Exploring Mars
Exploring Mars
Exploring Mars
Exploring Mars
Exploring Mars
Exploring Mars
Exploring Mars
Exploring Mars
Exploring Mars
Exploring Mars
Exploring Mars
Exploring Mars
Exploring Mars
Exploring Mars
Exploring Mars
Exploring Mars
Exploring Mars
Exploring Mars
Exploring Mars
STORY HIGHLIGHTS
Meg Urry says this weekend, Curiosity, NASA's roving robotic laboratory, landed on Mars
Curiosity will try to tell whether there's been life on Mars, where conditions different from Earth
She says Curiosity made tricky Mars landing, now will take pictures, collect information
Urry: Rocks on Mars can give up clues about whether any life has existed there
Editor's note: Meg Urry is the Israel Munson professor of physics and astronomy and chairwoman of the Department of Physics at Yale University, where she is the director of the Yale Center for Astronomy and Astrophysics.
(CNN) -- This weekend, Curiosity successfully landed on Mars. Now the one-ton roving robotic laboratory, part of NASA's four-ton Mars Science Laboratory spacecraft, gets down to business. Its task? Determining whether Mars ever did or could support life.
That's the big question. To quote Humphrey Bogart's Rick in "Casablanca": "Of all the gin joints in all the towns in all the world," why should life occur only on planet Earth?
Living organisms are found in the most improbable places -- in the dark, sulfurous depths of the oceans and in the driest deserts.
News: Curiosity rover lands on Mars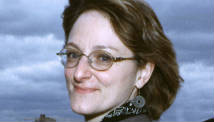 Meg Urry
All it takes is some water, carbon, a few other elements and energy.
In fact, the organic chemicals needed for life seem to occur naturally everywhere, even in chilly, dry interstellar space. On Earth, the first living cells followed, then multi-cell organisms, and eventually humans.
So, are we alone, or not? It seems likely that life has arisen on other planets, in our solar system or near other stars or in other galaxies. It's natural to wonder what's out there. Probably, Neanderthals sat around their campfires speculating whether others roamed the land.
Exploring our solar system and looking for signs of life is the lifeblood of NASA.
More than a century ago, Edgar Rice Burroughs wrote about "little green men" on Mars and astronomers reported seeing irrigation canals through telescopes. Nowadays, we know better -- Mars certainly does not harbor walking, talking aliens, nor does any other planet or moon in our solar system, notwithstanding fictional depictions like the famous Georges Méliès movie "A Trip to the Moon."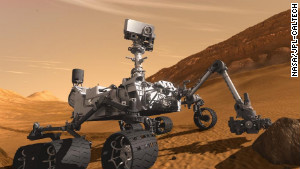 Mars, NASA's most ambitious mission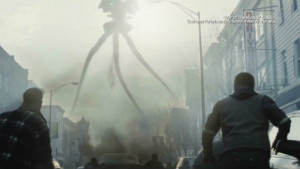 Mars in pop culture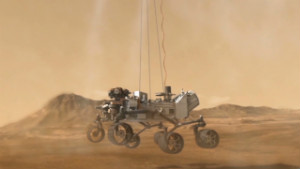 NASA's search for signs of life on Mars
But Mars might harbor simpler forms of life, or might have done so in the past.
And it's an entirely new environment. Most of what we know about "habitability" -- the ability of an environment to host and support life -- has been studied under the very different conditions on Earth. For example, scientists investigate the hyper-dry environments found in Antarctica (but there is still a lot of water, compared with Mars) or Death Valley (dry enough, but much hotter than Mars).
Curiosity will explore the completely different conditions on Mars.
On Sunday, the Mars Science Laboratory executed a series of maneuvers designed to slow its approach to the Mars surface. At the start, it was moving at 13,200 miles per hour, and needed to be slowed down, to keep it from ending up a smashed pile of rubble.
To do this the laboratory used the thin atmosphere, which slowed it down, albeit not as effectively as the Earth's more substantial atmosphere slows re-entering spacecraft. Then it released a parachute and fired some rockets to decelerate more before gently lowering the Curiosity rover on cables until it reached the surface. Scientists monitoring the landing at the Jet Propulsion Laboratory, including the President's Science Advisor, John Holdren, were elated. The crowd watching the NASA feed in Times Square cheered and began chanting, "Science! Science!"
The Curiosity rover is roughly the size of a Mini Cooper. It cost a lot more and has better fuel economy, having coasted 352 million miles since launch, in 8.5 months. Scientists back on Earth used the long voyage to calibrate instruments and practice operating them.
The mission has three goals: to assess the habitability of Mars, past and present; to study its geology and geochemistry; and to investigate planetary processes relevant to habitability, including the role of water. It is also useful preparation for future missions to Mars, perhaps including astronauts.
Curiosity is not unlike a human: It has "eyes" (cameras) with which to see and analyze the landscape. There are eight "hazcams" front and back, to take stereo black-and-white pictures for depth perception, and four navigation cameras ("navcams") at the top of an extendable mast.
Besides the high mast, it has an "arm" that can go even higher and carries another camera. It has "feet" -- wheels, actually -- capable of rolling over obstacles up to 2½ feet high.
Curiosity has "ears" to hear commands relayed from NASA's Deep Space Network via the Odyssey and Mars Reconnaissance spacecraft orbiting Mars.
Curiosity has many "mouths" to taste test rocks or dust it vacuums up -- really, to analyze them chemically. In fact, just like science labs on Earth, it has a number of complex instruments capable of testing the properties of solids, liquids and gases.
Since cosmic radiation alters surface composition, Curiosity can drill into rock to extract pristine material from below. This is especially important for finding organic molecules that might be destroyed on the surface.
Curiosity may be a robot, but it acts like a scientist: always skeptical, running experimental controls, double and triple checking every result. Unlike humans, thankfully, the robot won't be (easily) killed by radiation or toxic substances.
How do we know what signs of life to look for?
One example: By studying rocks on Earth, geologists know how different kinds of rocks formed and changed over time. In particular, biological materials alter igneous rocks in well-understood ways. Were we to see the same kinds of weathered rock on Mars, it's a good guess that life was once present on the Mars surface.
Other instruments will test for atomic elements, organic materials, radiation and water. Over the next Martian year (687 Earth days), Curiosity will try to satisfy our curiosity about the world around us.
Space is today's frontier. Renowned historian Frederick Jackson Turner posited that the American character was shaped by the frontier experience.
With NASA's Mars Science Laboratory, we're all Lewises and Clarks. Let the exploration and learning begin.
Follow @CNNOpinion on Twitter
Join us at Facebook/CNNOpinion
The opinions expressed in this commentary are solely those of Meg Urry.