STORY HIGHLIGHTS
Usain Bolt could make history during this weekend's 100m final
He'd match Carl Lewis' record of back-to-back 100m titles
But he has friend Yohan Blake hot on his heels
Could either one of them break the 9.4s barrier?
(CNN) -- It is the question that has followed Usain Bolt for the past four years, the answer to which will not truly be known until the final for the men's 100 meters sprint in London has been done and dusted.
Just how fast could he have run on that night in Beijing?
It seems a crazy thing to ask. After all, the Jamaican smashed the world record with a time of 9.69 seconds, winning gold and saving the Olympics' marquee sport from itself after successive drug scandals.
And he has run faster since, setting a new record a year later at the World Championships with a time of 9.58 seconds.
More: Artist turns Usain Bolt into street hero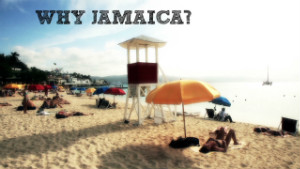 Jamaica's sprint pedigree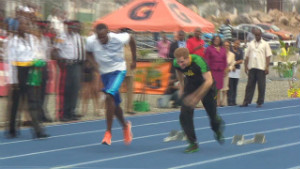 The royal & the runner: Harry vs. Bolt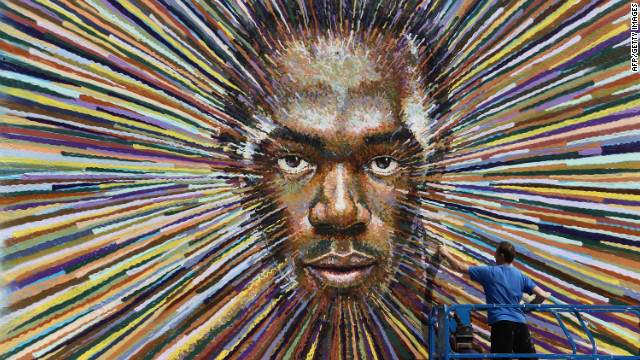 Jamaican sprinter Usain Bolt will begin his quest to make history by becoming the first man since Carl Lewis to defend the men's 100 meter title.
The 25-year-old Bolt became a global star after smashing the world record at the 2008 Beijing Olympics. He won three golds, in the 100, 200 and 4x100 meter relay, breaking three world records in the process.
Bolt broke his own world record a year later, posting a time of 9.58 seconds at the 2009 World Championships.
Both runs have cemented Bolt's reputation as one of the greatest sprinters of all time. Former Olympic champion Linford Christie told CNN has describe the Jamaican as the most famous athlete of all time.
So much so that even royalty wants to be photographed next to Bolt. Here Prince Harry from the British royal family briefly threatens Bolt's sprint dominance during an official visit to Jamaica.
Prince Harry isn't the only one giving Bolt a scare. If he is to defend his 100 and 200 meter titles he has to beat his compatriot, training partner and current world champion Yohan Blake. Blake also beat Bolt over both distances during this year's Jamaican Olympic trials.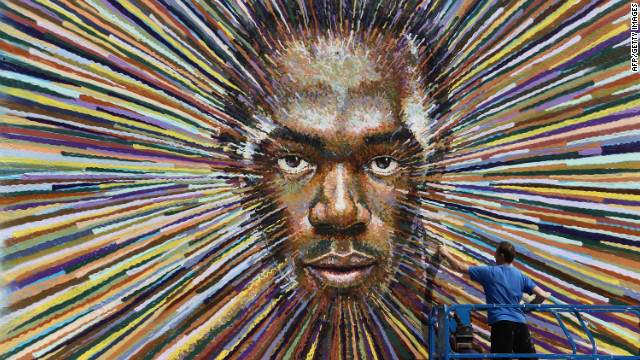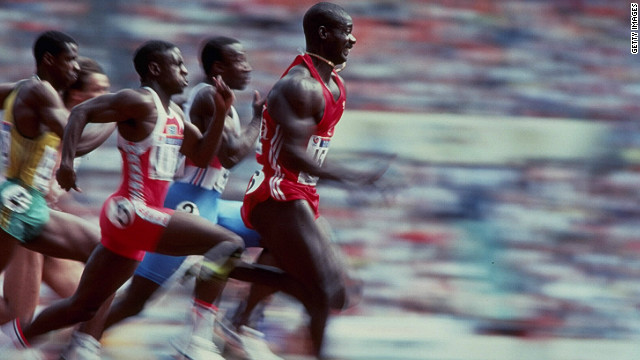 The 100 meter final at the 1988 Seoul Olympics remains one of the most infamous and fascinating moments in the games' history. The race was won in a world record time by Canadian sprinter Ben Johnson. But he was to be stripped of his medal and record under the shadow of drug use.
The story began long before that fateful day in 1988. It's 1984 and the Olympics -- blighted by boycotts, incompetence and financial ruin -- are on the verge being consigned to the dustbin of history. But before the Los Angeles Olympics an All American hero emerged: Carl Lewis.
Lewis was the hero of L.A. Marketed as part athlete, part Michael Jackson he was the face of the first games to make a profit and propel the games in to a new commercial era. He won three gold medals, including here in the 4x100 meter final. Behind him in third place is unknown Canadian sprinter Ben Johnson who won bronze. A new rivalry was born.
Lewis was the best in the world and a highly marketable commodity. But Johnson was emerging as a challenger -- and a threat -- to Lewis' undisputed crown. According to a new book The Dirtiest Race in History, it was during this time that Johnson -- under coach Charlie Francis started taking steroids. After eight straight defeats to Lewis, Johnson began regularly beating his American foe.
The 1988 100 meters final was arguably the most anticipated in the sport's history. Johnson (far right) and Lewis (far left) were the favorites, along with Calvin Smith (second from right) from the U.S. and a young Linford Christie (second from left) from Great Britain.
Johnson had already beaten Lewis four times the year before, and set a new world record at the World Championships in Rome. He was also renowned for having the fastest start on the track. The world watched in awe as Johnson exploded out of the blocks.
Ben Johnson smashed his own world record with a run of 9.79 seconds. He had blown Lewis, and the rest of the field, away. After his victory Johnson claimed he could have run even quicker if he had not triumphantly raised his right arm before crossing the finishing line.
For Johnson it was the pinnacle of a life's work. But it was not to last long as a South Korean journalist broke the story that Johnson had failed a drugs test after traces of the anabolic steroid Stanozolol were detected. Johnson was stripped of his medal, his record and his title from the previous year's World Championship. Lewis was handed the gold, Christie the silver and Calvin Smith the bronze.
Johnson returned to Canada in disgrace. He would later claim that the reaction to his ban had a racial tinge. While he was a Canadian hero before the race, afterwards he was merely the Jamaican-born drugs cheat.
Canada was left in a state of shock by Johnson's ban, and set up the Dubin inquiry to look into the problem of drugs in sport. Johnson appeared at the hearing, which was televised live and kept a country transfixed. Johnson's coach Francis, who admitted that his sprinter had been using steroids for seven years, would claim that almost every athlete at the time was on drugs. Johnson, he claimed, was just the unlucky one who got caught.
Six of the eight finalists in Seoul would later fail drugs test or be implicated in their use. While before the race the IOC had largely been ambivalent on the issue, the embarrassment caused by the scandal lead to a new regime of drug testing.
The scandal also detracted from Carl Lewis' achievements. He became the first man to defend a 100 meter Olympic title. At London 2012 Jamaican sprinter and world 100 meter record holder Usain Bolt will attempt to emulate the American.
Despite an attempted come back and even a spell as trainer for Colonel Gaddafi's son Saadi, Johnson remains a pariah. Lewis might not have become the Michael Jackson of track and field as was predicted but he remains one of the greatest Olympians of all time, having won nine gold medals and will be welcomed with open arms to London 2012.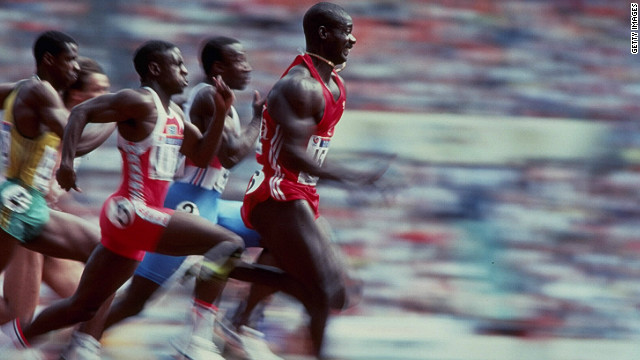 The story of 100 meters final at the 1988 Olympics
But Beijing was much more than a world record. It was the manner of his victory that catapulted him into the kind of international fame not seen in track and field since the U.S. Olympic legend Carl Lewis.
Not only did he blow the rest of the field away, he cantered across the line with 20 meters to go, chest turned to the cameras, arms wide open.
A new hero
Other athletes past and present, not to mention the International Olympic Committee president, derided his showmanship. But the public had made their mind up. They had a new hero.
"My one aim was just to be a champion. That is what I came here to do," Bolt, then 21, said after the race.
"I told you I was going to be number one and I did just that ... It was crazy, phenomenal."
Ever since he has rightly been heralded as the greatest sprinter of all time. But the celebration and the criticism left that one question hanging in the air. Just how fast could he have run? The press, coaches and fellow athletes all speculated. The trainer credited with Bolt's rise, Glen Mills, suggested that he could have run under 9.6 seconds.
Academia even got involved. The University of Oslo's Institute of Theoretical Astrophysics, which deemed the issue of such importance that it dedicated some of the finest minds on the planet to the quandary, predicted that he would have run 9.55 seconds.
Now all the talk is of this Sunday's 100m final at London 2012.
Is 9.4 possible?
Bolt could become the first sprinter since Carl Lewis to defend an Olympic 100m title. But no one is talking about 9.69, 9.58 or 9.55. Now Bolt is looking at breaking the record again and seeing if the human body can be pushed further, through the 9.4 second barrier.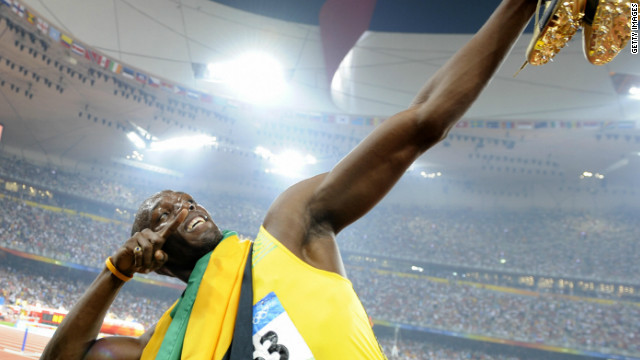 Usain Bolt strikes his trademark pose after claiming gold in the 100 meters at the 2008 Beijing Olympics.
Bolt claimed his second gold in China with an emphatic victory in the 200m, setting another world record.
Bolt completed a gold medal treble as Jamaica's sprint relay quartet also triumphed in Beijing.
Bolt greets his inspiration, 1976 Olympic 200m champion Don Quarrie.
Quarrie also won 100m silver at Montreal, and six gold medals at the Commonweath Games.
Jamaica has a strong running tradition. Here Arthur Wint pips compatriot Herb McKenley to win gold over 400m at the 1948 London Olympics.
Merlene Ottey shows off the Jamaican flag after her gold medal success at the 1993 World Championships in Stuttgart.
The remarkable Ottey was still competing for Slovenia at a Diamond League Athletics meeting in London in 2011. Now 52, she still has hopes of qualifying for London 2012.
Jamaica-born Linford Christie claimed gold for Britain in the 100m at the 1992 Barcelona Olympics.
Donovan Bailey, who left Jamaica at the age of 13, won gold representing Canada in the Olympic 100m at Atlanta in 1996.
Jamaica's Olympic 100m women's champion Shelly-Ann Fraser-Pryce also won the world title the following year in Berlin.
Veronica Campbell-Brown is bidding for a hat-trick of 200m gold medals at the London Olympics following her triumphs in Beijing and Athens.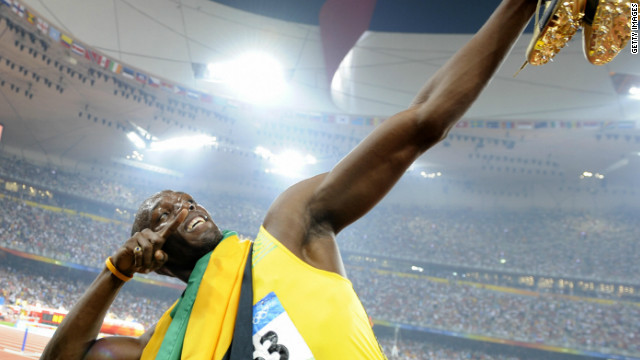 Gold running: Jamaican sprinters on top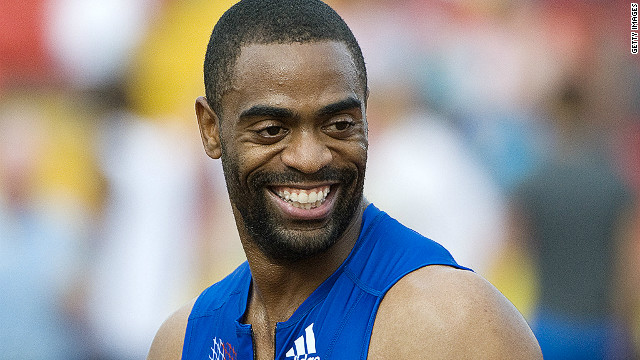 American sprinter Tyson Gay says he's in his prime and fit and ready for the London Olympics.
Gay will be hoping to repeat his performance at the 2007 IAAF World Athletic Championships in Osaka, Japan where he crossed the line first in the 200m ahead of Usain Bolt.
But Gay stormed to gold in the 100m, beating Derrick Atkins of the Bahamas (left) and Jamaica's Asafa Powell in a time of 9.85 seconds.
Gay also won gold as part of the U.S. 4x100m relay team.
Two years later in Berlin though, triple Olympic champion Bolt won gold in the 100m and 200m, setting world record times in both. Gay had to settle for silver in the 100m.
Prior to the Beijing Olympics, Gay was troubled by a hamstring injury which meant he arrived at the Games in less than perfect shape and he failed to win a medal. Here Gay (far left) finishes fifth in the 100m semifinal to miss out on the final, won by Bolt in record time.
Gay counts America's retired sprinter Maurice Greene as both a hero and a mentor. The former Olympic 100m champion's advice and support "really means a lot to me," says Gay.
Gay's first outing at the World Championships at Helsinki's Olympic Stadium in 2005 ended without a medal. Here he can be seen (second from left) finishing fourth in the 200m final.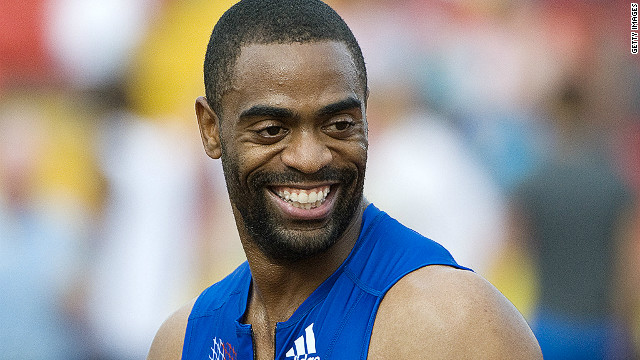 Human to Hero: Tyson Gay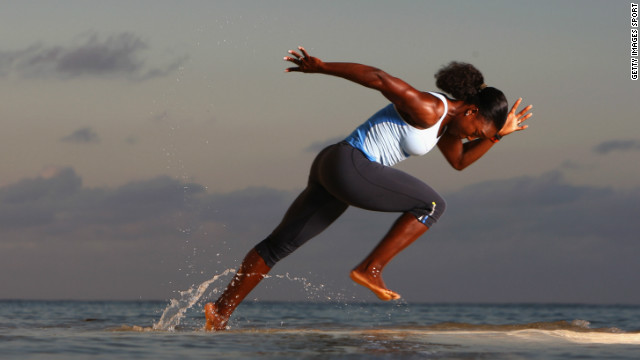 Jamaican sprinter Veronica Campbell-Brown is seeking to make history by aiming to win a third consecutive 200 meters gold medal at the London 2012 Olympics.
Campbell-Brown, who has won three Olympic golds in total, also has a charitable foundation aimed at empowering Jamaican girls through sport.
Her birthplace, Trelawny, has produced many Olympic medal winners, including Usain Bolt, U.S. 400-meter runner Sanya Richards-Ross and the disgraced Canadian sprinter Ben Johnson. Campbell Brown puts the phenomenon down to the local yams, which are packed with carbohydrates.
London 2012 will be Campbell-Brown's fourth Olympics. She won her first 200 meter gold medal at Athens in 2004 at the age of 22.
She capped an incredible competition in Greece by also taking the Jamaican 4x100m relay team over the finishing line in first place.
Her inspirational performances in Athens meant that she was asked to carry the flag for the Jamaican team at the opening ceremony for Beijing 2008.
Campbell-Brown, who successfully defended her 200m title in China, will still only be 30 by the time London 2012 begins.
Last year she ran the 100 meters in 10.76 seconds, the second fastest time in history, raising the prospect that she could contend in London for both sprint events.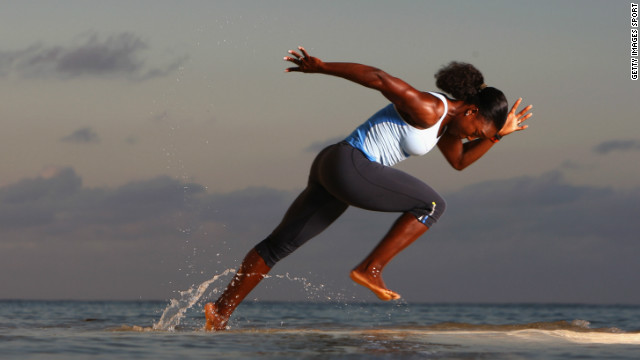 The fastest woman on earth?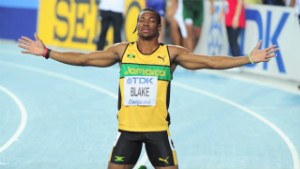 Human to Hero: Sprinter Yohan Blake
"Everyone has been talking about 9.4 all season," Bolt explained in an interview with CNN in July, when asked whether he could run that time at London 2012.
"If it's possible I am the one."
One study by Dutch mathematicians at Tilburg University concluded that, theoretically, Bolt's dream could be realized.
"According to our results this is achievable," the co-author of the report Sander Smeets said in an interview with AFP.
"The absolute limit for a world record at the moment is 9.36 seconds," he added.
The theory, along with Bolt's rhetoric, sounds fine.
But the reality is that Bolt comes into the Olympics having struggled with injuries this season and seen a genuine threat to his title emerge in the shape of training partner Yohan Blake.
"He [Bolt] has had some problems this year," 200m Olympic champion Michael Johnson told CNN's Piers Morgan this month.
"But he can still run two tenths (of a second) quicker than anyone else... he doesn't need to be 100 per cent."
Winning would be enough of an achievement, one that would bookend and incredible four years since his record run in Beijing. That run transformed Usain Bolt's life.
He is now mobbed wherever he goes, adorns billboards from Tokyo to Mexico City and has written his first autobiography. As former Olympic gold medalist Linford Christie remarked during a recent interview with Bolt for CNN, the Jamaican is the most famous athlete, not just in the world, but of all time.
Where it began
Bolt's journey began, like many other world record sprinters, in the Jamaican district of Trelawny where other greats such as current Olympic women's 200m champion Veronica Campbell-Brown also have roots. Although he was Canadian, Ben Johnson was also born here.
It is an area famed for breeding sprint stars thanks largely to a fiercely contested four-day race championships where crowds of up to 30,000 fill the national stadium in Kingston. Over a million people watch the young sprint hopefuls live on TV for what is often the springboard towards the Olympics.
"I feel we push our young athletes," Bolt told CNN when asked why Jamaica produces so much sprinting talent earlier this year.
"There is this thing called the Boys and Girls Championships in Jamaica, which showcases the talent. The level of competition is really high because it pushes you every day to be the best in your event, in your class."
Bolt came on to the sprint world's radar at the 2003 Boys and Girls Championship when, at just 16, he posted times in the 200 and 400m good enough for the Olympic finals in Sydney three years earlier.
Going pro
He went pro a year later but his failure in the 200m at the Athens Olympics helped him to recalibrate his life and focus on his training. Coach Mills eventually allowed Bolt to run the 100m too, a discipline seen as too difficult for a man the size of Bolt (he is six foot three inches tall) to excel in. It was a path that would take him to his coronation in Beijing, where he also won gold in the 200m and 4x100m relay in world record times.
Yet four years on and the task of becoming only the second man -- after Lewis -- to retain the 100m Olympic title has become far harder than many people thought it would be.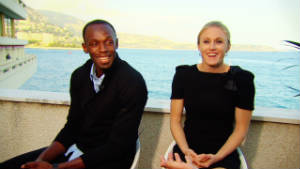 Athletes of the year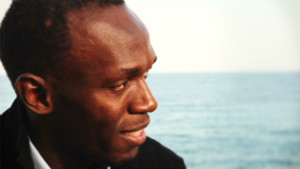 Usain Bolt: 'I'm faster than everybody'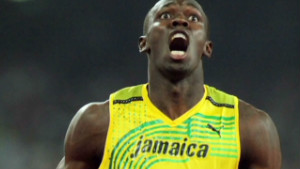 Michael Johnson: Bolt can run faster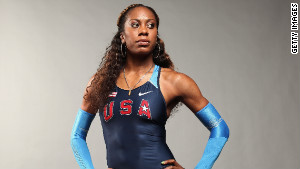 Sanya Richards-Ross aims for redemption
Many expected Bolt to dominate the games for years to come. But the emergence of his compatriot Blake -- who beat Bolt in both the 100 and 200m at the Jamaican Olympic trials this year -- has added the one ingredient needed in any classic final: a genuine rival that could prevent him from equaling Lewis's record.
"We're training partners so we're really close," Bolt says of Blake, who won the 2011 world 100m title after his compatriot's false start in the final.
"We laugh even when we're warming up. We're cool but as soon we're getting on the track line up it's a different story."
In 1988 Lewis had his own fierce rival from Trelawny: Johnson. Lewis famously came second in the Seoul final and only became the first man to win back-to-back Olympic 100m titles by default after Johnson failed a drugs test. Lewis was handed the medal in his hotel.
A rival to Lewis
Lewis is sceptical that Bolt could match his achievement.
"Carl Lewis is totally preoccupied by Bolt and sees him not as a successor but as a rival to his legacy," says author Richard Moore, who recently wrote a book about the 1988 final called "The Dirtiest Race in History."
"When I asked him about Bolt he said, 'It will be really tough for him, no one has defended an Olympic title before.' Moore pointed out to him that he had, technically, defended his 100m title at Seoul and Lewis corrected himself: 'I said no one else BUT ME!'"
Bolt and Blake have none of the enmity that Lewis and Johnson had, but if Bolt can defend his Beijing title then it would surely stand above Lewis' achievements, simply because that second gold medal in Seoul was won in such unprecedented circumstances.
"There's no way to describe it. For me it is amazing to think that I am faster than everybody," Bolt said when asked how it feels to be the fastest man in the world.
The worry for Bolt is that Blake isn't his only rival.
U.S. sprinter Tyson Gay has run the second fastest time ever. The 2004 Olympic champion Justin Gatlin, also from the U.S., is returning after a doping ban while fellow Jamaican Asafa Powell once held the world record himself. Anyone of them could snatch gold if Bolt's injury problems are worse than his bravado suggests.
That tongue in cheek bravado might have helped make Bolt such a star; but the Jamaican is not afraid to show a more serious side when he talks about the sprint challenge ahead.
"All I can say," Bolt told CNN last month, "(is) Yo, let's go if you want a piece of me."
Four years later, under the intense pressure only an Olympic 100m final can bring, we may finally know how fast Bolt really can run.
The stage is set for for the most eagerly awaited track event at an Olympics. And no one, even given the talk of injuries, should discount that come Sunday, the world would have witnessed the fastest race in history too.