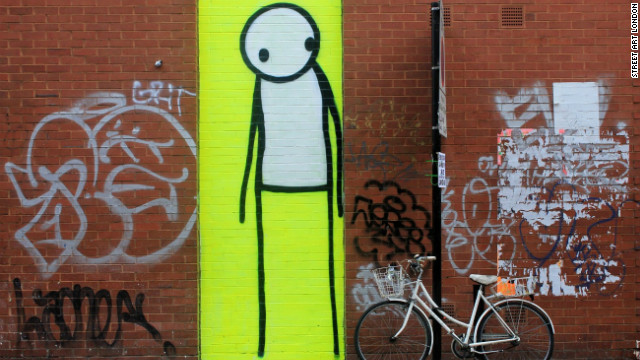 East London is one of the best places to see street art in the world, and If there's one artist who sums up East London street art right now, it is Stik, according to Richard Howard-Griffin.
Hackney Wick is a run-down area on the fringes of the Olympic Park. Many of its old warehouse and factory buildings are now used as studio space by artists, and the area has a vibrant and colorful street art scene. This mural is a collaboration between artists Sweet Toof and Paul Insect in Stour Road.
There are a number of epic Burning Candy Crew murals along the canal paths around Hackney Wick. This one features four of BC Crew -- Cyclops, Gold Peg, Mighty Mo and Sweet Toof. Olympic Authorities have closed the paths for the duration of the Olympics, so seeing them will be a challenge.
A glittering street sculpture from Cityzen Kane on the derelict Lord Napier pub in Hackney Wick. Many local street artists and graffiti writers had put work up here over the years but it was whitewashed ahead of the Olympics.
Although Hackney Wick borders the Olympic park, many residents and artists say they are skeptical about the long-term benefits to the area.
Hackney Wick rooftops. Sweet Toof and Paul insect can be seen in the foreground. Sweet Toof and Cylops in the distance. Paul Insect is most famous for his 2007 exhibition "Bullion," which was snapped up by Damien Hirst before it opened.
Ben Slow is a portrait artist whose work can be found on many East London streets, including this one on Stour Road, Hackney Wick.
French street artist C215 has degrees in history and art. His multi-layered stencils have graced walls, doors and bins from London to New York, Morocco to Barcelona. This portrait of his daughter survives on Roach Road in Hackney Wick.
This collaborative piece between Stik, Milo Tchais and Prozak in Hackney Wick is now covered up by a hospitality tent.
Areas of Shoreditch, Brick Lane, Hackney Road, Broadway Market and Dalston feature work from artists from all over the world - including a few Olympics-inspired pieces. Here is a work by Ronzo.
These murals, called "The Walls Have Ears," were painted by Bread Collective, working with the community of Hackney Wick. The names in the murals were taken from the area's industrial past.
A collaboration between Burning Candy Crew artists Cept, Tek33, Mighty Mo, Gold Peg, Sweet Toof and Cyclops directly opposite the Olympic stadium in Hackney Wick. Parts of the work have since been removed as the buildings are converted into cafes and bars.
RUN is considered one of the best street artists in London. He started out in Italy painting trains, lorries and walls before becoming immersed in the street art scene. Now working with brushes in a fine art style, he mainly paints hands and faces with intricate details. RUN has painted many pieces in Hackney Wick, some of which remain today.
Sweet Toof's trademark teeth can be seen snarling from rooftops across Hackney Wick. Recently he has been collaborating with Paul Insect.
The former factories and warehouses In Hackney Wick, now popular with artists, are also being eyed by property developers.
The area around Shoreditch and Brick Lane has become popular with street artists from around the world. Here is David Walker putting up a piece just off Brick Lane.
A work by street artist ROA in Chance Street, Shoreditch.
Phlegm is described by Richard Howard-Griffin as "one of the most exciting artists on the global street art scene at present, let alone London." Not all of his works in Hackney Wick survive.
Mobstr works with stencilled letters. This piece in Hackney Wick, now removed, featured a sentence that curved around a wall reading: "Don't you hate in when people just go on and on and on and on ..."
Coca-Cola commissioned an agency to paint an Olympics-inspired mural over the original work by Sweet Toof, NEMO, Sickboy and Mighty Mo seen in this image. Shortly after it was finished, the mural was defaced.
Howard-Griffin describes a "super-charged wave of gentrification that has crashed around Hackney Wick in anticipation of an Olympic property boom."
East London's street art
East London's street art
East London's street art
East London's street art
East London's street art
East London's street art
East London's street art
East London's street art
East London's street art
East London's street art
East London's street art
East London's street art
East London's street art
East London's street art
East London's street art
walker street art
street art roa
East London's street art
East London's street art
East London's street art
East London's Olympic street art
STORY HIGHLIGHTS
Richard Howard-Griffin: Street artworks have become integral to regenerating east London
Howard-Griffin: The Olympics organizing committee has failed to engage with street artists
He says the cultural thinking behind the Games feels alien to people living in the local area
Olympic organizers have missed an opportunity to be more culturally relevant, he says
Editor's note: Richard Howard-Griffin is chief executive of Street Art London, an independent arts organization that seeks to document and represent the London street art scene.
(CNN) -- Hackney Wick is nestled next to the Olympic site, separated only by a waterway known as the Lee Navigation. It is a half industrial, half artistic enclave, little known to Londoners, but which has, in recent years, become rich in street art from a cast of artists who have been integral to regenerating east London and informing its cultural identity.
With the Olympics now underway, Hackney Wick can been seen as a microcosm highlighting the forces that street art faces across east London.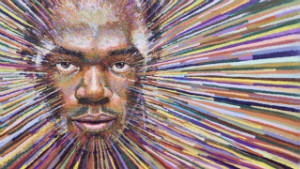 Usain Bolt's street art portrait
Street art meets Locog
The Olympics organizing committee, LOCOG, has been asked to deliver a long-remembered games, and multifaceted legacy for London. This is no easy task.
Read more: Why gritty East End is London's gold standard
Unfortunately it has failed, overwhelmingly, to engage with London's street artists.
It seems the cultural thinking behind London 2012 is being carried out from within an impenetrable ivory tower, with scant access granted to decision makers.
In essence, there has been a top-down imposition of what LOCOG thinks is the relevant cultural identity of London -- and this has been presented to the world.
To many in east London, where the Olympic Park is located, this imposition feels alien. It feels akin to a form of cultural imperialism, out of synch with the true culture, including street art which may be found just a stone's throw from the Olympic Stadium.
In essence, there has been a top-down imposition of what LOCOG thinks is the relevant cultural identity of London
Richard Howard-Griffin
Missed opportunities
Politicians and officials talk about London 2012 using words like "regeneration" and "legacy." Such aims are a key reason behind London winning the Games, and the ideas are laudable.
Read more: London's docks turn into 'mini Monaco' for Olympics
But by not engaging with London's street artists, LOCOG has arguably missed an opportunity to be more culturally relevant and connect with artists who are a real transformative force.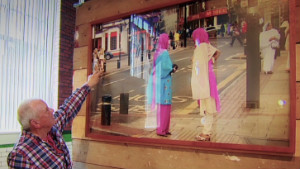 Olympic park transforms London's East End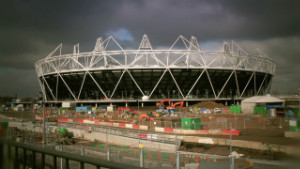 London builds to Games thriller
From a purely cultural standpoint, this is a shame. London boasts some of the finest street art in the world from fresh and exciting artists such as Stik, RUN, Ben Eine, David Walker, Pablo Delgado, Christiaan Nagel and Cityzen Kane.
London is also a global street art hub, welcoming artists from all over the world. People also come from all over to see London's street art. The diversity and vibrancy of London's street art is staggering, and celebrating this would have shown vision.
Read more: The artist who turned Usain Bolt from track legend to street hero
Perhaps more importantly, LOCOG's spurning of the street art scene counteracts one of east London's key regenerative forces.
Street art brings energy to the streets and infuses color onto gray and dilapidated walls. Street art has fostered community spirit and made east Londoners proud of where they live too. This is the very thing alchemists within LOCOG are trying to deliver as part of London 2012's legacy.
Public art
Many of London's street artists view themselves as servants to their local communities, and maintain close connections with them. They depend on their communities for patronage and support for wall space.
As such, London's street art can be defined as public art for the city's people. Around east London, in particular, the local populace has taken street art to its heart with many locals familiar with each of the different artists at work on the street.
Today's generation often work in daylight hours doing legal walls. They are happy to reveal their identities and also to stop and chat with people passing by in the street while they work.
LOCOG's spurning of the street art scene counteracts one of east London's key regenerative forces
Richard Howard-Griffin
It's sometimes hard for bureaucrats to understand this, so truly ingrained is the media-driven paradigm of all street artists being mischief-makers who put up numerous illegal socio-political stencils in the night.
East London's local councils are, however, actually starting to understand street art's evolving nature and its importance to east London's spirit.
Legal pieces are routinely left alone by councils now, and this has largely been the case in Hackney Wick. Pieces still get buffed by over zealous clean up crews but reports of a pre-Olympics war on street art are a little overplayed. The greatest threats to the street art in Hackney Wick are now arguably from companies like Coca-Cola painting over local artists with "cool" Olympic themed murals.
Read more: Is the Olympics worth more than Google?
What legacy?
Street art is an important part of east London's identity and a positive force for regeneration. Street art has been dismissed and misunderstood by London bureaucracies in the past, and LOCOG's attitude is no different.
However we hope it will not always be this way. Changes in attitude and policy will of course take time and by the time the Olympics visits London again perhaps we will be ready. We are seeing encouraging green shoots every day.
CNN asked Locog to respond to the opinions expressed by Howard-Griffin. Here is their response:
The London 2012 Festival has 25,000 artists taking part in more than 12,000 events across the UK in the largest cultural celebration every seen in this country. Our program in east London has already seen 100,000 people enjoy artists such as Rhianna, Jay-Z, Jessie J and many more as part of the free BBC Radio 1 Hackney Weekend.
People are currently a visiting a car park in East London where an exhibition of BMW Art Cars, designed by artists including David Hockney, Jeff Koons, Roy Lichtenstein, and Andy Warhol, is being staged.
Rio and London carnival artists collaborated for the Hackney One Carnival to welcome the Olympic Torch Relay, screenings of restored Hitchcock films at east London venues and a fantastic program of theater, dance and outdoor events at the Barbican and with the Create festival.
The London 2012 Festival is a UK wide festival, and we are very excited about the upcoming London 2012 Festival event "See No Evil 2012: Urban Festival" in Bristol. This is the UK's largest permanent street art project and the biggest urban arts festival in Europe, attracting the world's leading urban artists to converge and create a series of temporary and permanent street art installations and sculpture, including some of the world's largest scale outdoor paintings.
For the first time it will bring together two major international artists, Adrian Utley of Portishead and French artist, Joanie Lemercier of cutting 3D projection experts AntiVJ. They will create a free, one off cross art-form performance, featuring huge scale digital projections and live music in the centre of Bristol from 13 -- 19 August 2012.
The opinions expressed in this commentary are solely those of Richard Howard-Griffin.