STORY HIGHLIGHTS
Frankel becomes first horse to defend Sussex Stakes title at Glorious Goodwood
The unbeaten colt, ranked No. 1 in world, wins his seventh successive Group One race
Jockey Tom Queally guides Frankel to a six-length victory at the English meeting
His next race will see him step up from the mile distance for the first time in his career
(CNN) -- Olympic fever gripped the host nation on Wednesday as Britain won its first gold medals of the 2012 Games, but in a quiet corner of England arguably the greatest sporting performance of the day was played out before a much smaller audience of just 13,000 people.
Frankel, the world's top-ranked racehorse, defended his unbeaten record in typically emphatic style, thrashing his rivals to win the showpiece Sussex Stakes at the Glorious Goodwood meeting by sixth lengths from Farhh -- a valiant second under Frankie Dettori.
He became the first horse to win the Group One race two years in a row. It was the 12th victory of Frankel's career, and the eighth at Group One level -- seven of those in a row, drawing him level with Rock of Gibraltar and Miss Terrible but two short of Zenyatta's leading elite mark.
The margin of victory would have been greater had jockey Tom Queally not eased Frankel down in the final strides, but his success was widely expected.
The Henry Cecil-trained four-year-old was sent off at odds of 20-1 on, meaning a bet of $20 would return just $1. Although there are few certainties in the field of athletic endeavor, the result of this race never looked in doubt.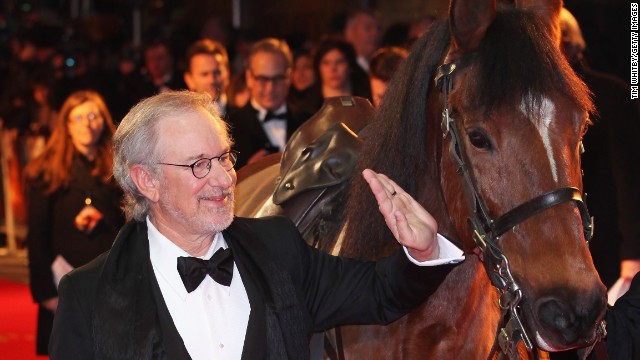 Oscar-winning director Steven Spielberg's interest in horses does not stop at the movie set. He co-owned racehorse Atswhatimtalkingabout, which came fourth in the 2003 Kentucky Derby. He is also an investor in Biscuit Stables, the Delaware-based race trainers.
Actor and director Kevin Costner, right, part-owns a number of racehorses which mainly run at Hollywood Park in California. He also supported the industry by voicing a documentary called "Laffit: All About Winning," celebrating the life and career of one of horseracing's most decorated jockeys, Laffit Pincay.
Pop icon MC Hammer, or Stanley Kirk Burrell on his passport, invested in and created his own Oaktown Stables. Hammer owned 19 racehorses at one stage, including the multiple Grade 1 stakes winner Lite Light and the aptly named Dance Floor -- which was third at the 1992 Kentucky Derby.
Rolling Stones guitarist Ronnie Wood runs Sandymount Stud in Ireland. He has also raced his own horses, including Sandymount Earl -- a gelding which won three times in three months at The Curragh, home of the Irish Derby.
Songwriter Burt Bacharach, left, has owned horses since 1980 and has seen them run in the Dubai World Cup and the Breeder's Cup. He has had notable successes with three horses over a near 30-year ownership period: Soul of the Matter, Afternoon Deelites and Heartlight No. 1.
American TV cook and celebrity restauranteur Bobby Flay is leading a new generation of celebrity into the racehorse business. He struck lucky on his first run, with Mrs. Kipling winning on her debut in 2009. Since then his horses have finished in the top three 16 times in 36 outings.
Soccer icon Alex Ferguson is a renowned owner of racehorses. Seen here with latest runner Forgotten Hero, the Manchester United manager was involved in a legal battle with Coolmore stud owner (and then major United shareholder) John Magnier about the stud fees of 2002 European Horse of the Year Rock of Gibraltar.
Racehorses are a popular subject in the Old Trafford dressing room, with former Manchester United striker Michael Owen also taking a big interest. He co-owns Manor House Stables -- the Cheshire-based racehorse trainers, as well as being the owner of a few horses himself.
Manchester United striker Wayne Rooney initially bought three horses -- Pippy, Tomway and Switcharooney -- but it was Yourartisonfire who provided his first win at English course Haydock Park on July 5.
Eddie Jordan (right) is no stranger to horsepower, having owned the Jordan Formula One team. The Irishman owns a number of horses in training with the Michael "Mouse" Morris stable in County Tipperary.
Britain's Queen Elizabeth is a renowned racehorse owner, with her first victory coming in her Coronation year of 1953 when Choir Boy won at Ascot. She is pictured here collecting the Queen's Vase after her horse Estimate triumphed at Royal Ascot this year -- her 21st win at the prestigious meeting.
As owner of the prolific Godolphin stables, United Arab Emirates ruler Sheikh Mohammed bin Rashid Al Maktoum has seen his racing unit secure nearly 200 Group 1 victories around the world every year -- creating an annual prize fund of $16.8 million. Godolphin has stables in Dubai, Ireland and the UK.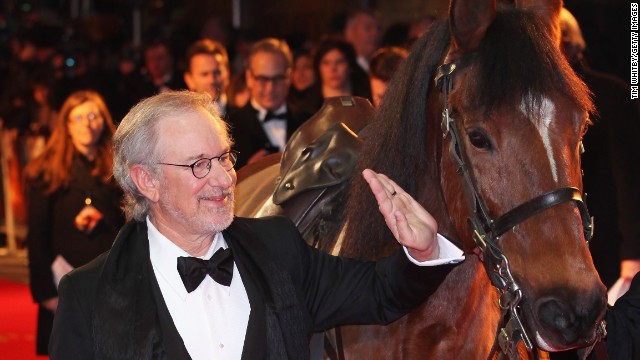 Celebrity racehorse owners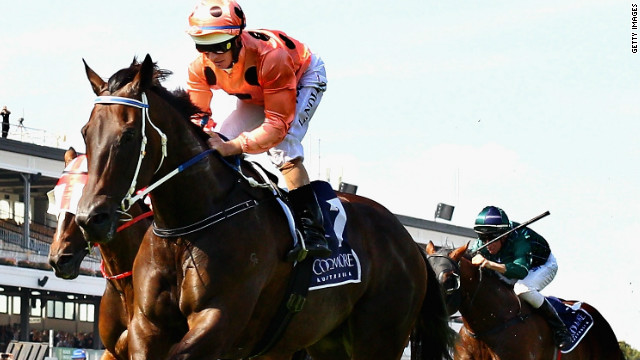 Australian superstar mare Black Caviar will make history if she wins her 20th race in a row at Morphetville on Sunday.
Melbourne jockey Luke Nolan and trainer Peter Moody will be hoping their champion throroughbred can continue her unbroken winning streak.
Black Caviar fans hold a sign referring to Phar Lap, the legendary New Zealand-born, Australia-trained horse which captured the public's imagination during the Great Depression.
Black Caviar is aiming to break the record set by American mare Zenyatta, who won 19 consecutive races before coming second in the 2010 Breeders' Cup Classic.
Black Caviar has already beaten legendary British thoroughbred Eclipse. The 18th century horse won 18 races in a row.
Four-year-old British colt Frankel is the only horse in the world with a higher rating than Black Caviar. Both horses will compete at the Diamond Jubilee Stakes, Royal Ascot, this June.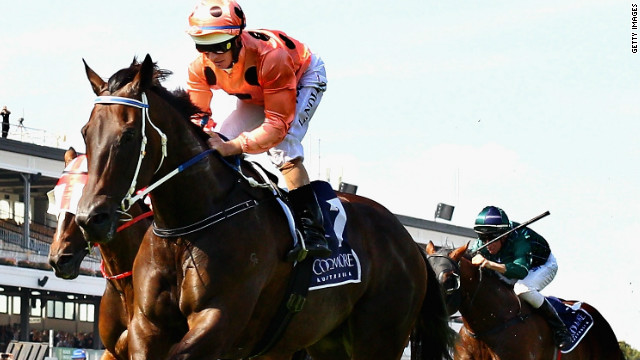 Australian super mare Black Caviar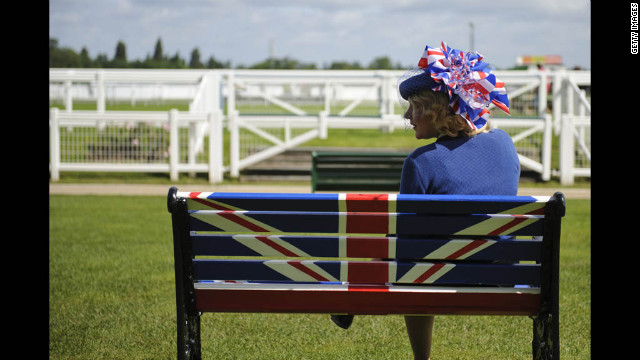 A race-goer attends day five of the Royal Ascot races in Ascot, England, on Saturday, June 23.
Queen Elizabeth II and Prince Philip, Duke of Edinburgh, arrive at the course on day four of the races.
A sign and flags hang in the air.
Attendees escape the rain under their umbrellas on day four.
An attendee examines a booklet with descriptions of the racers.
Riders race during the Diamond Jubilee Stakes on day five of Royal Ascot races Saturday.
Two onlookers congratulate each other with a high-five.
A large hat resembling the British flag sits atop a woman's head.
Racehorse Black Caviar neighs after carrying his rider across the finish line for the win on Saturday.
Racegoers sit at a table and study the form on Friday.
Queen Elizabeth II and Prince Philip, Duke of Edinburgh, and other members of the royal familly arrive in the Parade Ring at the Royal Ascot on Ladies Day on Thursday, June 21. Ladies Day is traditionally the fashion highlight of the five-day race meeting.
Rain falls on the race-goers attending the Royal Ascot.
A couple stand in a puddle at Royal Ascot.
Frankie Dettori celebrates riding Colour Vision to win The Gold Cup during Ladies Day at Royal Ascot.
A woman shows off her unusual hat.
Race-goers wear plastic rain covers over their dresses during some showers.
Frankie Dettori riding Colour Vision, center, to win the Gold Cup.
Larisa Katz shows off an umbrella hat design at Royal Ascot.
A visitor to Royal Ascot photographs her friends.
A woman poses with a striking hat and equine-themed umbrella.
A group of women in striking hats poses for a photo.
It's the end of the day in the silver ring during Ladies Day at Royal Ascot .
A race-goer poses on day three of the Royal Ascot.
Princess Anne and Princess Beatrice attends Ladies Day.
A worker checks benches in the grandstand.
Pat Smullen riding Princess Highway wins The Ribblesdale Stakes during Ladies Day at Royal Ascot at Ascot racecourse.
A worker attempts to dry tables and chairs at a Champagne bar on Ladies Day at Royal Ascot.
A bench is decorated with a Union Jack flag in the Grandstand on Ladies Day at Royal Ascot.
Top hats are worn by race-goers at the Royal Ascot in England on Wednesday, June 20. The five-day meeting is one of the highlights of the horse racing calendar and the season. Thousands of race fans are expected to attend.
Runners take the bend away from the grandstand at Ascot racecourse.
A visitor to Royal Ascot holds a race guide and a glass of Champagne.
Race-goers from The Royal Enclosure watch the arrival of the royal family.
Two women chit-chat on day one of the races.
Lisa Scott Lee attends day two of Royal Ascot.
Photographers in top hats snap photos of Royal Ascot attendees.
Queen Elizabeth II smiles as she arrives.
A dress code assistant holds a basket of pashminas at the main entrance to Royal Ascot. Visitors are expected to keep to a strict dress code.
Visitors to Royal Ascot enjoy a picnic before the start of racing.
A race-goer wearing a flamboyant hat poses for the media.
Race-goers sit together on a bench.
A woman in a striking hat attends day one of the races.
A woman wearing an elaborate hat designed to look like a bird cage attends day one of the races.
The Tootsie Rollers retro girl-band entertains visitors.
A race-goer poses for photographers at the races.
Race-goers ride an escalator down from the private boxes of the Royal Enclosure.
Jackie St. Clair attends day two of Royal Ascot.
Black Caviar, ridden by Paddy Bell, gallops before the Royal Ascot race meeting on June 14.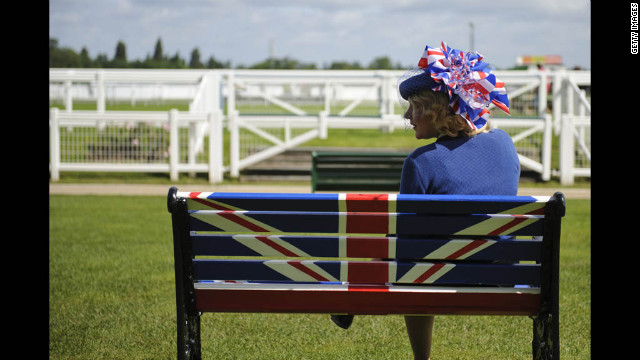 Photos: Royal Ascot 2012
Led out, as usual, by his big brother and pace maker Bullet Train, Frankel destroyed the field with such insouciant ease that at times the race resembled a time trial. Even cycling champion Bradley Wiggins, however, is not capable of the sustained burst of speed that is Frankel's hallmark -- every one of his all-devouring strides opened up more and ground between him and the rest of the field.
While Frankel is undoubtedly great news for racing -- he is the only equine athlete who regularly grabs the headlines from his human counterparts -- to some degree the hype around this superstar has turned him into a victim of his own success.
These days he runs against ever-dwindling fields -- on this occasion just three rivals went to the start, and that included stable companion Bullet Train, whose sole purpose in life is to give Frankel a flying start in his races then humbly fade into obscurity in the final furlongs. If horses were capable of sibling rivalry, then Bullet Train would surely be a candidate for the psychiatrist's couch.
Given the testing conditions at the West Sussex course (several horses had already come a cropper around the famously tight right-hand bend), this was never going to be a procession on the scale of the 11-length drubbing Frankel handed out at Royal Ascot back in June. But sixth lengths -- and an eased-down sixth lengths at that -- is still a huge margin in racing terms.
Frankel's next challenge will be the Juddmonte Stakes at York later this month, which will see him step up from the mile distance for the first time in his career.
If there was a cloud to Frankel's silver lining it was that Cecil, who has masterminded the horse's career to perfection, could not be at Goodwood to enjoy his colt's success. The 69-year-old is undergoing another bout of treatment for cancer.
His jockey, however, was a picture of modesty when accepting the plaudits for the horse's latest performance: "He does it all very easily and therefore I have a very easy job," Queally told reporters. "All I have to do is steer."
Such is Frankel's dominance in his own sport that the comparisons tend to be made with athletes from outside of his own species, such as 0.49-furlong runner Usain Bolt, record-breaking swimmer Michael Phelps or the hitherto-peerless Mohammed Ali.
If the successes keep coming in this fashion, Ali et al had better watch their backs, for, human or non-human, we could be witnessing the greatest of all time.