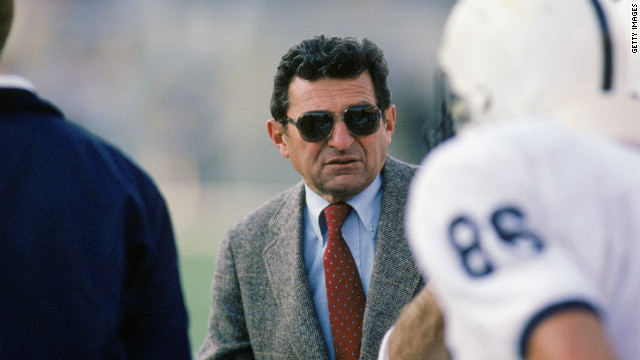 Former Penn State football coach Joe Paterno died on January 22. He was 85. The legendary coach, seen here in 1988, was fired in November 2011 during his 46th season at the helm of the Nittany Lions program.
The statue of Paterno outside Beaver Stadium is among many vestiges of Paterno's years as head coach.
Paterno sprints off the field with his team at halftime in a 1996 game.
Paterno celebrates after winning the Fiesta Bowl against Texas in 1997. Paterno was diagnosed with a treatable form of lung cancer, his son announced in November.
In October 2001, Paterno is honored before a game for having won the most games in Division 1-A. He continued to vie with Florida State's Bobby Bowden for the most all-time major college wins until Bowden retired in 2009.
Paterno and his Nittany Lions look on before facing Iowa at Beaver Stadium in State College, Pennsylvania, in October 2004.
Paterno shakes hands with Lloyd Carr of Michigan before their game in 2005 in Ann Arbor, Michigan.
Paterno celebrates a triple-overtime Orange Bowl win over Florida State in Miami on January 3, 2006. Paterno has guided his teams to more bowl victories than any other college coach.
Paterno speaks at a post-game press conference after winning the Outback Bowl on January 1, 2007, in Tampa, Florida.
Paterno walks the field as his players warm up before their game against the Syracuse Orangemen at Beaver Stadium in September 2009 in Pennsylvania. The coach was fired in November amid the outcry over the handling of accusations against former defensive coordinator Jerry Sandusky.
Paterno gives direction to his players before playing the Crimson Tide in Alabama in 2010.
Paterno walks the sidelines in October 2009 in Evanston, Illinois. In December 2011, he was admitted to a hospital after fracturing his pelvis when he slipped and fell at his home in State College.
Paterno as Penn State coach
Paterno as Penn State coach
Paterno as Penn State coach
Paterno as Penn State coach
Paterno as Penn State coach
Paterno as Penn State coach
Paterno as Penn State coach
Paterno as Penn State coach
Paterno as Penn State coach
Paterno as Penn State coach
Paterno as Penn State coach
Paterno as Penn State coach
STORY HIGHLIGHTS
NEW: Silas Redd is leaving Penn State's Nittany Lions
NEW: The star tailback racked up five consecutive 100-yard games last year
Fans gathered before sunrise Tuesday to chant in support of the Penn State team
The NCAA hit the school with sanctions including a loss of football scholarships
(CNN) -- Silas Redd, who last year racked up five consecutive 100-yard games as tailback for Penn State's Nittany Lions, is leaving the troubled team to head west.
"We welcome Silas Redd to the Trojan Family," said the University of Southern California's athletic director, Pat Haden, in a statement on Tuesday. "He is an outstanding student and athlete."
The 5-foot, 10-inch, 200-pound junior from Norwalk, Connecticut, gained 1,241 rushing yards in his sophomore season, the 10th-highest total in Penn State history.
His departure could heighten a fear of attrition that was already hanging over Penn State's football program in the wake of a child sex abuse scandal and as the NCAA has limited the number of scholarships it can offer while allowing current players to transfer.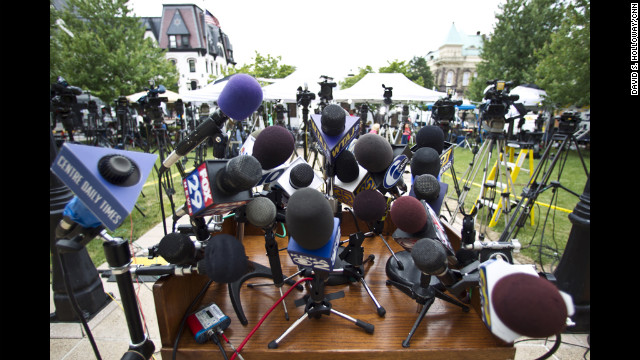 The podium stand outside of Jerry Sandusky's trial on its first day is covered in mics, hinting at the massive media coverage of the event.
Several news vans pile up outside of the Sandusky trial. The network satellite vans are all parked in front of the Centre County Courthouse and the vans parked in back are live trucks from the regional news outlets.
Every day Sandusky arrived in the passenger seat of his attorney Joe Amendola's black BMW SUV.
This sign posted on a road near the town of Bellefonte, Pennsylvania, shows support for former Penn State head football coach Joe Paterno.
Mic cords abound as the media took over the courthouse lawn to cover the Jerry Sandusky trial.
The grave of Joe Paterno is at Spring Creek Presbyterian Cemetery in State College, Pennsylvania.
Reporters wait with microphones outside of the Sandusky trial.
Several photographers and videographers staked out spots behind the police's green barriers in the back of the courthouse where Sandusky's trial was taking place.
Live vans from regional news outlets fill the lot behind the Centre County Courthouse where the Sandusky trial is taking place.
Judge John M. Cleland is presiding over Sandusky's trial at the Centre County Courthouse in Bellefonte, Pennsylvania
A business advertises Joe Paterno items within view of the courthouse where assistant coach Sandusky is on trial.
The gate to the practice football field is locked at the Mildred and Louis Lasch Football Building at Penn State University in State College, Pennsylvania
Mics and cameras surround the podium ouside the courthouse where Jerry Sandusky is on trial.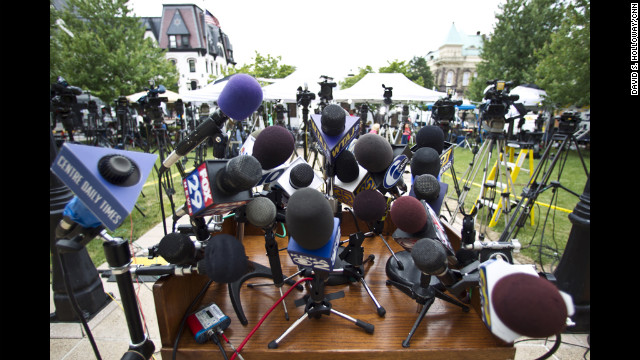 Photos: Sandusky trial coverage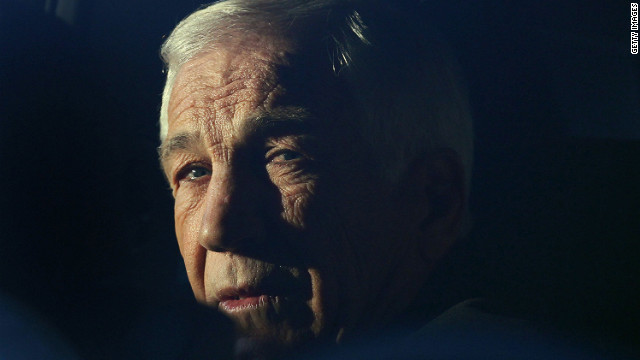 Ex-Penn State defensive coordinator Jerry Sandusky was arrested in November 2011 on charges that he preyed on boys he met through The Second Mile charity. In June 2012, he was convicted of 45 counts involving 10 young victims, and in October, he was sentenced to 30 to 60 years in prison. In July 2012, the NCAA imposed sanctions against Penn State, including a $60 million fine, scholarship reductions, the vacating of 112 wins, five years' probation and a bowl ban for four years. Click through the gallery for other notable NCAA scandals.
Penn State University head football coach Joe Paterno on the sidelines during a 2004 game. Paterno's legacy was tarnished in the wake of the Jerry Sandusky child abuse scandal. The fallout included NCAA sanctions in July 2012 that struck 111 of Paterno's 409 wins from the record book. The stripped victories stretched back to 1998 and removed Paterno's crown as winningest college football coach in history. He died of cancer in January.
Head coach Jim Tressel with his Ohio State Buckeyes at the 2011 Sugar Bowl. Tressel admitted he knew several star players were trading memorabilia for cash and tattoos in violation of NCAA rules. The NCAA banned the Buckeyes from postseason play for the upcoming season, and OSU voluntarily vacated all 2010 wins. Tressel "resigned" in May 2011, a move OSU later deemed a retirement.
University of Miami quarterback Jacory Harris throws a pass during a 2011game. Harris was one of 13 Hurricanes initially ruled ineligible after the NCAA began investigating allegations by Nevin Shapiro, an imprisoned former booster, that he for eight years provided 72 athletes with benefits that violated NCAA rules. Shapiro is incarcerated for running a $930 million Ponzi scheme. After Miami petitioned for the players' reinstatements, one player was vindicated, while the other 12, including Harris, were reinstated after serving suspensions and/or paying restitution. The investigation into the Shapiro scandal is ongoing.
Reggie Bush of the University of Southern California carries the ball past Fresno State's Matt Davis in 2005. The NCAA announced sanctions in June 2010 against USC, finding that Bush and basketball star O.J. Mayo had received lavish gifts. Bush voluntarily forfeited his Heisman Trophy, while USC was given four years' probation, stripped of 30 scholarships and had to vacate 14 wins, including a national championship.
Members of the Duke men's lacrosse team listen to the national anthem at their season opener in 2007. In 2006, members of the team hired stripper Crystal Mangum for a party, and she accused three players of raping her. The scandal forced the cancellation of the men's lacrosse season that year and the resignation of team coach Mike Pressler. The allegations later proved to be false, and prosecutor Mike Nifong was disbarred for ethics violations.
The NCAA has found the University of Alabama football program in violation of its rules at least three times in the last two decades. The most notable incident came in 2000 when a booster paid a high school coach to steer a recruit to the Crimson Tide. An investigation found numerous other violations, and Alabama was placed on five years' probation, among other sanctions. In 1995, the NCAA forced Alabama to vacate wins after it learned coaches were aware one of the school's All-Americans had secretly signed with an agent, and in 2009 the university was sanctioned for misuse of its textbook distribution program by 16 athletic programs, including football.
Jim Harrick Sr., then head coach of the University of Georgia Bulldogs, yells from the sidelines during the 2002 NCAA Division I men's basketball tournament. Harrick resigned as UGA's head basketball coach in 2003 after his son, Jim Harrick Jr., was accused of giving an A to three basketball players who didn't attend class and paying a phone bill for one of them. The NCAA punished UGA with four years' probation, and the school was forced to vacate 30 wins from 2001-2003.
Baylor University basketball player Carlton Dotson reaches for the ball against Montana State in a 2002 game. In June 2003, Baylor's Patrick Dennehy went missing. Dotson confessed to killing him and was sentenced to 35 years in prison. The NCAA later determined that Coach Dave Bliss had instructed his players to lie to investigators and tell them that Dennehy dealt drugs to cover up the coach paying thousands of dollars of Dennehy's tuition. The NCAA put the school on probation until June 2010. It also was banned from playing nonconference games for a season.
Chris Webber strolls upcourt during a home game in 1993. Webber pleaded guilty in 2003 to being paid by a University of Michigan booster to launder money from an illegal gambling operation. The NCAA put the program on four years' probation and banned the team from postseason play for the 2003-04 season. Charged with lying to federal investigators, Webber pleaded guilty to misdemeanor criminal contempt and paid a $100,000 fine.
The Southern Methodist University football team warms up in 1988, two years after a scandal broke that SMU boosters had been giving football players thousands of dollars from a slush fund with university officials' knowledge. In what was the first and last time it gave the "death penalty" to a football program, the NCAA suspended SMU from playing its 1987 season and banned it from recruiting. The school also was not allowed to play at home in the 1988 season and lost dozens of scholarships.
Bill Musselman watches court action during a 1990 NBA game as head coach of the Minnesota Timberwolves. In 1975, Musselman left as head coach of the University of Minnesota Golden Gophers. The NCAA later found 127 violations from his four-year tenure at the school, including direct payment to players for rent and transportation.
Kentucky celebrates the 2012 national championship in April. Sixty years earlier, the NCAA opened an investigation into the University of Kentucky Wildcats basketball program, following a national championship season in which three players had been arrested in a point-shaving scandal. The subsequent probe revealed that 10 players had received impermissible financial aid. The NCAA banned the school's entire athletic program from playing for a year -- in effect, marking the advent of the so-called "death penalty," even though the penalty wasn't given the nickname until the 1980s.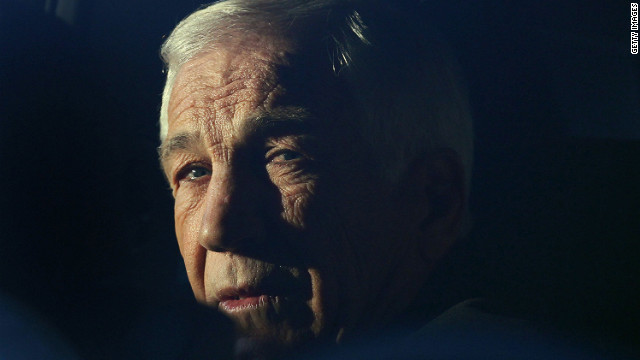 Notable NCAA scandals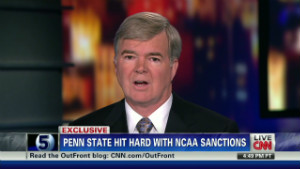 Emmert: It was the board's decision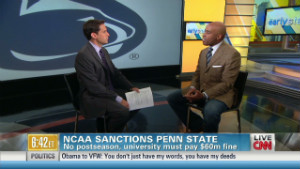 Tiki Barber: NCAA sanctions are 'harsh'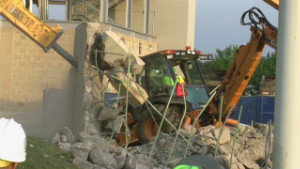 Wall around Paterno statue demolished
Sandusky voice mails released; abuse victim to sue
The Harrisburg Patriot News had reported that Redd was only one of a handful of players who were planning to leave.
His transfer was announced on the same day that Penn State's football team returned for a preseason workout as it heads into its first season in decades without head coach Joe Paterno, who died in January during the sex abuse scandal.
Fans, many dressed in the school's royal blue and white and holding signs of support, greeted athletes arriving for the 7 a.m. workout with chants of "For the team!" and "PSU!"
Do sanctions alter history books on legacy?
"It's a crucial time for Penn State Football," a university sports radio broadcast called "The Goon Show" posted days before on its website in its call to Tuesday's rally. "It's up to you to show the players why they should stay at PSU."
The fans, who belted out support for Bill O'Brien, Penn State's new head football coach, numbered in the hundreds, CNN affiliate broadcaster WGAL said.
Such morale boosters could prove key to the team, which saw NCAA sanctions wipe out more than a decade's worth of wins after the scandal involving former defensive coordinator Jerry Sandusky, who was convicted on 45 counts of child sex abuse against 10 boys.
iReport: Penn State team returns to cheers
Vestiges of Paterno, including his bronze statute in front of Beaver Stadium, vanished amid the scandal.
The NCAA slapped the school with a four-year postseason ban and imposed a $60 million sanction after investigators blamed top university leaders, including Paterno, for showing "total and consistent disregard" for victims while a sexual predator lurked on campus.
Paterno's official record dropped from 409 wins to 298, while the NCAA also struck down six bowl wins and two conference championships.
"We're not giving up on them," said Don Smith, a longtime fan. "What happened was unfortunate, but we're going to come back. Penn State is going to come back stronger than ever."
Penn State's training camp officially kicks off on August 6. So does USC's.
Five experts: What happens to Penn State football?
CNN's Jill Martin and Ben Brumfield contributed to this report.