STORY HIGHLIGHTS
Wladimir Klitschko tells CNN his gold at the Atlanta Olympics is one of his career highlights
Current WBA, WBO, IBF and IBO champ took gold in the super heavyweight division in 1996
The 36-year-old auctioned his medal for $1 million to help his charitable foundation
Klitschko says he will fight again before the end of this year
(CNN) -- An Olympic gold medal is no guarantee of subsequent success as a professional boxer, but it meant the world for Wladimir Klitschko.
However, that did not stop the Ukrainian from selling the coveted super heavyweight prize he won 16 years ago at the Atlanta Games.
"It was absolutely a highlight in my life and also a highlight for the country because Ukraine in 1996 for the first time traveled to the Olympic Games as an independent country," the 36-year-old told CNN.
"We collected a lot of medals and we got ninth place worldwide, so we got in the top 10, which was a great achievement by the athletes."
Klitschko will attend Friday's glittering opening ceremony for London 2012 as the holder of four of the five recognized heavyweight belts.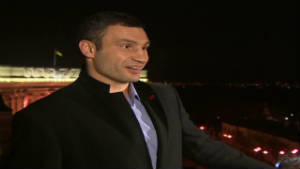 World champion boxer talks Euro draw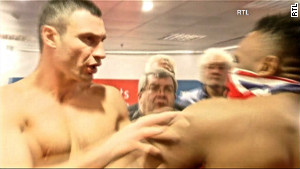 Slapping, spitting before the fight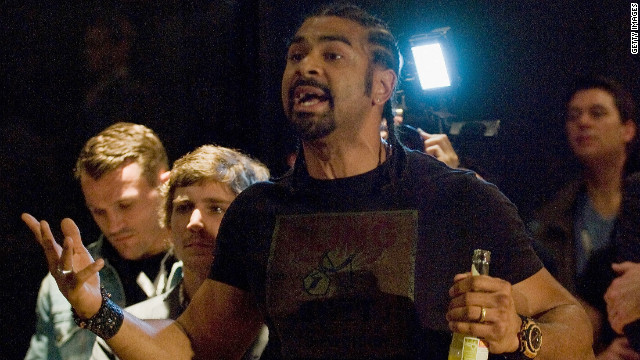 Former WBA heavyweight champion David Haye argues with Dereck Chisora moments before they brawled in Germany on Saturday.
Chisora sits in his corner during his fight against WBC heavyweight champion Vitali Klitschko in the Olympic hall in Munich.
The veteran Ukrainian Klitschko (L) beat challenger Chisora on points.
Chisora slapped Klitschko at the weigh-in ahead of their fight on Friday.
Zimbabwe-born Chisora had signed on to fight Klitschko's younger brother Wladimir in December 2010, but the Ukrainian pulled out due to injury.
Wladimir instead fought Haye in July 2011, taking the Briton's WBA title and defending his own belts. Haye retired in October after his 31st birthday, but has been angling to fight Vitali.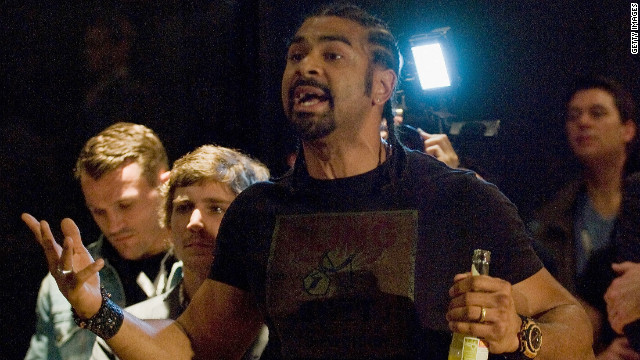 Boxers brawl after title fight
Unlike his Olympic successor, Britain's Sydney 2000 champion Audley Harrison, he has a formidable record in professional boxing, winning 58 of his 61 fights -- 51 by knockout.
Video: Amir Khan's boxing master class
He and his brother Vitali -- who holds the heavyweight division's other title, the WBC belt -- have dominated the elite class for the last five years.
But it was one of their many interests outside the ring that convinced Wladimir to auction off his gold medal -- so the proceeds could boost the coffers of the charitable foundation they set up the same year he fought his way to Olympic glory.
"I did sell the medal in March and 100% of the funds, which is $1 million, went to the Klitschko Brothers Foundation -- we care about education and sport, that is the key in any children's life," Wladimir said.
"If they have knowledge they can succeed with that in their adult life and sport gives them the rules -- how to respect your opponent, how to respect the rules.
"It is always in life like that, you go down but you have to get up, and sport gives you this great lesson."
Haye vs. Chisora? That's just handbags - watch the women at the Olympics
Klitschko's most recent defense of his quartet of titles came against American Tony Thompson in Switzerland two weeks ago, when the Ukrainian stopped his 40-year-old opponent in the sixth round.
And though he has penciled in another fight before the end of this year, Klitschko has yet to secure an opponent.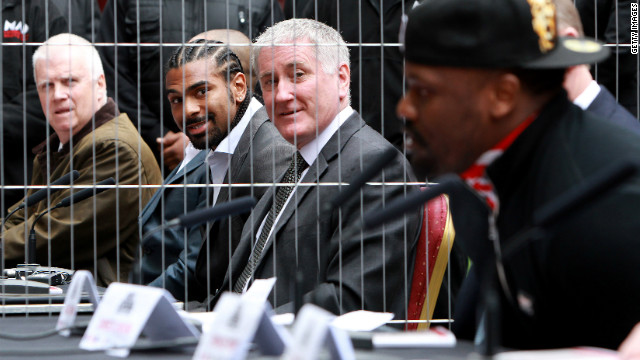 David Haye and Dereck Chisora have never before faced off in the ring, but Saturday's controversial fight is borne of their mutual animosity.
Former WBA heavyweight champion Haye confronted Chisora at a press conference following his fellow British boxer's defeat by Vitali Klitschko in February.
The Haye and Chisora teams then got involved in a violent brawl. Haye's manager Adam Booth was left with a bloodied face after being allegedly struck with a bottle.
Chisora had sparked controversy when he slapped Klitschko at the weigh-in ahead of their fight, and spat water at the Ukrainian's fellow world champion brother Wladimir. He subsequently lost his boxing license.
With the men's side of the sport receiving so much negative press, Britain's Lisa Jane Whiteside (left) and Poland's Sandra Kruk will be hoping to show the world what women can do at the Olympic Games this summer. Here are a few of the ones to watch...
Mary Kom is one of the finest female boxers of her generation. She is the only woman to win a medal at all six Amateur World Championships, taking home the gold on five occasions. The 29-year-old is India's only qualifier for the Olympics and is also the IBA's Ambassador for Women's Boxing. In 2010 she was voted Indian Sportswoman of the Year.
At only 17 years of age, Clarissa Shields has already won 27 bouts, with 14 knockout wins to her name and only one loss. The U.S. middleweight has won two Junior Olympic championships and will be looking to add to that at London 2012.
Savannah Marshall is Britain's strongest candidate for boxing gold on home canvas. In May the middleweight became the first Britsh woman to win a world title, overcoming a bloodied nose to beat Azerbaijan's Elena Vystropova on her 21st birthday.
Ireland's European and world champion Katie Taylor has won a total of 13 gold medals across three different federations, all at the 60 kg weight class. She has also represented the Republic of Ireland at international level in football, and might be recognized by some after starring in a recent Lucozade Sport advertisement.
Ranked third in the world in the flyweight (51kg) division, Nicola Adams has been a pioneering figure for British women in the sport. In 2001 she became the first female boxer to ever represent England and in 2007 she became the first Briton to win a medal, with bantamweight silver at the European Championships and is now the continental flyweight champion.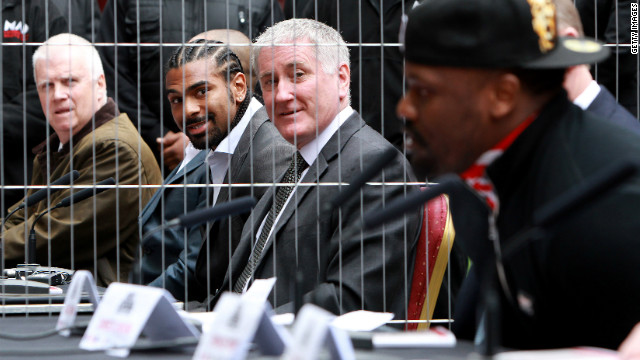 Can boxing's fairer sex control the ring?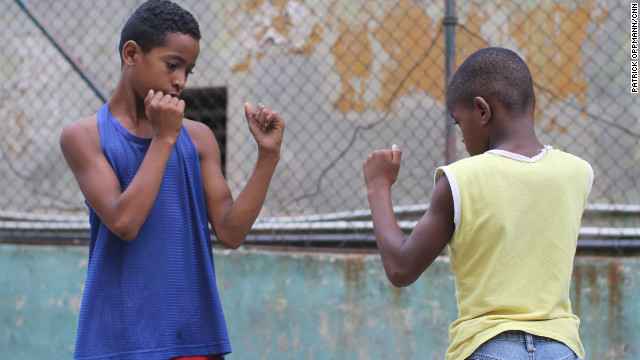 Boys at a Havana gym practice their boxing stance. Boxing, like baseball, is a sport many Cubans are passionate about.
Cuban fighters square off at a regional boxing tournament. A victory here could lead to a selection for the country's national team and the possibility of representing Cuba at the Olympics.
Boxers in Cuba fight at an exhibition match on May 10, 2012. Despite the fact that fighters cannot compete professionally, the country has consistently produced world-class boxers.
Hector Vinent Charon trains the youngsters at the Rafael Trejo boxing gym in Havana. Charon (left) is a two-time Olympic gold medalist, having won the light welterweight at both the 1992 and 1996 Games.
Professional sport is outlawed in Cuba, but it does not stop some of its athletes making money from their talent. Yuriorkis Gamboa won gold at the 2004 Athens Olympics before defecting and eventually launching a pro career in the U.S.
Cuba has an incredible Olympic boxing pedigree, having won 32 gold medals in the sport. Teofilo Stevenson is arguably the country's greatest Olympian, winning three heavyweight golds from 1972.
Stevenson's final gold came at the 1980 Moscow Games, where he beat Piotr Zaev of the Soviet Union in the final. Stevenson was also crowned world amateur champion on three occasions.
In Beijing four years ago, Cuba failed to clinch an Olympic gold. Emilio Correa (left) had to settle for silver after losing to Britain's James DeGale in the middleweight final.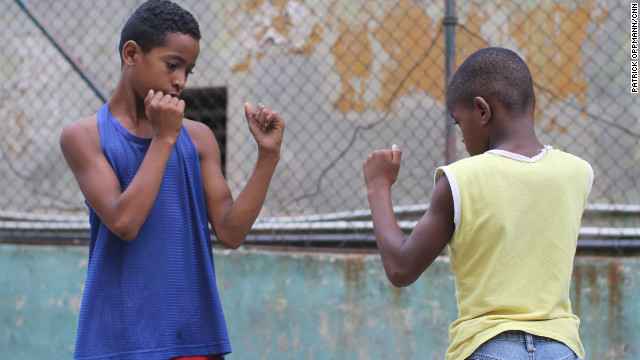 Cuba's boxing legacy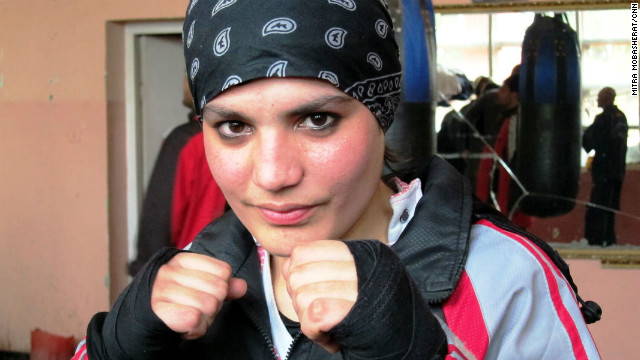 17-year-old Sadaf Rahimi was given a wild card to compete in the 2012 Olympic Games in London.
The boxing gym is a crumbling room inside Kabul's Ghazni stadium -- a venue for public executions under the Taliban.
Rahimi says she's experienced hostility from some in Afghanistan -- including family members -- who say women should not play sports.
The Afghan Amateur Women's Boxing Association was established in 2007 to promote women and girls in sport. The Taliban had banned women from playing sport.
Rahimi is coached by Mohammed Saber Sharifi, a former male professional boxer and advocate for women's rights.
Rahimi says she can only train for an hour for a day, such is the demand for sports facilities in the Afghan capital.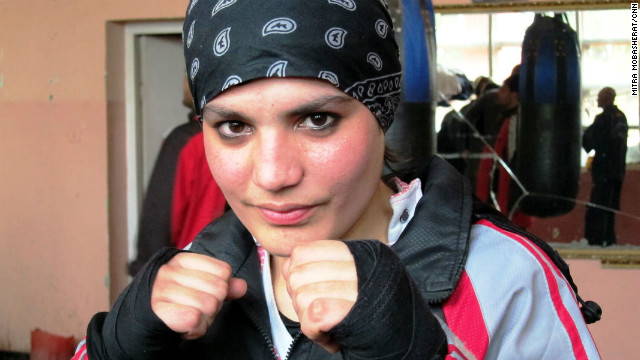 Afghanistan's female boxers fighting beyond ring
"I'm a seasoned fighter and that means I have to stay busy, so I fought twice this year and by the end of the year -- November, December -- I'm going to defend my titles again," he said.
"I don't know who is going to be the next opponent because I just fought recently."
One of Klitschko's most recent victories came against former heavyweight champion David Haye in Hamburg last year, and though the Briton retired after the fight he recently returned to the ring to beat compatriot Dereck Chisora.
Haye has repeatedly said he wants to fight Vitali, but Wladimir wouldn't be drawn on whether the pair would finally square off in the ring, saying his brother's political ambitions would be his main focus after his bout against Manuel Charr.
"It's very difficult to follow the wishes of David Haye -- he's going to fight Vitali then he's not, he's retired then he's not," Klitschko said.
"There is a lot of controversy back and forth, and to make it clear Vitali is going to defend his WBC title in Moscow on September 8 against Manuel Charr and we can't look beyond that.
"First of all he has to win the fight, then he's going to have parliamentary elections because Vitali is a politician.
"He's hopefully going to get enough percentage and pass the line to get to the parliament of Ukraine, so then we'll see how it goes with David Haye and the fight."