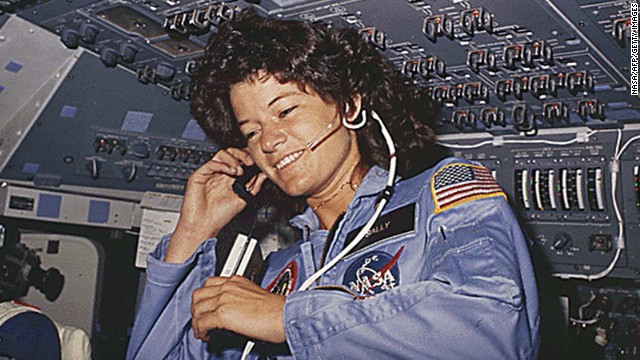 Sally Ride, America's first female astronaut, died Monday, July 23, after having pancreatic cancer for 17 months. She was 61. Here, Ride is seen talking with ground control during her six-day space mission on board the Challenger in 1983.
Sally Ride with the other members of NASA's first class of female astronauts in August 1979. From left to right: Shannon W. Lucid, Margaret Rhea Seddon, Kathryn D. Sullivan, Judith A. Resnik, Anna L. Fisher, and Ride.
Ride, left, and Anna Fisher work on a mission sequence test as part of their 1978 astronaut class at Kennedy Space Center.
Ride appears in an offical NASA portrait in January 1983.
Ride appears, front left, in the STS-7 Challenger Crew photo in January 1983. Front row, left to right: Ride, Cmdr. Bob Crippen, Pilot Frederick Hauck. Back row, left to right: John Fabian, Norm Thagard.
A technician helps Ride strap herself into the shuttle mission simulator in Houston on May 23, 1983, less than a month before her launch.
Ride at the Johnson Space Center in Houston in June 1983
Ride prepares to take off in a T-38 jet as she leaves Houston for NASA's Kennedy Space Center on June 15, 1983, three days before the shuttle launch.
Ride takes her seat aboard the Challenger on June 19, 1983, the day she became the first American woman in space.
Ride and the other crew members of STS-7 achieve liftoff aboard the Challenger on June 18, 1983.
Ride floats alongside Challenger's middeck airlock hatch durring Challenger's six-day mission in June 1983.
Ride takes a photograph during her Earth orbit on the Challenger.
Ride inspects a tool kit during Earth orbit aboard the Challenger.
Ride gives her condolences to the families of the space shuttle Columbia crew while speaking to the media at the San Diego Aerospace Museum on February 7, 2003.
California Gov. Arnold Schwarzenegger applauds Ride after inducting her into the California Hall of Fame on December 6, 2006, in Sacramento, California.
Photos: Sally Ride through the years
Photos: Sally Ride through the years
Photos: Sally Ride through the years
Photos: Sally Ride through the years
Photos: Sally Ride through the years
Photos: Sally Ride through the years
Photos: Sally Ride through the years
Photos: Sally Ride through the years
Photos: Sally Ride through the years
Photos: Sally Ride through the years
Photos: Sally Ride through the years
Photos: Sally Ride through the years
Photos: Sally Ride through the years
Photos: Sally Ride through the years
Photos: Sally Ride through the years
STORY HIGHLIGHTS
Sally Ride kept her sexual preference a secret during her lifetime
Some say Sally should have come out, Joan Darrah says, but it wasn't easy in her generation
Darrah: When Sally and she grew up, being a woman in a man's world was hard enough
Darrah: Ride should be remembered for her remarkable life, not for her orientation
Editor's note: Capt. Joan E. Darrah served for nearly 30 years as a Naval intelligence officer, serving as chief of staff and deputy commander at the Office of Naval Intelligence, among other offices. After retirement, she was a leading advocate in the fight to repeal "Don't Ask, Don't Tell" and testified before the House Committee on Armed Services Subcommittee on Military Personnel. Darrah lives with her partner of 22 years, Lynne Kennedy, in Alexandria, Virginia.
(CNN) -- When I heard the news that Sally Ride, the first American woman in space, died after a long battle with pancreatic cancer I was shocked and saddened.
She was a woman clearly ahead of her time, blazing trails for all of those behind her, showing other women that it was possible to be smart, to care about science and to be an astronaut. After her death, it was revealed that she was gay, but it didn't totally surprise me.
Being a lesbian myself, I admit I was proud to learn that such an accomplished American pioneer and role model was on "our team." Some are saying that she let the gay and lesbian community down, that she should have been more visible and should have publicly declared her sexual orientation. She could have made a contribution to gay rights. She could have inspired many young people struggling with their sexuality.
But it isn't that easy. Especially for women like Sally and me, who grew up in the '50s and '60s.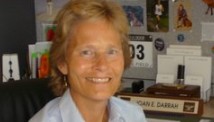 Joan Darrah
I retired from the Navy in June 2002 as a captain after nearly 30 years of living under "don't ask, don't tell" and its predecessor. Once I retired, I knew that I needed to add my voice to the fight against DADT, to be a visible example of a gay service member. However, outing myself beyond my close circle of friends wasn't easy. I was proud of my accomplishments but a big part of me wanted to keep my personal life private.
In America: Sally Ride as role model
In my early career, most of my challenges, like those of Sally Ride I suspect, were trying to succeed in what was pretty much a man's world. No, Sally wasn't in the military -- but being a part of NASA had many similarities. I can see why she wanted to focus on succeeding as a woman, which was difficult enough, and didn't want to complicate things by bringing up her sexual orientation.
More science news from CNN Light Years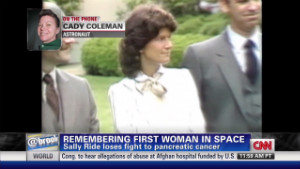 Remembering Sally Ride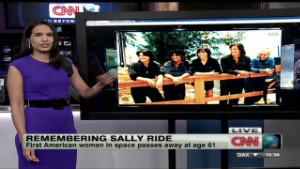 Saying goodbye to Sally Ride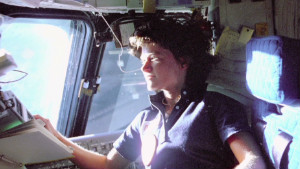 First American woman in space dies
She carried the burden of being the first American woman to go into space and all that it meant, and back then, she faced some pretty laughable questions. One was whether the flight would affect her reproductive organs. Former astronaut Rick Hauck, who was co-pilot on the 1983 Challenger mission with Sally, recalls another: A reporter asked: "Do you think you will cry during the flight?" and she answered: "Why doesn't Rick get asked that question?"
There is still a long way to go. For example, Sally's partner of 27 years, Tam Shaughnessy, will not receive her federal survivor's benefits because it is prohibited by the Defense of Marriage Act.
Still, a lot has changed rather quickly for the better.
DADT has been repealed, and gays and lesbians are serving openly and successfully in the military. Marriage equality is beginning to take hold in several states, and campaigns such as the "It Gets Better" project are trying to send a message that it really is OK to be LGBT.
Opinion: A friend remembers Sally Ride
Could Sally Ride have come out publicly before her death? Yes. But we should respect her choice to keep her personal life relatively private. Perhaps, if she had been fortunate to have lived a little longer, she might have decided that giving up some of her privacy was worth it to let people see her as an American hero who "happened to be a lesbian."
I know thousands of LGBT kids might have been encouraged to learn Sally Ride was gay -- but we need to remember that those of us who grew up in the '50s and '60s, when many of us didn't even know what gay meant, are still on a journey of self-acceptance.
I still marvel at so many young gay and lesbian kids when I see how accepting they are of themselves and how their straight peers accept them as "normal." Although I am retired and DADT is gone, I still hesitate to share I am a lesbian and am still surprised when people are totally fine with it.
Opinion: Thank you, Sally Ride
Let's remember Sally Ride as a courageous pioneer and American hero. Let's not let the fact that she didn't publicly come out to the world detract in any way from her remarkable accomplishments.
Follow us on Twitter @CNNOpinion.
Join us on Facebook/CNNOpinion.
The opinions expressed in this commentary are solely those of Joan Darrah.