STORY HIGHLIGHTS
NEW: 12 victims remain hospitalized, 4 are released, officials at 5 hospitals say
A suspect shot them, and killed 12, during a midnight showing of the latest Batman movie
Authorities say the alleged shooter rigged his apartment with explosives
Tenants of the complex are finally being allowed back in, while victims are mourned
(CNN) -- Coloradans continued to put their lives back together Thursday after last week's deadly shooting rampage at a crowded movie theater -- some mourning, others returning to homes from which they had been barred for days.
More of the scores wounded in last Friday morning's shooting left hospitals in and around metropolitan Denver, though 12 remained.
The last two patients of six that were at Children's Hospital Colorado were released on Thursday, according to the hospital. The final person being treated at Denver Health Hospital also went home Thursday, said spokesman Tony Encinias.
One patient was discharged Thursday from the University of Colorado Hospital; four of the five who remain there are in critical condition, officials said. Five more shooting victims are being cared for at Aurora Medical Center, and two are in fair condition at Swedish Medical Center in Denver, the hospital said.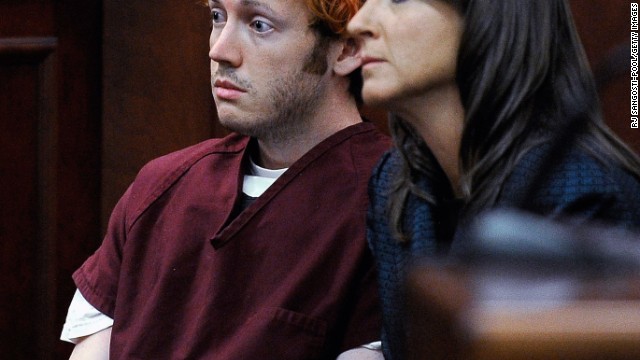 The public gets its first glimpse of James Holmes, 24, the suspect in the Colorado theater shooting during his initial court appearance Monday, July 23. With his hair dyed reddish-orange, Holmes, here with public defender Tamara Brady, showed little emotion. He is accused of opening fire in a movie theater Friday, July 20, in Aurora, Colorado, killing 12 people and wounding 58 others. More photos: Mourning the victims of the Colorado theater massacre
Police release the official photo from Holmes' booking after the shooting.
Holmes often had a blank stare during his court appearance Monday, appearing to be in a daze.
Victims and their relatives and journalists watch the proceedings Monday.
Flags fly at half-staff Monday at the Arapahoe County Courthouse in Centennial, Colorado, where the movie theater shooting suspect had his first court appearance. The prosecutor held a press conference outside the courthouse.
Arapahoe County District Attorney Carol Chambers talks to reporters Monday before heading into the courthouse. Chambers said the decision on whether to pursue the death penalty is a long process that involves input from victims and their families.
Family members of the victims arrive at the courthouse Monday for the suspect's first court appearance.
The Century Aurora 16 multiplex in Aurora becomes a place of horror after a gunman opened fire Friday in a crowded theater. At least 17 people remained hospitalized late Sunday, July 22, in the shooting rampage that shocked the nation.
Holmes is accused of opening fire during a midnight screening of the new Batman movie, "The Dark Knight Rises." Holmes purchased four weapons and more than 6,000 rounds of ammunition in recent months, police say.
Police investigate outside the Century 16 multiplex Saturday, July 21, a day after the mass shooting. Authorities have been tight-lipped about a possible motive in the case.
Agents search the suspect's car outside the theater.
Aurora police escort a sand-filled dump truck containing improvised explosive devices removed from Holmes' booby-trapped apartment Saturday. Authorities have said they believe the suspect rigged his place before leaving for the movie theater.
Police break a window at the suspect's apartment Friday in Aurora.
Law enforcement officers speak with Colorado Gov. John Hickenlooper, center, outside the suspect's apartment Saturday.
Law enforcement officers prepare to disarm the booby-trapped apartment Saturday.
Officials tow cars outside Holmes' apartment Saturday. Police disassembled devices and trip wires set up in the apartment.
Officers prepare to place an explosive device inside the apartment.
Debris flies out a window, right, after law enforcement officers detonate an explosive device inside the apartment Saturday.
People mourn the victims during a vigil behind the theater where a gunman opened fire on moviegoers in Aurora.
A woman grieves during a vigil for victims behind the theater.
A distraught woman receives counseling from Pastor Quincy Shannon, left, in front of Gateway High School in Aurora, where the families of the missing met following the shooting.
Lin Gan of Aurora holds back tears as she speaks to reporters about her experience in the Century 16 theater Friday.
People embrace before a vigil for victims behind the theater where a gunman opened fire on moviegoers.
Investigators work on evidence near the apartment of James Holmes on Friday.
Members of the Aurora Police Department SWAT unit walk near the apartment of James Holmes. Police have Holmes, 24, of North Aurora, in custody.
Television news crews gather in front of the home of Robert and Arlene Holmes, parents of 24-year-old mass shooting suspect James Holmes, in San Diego, California, on Friday.
A popcorn box lies on the ground outside the Century 16 movie theatre.
An NYPD officer keeps watch inside an AMC move theater where the film "The Dark Knight Rises" is playing in Times Square on Friday. NYPD is maintaining security around city movie theaters following the deadly rampage in Aurora, Colorado.
Adariah Legarreta, 4, is comforted by her grandmother Rita Abeyta near the Century 16 Theater in Aurora.
A cyclist and pedestrians pass a theater showing the latest Batman movie in Hollywood, California, on Friday. Warner Brothers said it was "deeply saddened" by Friday's massacre at a Colorado screening of "The Dark Knight Rises."
Obama supporters observe a moment of silence for the victims at a campaign event at Harborside Event Center in Fort Myers, Florida, on Friday.
Jessica Ghawi, an aspiring sportscaster, was one of the victims.
A woman waits for news outside Gateway High School, a few blocks from the scene of the shooting at the Century Aurora 16.
Aurora police chief Daniel J. Oates speaks at a press conference near the Century 16 Theater on Friday.
Agents search the trash container outside the suspect's apartment in Aurora.
A Federal ATF officer carries protective gear onsite at the home of alleged shooting suspect James Holmes.
Obama speaks on the shootings at the event in Fort Myers.
Moviegoers are interviewed at the Century Aurora 16.
Officers gathered at the theater Friday.
Investigators were a common sight at the theater Friday.
Authorities gather at the shooting suspect's apartment building in Aurora. Police broke a second-floor window to look for explosives that the suspect claimed were in the apartment.
Screaming, panicked moviegoers scrambled to escape from the black-clad gunman, who wore a gas mask and randomly shot as he walked up the theater's steps, witnesses said.
University of Colorado Hospital spokeswoman Jacque Montgomery said that all of the wounded had injuries from gunshot wounds, ranging from minor to critical.
Onlookers gather outside the Century Aurora 16 theater.
A woman sits on top of her car near the crime scene.
Police block access to the Town Center mall after the shooting.
Cell phone video taken by someone at the theater showed scores of people screaming and fleeing the building. Some, like this man, had blood on their clothes.
Witnesses told KUSA that the gunman kicked in an emergency exit door and threw a smoke bomb into the darkened theater before opening fire.
What is believed to be the suspect's car is examined after the shooting.
Police Chief Dan Oates said there was no evidence of a second gunman, and FBI spokesman Jason Pack said it did not appear the incident was related to terrorism.
Republican presidential candidate and former Massachusetts Gov. Mitt Romney delivers remarks regarding the shooting in an Aurora, Colorado, movie theater on Friday at a campaign event in Bow, New Hampshire.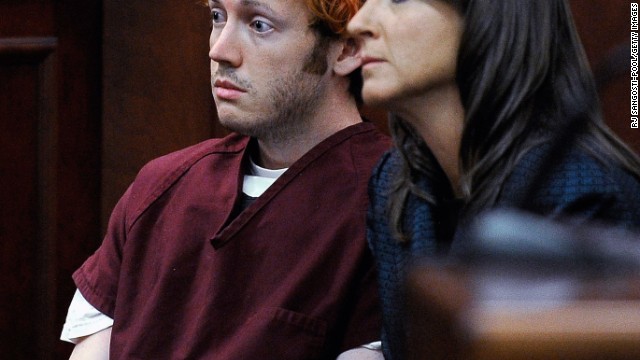 Colorado movie theater massacre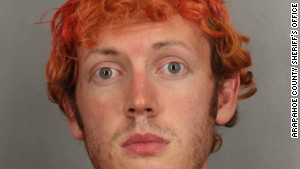 Cops: Holmes sent package to university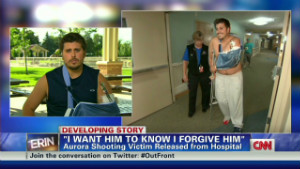 CO shooting victim: "I forgive him"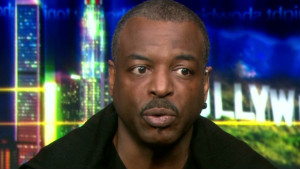 LeVar Burton on talking about tragedy
For others, Thursday was time to mourn. That included scores who packed New Hope Baptist Church in Denver to remember Micayla Medek, a 23-year-old woman who had been working toward her college degree.
Speakers at the service reflected on Medek's love of the color pink and Hello Kitty, her vibrant and positive spirit, and her belief that life and people, in fact, are a "little weird."
"I will push myself forward, and I will carry her with me every step of the way," said Thomas Luong, her roommate and friend since high school.
Aurora Mayor Steve Hogan told Medek's parents, brother and sister that they had the support of thousands, if not millions. He said he had gotten messages from people on all seven continents, expressing their sympathy and solidarity.
"The world knows. The world will remember," said Hogan. "We are all part of your family today. We will stay part of your family."
Aurora heroes: Three who gave their lives
The man who authorities say opened fire in the theater during the midnight premiere of the Batman movie "The Dark Knight Rises," killing Medek and 11 others, is in custody after being ordered held without bond.
James Holmes, who identified himself to police as "the Joker," made his first court appearance on Monday and will be formally charged July 30.
Two court orders, signed by Arapahoe County District Judge William Sylvester, were posted on a court website Thursday noting restrictions on information the University of Colorado could release about Holmes. The 24-year-old had recently dropped out of a Ph.D program in neuroscience out of the school's campus in Aurora.
Prosecutor in shootings has courted controversy
The orders, in addition to a previous one issued Wednesday aimed at "limiting pre-trial publicity" at the defendant's request, endeavor to restrict the amount of publicly available information in order to assure "the fairness of a trial."
Meanwhile, Holmes' former neighbors are being allowed back home for the first time since the shooting, Sgt. Cassidee Carlson of the Aurora Police Department said Wednesday evening.
The tenants of the apartment building where Holmes had lived were rousted out of their apartments by police in the early hours of Friday shortly after the shooting.
Warning signs of violence: What to do
Holmes had booby-trapped his sparsely furnished third-floor, one-bedroom unit apartment with more than 30 homemade grenades and 10 gallons of gasoline, a law enforcement official who viewed video showing the apartment's interior has told CNN.
The sophisticated setup was meant to harm, or possibly kill, anyone who entered -- and tested the skills of bomb squad members charged with clearing it, the official said.
Stories of survival: Newborn a 'silver lining'
Authorities on Monday also discovered a package in a mailroom at the University of Colorado -- Anschutz Medical Campus apparently sent by Holmes, a law enforcement official briefed on the investigation said Wednesday.
CBS News reported that the package was addressed to a psychologist at the university, which Holmes had attended.
"Sources say the letter was from a pent-up Holmes to one of his professors," the news organization reported. "In it, he talked about shooting people and even included crude drawings of a gunman and his victims."
Some of his victims, both in and out of hospitals, faced a difficult recovery process and the prospect of daunting medical bills.
They include Caleb Medley, who lost an eye and suffered brain damage. His wife gave birth to their son Hugo Jackson Medley on Tuesday morning, and the University of Colorado Hospital said both baby and mother are doing well.
Medley, who had been doing standup comedy routines in Denver and was working full-time at Target, had no health insurance, his brother Seth said.
"The surgeon came and talked to us and said he'd be in ICU at least a week," said Medley's friend, Michael West, who set up a website to help take care of medical bills and the needs of Medley's family. By Thursday evening, it had raised more than $313,000.
Chloe Anderson has set up a similar fund for her sister, Petra Anderson, an aspiring musician who was also shot in the head. In a video posted Sunday asking for funds, Chloe Anderson notes that her mother was preparing to undergo cancer treatment later this month when Friday's shooting occurred.
"My sister's hospital bills on top of that are making the financial reality look pretty daunting," she says. "So that's why we are reaching out to you -- the people who have already asked us what they can do to help."
By Wednesday evening, that fund had received more than $184,000 with a goal of $250,000.
Money is also streaming in to GivingFirst.org, which is accepting donations for the shooting victims and their relatives. By Tuesday, the amount had reached almost $2 million, Gov. John Hickenlooper said.
Victims remembered through poignant stories
"The needs will be great and we look forward to seeing the fund grow exponentially," he said. "This money will help those impacted by this tragedy begin to recover and rebuild their lives."
Hickenlooper said donors include Warner Bros. and Legendary Pictures, co-producers of "The Dark Knight Rises." Sources at Warner Bros. studios told CNN the company made a "substantial" donation. Warner Bros., a subsidiary of CNN's parent company Time Warner, would not divulge how much money it was giving out of respect for the victims, the sources said.
Dispatch: We need rescue in theater 9
Several hospitals were also making efforts to minimize the financial burden. Children's Hospital Colorado said in a statement it will use its charity program and donations to cover medical expenses for victims who don't have insurance, as well as waive co-pays and deductible-related expenses for those with insurance.
HealthOne, the health care system that includes the Medical Center of Aurora and Swedish Medical Center, pledged to "eliminate personal financial responsibility for hospital charges as appropriate."
And Denver Health said it will evaluate each patient "on a case-by-case basis" and discount bills by 70% for those unable to pay.
Focusing on the victims, not the shooter
CNN's Randi Kaye, Ed Payne, Tom Watkins, Holly Yan, Drew Griffin, Kathleen Johnston, Scott Zamost, Elwyn Lopez, Carol Cratty, Poppy Harlow, Dana Ford, Breeanna Hare, Alta Spells, Ed Lavandera, Nick Valencia and Jessica Jordan contributed to this report.