STORY HIGHLIGHTS
NEW: Villages near Aleppo seem deserted
At least 129 people died Wednesday, an opposition group says
The British and German ambassadors are concerned about the Aleppo fighting
Live footage appears to show rebel forces seizing a police station in Aleppo
Are you in Syria? Share your stories, videos and photos with the world on CNN iReport.
(CNN) -- Syrian rebels took their fight to the northern city of Aleppo on Wednesday, burning a police station and capturing pro-regime forces in an effort to wrest control from government forces, opposition and rebel groups said.
Rebels took control of a police station, according to footage streamed live by the Free Syrian Army on Wednesday. The opposition Syrian Observatory for Human Rights said rebels burned a police station, though it wasn't clear if it was the same one.
The video shows rebels seizing tanks, looting the station, smashing pictures of President Bashar al-Assad and lining up captured members of the pro-regime Shabiha militia.
Another opposition group, the Local Coordination Committees of Syria, said MiG-21 warplanes were flying over the city and shelling several Aleppo neighborhoods. There was also gunfire, and civilians' cars were targeted, it said.
Villages near Aleppo appeared deserted Wednesday, and residents told CNN they are now traveling on back roads because the main highway is considered unsafe.
A Sunni cleric in the village of Injara, about six miles west of Aleppo, showed CNN journalists craters and gaping holes in at least six homes, the result of what he and residents said were rockets and artillery from a Syrian army base visible a couple of miles away.
"They hit us every night," Bukhro said.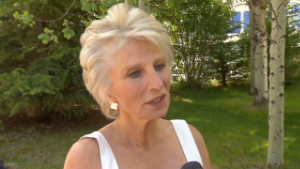 Former intel chairman on global hotspots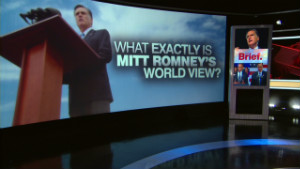 Romney campaign: Arm Syrian rebels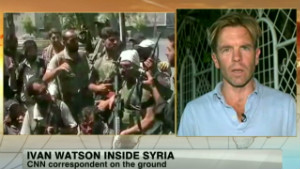 Is there a plan for post-Assad Syria?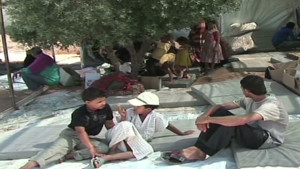 UN official: 'Step up' and help Syrians
The British and German ambassadors to the United Nations said reports of the warplanes over Aleppo are especially concerning.
"The reports now of attacks by regime fighter jets in Aleppo mark yet a further dangerous escalation and underlines that there are no boundaries that the Assad regime will not cross in the misguided hope that it can resist the will of its people and hang on to power," British Ambassador Mark Lyall Grant told the Security Council on Wednesday.
Does U.S. have a post-Assad plan?
Aleppo is the commercial hub of Syria and an al-Assad stronghold, making it a key target for both sides.
"The Assad authorities are not only unleashing their heavy weapons and gunships against their own people," German Ambassador Peter Wittig said. "Two days ago they went even a step further and threatened the international community with the use of chemical and biological weapons of mass destruction."
Wittig was referencing comments by Syrian Foreign Ministry spokesman Jihad Makdissi that any weapons of mass destruction owned by the regime would never be used against the Syrian people, and are meant to be used only in the event of "external aggression."
Wittig called Makdissi's remark "a ruthless and an inhumane threat."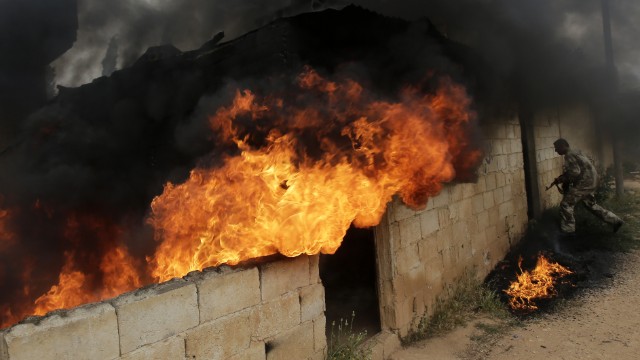 Syrian army soldiers take control of the village of Western Dumayna north of the rebel-held city of Qusayr on Monday, May 13. Syrian troops captured three villages in Homs province, allowing them to cut supply lines to rebels inside Qusayr town, a military officer told AFP. Tensions in Syria first flared in March 2011 during the onset of the Arab Spring, eventually escalating into a civil war that still rages. This gallery contains the most compelling images taken since the start of the conflict.
Syrian troops move into Dumayna on May 13.
Rebel fighters fire at government forces in the northern Syrian city of Aleppo on Sunday, May 12.
Smoke rises from an explosion in a Syrian village near the Israeli border on Tuesday, May 7.
Multiple explosions hit a Syrian village near the Israeli border on May 6.
A photo released by the Syrian Arab News Agency shows destruction from what is said was bomb attack in the Al-Hama area of Damascus on Sunday, May 5. According to the Syrian government, Israel launched an attack on a research center in the Damascus suburbs early Sunday.
People run for cover after what activists said was shelling by forces loyal to Syria's President Bashar al-Assad in Syria's Raqqa province, on May 3.
People walk past a damaged building and multiple destroyed cars at the site of an explosion in Damascus where at least 13 were killed on April 30.
Cleaning takes place following another explosion in an upscale Damascus neightborhood on Monday, April 29. Syrian Prime Minister Wael al-Halqi survived the bombing targeting his motorcade.
A smoke cloud rises from shelling on the the al-Turkman mountains in Syria's Latakia province on Thursday, April 25.
Searchers use a flashlight as they look for survivors among the rubble created by what activists say was a missile attack from the Syrian regime, in Raqqa province, Syria, on April 25.
A handout photograph from Syria's national news agency SANA shows damage and debris from a mortar attack in the suburb of Jarmana near Damascus, Syria, on Wednesday, April 24. The attack killed seven and wounded more than 25, according to activists and state media. No group claimed responsibility for the mortar fire, which SANA said hit a municipality office and a school building.
A Kurdish fighter from the "Popular Protection Units" (YPG) takes position inside a building in the majority-Kurdish Sheikh Maqsood area of Aleppo, on Apri. 21.
People walk past destroyed houses in the northern Syrian town of Azaz on Sunday, April 21.
Free Syrian Army fighters take positions prior to an offensive against government forces in the Khan al-Assal area, near Aleppo on Saturday, April 20.
Men inspect damage at a house destroyed in an airstrike in Aleppo on April 15.
Syrian and Kurdish rebel fighters walk in the Sheikh Maqsud district of Aleppo on April 14.
A Syrian boy holds an AK-47 assault rifle in the streets of Aleppo on Sunday, April 14.
A female rebel monitors the movement of Syrian government forces in Aleppo's Sheikh Maqsud neighborhood on April 11.
A rebel runs to avoid sniper fire from Syrian government forces in Aleppo on Thursday, April 11.
Syrian rebels observe the movement of Syrian government forces around Al-Kendi hospital in Aleppo on Wednesday, April 10.
Rescue teams and security forces check out the scene of a deadly car bomb explosion in Damascus on April 8.
The fighting has taken a toll on buildings in Aleppo's Saladin district, seen here on April 8.
A Syrian rebel runs for cover in Deir ez-Zor on April 2.
A rebel checks for snipers across the street toward the Citadel in Aleppo, Syria, on Saturday, March 30, in this photo taken by iReporter Lee Harper.
A Free Syrian fighter mourns the death of a friend in Aleppo on March 30, in this photo taken by iReporter Lee Harper.
A Syrian opposition fighter runs for cover from Syrian army snipers in Aleppo on Wednesday, March 27.
A Syrian girl covers her face to protect herself from fumes as a street covered with uncollected garbage is fumigated in Aleppo on Sunday, March 24.
A Syrian man and his family drive past damaged buildings in Maarat al-Numan, on Wednesday, March 20.
Syrians carry the body of a Syrian army soldier during a funeral ceremony in Idlib province on Tuesday, March 19.
Syrian rebels take position in Aleppo, the largest city in the country, on March 11.
Syrian men search for their relatives amongst the bodies of civilians executed and dumped in the Quweiq River on March 11.
A Free Syrian Army fighter looks back as smoke rises during fighting between rebel fighters and forces loyal to Syria's President Bashar al-Assad on the outskirts of Aleppo on Saturday, March 2.
Residents read Shaam News newspapers published by the Free Syrian Army in Aleppo on March 2.
A member of the Free Syrian Army reacts to the death of a comrade who was killed in fighting, at Bustan al Qasr cemetery in Aleppo on Friday, March 1.
A rebel fighter throws a home-made grenade at Syrian government forces in Aleppo on February 16.
A member of the Free Syrian Army stands with his weapon as he looks at a rainbow in Aleppo on February 16.
A Syrian woman looks through a bus window in Aleppo on February 14.
Free Syrian Army fighters walk through a dust-filled stairwell in Damascus on February 7.
A Syrian rebel gestures at comrades from inside a broken armored personnel carrier in Al-Yaqubia on February 6.
A rebel fighter throws a hand grenade inside a Syrian Army base in Damascus on February 3.
People stand in the dust of a building destroyed in an airstrike in Aleppo, Syria on February 3.
Free Syrian Army fighters run as they enter a Syrian Army base during heavy fighting in the Arabeen neighborhood of Damascus on February 3.
An unexploded mortar shell fired by the Syrian Army sits lodged in the ground in Damascus on January 25.
Fighters from Fateh al Sham unit of the Free Syrian Army fire on Syrian Army soldiers at a check point in Damascus on January 20.
A Free Syrian Army fighter walks between buildings damaged during Syrian Air Force strikes in Damascus on January 19.
A Syrian rebel fighter tries to locate a government jet fighter in Aleppo on January 18.
Syrian rebels launch a missile near the Abu Baker brigade in Albab on January 16.
A Syrian boy walks near rubbish next to tents at a refugee camp near the northern city of Azaz on the Syria-Turkey border, on January 8.
Syrians look for survivors amid the rubble of a building targeted by a missile in Aleppo on January 7.
A father reacts after hearing of a shelling by forces loyal to Syria's President Bashar al-Assad in Aleppo on January 3.
A patient smokes a cigarette at Dar Al-Ajaza psychiatric hospital in Aleppo on December 18, 2012. The psychiatric ward, housing around 60 patients, has lacked the means to function properly since fighting broke out there in July.
Syrians mourn a fallen rebel fighter at a rebel base in the al-Fardos area of Aleppo on December 8.
Members of Liwa (Brigade) Salahadin, a Kurdish military unit fighting alongside rebel fighters, monitor the area in the besieged district of Karmel al-Jabl in Aleppo on December 6.
A member of Liwa Salahadin aims at a regime fighter in the besieged district of Karmel al-Jabl in Aleppo on December 6.
Two young boys sit underneath a washline in a refugee camp on the border between Syria and Turkey near Azaz on December 5.
The bodies of three children, who were allegedly killed in a mortar shell attack that landed close to a bakery in Aleppo, on December 2, are laid out for identification by family members at a makeshift hospital at an undisclosed location of the city.
Smoke rises in the Hanano and Bustan al-Basha districts in Aleppo on December 1 as fighting continues through the night.
Damaged houses in Aleppo are seen after an airstrike on November 29.
A Syrian rebel mourns the death of a comrade in Maraat al-Numan on November 20.
Syrians protesters stand on Assad's portrait during an anti-regime demonstration in Aleppo on November 16.
A Syrian rebel takes cover during fighting against Syrian government forces in Aleppo on November 15.
Syrian opposition fighter Bazel Araj, 19, sleeps next to his pistol in Aleppo on November 11.
A rebel fighter fires at a Syrian government position in Aleppo on November 6.
A Syrian rebel leaps over debris left in the street while running across a "sniper alley" near the Salahudeen district in Aleppo on November 4.
Rebels hold their position in the midst of a battle on November 3 in Aleppo.
A man cries while being treated in a local hospital in a rebel-controlled area of Aleppo on October 31.
A man is treated for wounds after a government jet attacked the Karm al-Aser neighborhood in eastern Aleppo on October 31.
A Syrian rebel interrogates a handcuffed and blindfolded man suspected of being a pro-regime militiaman in Aleppo on October 26.
Smoke rises from a fuel station following a mortar attack as Syrian women walk on a rainy day in the Arqub neighborhood of Aleppo on October 25.
A Syrian rebel fires at an army position in the Karm al-Jabal district of Aleppo on October 22.
A wounded Syrian boy sits on the back of a truck carrying victims and wounded people to a hospital following an attack by regime forces in Aleppo on October 21.
A man lies on the ground after being shot by a sniper for a second time as he waits to be rescued by members of the Al-Baraa Bin Malek Battalion, part of the Free Syria Army's Al-Fatah brigade, in Aleppo on October 20.
Syrian army soldiers run for cover during clashes with rebel fighters at Karam al-Jabal neighborhood of Aleppo on October 20.
Smoke rises after a Syrian Air Force fighter jet fired missiles at the suburbs of the northern province of Idlib on October 16.
A Syrian opposition fighter stands near a post in Aleppo on October 11.
A Syrian man mourns the death of his father, who was killed during a government attack in Aleppo on October 10.
A rebel fighter is carried by his friends and laid on a gurney to be treated for gunshot wounds sustained during heavy battles with government forces in Aleppo on October 1.
Syrian rebels help a wounded comrade to an Aleppo hospital after he was injured in a Syrian army strike on September 18.
Free Syria Army fighters are reflected in a mirror they use to see a Syrian Army post only 50 meters away in Aleppo on September 16.
A Syrian man carrying grocery bags tries to dodge sniper fire as he runs through an alley near a checkpoint manned by the Free Syria Army in Aleppo on September 14.
A woman walks past a destroyed building in Aleppo on September 13.
Free Syrian Army fighters battle during street fighting against Syrian army soldiers in Aleppo on September 8.
A Syrian man wounded by shelling sits on a chair outside a closed shop in Aleppo on September 4.
A woman sits in her wheelchair next to her house, damaged by a Syrian air raid, near Homs on August 26.
Members of the Free Syrian Army clash with Syrian army soliders in Aleppo's Saif al-Dawla district on August 22.
A man mourns in front of a field hospital on August 21 in Aleppo.
Wounded civilians wait in a field hospital after an air strike on August 21 in Aleppo.
People pray during the funeral of a Free Syrian Army fighter, Amar Ali Amero, on August 21.
A man cries near the graves of his two children killed during a recent Syrian airstrike in Azaz on August 20.
A Syrian woman holds her dead baby as she screams upon seeing her husband's body being covered following an airstrike by regime forces on the town of Azaz on August 15.
A Syrian rebel runs in a street of Selehattin during an attack on the municipal building on July 23.
Syrian rebels hunt for snipers after attacking the municipality building in the city center of Selehattin on July 23.
Members of the Free Syrian Army's Mugaweer (commandos) Brigade pay their respects in a cemetery on May 12 in Qusayr.
Syrian rebels take position near Qusayr on May 10.
A Free Syrian Army member takes cover in underground caves in Sarmin on April 9.
Rebels prepare to engage government tanks that advanced into Saraquib on April 9.
Men say prayers during a ceremony in Binnish on April 9.
A young boy plays with a toy gun in Binnish on April 9.
A Free Syrian Army rebel mounts his horse in the Al-Shatouria village near the Turkish border in northwestern Syria on March 16, a year after the uprising began.
Syrian refugees walk across a field before crossing into Turkey on March 14.
A rebel takes position in Al-Qsair on January 27.
A protester in Homs throws a tear gas bomb back towards security forces, on December 27, 2011.
A man stands under a giant Syrian flag outside the Umayyad Mosque in Damascus on December 24, 2011.
A member of the Free Syrian Army looks out over a valley in the village of Ain al-Baida on December 15, 2011.
Members of the Free Syrian Army stand in an valley near the village of Ain al-Baida, close to the Turkish border, on December 15, 2011.
Displaced Syrian refugees walk through an orchard adjacent to Syria's northern border with Turkey on June 14, 2011, near Khirbet al-Jouz.
A Syrian man holds up a portrait of President Bashar al-Assad during a rally to show support for the president in Damascus on April 30, 2011.
Syrians rally to show their support for President Bashar al-Assad in Damascus on April 30, 2011.
A screen grab from YouTube shows thick smoke rising above as Syrian anti-government protesters demonstrate in Moaret Al-Noman on April 29, 2011.
A screen grab from YouTube shows Syrian anti-government protesters run for cover from tear gas fired by security forces in Damascus on April 29, 2011, during the "Day of Rage" demonstrations called by activists to put pressure on al-Assad.
Syrians wave their national flag and hold portraits of al-Assad during a rally to show their support for their leader in Damascus on March 29, 2011.
A woman sits by the hospital bed of a man allegedly injured when an armed group seized rooftops in Latakia on March 27, 2011, and opened fire at passers-by, citizens and security forces personnel according to official sources.
Syrian protesters chant slogans in support of al-Assad during a rally in Damascus on March 25, 2011.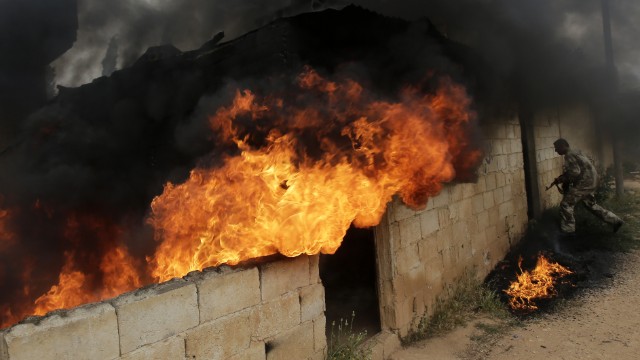 Syrian civil war in photos
Syria is thought to have a biological warfare research and development program but is not known to have offensive biological warfare agents, according to Michael Eisenstadt, a senior fellow and director of the military and security studies program at the Washington Institute for Near East Policy. Syrians surround a U.N observer vehicle after placing the bodies of a girl and man on the car in Houla on Saturday, May 26, 2012. The photo is from the opposition Shaam News Network. Forty-nine children were among the 108 slaughtered in Houla on Friday, May 25, U.N. monitors say. The massacre in Houla, a suburb of the anti-government bastion of Homs, has reignited international fury against Bashar al-Assad's regime.
The body of a slain Syrian child lies next to other shrouded bodies at a hospital mortuary in Houla on Saturday in another photo from the opposition Shaam News Network. Al-Assad's regime insists it is not behind the massacre and blames terrorist groups. Syria has attributed violence on "armed terrorist groups" throughout the 14-month-old uprising.
Bodies of children lie in a Houla hospital morgue before their burial Saturday in another photo from Shaam News Network. Images from the town show a room crammed with mangled and bloody bodies of children -- some with their skulls torn open.
U.N. observers visit a hospital morgue in Houla on Saturday before the burial of massacre victims. Opposition activists and residents blame al-Assad's regime for the bloodbath.
A Houla resident shows a body to a U.N. observer at a mosque in the central Syrian town. Some U.N. Security Council members condemned the attacks "that involved a series of government artillery and tank shellings on a residential neighborhood" as well as killings of civilians by close-range gunshots.
Syrians gather at a mass burial Saturday in Houla. "Those responsible for these brutal crimes must be held accountable," Kofi Annan, the U.N.-Arab League special envoy, said in a statement. Photos: Massacre in Syria
At least 129 people, including 10 children, were killed in fresh violence across the country Wednesday, the LCC said. The dead included 22 in Aleppo and 27 in and around Damascus.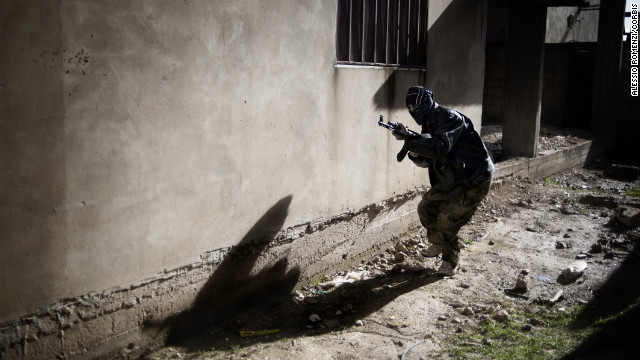 A member of the Free Syrian Army engages in an attack against the Syrian army in Al-Qusayr on January 27. The small town in western Syria has been under siege since early November.
Syrians burn a portrait of President Bashar al-Assad in Al-Qusayr. The Syrian regime has faced international pressure to stop its crackdown on protesters. Some have asked for al-Assad to step down.
Free Syrian Army rebels ride a motorcycle through Al-Qusayr on January 28. A Corbis Images photographer spent several days in the town. His images offer a rare look at the combat in Syria, where access is limited.
The Free Syrian Army is made up of former Syrian military soldiers who left their posts and sided with the protesters. The group has declared war on the regime of President al-Assad and taken up posts throughout the country.
Opposition fighters fire on Syrian soldiers on January 24. Syria has seen a sharp increase in violence in recent weeks, with hundreds killed in clashes between government forces, rebels and protesters.
A member of the Free Syrian Army holds an AK-47 and prayer beads in the streets of Al-Qusayr.
The rebels drive through a neighborhood in Al-Qusayr. The town is close to the flashpoint city of Homs and has about 44,000 residents.
More than 65 people are believed to have lost their lives in Al-Qusayr. Opposition groups say food and electricity are in short supply and communication lines have been interrupted.
A member of the Free Syrian Army receives first aid after he was wounded by a rocket-propelled grenade on January 25. More than 5,000 people have died in Syria since the start of the government crackdown in March, according to the United Nations.
Free Syrian Army fighters stand guard at night in Al- Qusayr. The humanitarian crisis in Syria continues to worsen as armed rebels and government forces battle for control of towns and cities across the country.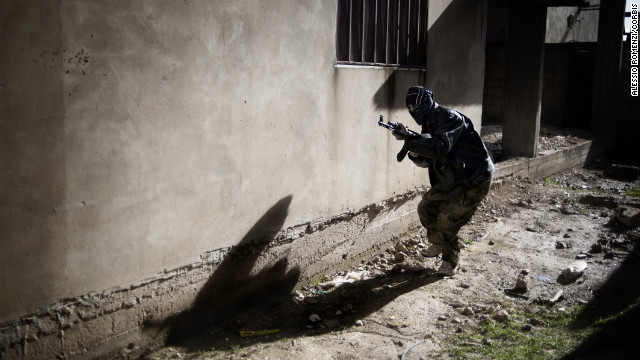 Photos: Front lines of Free Syrian Army
Rights group Amnesty International said Wednesday the discovery of 19 bodies in a Damascus neighborhood this week mirrored a pattern documented elsewhere in Syria of both regime and opposition forces carrying out unlawful killings.
"Reports that government forces and armed opposition groups deliberately and unlawfully captured and killed opponents in Syria bolster the need for all sides to commit to abiding by international humanitarian law," the group said.
CNN's Ivan Watson, who is in northern Syria, said rebels have become better armed in the past few months. While they had only shotguns at one point, they now have rocket-propelled grenades and assault rifles, he said.
The increased firepower has helped the rebels successfully attack the regime's armored vehicles and forced some Syrian units to resupply by helicopter.
Watson said that in the village he was in, hundreds of rebels loaded up with ammunition this week and headed to fight in Aleppo.
Read more: Faces of the Free Syrian Army
On a visit to Bosnia-Herzegovina on Wednesday, U.N. Secretary-General Ban Ki-moon compared the civil war in Syria to the situation during the breakup of Yugoslavia in the 1990s.
"The echoes are deafening. An accelerating slide to civil war. Growing sectarian strife. Villagers and children, butchered," he said in an address to lawmakers.
"The United Nations is doing all that we can," Ban said. "But action -- meaningful action -- will take the concerted efforts of the international community. Without unity, there will be more bloodshed. More deadlock means more dead."
Video: Fighting breaks out at Syria-Turkey border
Former British Prime Minister Tony Blair said the international community must make clear to al-Assad that it's a matter of when, not if, he must go. But in demanding al-Assad's ouster, Blair said, world powers must be careful about what comes next.
"Because the aftermath is very uncertain, what is it that we really learn, whether from Afghanistan or Iraq or anywhere else, when you lift the lid off these highly repressive regimes, out comes all this pouring of tension, religious and tribal and ethnic difficulty," Blair said on CNN's "Piers Morgan Tonight."
"So if we can manage a process of change that allows us then to manage the aftermath sensibly, I think obviously that would be in everyone's interest," Blair said. "That's easy to say, hard to do, but I think that should be the rubric of our approach. Make it clear it is inevitable -- he is going to go -- but really focus on managing that aftermath."
Meanwhile, half of the U.N. observers have left Syria as their mission begins what is set to be its final 30-day mandate, the U.N.'s chief peacekeeper, Herve Ladsous, said Wednesday in Damascus.
As a result, "the mission operates on a reduced basis, reduced in numbers, reduced in team sites in the provinces and does what it can," Ladsous said.
About 150 observers remain in Syria.
Read more: Syria says it has weapons of mass destruction in case of foreign attack
Turkey's customs and trade minister earlier announced temporary restrictions on traffic at three border crossings with Syria -- Cilvegozu, Oncupinar and Karkamis -- because of security concerns.
Hayati Yazici said opposition forces had taken control of the border crossings, which led to damage and looting. The new restrictions bar commercial traffic from entering or leaving Syria, he said, though Syrian citizens will still be allowed to cross into Turkey.
Thousands of Syrians have fled to Turkey in recent months to escape the violence, though they generally cross through the border fence, and not the border gates.
In what may be a blow to the regime, the opposition Syrian National Council said Wednesday that two senior Syrian diplomats were the latest to defect.
One is the Syrian ambassador to the United Arab Emirates, Abdullatif Al Dabbagh, SNC spokesman George Sabra said.
The second is Al Dabbagh's wife, who is also the Syrian envoy to Cyprus, Lamia Al Harriri. She defected to Qatar, SNC member Najy Tayyarah told CNN. She is also the niece of Syrian Vice President Farouq Al Sharea.
Video: Abdullah on chemical weapons in Syria
The Syrian crisis started in March 2011, when a fierce government crackdown on protesters morphed into a nationwide uprising against the regime.
The LCC says more than 16,000 people have been killed in the conflict. The U.N. secretary-general said this week that almost 17,000 people have died.
Read more: Amid violence, Syrians race to borders
CNN's Yousef Rafayah, Joe Sterling, Brian Walker, Yesim Comert, Richard Roth and Ivan Watson contributed to this report.