STORY HIGHLIGHTS
Penn State insurer says former officials withheld information on Jerry Sandusky's behavior
One of those administrators denied this week any role in a cover-up
Also Wednesday, Penn State board meets, discusses recent NCAA sanctions
Statement from board says penalties, though harsh, could have been worse
(CNN) -- Penn State's legal battles continued Wednesday with the university's primary general liability insurer filing a motion claiming coverage should be denied because the administration failed to disclose what it knew about former coach Jerry Sandusky's behavior, according to legal documents.
The motion, filed in common pleas court by the Pennsylvania Manufacturer's Association, says Penn State did not provide it with information relevant to the insurable risk the association assumed. The association has already sued Penn State over the coverage of one of Sandusky's victims' claims against the university, filed in November 2011.
Report: Penn State faced 4-year 'death penalty'
The association has insured Penn State under general liability policies since 1976.
"It would be unlawful and contradictory to public policy to require PMA to provide coverage to PSU under any policy issued to PSU after May 1998 with respect to PSU's concealment of Sandusky's sexually abusive conduct ... and failure to take appropriate action to prevent Sandusky from molesting minors," the motion read.
Penn State alum: 'We are more than this tragedy'
The motion comes days after former Penn State President Graham Spanier denied a role in a university cover-up of Sandusky's actions. Spanier has not been criminally charged in the case. However, an investigation by ex-FBI chief Louis Freeh concluded that he helped university officials conceal allegations of sexual abuse against the former assistant football coach.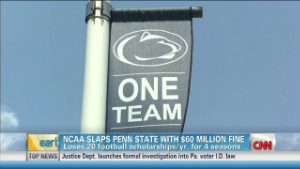 Penn State slapped with $60 million fine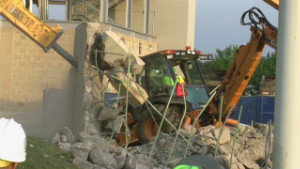 Wall around Paterno statue demolished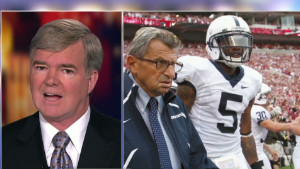 NCAA president: PSU fine goes to victims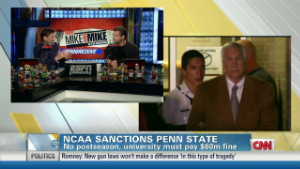 'Mike & Mike' on Penn State's sanctions
No one from the Pennsylvania Manufacturer's Association was immediately available for comment.
Sandusky, 68, was convicted in late June of 45 of the 48 sexual abuse counts he faced, involving 10 victims. He was an assistant football coach at Penn State for more than 40 years until he resigned in 1999 but still had access to Penn State facilities through his charity until he was arrested in 2011.
Sandusky founded The Second Mile, a nonprofit organization for underprivileged youth and several of his victims attended the program. The foundation announced in May it will close.
Do sanctions alter Paterno's legacy?
He will be sentenced in September.
The Penn State Board of Trustees met Wednesday night to discuss football sanctions handed down by the NCAA. According to a statement, the members found the sanctions difficult, but understood that they could have been much worse, reportedly a multiyear shut down of the team, a traditional major college football power.
No votes were taken, the statement said.
"The university and board resolve to move forward together to recognize the historical excellence in Penn State's academic and athletic programs," the board said. "We anticipate and look forward to demonstrating our outstanding performance in complying with the sanctions."
Five experts: What happens to Penn State football now?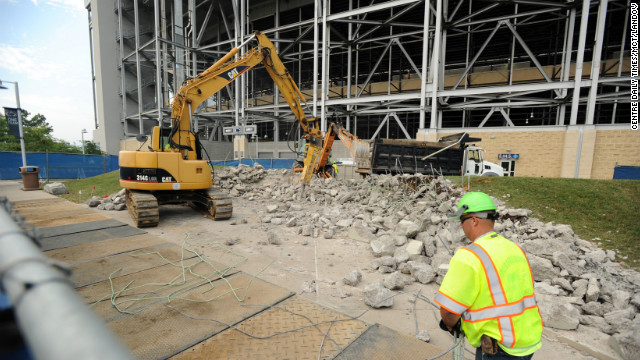 Workers on Tuesday, July 24, remove the concrete landing area and wall where the Joe Paterno statue once stood in State College, Pennsylvania.
A girl takes a picture at the site where the statue of former Penn State University football coach Joe Paterno stood. It sits empty now after it was removed by workers outside Beaver Stadium on Sunday, July 22.
The statue was removed exactly six months after Joe Paterno, the winningest coach in Division I football history, died of lung cancer.
Workers wrap the statue of late Penn State football coach Joe Paterno in preparation for its removal on Sunday.
The 900-pound bronze statue will be stored in a "secure location" in the wake of the Jerry Sandusky scandal, university President Rodney Erickson said.
Onlookers battle emotions as the statue is removed Sunday.
Visitors gather around the Paterno statue on Saturday, July 21.
Though the statue was removed from Beaver Stadium, the university library will continue to bear Paterno's name.
Fans like Rachel O'Brien, center, 20, of Mifflinburg, Pennsylvania, have been steadily flocking to the site since Paterno's death in January.
The removal of the statue comes ahead of sanctions on Penn State from the NCAA, to be announced Monday.
A tribue to Paterno sits at the base of the statue on Saturday.
Visitors gather around the statue on Saturday.
The Paterno statue continued to draw visitors Saturday, a day before it was removed from the stadium.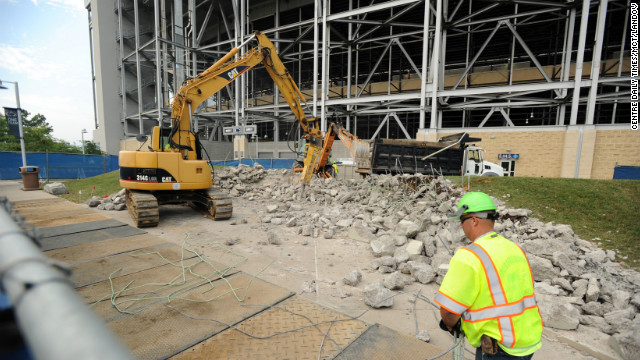 Final tributes, Paterno statue removed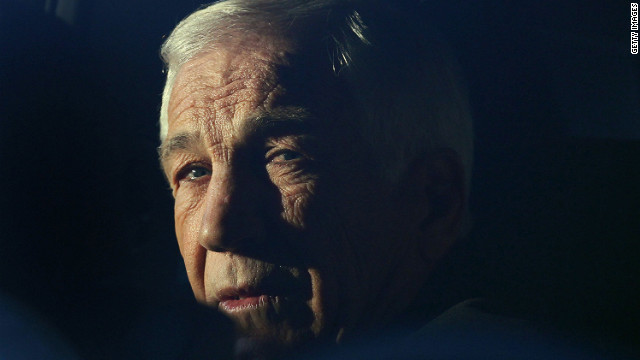 Ex-Penn State defensive coordinator Jerry Sandusky was arrested in November 2011 on charges that he preyed on boys he met through The Second Mile charity. In June 2012, he was convicted of 45 counts involving 10 young victims, and in October, he was sentenced to 30 to 60 years in prison. In July 2012, the NCAA imposed sanctions against Penn State, including a $60 million fine, scholarship reductions, the vacating of 112 wins, five years' probation and a bowl ban for four years. Click through the gallery for other notable NCAA scandals.
Penn State University head football coach Joe Paterno on the sidelines during a 2004 game. Paterno's legacy was tarnished in the wake of the Jerry Sandusky child abuse scandal. The fallout included NCAA sanctions in July 2012 that struck 111 of Paterno's 409 wins from the record book. The stripped victories stretched back to 1998 and removed Paterno's crown as winningest college football coach in history. He died of cancer in January.
Head coach Jim Tressel with his Ohio State Buckeyes at the 2011 Sugar Bowl. Tressel admitted he knew several star players were trading memorabilia for cash and tattoos in violation of NCAA rules. The NCAA banned the Buckeyes from postseason play for the upcoming season, and OSU voluntarily vacated all 2010 wins. Tressel "resigned" in May 2011, a move OSU later deemed a retirement.
University of Miami quarterback Jacory Harris throws a pass during a 2011game. Harris was one of 13 Hurricanes initially ruled ineligible after the NCAA began investigating allegations by Nevin Shapiro, an imprisoned former booster, that he for eight years provided 72 athletes with benefits that violated NCAA rules. Shapiro is incarcerated for running a $930 million Ponzi scheme. After Miami petitioned for the players' reinstatements, one player was vindicated, while the other 12, including Harris, were reinstated after serving suspensions and/or paying restitution. The investigation into the Shapiro scandal is ongoing.
Reggie Bush of the University of Southern California carries the ball past Fresno State's Matt Davis in 2005. The NCAA announced sanctions in June 2010 against USC, finding that Bush and basketball star O.J. Mayo had received lavish gifts. Bush voluntarily forfeited his Heisman Trophy, while USC was given four years' probation, stripped of 30 scholarships and had to vacate 14 wins, including a national championship.
Members of the Duke men's lacrosse team listen to the national anthem at their season opener in 2007. In 2006, members of the team hired stripper Crystal Mangum for a party, and she accused three players of raping her. The scandal forced the cancellation of the men's lacrosse season that year and the resignation of team coach Mike Pressler. The allegations later proved to be false, and prosecutor Mike Nifong was disbarred for ethics violations.
The NCAA has found the University of Alabama football program in violation of its rules at least three times in the last two decades. The most notable incident came in 2000 when a booster paid a high school coach to steer a recruit to the Crimson Tide. An investigation found numerous other violations, and Alabama was placed on five years' probation, among other sanctions. In 1995, the NCAA forced Alabama to vacate wins after it learned coaches were aware one of the school's All-Americans had secretly signed with an agent, and in 2009 the university was sanctioned for misuse of its textbook distribution program by 16 athletic programs, including football.
Jim Harrick Sr., then head coach of the University of Georgia Bulldogs, yells from the sidelines during the 2002 NCAA Division I men's basketball tournament. Harrick resigned as UGA's head basketball coach in 2003 after his son, Jim Harrick Jr., was accused of giving an A to three basketball players who didn't attend class and paying a phone bill for one of them. The NCAA punished UGA with four years' probation, and the school was forced to vacate 30 wins from 2001-2003.
Baylor University basketball player Carlton Dotson reaches for the ball against Montana State in a 2002 game. In June 2003, Baylor's Patrick Dennehy went missing. Dotson confessed to killing him and was sentenced to 35 years in prison. The NCAA later determined that Coach Dave Bliss had instructed his players to lie to investigators and tell them that Dennehy dealt drugs to cover up the coach paying thousands of dollars of Dennehy's tuition. The NCAA put the school on probation until June 2010. It also was banned from playing nonconference games for a season.
Chris Webber strolls upcourt during a home game in 1993. Webber pleaded guilty in 2003 to being paid by a University of Michigan booster to launder money from an illegal gambling operation. The NCAA put the program on four years' probation and banned the team from postseason play for the 2003-04 season. Charged with lying to federal investigators, Webber pleaded guilty to misdemeanor criminal contempt and paid a $100,000 fine.
The Southern Methodist University football team warms up in 1988, two years after a scandal broke that SMU boosters had been giving football players thousands of dollars from a slush fund with university officials' knowledge. In what was the first and last time it gave the "death penalty" to a football program, the NCAA suspended SMU from playing its 1987 season and banned it from recruiting. The school also was not allowed to play at home in the 1988 season and lost dozens of scholarships.
Bill Musselman watches court action during a 1990 NBA game as head coach of the Minnesota Timberwolves. In 1975, Musselman left as head coach of the University of Minnesota Golden Gophers. The NCAA later found 127 violations from his four-year tenure at the school, including direct payment to players for rent and transportation.
Kentucky celebrates the 2012 national championship in April. Sixty years earlier, the NCAA opened an investigation into the University of Kentucky Wildcats basketball program, following a national championship season in which three players had been arrested in a point-shaving scandal. The subsequent probe revealed that 10 players had received impermissible financial aid. The NCAA banned the school's entire athletic program from playing for a year -- in effect, marking the advent of the so-called "death penalty," even though the penalty wasn't given the nickname until the 1980s.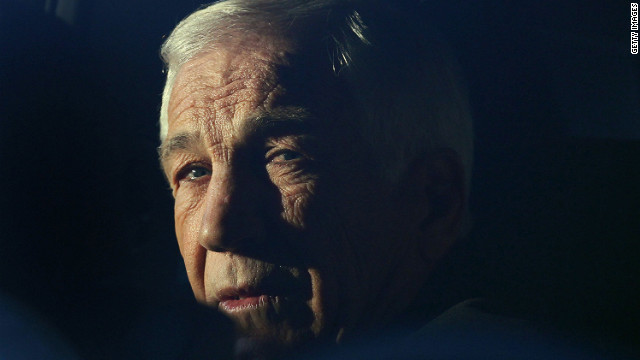 Notable NCAA scandals
On Thursday, Steve Garban became the first Penn State Board of Trustees member to resign since the Freeh report.
The NCAA handed Penn State a number of severe and unprecedented sanctions Monday for "perpetuating a 'football first' culture that ultimately enabled serial child sexual abuse to occur," according to the NCAA website.
The sanctions include a record $60 million fine, a four-year postseason ban, a four-year reduction in football scholarships and five years of probation. Penn State was also forced to vacate its football victories since 1998, including 111 by the late Joe Paterno, costing him the record as the winningest coach in the NCAA's top division.
Transfer rules for Penn State players clarified
CNN's Susan Candiotti contributed to this report.