STORY HIGHLIGHTS
District Attorney Carol Chambers has a reputation of being tough
She has also courted controversy over the years
She will leave office before James Holmes is brought to trial
She is known to seek the death penalty in a state that does not embrace it
(CNN) -- When District Attorney Carol Chambers last tweeted about a shooting in Aurora, it was about a man found guilty of a killing at a liquor store.
Chambers touted the success of her office in convicting Anthony Jahmar Gillespie for shooting to death Benigno Morales-Ramirez. Few outside Colorado probably knew Chambers' name then -- her Twitter account only has 62 followers.
But that was a month before the cinema killings.
Before James Holmes, the man with orange hair who called himself "The Joker," was arrested for spraying a movie theater audience with gunfire during an early morning screening of the new Batman movie. He stands accused of killing 12 people and wounding 38 others.
Official: Package at university mail room apparently sent by Colorado suspect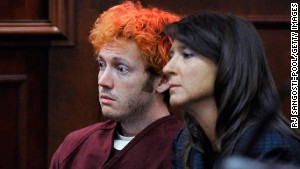 Holmes shows no emotion in court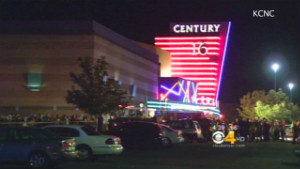 Listen to theater shooting 911 calls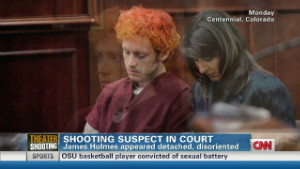 Ret. FBI agent on Holmes' mental health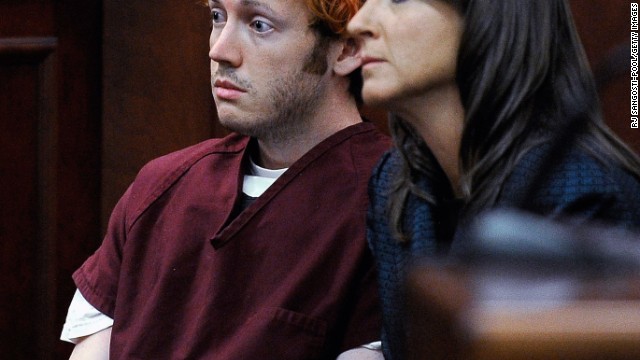 The public gets its first glimpse of James Holmes, 24, the suspect in the Colorado theater shooting during his initial court appearance Monday, July 23. With his hair dyed reddish-orange, Holmes, here with public defender Tamara Brady, showed little emotion. He is accused of opening fire in a movie theater Friday, July 20, in Aurora, Colorado, killing 12 people and wounding 58 others. More photos: Mourning the victims of the Colorado theater massacre
Police release the official photo from Holmes' booking after the shooting.
Holmes often had a blank stare during his court appearance Monday, appearing to be in a daze.
Victims and their relatives and journalists watch the proceedings Monday.
Flags fly at half-staff Monday at the Arapahoe County Courthouse in Centennial, Colorado, where the movie theater shooting suspect had his first court appearance. The prosecutor held a press conference outside the courthouse.
Arapahoe County District Attorney Carol Chambers talks to reporters Monday before heading into the courthouse. Chambers said the decision on whether to pursue the death penalty is a long process that involves input from victims and their families.
Family members of the victims arrive at the courthouse Monday for the suspect's first court appearance.
The Century Aurora 16 multiplex in Aurora becomes a place of horror after a gunman opened fire Friday in a crowded theater. At least 17 people remained hospitalized late Sunday, July 22, in the shooting rampage that shocked the nation.
Holmes is accused of opening fire during a midnight screening of the new Batman movie, "The Dark Knight Rises." Holmes purchased four weapons and more than 6,000 rounds of ammunition in recent months, police say.
Police investigate outside the Century 16 multiplex Saturday, July 21, a day after the mass shooting. Authorities have been tight-lipped about a possible motive in the case.
Agents search the suspect's car outside the theater.
Aurora police escort a sand-filled dump truck containing improvised explosive devices removed from Holmes' booby-trapped apartment Saturday. Authorities have said they believe the suspect rigged his place before leaving for the movie theater.
Police break a window at the suspect's apartment Friday in Aurora.
Law enforcement officers speak with Colorado Gov. John Hickenlooper, center, outside the suspect's apartment Saturday.
Law enforcement officers prepare to disarm the booby-trapped apartment Saturday.
Officials tow cars outside Holmes' apartment Saturday. Police disassembled devices and trip wires set up in the apartment.
Officers prepare to place an explosive device inside the apartment.
Debris flies out a window, right, after law enforcement officers detonate an explosive device inside the apartment Saturday.
People mourn the victims during a vigil behind the theater where a gunman opened fire on moviegoers in Aurora.
A woman grieves during a vigil for victims behind the theater.
A distraught woman receives counseling from Pastor Quincy Shannon, left, in front of Gateway High School in Aurora, where the families of the missing met following the shooting.
Lin Gan of Aurora holds back tears as she speaks to reporters about her experience in the Century 16 theater Friday.
People embrace before a vigil for victims behind the theater where a gunman opened fire on moviegoers.
Investigators work on evidence near the apartment of James Holmes on Friday.
Members of the Aurora Police Department SWAT unit walk near the apartment of James Holmes. Police have Holmes, 24, of North Aurora, in custody.
Television news crews gather in front of the home of Robert and Arlene Holmes, parents of 24-year-old mass shooting suspect James Holmes, in San Diego, California, on Friday.
A popcorn box lies on the ground outside the Century 16 movie theatre.
An NYPD officer keeps watch inside an AMC move theater where the film "The Dark Knight Rises" is playing in Times Square on Friday. NYPD is maintaining security around city movie theaters following the deadly rampage in Aurora, Colorado.
Adariah Legarreta, 4, is comforted by her grandmother Rita Abeyta near the Century 16 Theater in Aurora.
A cyclist and pedestrians pass a theater showing the latest Batman movie in Hollywood, California, on Friday. Warner Brothers said it was "deeply saddened" by Friday's massacre at a Colorado screening of "The Dark Knight Rises."
Obama supporters observe a moment of silence for the victims at a campaign event at Harborside Event Center in Fort Myers, Florida, on Friday.
Jessica Ghawi, an aspiring sportscaster, was one of the victims.
A woman waits for news outside Gateway High School, a few blocks from the scene of the shooting at the Century Aurora 16.
Aurora police chief Daniel J. Oates speaks at a press conference near the Century 16 Theater on Friday.
Agents search the trash container outside the suspect's apartment in Aurora.
A Federal ATF officer carries protective gear onsite at the home of alleged shooting suspect James Holmes.
Obama speaks on the shootings at the event in Fort Myers.
Moviegoers are interviewed at the Century Aurora 16.
Officers gathered at the theater Friday.
Investigators were a common sight at the theater Friday.
Authorities gather at the shooting suspect's apartment building in Aurora. Police broke a second-floor window to look for explosives that the suspect claimed were in the apartment.
Screaming, panicked moviegoers scrambled to escape from the black-clad gunman, who wore a gas mask and randomly shot as he walked up the theater's steps, witnesses said.
University of Colorado Hospital spokeswoman Jacque Montgomery said that all of the wounded had injuries from gunshot wounds, ranging from minor to critical.
Onlookers gather outside the Century Aurora 16 theater.
A woman sits on top of her car near the crime scene.
Police block access to the Town Center mall after the shooting.
Cell phone video taken by someone at the theater showed scores of people screaming and fleeing the building. Some, like this man, had blood on their clothes.
Witnesses told KUSA that the gunman kicked in an emergency exit door and threw a smoke bomb into the darkened theater before opening fire.
What is believed to be the suspect's car is examined after the shooting.
Police Chief Dan Oates said there was no evidence of a second gunman, and FBI spokesman Jason Pack said it did not appear the incident was related to terrorism.
Republican presidential candidate and former Massachusetts Gov. Mitt Romney delivers remarks regarding the shooting in an Aurora, Colorado, movie theater on Friday at a campaign event in Bow, New Hampshire.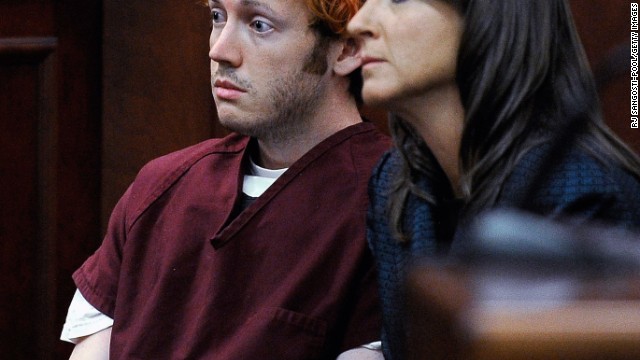 Colorado movie theater massacre
Now Chambers finds herself handling America's next big case, all eyes upon her to deliver justice.
She appeared in a dark pantsuit before a horde of reporters and clicking cameras on Monday, the day Holmes first appeared in court.
Some who know her believe this case presents the moment she has long awaited. She's a veteran prosecutor who has rarely drawn attention beyond the local limelight. This could be her last hurrah as head of the 18th Judicial District -- term limits on her office force her to step down later this year.
She's known for being tough. She's known even more for not caring how she or her actions are reflected in public.
She told The Denver Post once that she was "not motivated by people to like me."
Rick Kornfeld, a defense lawyer in Denver who has known Chambers for years, said she is someone who believes strongly in what she is doing and doesn't care if she garners negative publicity.
"That is to be respected," he said.
But it has also made her a controversial figure in the world of Colorado courts.
Alan Prendergast, a journalist for Denver's Westword newspaper who has covered Chambers since she took office in 2004, called her a maverick who is well acquainted with controversy.
Threats before, after other 'Dark Knight' showings, authorities said
Prendergast has doggedly written about how Chambers has turned her office into a "conviction machine." From seeking the death penalty in a state that does not embrace it to pursuing harsh habitual-criminal charges against chronic but low-level offenders, she has earned a reputation as a hard-ass.
"As far as prosecution is concerned, you probably couldn't be in a better jurisdiction," said Todd Whelan, who worked in Chambers' office before she was elected district attorney and later, as a defense attorney, butted legal heads with her in court.
A 2008 Westword article was headlined "The Punisher: Censured but defiant, Carol Chambers goes after habitual criminals -- and cops, judges and lawyers -- like no other district attorney. But at what cost?"
The cost was that these low-level offenders were being put away on absurdly long and costly sentences when the prison system was overloaded and rehab programs were grossly underfunded, wrote Prendergast, citing Colorado defense attorneys.
Residents return to building where suspect set boobytraps
Chambers, said Whelan, goes after the most minor offenders with gusto.
"There's no deference given to any defendant whatsoever," he said.
Chambers is the only state district attorney in Colorado to seek the death penalty in the past five years. Two of the three men on Colorado's death row were prosecuted by Chambers.
That makes her an anomaly in a state that fell one vote short in 2009 of abolishing capital punishment.
"That jurisdiction is very enamored with the death penalty," Kornfeld said about Arapahoe County. "And this is a state that uses it very sparingly."
Many of the Aurora cinema shooting victims' family and friends are demanding death for the suspect. In this case, they will have a prosecutor who is not shy about seeking the harshest punishment.
"If there ever was a case for the death penalty, this is probably that case," Kornfeld said. "What's a more extreme case than this?"
Colorado shooting: Stories of survival
Chambers told reporters this week that her office had a lot of work to do in the investigation.
"I would say there's no such thing as a slam-dunk case," she said. "We're still looking at the enormous amount of evidence."
She will get to decide whether Holmes' case will be a capital one. But by the time the trial progresses, which Kornfeld said could take years, Chambers will be long gone.
"Chambers is a very successful prosecutor," said a profile of her this week in the Atlantic magazine.
"She has the experience, talent and intellect necessary to prosecute the coming Holmes case in a productive way. But she doesn't necessarily come to her most famous case, her legacy case, with completely clean hands."
She is tainted perhaps by allegations of questionable ethics -- including providing benefits to prosecution witnesses and a tight management style that has led to a backlog of cases, Kornfeld said.
She was even publicly censured recently, Prendergast said. And, she has been known to scuffle with judges, police officers and other public officials.
A Chambers spokeswoman said she would not comment because of a gag order placed on the Holmes case, but she has always denied the allegations against her and stood firmly in her convictions.
Even some of her detractors call Chambers a fair person who tries to do the right thing.
Kornfeld called her when he was defending Greg Kolomitz, the Colorado governor's former campaign manager who was accused of mishandling funds.
He recalled her saying: I know what it's like to be a victim of a political witch hunt. We will investigate.
Kornfeld said Chambers was fair. She is a Republican who was dealing with a Democratic scandal. But after looking into it, Chambers cleared Kolomitz of wrongdoing.
Kornfeld said he believes Chambers' past comes into play in her role as a prosecutor.
Court appearance fuels theories about Colorado shooting suspect
She was raised in a small town in Ohio, the daughter of a Presbyterian pastor, according to her official biography. Her grandfather worked for the church as did her three uncles.
"So needless to say, my childhood centered around the church, which was our extended family," she wrote in her biography.
She earned a nursing degree from Texas Christian University and then moved to Denver, where she worked in the emergency room to put herself through law school at the University of Denver.
"During the two years I worked in the ER at Denver General, I saw the results of homelessness, poverty, drug abuse, sudden and unexpected death, Alzheimer's, suicide, disabilities, mental illness, chronic disease, severe alcohol addiction, victimization, violent crime, sexual assault, child abuse, elder abuse and driving under the influence," she wrote.
Kornfeld believes Chambers' nursing experience makes her extremely empathetic and solicitous of crime victims.
"As all DAs should be," he said. "But she comes at it from a different background."
Chambers worked in medical malpractice defense but wanted to be a prosecutor in criminal cases. She joined the 18th Judicial District, which covers four Colorado counties.
Kornfeld said he understands why Chambers has a blemished reputation. But she's not necessarily as inflexible as people make her out to be.
"If you ask her constituents, she's done an effective job as a law enforcement officer," he said.
She married Nathan Chambers, who defended the most notorious criminal perhaps in contemporary America -- Timothy McVeigh. He was even there to witness the execution of the Oklahoma City bomber.
In Kornfeld's mind, that makes Carol Chambers not a zealot, after all.
Now all of America will be able to see her, judge her, as Coloradans have done for years -- as she prosecutes a man suspected in another heinous act that will also be a part of modern American history.
Warning signs of violence: What to do
CNN's Sumit Galhotra and Jeanne-Marie Destefano contributed to this report.