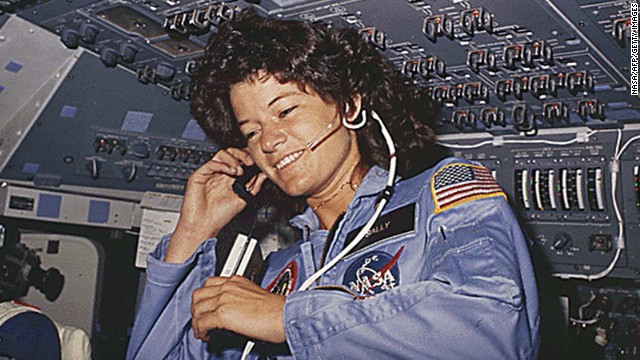 Sally Ride, America's first female astronaut, died Monday, July 23, after having pancreatic cancer for 17 months. She was 61. Here, Ride is seen talking with ground control during her six-day space mission on board the Challenger in 1983.
Sally Ride with the other members of NASA's first class of female astronauts in August 1979. From left to right: Shannon W. Lucid, Margaret Rhea Seddon, Kathryn D. Sullivan, Judith A. Resnik, Anna L. Fisher, and Ride.
Ride, left, and Anna Fisher work on a mission sequence test as part of their 1978 astronaut class at Kennedy Space Center.
Ride appears in an offical NASA portrait in January 1983.
Ride appears, front left, in the STS-7 Challenger Crew photo in January 1983. Front row, left to right: Ride, Cmdr. Bob Crippen, Pilot Frederick Hauck. Back row, left to right: John Fabian, Norm Thagard.
A technician helps Ride strap herself into the shuttle mission simulator in Houston on May 23, 1983, less than a month before her launch.
Ride at the Johnson Space Center in Houston in June 1983
Ride prepares to take off in a T-38 jet as she leaves Houston for NASA's Kennedy Space Center on June 15, 1983, three days before the shuttle launch.
Ride takes her seat aboard the Challenger on June 19, 1983, the day she became the first American woman in space.
Ride and the other crew members of STS-7 achieve liftoff aboard the Challenger on June 18, 1983.
Ride floats alongside Challenger's middeck airlock hatch durring Challenger's six-day mission in June 1983.
Ride takes a photograph during her Earth orbit on the Challenger.
Ride inspects a tool kit during Earth orbit aboard the Challenger.
Ride gives her condolences to the families of the space shuttle Columbia crew while speaking to the media at the San Diego Aerospace Museum on February 7, 2003.
California Gov. Arnold Schwarzenegger applauds Ride after inducting her into the California Hall of Fame on December 6, 2006, in Sacramento, California.
Photos: Sally Ride through the years
Photos: Sally Ride through the years
Photos: Sally Ride through the years
Photos: Sally Ride through the years
Photos: Sally Ride through the years
Photos: Sally Ride through the years
Photos: Sally Ride through the years
Photos: Sally Ride through the years
Photos: Sally Ride through the years
Photos: Sally Ride through the years
Photos: Sally Ride through the years
Photos: Sally Ride through the years
Photos: Sally Ride through the years
Photos: Sally Ride through the years
Photos: Sally Ride through the years
STORY HIGHLIGHTS
Sally Ride was part of a rising wave of women in science and engineering
She spent her post-space career trying to get kids interested in the subjects
Ride, the first American woman in space, died Monday at 61
"Sally changed the world," astronaut Cady Coleman says
(CNN) -- After two space shuttle flights in the 1980s, astronaut Sally Ride spent much of the rest of her life trying to encourage children, particularly girls, to give the sciences a shot.
Ride, the first American woman in space, was part of a wave of women who entered the traditionally male disciplines of natural sciences and engineering in the 1970s. One of those she inspired was Catherine "Cady" Coleman, who told CNN's "Newsroom" that she never considered becoming an astronaut before meeting Ride in 1982.
"When I'd think of what they look like, it's those Mercury Seven standing in front of an airplane, a bunch of guys that were older than me with not as much hair," she said. "And suddenly you meet Sally Ride, and it became clear to me that maybe this is something I can pursue."
The human, funny side of Sally Ride
Coleman joined the Air Force, became an astronaut and has racked up more than 4,300 hours in space, including two space shuttle flights and a five-month stint aboard the international space station.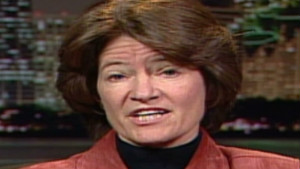 Ride in 2006: Have to 'smash stereotypes'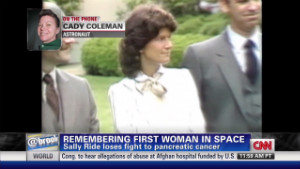 Remembering Sally Ride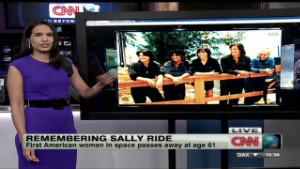 Saying goodbye to Sally Ride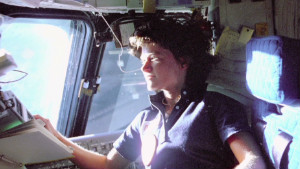 First American woman in space dies
"All of us would like to make a difference, but Sally changed the world," she said.
Sally Ride opens a new frontier for others
The number of women earning science or engineering degrees grew from about 50,000 in 1966 to about 240,000 in 2006, according to figures from the National Science Foundation.
Ride died Monday at age 61. She joined NASA's astronaut corps in 1978, the same year she earned a Ph.D in physics at California's Stanford University.
At the time, women earned about 4% of the physics degrees, said Christianne Corbett, a senior researcher at the American Association of University Women. That number is about 20% today, Corbett said.
"She was a real pioneer. Things have really improved dramatically in her lifetime," Corbett said.
Opinion: Thank you, Sally Ride
Charles Vest, the president of the National Academy of Engineering, served with Ride on the board of the National Math and Science Initiative, an industry-backed effort to boost those subjects. He said Ride was always friendly and good humored, "an inspiration to everybody."
"I don't think I have attended a single major event on K-12 science and education where she wasn't present," he said. "My own granddaughter attended one or two Sally Ride events in Washington and was always inspired by them, and was just devastated when she heard the news."
Women today make up about half of the graduates in chemistry and mathematics, and are awarded a majority of bachelor's degrees in biology. But in engineering, only about 20% of graduates are women -- and among all women entering college, only 3 to 5% choose engineering as a major, said Catherine Didion, a program manager at the engineering academy.
Tributes pour in for Sally Ride
"I had the opportunity to work with her and watch some of the students' eyes light up," Didion said. "She had a way to explain the work that she did, and the passion she had for what she did, in a way that was really approachable."
Ride's efforts focused on middle-school students, typically the point at which students are given a choice of elective courses.
"Many of them probably went back home and said, 'Mom, Dad, I know what I want to be,' " Didion said.
But since 2006, the percentage of women going into the sciences has leveled off, Corbett said. There has been a slight decline in female engineering and physics majors, and the number of women choosing computer science has dropped from about 30% in the 1980s to about 18% today. Corbett and Didion said female students still battle the stereotype that males do better at math and science -- and in some cases trim their ambitions accordingly.
"Fewer girls tend to go on to careers in those areas because they hold themselves to a higher standard and tend to assess their abilities lower," Corbett said. That's often true even when girls get higher grades or standardized test scores, she said.
"Role models like Sally Ride are so important for reducing the effective stereotype," Corbett said. "The more you see women succeeding in these areas, the less strong that stereotype is."
And Vest said studies show appeals to idealism and the potential of new discoveries can help draw women to the field.
"We've been doing a very poor job of explaining the versatility of engineering degrees, and how if you want to improve climate and water and health, it's going to take technological advances to do it," he said.
Didion said Ride "not only walked that, she lived that life in giving back to the community."
"It's hard to overstate the impact that she had on a generation of young women when she made that first spaceflight," she said. "And the fact that she continued to work with young students means she had a ripple effect on several generations."
Memories of my space flight with Sally Ride