STORY HIGHLIGHTS
The shooting suspect's demeanor in court is instructive, experts say
James Holmes appeared dazed, emotionless
Theories range from medication to a complete break with reality, experts say
(CNN) -- Colorado shooting suspect James Holmes' dazed demeanor during his first court appearance has given rise to a multitude of theories about his mental state, ranging from full-blown psychosis to little more than being "some freak," as one victim of the shooting rampage described him after the hearing.
Holmes, with bright orange-dyed hair, appeared to stare blankly off into space for much of the proceedings. At times, he closed his eyes and his head nodded as if he were falling asleep. At others, he opened his eyes wide and looked straight ahead. He never spoke.
Holmes is accused of donning head-to-toe protective gear and wielding at least three weapons to kill 12 people and wound 58 in a shooting rampage during an early Friday morning screening of the new Batman movie at a theater in Aurora, Colorado. Authorities say he also rigged a complex and deadly booby trap at his nearby apartment.
Opinion: The overwhelming maleness of mass homicide
After the attack, Holmes identified himself to police as "The Joker," Batman's archenemy.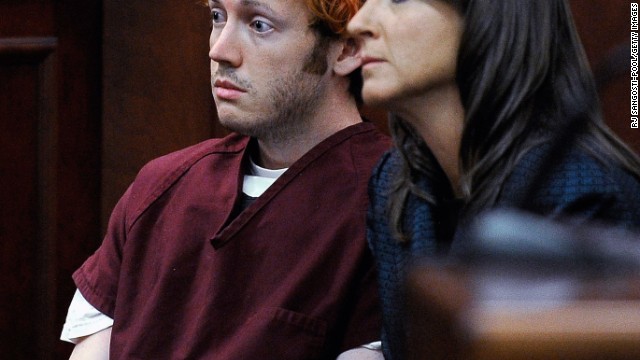 The public gets its first glimpse of James Holmes, 24, the suspect in the Colorado theater shooting during his initial court appearance Monday, July 23. With his hair dyed reddish-orange, Holmes, here with public defender Tamara Brady, showed little emotion. He is accused of opening fire in a movie theater Friday, July 20, in Aurora, Colorado, killing 12 people and wounding 58 others. More photos: Mourning the victims of the Colorado theater massacre
Police release the official photo from Holmes' booking after the shooting.
Holmes often had a blank stare during his court appearance Monday, appearing to be in a daze.
Victims and their relatives and journalists watch the proceedings Monday.
Flags fly at half-staff Monday at the Arapahoe County Courthouse in Centennial, Colorado, where the movie theater shooting suspect had his first court appearance. The prosecutor held a press conference outside the courthouse.
Arapahoe County District Attorney Carol Chambers talks to reporters Monday before heading into the courthouse. Chambers said the decision on whether to pursue the death penalty is a long process that involves input from victims and their families.
Family members of the victims arrive at the courthouse Monday for the suspect's first court appearance.
The Century Aurora 16 multiplex in Aurora becomes a place of horror after a gunman opened fire Friday in a crowded theater. At least 17 people remained hospitalized late Sunday, July 22, in the shooting rampage that shocked the nation.
Holmes is accused of opening fire during a midnight screening of the new Batman movie, "The Dark Knight Rises." Holmes purchased four weapons and more than 6,000 rounds of ammunition in recent months, police say.
Police investigate outside the Century 16 multiplex Saturday, July 21, a day after the mass shooting. Authorities have been tight-lipped about a possible motive in the case.
Agents search the suspect's car outside the theater.
Aurora police escort a sand-filled dump truck containing improvised explosive devices removed from Holmes' booby-trapped apartment Saturday. Authorities have said they believe the suspect rigged his place before leaving for the movie theater.
Police break a window at the suspect's apartment Friday in Aurora.
Law enforcement officers speak with Colorado Gov. John Hickenlooper, center, outside the suspect's apartment Saturday.
Law enforcement officers prepare to disarm the booby-trapped apartment Saturday.
Officials tow cars outside Holmes' apartment Saturday. Police disassembled devices and trip wires set up in the apartment.
Officers prepare to place an explosive device inside the apartment.
Debris flies out a window, right, after law enforcement officers detonate an explosive device inside the apartment Saturday.
People mourn the victims during a vigil behind the theater where a gunman opened fire on moviegoers in Aurora.
A woman grieves during a vigil for victims behind the theater.
A distraught woman receives counseling from Pastor Quincy Shannon, left, in front of Gateway High School in Aurora, where the families of the missing met following the shooting.
Lin Gan of Aurora holds back tears as she speaks to reporters about her experience in the Century 16 theater Friday.
People embrace before a vigil for victims behind the theater where a gunman opened fire on moviegoers.
Investigators work on evidence near the apartment of James Holmes on Friday.
Members of the Aurora Police Department SWAT unit walk near the apartment of James Holmes. Police have Holmes, 24, of North Aurora, in custody.
Television news crews gather in front of the home of Robert and Arlene Holmes, parents of 24-year-old mass shooting suspect James Holmes, in San Diego, California, on Friday.
A popcorn box lies on the ground outside the Century 16 movie theatre.
An NYPD officer keeps watch inside an AMC move theater where the film "The Dark Knight Rises" is playing in Times Square on Friday. NYPD is maintaining security around city movie theaters following the deadly rampage in Aurora, Colorado.
Adariah Legarreta, 4, is comforted by her grandmother Rita Abeyta near the Century 16 Theater in Aurora.
A cyclist and pedestrians pass a theater showing the latest Batman movie in Hollywood, California, on Friday. Warner Brothers said it was "deeply saddened" by Friday's massacre at a Colorado screening of "The Dark Knight Rises."
Obama supporters observe a moment of silence for the victims at a campaign event at Harborside Event Center in Fort Myers, Florida, on Friday.
Jessica Ghawi, an aspiring sportscaster, was one of the victims.
A woman waits for news outside Gateway High School, a few blocks from the scene of the shooting at the Century Aurora 16.
Aurora police chief Daniel J. Oates speaks at a press conference near the Century 16 Theater on Friday.
Agents search the trash container outside the suspect's apartment in Aurora.
A Federal ATF officer carries protective gear onsite at the home of alleged shooting suspect James Holmes.
Obama speaks on the shootings at the event in Fort Myers.
Moviegoers are interviewed at the Century Aurora 16.
Officers gathered at the theater Friday.
Investigators were a common sight at the theater Friday.
Authorities gather at the shooting suspect's apartment building in Aurora. Police broke a second-floor window to look for explosives that the suspect claimed were in the apartment.
Screaming, panicked moviegoers scrambled to escape from the black-clad gunman, who wore a gas mask and randomly shot as he walked up the theater's steps, witnesses said.
University of Colorado Hospital spokeswoman Jacque Montgomery said that all of the wounded had injuries from gunshot wounds, ranging from minor to critical.
Onlookers gather outside the Century Aurora 16 theater.
A woman sits on top of her car near the crime scene.
Police block access to the Town Center mall after the shooting.
Cell phone video taken by someone at the theater showed scores of people screaming and fleeing the building. Some, like this man, had blood on their clothes.
Witnesses told KUSA that the gunman kicked in an emergency exit door and threw a smoke bomb into the darkened theater before opening fire.
What is believed to be the suspect's car is examined after the shooting.
Police Chief Dan Oates said there was no evidence of a second gunman, and FBI spokesman Jason Pack said it did not appear the incident was related to terrorism.
Republican presidential candidate and former Massachusetts Gov. Mitt Romney delivers remarks regarding the shooting in an Aurora, Colorado, movie theater on Friday at a campaign event in Bow, New Hampshire.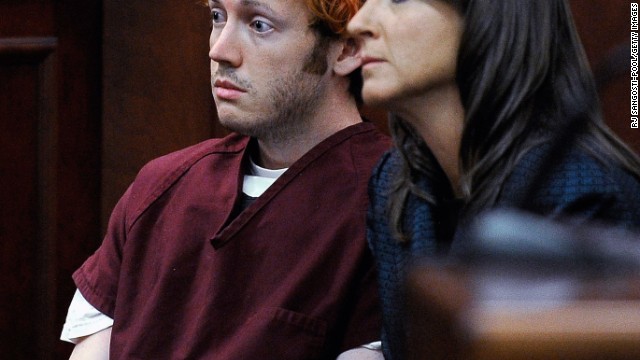 Colorado movie theater massacre
Some have speculated the 24-year-old Aurora man was heavily medicated during his initial court appearance Monday. Others have suggested he was in the midst of a psychotic breakdown and hearing voices. Others say he may have just been exhausted, or feigning mental illness to game the judicial system.
"He has no right to come into court looking like he has a sad face. It's not right," shooting survivor Corbin Dates said after the hearing. "The look that he has right now is not something that's going to be believable by anyone."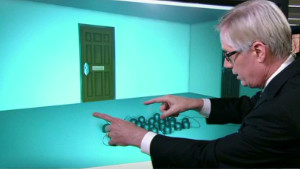 'Maze of bombs' rigged in suspect's home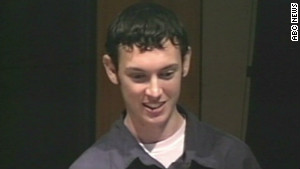 Video: James Holmes at '06 science camp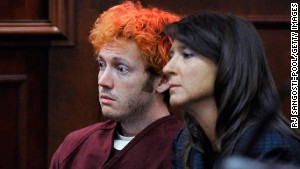 Police probe James Holmes' apartment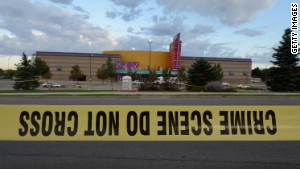 Holmes family speaks out
Holmes may have been medicated, said Chicago clinical psychologist Daniela Schreier.
But she said an underlying mental health issue seems likely, as well.
HLN: Holmes' defense no strangers to big cases
Some people may think Holmes was a longtime psychopath who turned to violence to show the world he could make a lasting mark, she said. After seeing him in court, though, Schreier said she believes Holmes suffered a psychotic breakdown as recently as this spring, triggering his decision to drop out of graduate school, start buying weapons and launch his attack amid paranoid delusions, she said.
If Holmes was on medication, that may have made him appear more drowsy, making it more difficult to get a complete picture of his mental state, she said.
Asked Monday whether Holmes was medicated for his court appearance, Arapahoe County Undersheriff David C. Walcher said he did not know, and couldn't reveal that information to the media even if he did.
Dr. Mark Levy, a forensic psychiatrist in Mill Valley, California, said he doesn't think Holmes' behavior was due to medication.
Instead, he said, Holmes' blank, emotionless expression fits what happens in a psychotic breakdown that severs a person's ability to distinguish reality from fantasy.
"Whatever is happening on the outside of him is like a fly buzzing around the room, something you occasionally take note of," he said. The rest of the time, he explained, a person in such a state is inwardly dealing with an invisible roiling chaos, unaware of what's going on around him.
Chris Cline, vice president of clinical services at Skyland Trail, a mental health services facility in Atlanta, said it's not clear from Holmes' appearance whether mental illness is a factor.
Opinion: Looking into the minds of killers
"I think we need to see what comes out with more data before we rush to judgment about whether he has a mental illness or something else that's different than that," he said Tuesday on CNN.
Criminal defense lawyer B.J. Bernstein also cautioned against rushing to judgment. Holmes could be "bewildered" as a result of his sudden change in circumstances, or he could just be exhausted, she said.
"I don't take the bizarre behavior yesterday as confirmation of mental illness," she said.
The issue continued to be a topic of discussion Tuesday, with commenters on CNN and other online venues debating what the unusual appearance meant.
"He's a pathological, homicidal sociopath. He literally has no feelings for those around him," said one commenter on CNN.com who went by the screen name JR4. "Like his acting job in court? He knows that spending life in a psych ward with meds will be a lot better than spending hard time on death row in a maximum security prison."
HLN's Dr. Drew Pinsky believes it's likely that Holmes is suffering from some sort of mental illness, and probably should have been on medication if he wasn't already.
In many ways, however, he said Monday's court appearance speaks for itself.
"You can draw your own conclusions," Pinsky said Monday on his show. "Not a normal guy."
Remembering the Colorado shooting victims