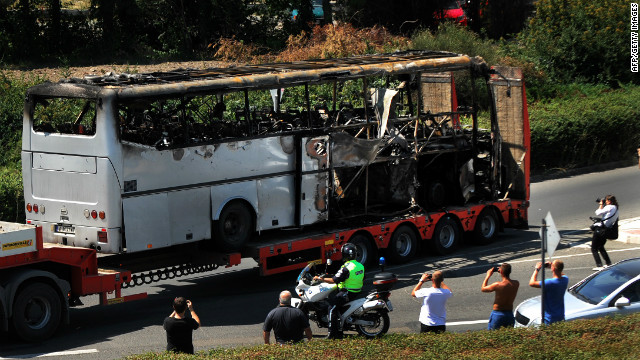 A truck carries the bus damaged by the suicide bomb blast which targeted a group of Israeli tourists in Bulgaria, on Thursday. The suicide bomber was dressed as a tourist carrying fake U.S. ID. Investigators are still trying to find out his identity.
The bodies of Israeli victims of the Bulgaria bus bomb last week return home.
Israeli Prime Minister Benjamin Netanyahu delivers a statement following the Bulgaria bus bombing. Netanyahu said: "Yesterday's attack in Bulgaria was perpetrated by Hezbollah, Iran's leading terrorist proxy." Israel's U.S. Embassy said Wednesday that it had no proof that Iran was the instigator of the attack.
A member of the Israeli rescue and recovery squad searches for evidence at the airport in Burgas, the site of a suicide blast targeting Israelis on July 19.
Smoke rises over Bulgaria's Burgas Airport after an explosion on a bus carrying Israeli tourists on Wednesday, July 18. At least six are dead.
A police officer is seen near destroyed buses after the explosion.
Police officers gather outside Bulgaria's Burgas Airport on the Black Sea coast.
Bystanders react to the explosion. Key Israeli politicians have pointed to Iran as the likely instigator.
A police officer with a search dog examines buses for explosives.
Bulgarian medics unload a wounded woman from an ambulance at a hospital.
President Rosen Plevneliev, center, walks near the site of the explosion. Bulgaria will ask the U.N. Security Council to condemn the attack.
Bus explosion in Bulgaria
Bus explosion in Bulgaria
Bus explosion in Bulgaria
Bus explosion in Bulgaria
Bus explosion in Bulgaria
Bus explosion in Bulgaria
Bus explosion in Bulgaria
Bus explosion in Bulgaria
Bus explosion in Bulgaria
Bus explosion in Bulgaria
Bus explosion in Bulgaria