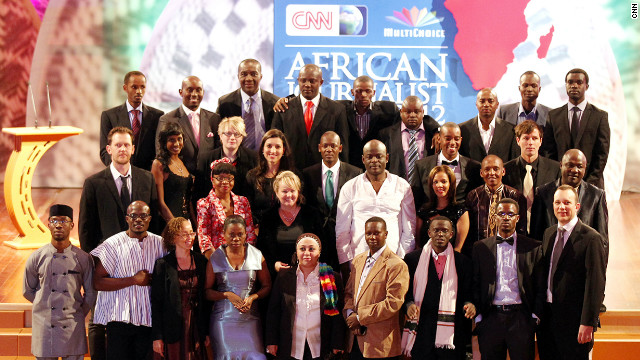 The finalists of the CNN African Journalist Awards 2012 gather on stage.
Kenya's Citizen TV gets several honors on the night when journalists Tom Mboya (right) and Evanson Nyaga (left) win both the Television Features Award and are the overall winners of the CNN MultiChoice African Journalist Awards 2012 for their work called "African tribe in India."
South Africa's Joy Summers won the Coca-Cola Company Economics & Business Award for her piece, 'Central Rand Gold.'
Andrew Mulenga, a freelancer for the Post in Zambia, wins the Arts and Culture Award.
(Right to left) Demelza Bush, Craig McKune and Verashni Pillay are jointly-awarded the Digital Journalism Award.
Saturday vision's journalist, Gerald Tenywa wins the Environment Award for his piece, "Concrete graves threaten environment."
The Francophone General News Award is awarded to Egyptian journalist Manar Attiya.
The Electronic Media Award (television) went to Najlae Benmbarek from Morocco.
Photojournalist for The Star in South Africa, Antoine de Ras wins the Photographic Award for his pieces, "Pulse of the People", "Egypt Uprising" and "Mogadishu madness."
Joint winners of the MSD Health & Medical Award, Megan Small (center) and Clive Mtshali pose after receiving their award.
Kenyan journalist John Muchangi Njiru's piece, "Inside the life of Nairobi male sex workers" won him the award for HIV/AIDS Reporting Award.
The Portuguese Language General News Award -- Print goes to journalist Isabel João from Angola.
Arsénio Henriques wins the Portuguese Language General News Award -- Television.
Adriaan Basson (center) and Piet Rampedi (right) are jointly-awarded the Print General News Award for their series on Julius Malema.
Joy FM's Joshua Anny celebrates after winning the award for Radio General News for his work, "Scatters Paradise."
Certainly happy about the win, joint winners Waihiga Mwaura (center) and Jephitha Mwai Mwangi (right) smile after they are awarded the Sport Award for their work on Maasai cricket warriors on Citizen TV in Kenya.
Kenyan journalist Nimrod Taabu Mwagamoyo poses with joint winner Charles Kinyua Kariuki after they receive the award for Television News Bulletin.
For the piece, "Bagadry: A walk through the slave route", Errol Barnett gives the Tourism award to Ahaoma Kanu.
Finalists gather
Overall winners
Coca-Cola Company Economics & Business award
Arts and Culture award
Digital Journalim award
Environment award
General News award
Electronic Media award
Photographic award
Health & Medical Award
HIV/AIDS Reporting Award
Portuguese Language General News award
Portuguese Language General News award
Print General News award
Radio General News award
Sport Award
Television News Bulletin award
Tourism award