Give a child a camera and save the world
updated 4:20 PM EDT, Fri July 20, 2012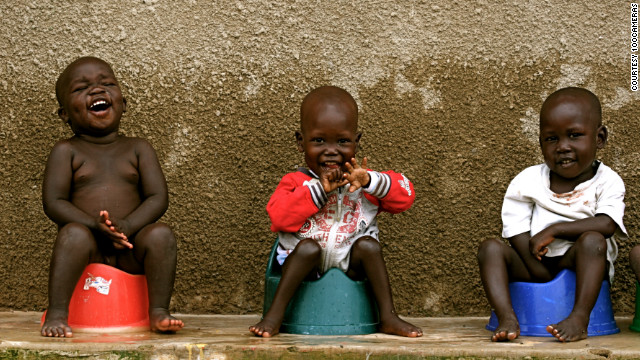 The 100cameras staff travels the world teaching children how to use cameras to document their lives. The photos are sold online and all money raised is donated to a child-centered organization serving the young photographers' communities.
In 2008, 100cameras launched its first project at St. Bartholomew's Orphanage in Kajo Keji, South Sudan. Kiden was one of 80 children who called the orphanage home at that time. She was 14 years old when her father threw her out of the house because she was pregnant. She took this photo when she was 16.
Kabang took this photo when she was 14. Her father died after a long illness in Uganda. Her mother tried to provide for the family but eventually took Kabang to live at St. Bartholomew's Orphanage. She wants to be a doctor when she grows up.
Buba came to St. Bartholomew's Orphanage with her brother and sister. Her father died during the civil war in Sudan, and her mother left her children so she could remarry. Buba dreams of being a teacher one day. She took this picture when she was 14.
In 2009, 100cameras started a partnership with a community center on New York's Lower East Side that provides after-school educational opportunities for children in the neighboorhood. Joey took this photo when he was 14. He says he likes photography because two people can take a picture of the same thing, but it can have two different meanings.
Andrew took this photo when he was 13. He says he likes photography because it allows him to express himself in different ways. One day, Andrew would like to be both a professional horseback rider and a photographer.
In 2011, the 100cameras team launched its third project in Cuba in partnership with the community development organization that works to improve education and humanitarian needs for hundreds of local children. Thirteen-year-old Alexander was among the photography students in Cuba, and his photographs reflect his careful attention to detail and the architecture from old Havana.
Alexander used his photographs to explore the double meanings and paradoxes of both beauty and destruction found within the city, but his favorite things to capture were the fields of the countryside.
Ten-year-old Manuel was one the team's youngest photography students in Cuba. He likes to focused on the details of doors, architectural tiles, various modes of transportation and the beautiful trees that lined his neigborhood.
Empowering children through photography
Kiden from South Sudan
Kabang from South Sudan
Buba from South Sudan
Joey from New York
Andrew from New York
Alexander from Cuba
Alexander from Cuba
Manuel from Cuba
STORY HIGHLIGHTS
100cameras travels to areas in need to teach photography to children
The photos children take are posted online for sale to benefit their organizations
The nonprofit has traveled to Sudan, Cuba and New York, will be going to India later this year
(CNN) -- The eyes of a child see things differently than an adult. It's an idea that intrigued four young women in college. "If you could give a child a camera, they could tell a reality in a way that a foreigner, or even an adult, could not," co-founder Angela Francine Bullock says. Several years later, they turned that idea into a way to help children around the world and founded the nonprofit 100cameras.
The concept is simple. 100cameras staff members travel to countries armed with cameras. They partner with a local organization serving children in the community. For the next few weeks, they teach the children how to take photographs. Then they set those children free to capture their world and post the photos online.
For the kids, sharing their life with the rest of the world is a reward in itself, but 100cameras goes one step further. The photographs are available for sale, and 100% of the profits go back to the children's organizations.
Dramatic pictures show power of photography
It's about "addressing poverty from the inside out, instead of the outside in," says Bullock, who is now the company's Public Relations Director. "We partner with a local organization that is on the ground. They know the local needs ... and they know the best ways to serve these children and their families."
The group's first mission was to an orphanage in Sudan. The photographs were so powerful, they decided to turn their New York apartment into an art gallery, moving furniture into bedrooms, and invited anyone they knew. "From there we said we have to do more, and that's been our mindset ever since. We always just need to do more." says Bullock.
View our photo galleries on CNN Photos
Since that 2008 trip to Sudan, they have brought their cameras to Cuba and taught kids in New York. In October, they are making the journey to India. What was once a side project for a group of friends now has almost 20 members and recently hired its first full-time employee.
Photographs from these trips have brought thousands of dollars to the children's organizations. Bullock says they have a lot of freedom as a small group to address each community's needs individually. "That's the great part of our model. We get to have the conversation with the organization and ask, 'What do you need?'"
In Sudan it was lifelines, like food and medicine. In New York it was educational needs, after-school learning and computers. Cuba's greatest need was humanitarian aid like food and medicine, but the community also needed a center where the children's parents could be taught business classes.
100cameras raised $17,000 for the Sudanese orphanage. It was used for critical maintenance to get a truck running that brings in food and medicine. The money was also used to build a fence that keeps them protected from violence of rebel forces in the region.
The staff says they are overjoyed by the fact that these kids are creating their own success. Bullock says, "It's really exciting for kids there to see these changes and to feel an ownership in that."
The goal is to have their cameras stretch around the globe, and for the impact to continue to be both economic and personal. "We want as many kids as possible empowered with the idea and concept that their perspective matters. To know it's their work that can create change in their own communities."
For more information visit 100cameras.org