STORY HIGHLIGHTS
NEW: Couple who took two children to movie give emotional account of what happened
Dozens of people were treated in five Denver-area hospitals after the shootings
At least three service members also were hurt, the Pentagon says
(CNN) -- Hospitals across the Denver metropolitan area treated dozens of people, many of them critically wounded, in the aftermath of Friday's mass shooting at a movie theater.
The youngest of the injured, a 4-month-old boy, was treated and released from a hospital.
Ten people died at the theater in Aurora and two died later at hospitals, officials said. Another 58 people were injured in the massacre.
Among the dead was an aspiring Colorado sports reporter in her mid-20s, according to a statement from her brother.
"Jessica (Ghawi) has indeed died of injuries sustained in the shooting," Jordan Ghawi said on his blog, citing the coroner's office.
Families of the victims had not been notified by midafternoon Friday because there was still an active investigation at the crime scene, Aurora police said.
Patricia Legarreta, who went to the movie with her fiance, their 4-month-old baby and 4-year-old daughter, tearfully recalled what happened.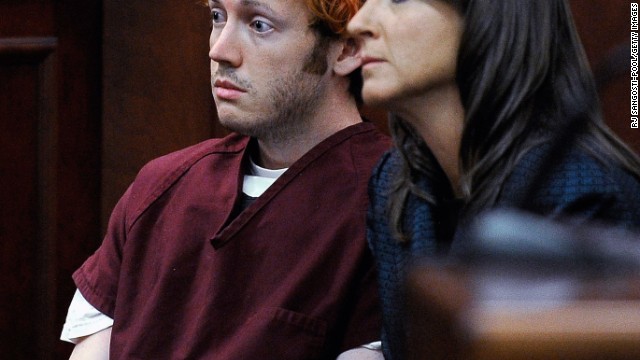 The public gets its first glimpse of James Holmes, 24, the suspect in the Colorado theater shooting during his initial court appearance Monday, July 23. With his hair dyed reddish-orange, Holmes, here with public defender Tamara Brady, showed little emotion. He is accused of opening fire in a movie theater Friday, July 20, in Aurora, Colorado, killing 12 people and wounding 58 others. More photos: Mourning the victims of the Colorado theater massacre
Police release the official photo from Holmes' booking after the shooting.
Holmes often had a blank stare during his court appearance Monday, appearing to be in a daze.
Victims and their relatives and journalists watch the proceedings Monday.
Flags fly at half-staff Monday at the Arapahoe County Courthouse in Centennial, Colorado, where the movie theater shooting suspect had his first court appearance. The prosecutor held a press conference outside the courthouse.
Arapahoe County District Attorney Carol Chambers talks to reporters Monday before heading into the courthouse. Chambers said the decision on whether to pursue the death penalty is a long process that involves input from victims and their families.
Family members of the victims arrive at the courthouse Monday for the suspect's first court appearance.
The Century Aurora 16 multiplex in Aurora becomes a place of horror after a gunman opened fire Friday in a crowded theater. At least 17 people remained hospitalized late Sunday, July 22, in the shooting rampage that shocked the nation.
Holmes is accused of opening fire during a midnight screening of the new Batman movie, "The Dark Knight Rises." Holmes purchased four weapons and more than 6,000 rounds of ammunition in recent months, police say.
Police investigate outside the Century 16 multiplex Saturday, July 21, a day after the mass shooting. Authorities have been tight-lipped about a possible motive in the case.
Agents search the suspect's car outside the theater.
Aurora police escort a sand-filled dump truck containing improvised explosive devices removed from Holmes' booby-trapped apartment Saturday. Authorities have said they believe the suspect rigged his place before leaving for the movie theater.
Police break a window at the suspect's apartment Friday in Aurora.
Law enforcement officers speak with Colorado Gov. John Hickenlooper, center, outside the suspect's apartment Saturday.
Law enforcement officers prepare to disarm the booby-trapped apartment Saturday.
Officials tow cars outside Holmes' apartment Saturday. Police disassembled devices and trip wires set up in the apartment.
Officers prepare to place an explosive device inside the apartment.
Debris flies out a window, right, after law enforcement officers detonate an explosive device inside the apartment Saturday.
People mourn the victims during a vigil behind the theater where a gunman opened fire on moviegoers in Aurora.
A woman grieves during a vigil for victims behind the theater.
A distraught woman receives counseling from Pastor Quincy Shannon, left, in front of Gateway High School in Aurora, where the families of the missing met following the shooting.
Lin Gan of Aurora holds back tears as she speaks to reporters about her experience in the Century 16 theater Friday.
People embrace before a vigil for victims behind the theater where a gunman opened fire on moviegoers.
Investigators work on evidence near the apartment of James Holmes on Friday.
Members of the Aurora Police Department SWAT unit walk near the apartment of James Holmes. Police have Holmes, 24, of North Aurora, in custody.
Television news crews gather in front of the home of Robert and Arlene Holmes, parents of 24-year-old mass shooting suspect James Holmes, in San Diego, California, on Friday.
A popcorn box lies on the ground outside the Century 16 movie theatre.
An NYPD officer keeps watch inside an AMC move theater where the film "The Dark Knight Rises" is playing in Times Square on Friday. NYPD is maintaining security around city movie theaters following the deadly rampage in Aurora, Colorado.
Adariah Legarreta, 4, is comforted by her grandmother Rita Abeyta near the Century 16 Theater in Aurora.
A cyclist and pedestrians pass a theater showing the latest Batman movie in Hollywood, California, on Friday. Warner Brothers said it was "deeply saddened" by Friday's massacre at a Colorado screening of "The Dark Knight Rises."
Obama supporters observe a moment of silence for the victims at a campaign event at Harborside Event Center in Fort Myers, Florida, on Friday.
Jessica Ghawi, an aspiring sportscaster, was one of the victims.
A woman waits for news outside Gateway High School, a few blocks from the scene of the shooting at the Century Aurora 16.
Aurora police chief Daniel J. Oates speaks at a press conference near the Century 16 Theater on Friday.
Agents search the trash container outside the suspect's apartment in Aurora.
A Federal ATF officer carries protective gear onsite at the home of alleged shooting suspect James Holmes.
Obama speaks on the shootings at the event in Fort Myers.
Moviegoers are interviewed at the Century Aurora 16.
Officers gathered at the theater Friday.
Investigators were a common sight at the theater Friday.
Authorities gather at the shooting suspect's apartment building in Aurora. Police broke a second-floor window to look for explosives that the suspect claimed were in the apartment.
Screaming, panicked moviegoers scrambled to escape from the black-clad gunman, who wore a gas mask and randomly shot as he walked up the theater's steps, witnesses said.
University of Colorado Hospital spokeswoman Jacque Montgomery said that all of the wounded had injuries from gunshot wounds, ranging from minor to critical.
Onlookers gather outside the Century Aurora 16 theater.
A woman sits on top of her car near the crime scene.
Police block access to the Town Center mall after the shooting.
Cell phone video taken by someone at the theater showed scores of people screaming and fleeing the building. Some, like this man, had blood on their clothes.
Witnesses told KUSA that the gunman kicked in an emergency exit door and threw a smoke bomb into the darkened theater before opening fire.
What is believed to be the suspect's car is examined after the shooting.
Police Chief Dan Oates said there was no evidence of a second gunman, and FBI spokesman Jason Pack said it did not appear the incident was related to terrorism.
Republican presidential candidate and former Massachusetts Gov. Mitt Romney delivers remarks regarding the shooting in an Aurora, Colorado, movie theater on Friday at a campaign event in Bow, New Hampshire.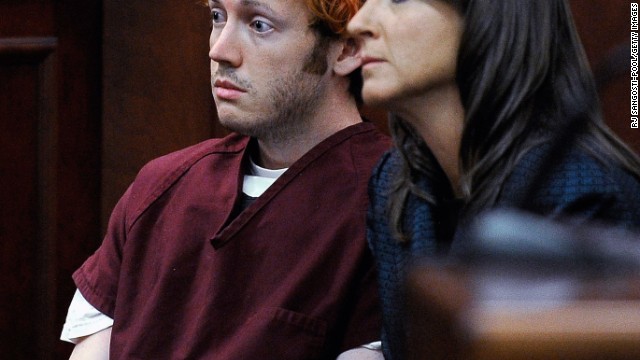 Colorado movie theater massacre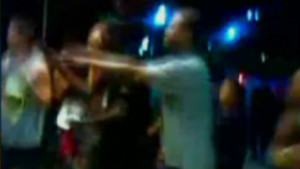 Video: Chaos at theater shooting scene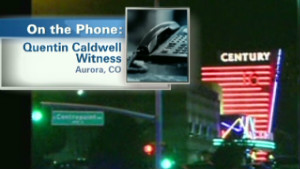 Witness sees shots through theater wall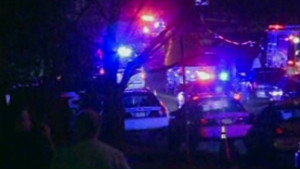 Witness saw little girl who wasn't moving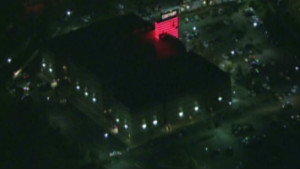 Witness: People bleeding in theater
Legarreta, who suffered wounds to the leg, said she grabbed her son and daughter and headed for the door. "There was a moment where my daughter tripped. I pulled her up and I was just dragging her and I was just thinking we've just got to get out."
Legarreta and her fiance, Jamie Rohrs, later spoke about their ordeal on CNN's "Piers Morgan Tonight."
"I'm trying to get out of the way but people are falling next to me, but I am all right, thinking this is it," said Rohrs.
In the chaos, the couple, who had recently moved to Colorado from New Mexico, became separated. Rohrs eventually learned Legarreta and their children made it out of the theater.
At the hospital, the couple had an unexpected conversation.
"He had gone to the restroom and came out," Legarreta said of Rohrs. "And he just looked at me and he said 'I know this is not the time and place, but will you marry me?' And I said, 'yes.' Going through 10 minutes of thinking he was dead and I would never see him again, you never want that feeling again."
Gunman fires on audience in Colorado theater
The wounded were being treated at five medical centers. CNN was unable to account for all 58 injured from lists provided by officials. Hospitals gave these accounts Friday afternoon:
-- University of Colorado Hospital had 23 patients, nine remaining in critical condition. Ten patients were treated and released.
-- Denver Health Medical Center received six patients. Three remained in fair condition and three were released. A patient was transported to the hospital later and was in fair condition.
-- Children's Hospital Colorado said it had six injured, ranging from critical to good condition. One patient had passed away.
-- Swedish Medical Center had three patients in fair condition. A 19-year-old man was treated and released.
-- Parker Adventist Hospital treated and released two patients.
U.S. troops were among the casualties in the shooting rampage at the Century 16 movie theaters, the Pentagon said Friday.
The Defense Department released a statement that said one sailor was injured and another one, known to have been at the theater, was unaccounted for. Two airmen were wounded in the incident, it said.
911 tape: 'I need somebody to shut this movie off'
Witnesses described Friday's deadly shooting as harrowing and chaotic, while victims and their families tried to cope with the bloody aftermath.
In Friday's early morning hours, a police officer was seen carrying a young girl, described as bloodied and motionless.
"I honestly can't think of any kind of person who would intentionally hurt a little girl," Alex Milano told CNN affiliate KUSA. "I don't know whose little girl that was, but my heart goes out to them."
Gunman turns movie into surreal horror: 'This is real'
"I saw at least four maybe five people who were limping, wounded," said Milano. "The most that I saw was a girl that was pretty much covered in blood, and she didn't have any wounds on her. It made me think the worst."
"There was this one guy who was on all fours crawling. There was this girl spitting up blood," Donovan Tate recalled to CNN affiliate KCNC. "There were bullet holes in some people's backs, some people's arms."
Romney, Obama make statements on shooting, cancel campaign events
Are you there? Share your story with CNN iReport and post tributes to the victims.
CNN's David Ariosto, Joe Sutton, Phil Gast, Audrey Irvine and Dave Alsup contributed to this report