STORY HIGHLIGHTS
Obama's and Romney's campaigns cancel events after Colorado shootings
Both campaigns pulled their advertising in Colorado
Obama: "If there's anything to take away from this tragedy, it's the reminder that life is very fragile"
Romney: "Our hearts break with the sadness of this unspeakable tragedy"
(CNN) -- President Barack Obama's and Mitt Romney's presidential campaigns hit pause on the partisan bickering and were united in expressing sadness and heartbreak over the deadly shooting in Aurora, Colorado.
Obama spoke for about six minutes Friday morning at a Fort Myers, Florida, convention center full of supporters who awoke this morning thinking they were going to a spirited rally. Instead, they like the rest of the nation, learned 24-year-old gunman James Holmes reportedly burst into a darkened movie theater, tossed in tear gas, and loosed a barrage of gunfire on audience members during an early Friday morning screening of the new Batman movie.
Timeline: Worst mass shootings in U.S.
In Fort Myers, there was an American flag, but no Obama campaign signs with the now familiar "Forward" campaign slogan.
There was no music. The mood was somber.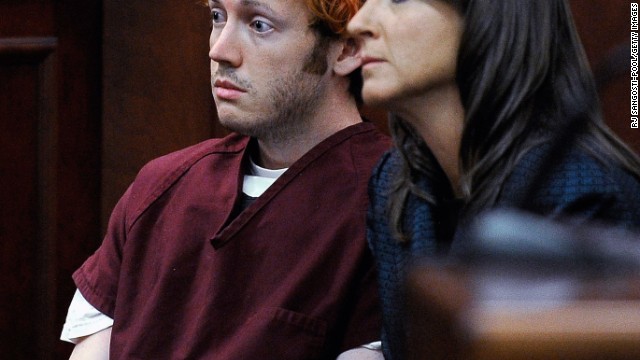 The public gets its first glimpse of James Holmes, 24, the suspect in the Colorado theater shooting during his initial court appearance Monday, July 23. With his hair dyed reddish-orange, Holmes, here with public defender Tamara Brady, showed little emotion. He is accused of opening fire in a movie theater Friday, July 20, in Aurora, Colorado, killing 12 people and wounding 58 others. More photos: Mourning the victims of the Colorado theater massacre
Police release the official photo from Holmes' booking after the shooting.
Holmes often had a blank stare during his court appearance Monday, appearing to be in a daze.
Victims and their relatives and journalists watch the proceedings Monday.
Flags fly at half-staff Monday at the Arapahoe County Courthouse in Centennial, Colorado, where the movie theater shooting suspect had his first court appearance. The prosecutor held a press conference outside the courthouse.
Arapahoe County District Attorney Carol Chambers talks to reporters Monday before heading into the courthouse. Chambers said the decision on whether to pursue the death penalty is a long process that involves input from victims and their families.
Family members of the victims arrive at the courthouse Monday for the suspect's first court appearance.
The Century Aurora 16 multiplex in Aurora becomes a place of horror after a gunman opened fire Friday in a crowded theater. At least 17 people remained hospitalized late Sunday, July 22, in the shooting rampage that shocked the nation.
Holmes is accused of opening fire during a midnight screening of the new Batman movie, "The Dark Knight Rises." Holmes purchased four weapons and more than 6,000 rounds of ammunition in recent months, police say.
Police investigate outside the Century 16 multiplex Saturday, July 21, a day after the mass shooting. Authorities have been tight-lipped about a possible motive in the case.
Agents search the suspect's car outside the theater.
Aurora police escort a sand-filled dump truck containing improvised explosive devices removed from Holmes' booby-trapped apartment Saturday. Authorities have said they believe the suspect rigged his place before leaving for the movie theater.
Police break a window at the suspect's apartment Friday in Aurora.
Law enforcement officers speak with Colorado Gov. John Hickenlooper, center, outside the suspect's apartment Saturday.
Law enforcement officers prepare to disarm the booby-trapped apartment Saturday.
Officials tow cars outside Holmes' apartment Saturday. Police disassembled devices and trip wires set up in the apartment.
Officers prepare to place an explosive device inside the apartment.
Debris flies out a window, right, after law enforcement officers detonate an explosive device inside the apartment Saturday.
People mourn the victims during a vigil behind the theater where a gunman opened fire on moviegoers in Aurora.
A woman grieves during a vigil for victims behind the theater.
A distraught woman receives counseling from Pastor Quincy Shannon, left, in front of Gateway High School in Aurora, where the families of the missing met following the shooting.
Lin Gan of Aurora holds back tears as she speaks to reporters about her experience in the Century 16 theater Friday.
People embrace before a vigil for victims behind the theater where a gunman opened fire on moviegoers.
Investigators work on evidence near the apartment of James Holmes on Friday.
Members of the Aurora Police Department SWAT unit walk near the apartment of James Holmes. Police have Holmes, 24, of North Aurora, in custody.
Television news crews gather in front of the home of Robert and Arlene Holmes, parents of 24-year-old mass shooting suspect James Holmes, in San Diego, California, on Friday.
A popcorn box lies on the ground outside the Century 16 movie theatre.
An NYPD officer keeps watch inside an AMC move theater where the film "The Dark Knight Rises" is playing in Times Square on Friday. NYPD is maintaining security around city movie theaters following the deadly rampage in Aurora, Colorado.
Adariah Legarreta, 4, is comforted by her grandmother Rita Abeyta near the Century 16 Theater in Aurora.
A cyclist and pedestrians pass a theater showing the latest Batman movie in Hollywood, California, on Friday. Warner Brothers said it was "deeply saddened" by Friday's massacre at a Colorado screening of "The Dark Knight Rises."
Obama supporters observe a moment of silence for the victims at a campaign event at Harborside Event Center in Fort Myers, Florida, on Friday.
Jessica Ghawi, an aspiring sportscaster, was one of the victims.
A woman waits for news outside Gateway High School, a few blocks from the scene of the shooting at the Century Aurora 16.
Aurora police chief Daniel J. Oates speaks at a press conference near the Century 16 Theater on Friday.
Agents search the trash container outside the suspect's apartment in Aurora.
A Federal ATF officer carries protective gear onsite at the home of alleged shooting suspect James Holmes.
Obama speaks on the shootings at the event in Fort Myers.
Moviegoers are interviewed at the Century Aurora 16.
Officers gathered at the theater Friday.
Investigators were a common sight at the theater Friday.
Authorities gather at the shooting suspect's apartment building in Aurora. Police broke a second-floor window to look for explosives that the suspect claimed were in the apartment.
Screaming, panicked moviegoers scrambled to escape from the black-clad gunman, who wore a gas mask and randomly shot as he walked up the theater's steps, witnesses said.
University of Colorado Hospital spokeswoman Jacque Montgomery said that all of the wounded had injuries from gunshot wounds, ranging from minor to critical.
Onlookers gather outside the Century Aurora 16 theater.
A woman sits on top of her car near the crime scene.
Police block access to the Town Center mall after the shooting.
Cell phone video taken by someone at the theater showed scores of people screaming and fleeing the building. Some, like this man, had blood on their clothes.
Witnesses told KUSA that the gunman kicked in an emergency exit door and threw a smoke bomb into the darkened theater before opening fire.
What is believed to be the suspect's car is examined after the shooting.
Police Chief Dan Oates said there was no evidence of a second gunman, and FBI spokesman Jason Pack said it did not appear the incident was related to terrorism.
Republican presidential candidate and former Massachusetts Gov. Mitt Romney delivers remarks regarding the shooting in an Aurora, Colorado, movie theater on Friday at a campaign event in Bow, New Hampshire.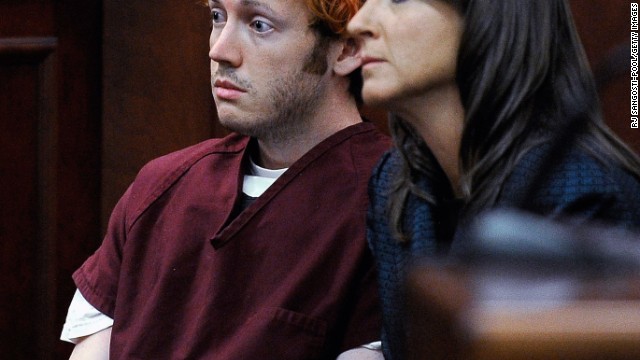 Colorado movie theater massacre
"What matters ... is not the trivial things which so often consume us. ... Ultimately it's how we choose to treat each other and how we love one another," Obama told the gathering.
"There will be other days for politics," the president continued. "This will be a day for prayer and reflection."
Theater shooting unfolds in real time on social media
Obama canceled afternoon events and headed for the White House, where he was to meet with FBI director Jack Lew, Homeland Security Adviser John Brennan and other key staff to get an update on the Aurora shooting.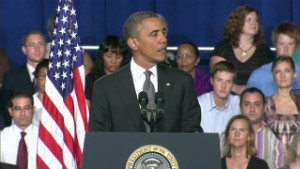 Obama: Such evil is senseless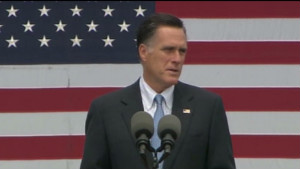 Romney condemns 'hateful act'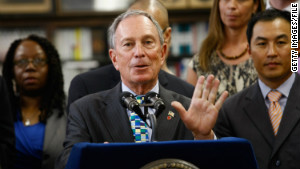 Bloomberg blasts politics on guns
Obama was in Palm Beach, Florida, in the middle of a two-day swing through the battleground state when Homeland Security Adviser John Brennan told him of the shooting at 5:26 a.m. The president spoke first with Aurora Mayor Steve Hogan and then called Colorado Gov. John Hickenlooper from his motorcade from the Fort Myers airport to the convention center.
The Obama campaign's scripted attack for the day on how Romney's "economic agenda would be devastating for small businesses," was scrapped. The campaign raced to pull down ads in Colorado, designed to point out the differences between Obama and Romney.
"We have asked affiliates to pull down our contrast advertising for the time being. It takes time for stations to be able to do this, but we are making every effort," Obama's traveling campaign press secretary Jen Psaki told reporters aboard Air Force One.
Vice President Joe Biden and first lady Michelle Obama also canceled their events.
Romney, who spent Thursday attending meetings at his campaign headquarters in Boston, also used his first scheduled appearance of the day in Bow, New Hampshire, where to address the shootings. Romney and his wife, Ann, also canceled their events.
Aspiring sports reporter killed in theater shooting
A top Romney adviser said the candidate made the decision to set aside his usual stump speech and wrote a new one to offer his own personal reflections on the tragedy.
"He wanted to say something," the adviser told CNN.
In a speech that was steeped in Biblical references, Romney said, "This is a time for each of us to look into our hearts and remember how much we love one another."
"The apostle Paul explained, 'Blessed be God who comforteth us in all our tribulations that we may be able to comfort them which are in any trouble," Romney said.
He, too, stood on a stage that was stripped of campaign banners and music.
The Romney campaign also pulled its ads in Colorado until further notice, according to campaign spokeswoman Andrea Saul. Major Republican super PAC American Crossroads and its affiliate Crossroads GPS have also requested that all television and Internet ads in Colorado be suspended for the time being.
Few hints of alleged shooter's past
Both Obama and Romney made the right call, political analysts say.
"No decent person hears about a mass murder and thinks immediately of politics," said Democratic strategist and CNN political contributor Paul Begala. "President Obama handled it just right, speaking as our national Pater Familias, offering comfort, canceling his campaign appearances and pulling down his negative ads in Colorado. Mitt Romney, too, wisely offered prayerful condolences and did not seek to politicize this tragedy."
"Will this permanently alter the political discourse? Of course not," Begala said.
One of the nation's most outspoken advocates of stricter gun-control laws saw the tragedy a underscoring the need for both Obama and Romney to address the issue.
New York City Mayor Michael Bloomberg, said in a radio interview Friday the two candidates for president needed to take a firmer line in addressing gun violence.
"Soothing words are nice, but maybe it's time that the two people who want to be president of the United States stand up and tell us what they are going to do about it, because this is obviously a problem across the country," Bloomberg said on WOR Radio's "The John Gambling Show."
Gun control supporters, such as Bloomberg, said Friday's tragedy should spark greater focus on how guns reach killers.
Opinion: Gun control won't stop mass murder
"The horrific nightmare of a mass shooting on innocent civilians in a crowded public place has, sadly, come true once again," said Rep. Carolyn McCarthy, D-New York, whose husband was killed in the 1993 shooting on the Long Island Railroad and son was seriously injured. "We as a nation should also not continue to ignore avenues to prevent tragedies like this from happening in the future."
The National Rifle Association was cautious in its response.
"Our thoughts and prayers are with the victims, their families and the community. NRA will not have any further comment until all the facts are known," said Andrew Arulanandam, director of public affairs for the NRA.
NRA tweeter was 'unaware' of Colorado shooting, spokesman says
CNN's Jim Acosta and Kevin Liptak contributed to this report