STORY HIGHLIGHTS
Larry Barton: After the Colorado massacre, many may be anxious about attending crowded events
However, murders at concerts, movies and sporting venues are statistically small, says Barton
Instead of being fearful, we should be aware and alert at events and workplaces, he says
Barton: About 70% of those who commit suicide or homicide have told someone in advance
Editor's note: Larry Barton is president and professor of management at the American College in Bryn Mawr, Pennsylvania, and teaches threat management at the FBI Academy in Quantico, Virginia.
(CNN) -- In the aftermath of the massacre in Aurora, Colorado, various pundits and experts will ask whether anyone can feel safe enough to enjoy a concert or movie. It's not an unreasonable question.
The answer sounds distant and cool, but it is empirically correct: Murders at concerts, movie theatres and sporting venues are statistically small given the sheer number of persons who attend them.
They are rarely caused by people who have a grievance to settle with another patron or fan; they are more commonly caused by people with profound mental illness who recently experienced negative milestones in their life, such as a divorce or mental breakdown. They seek revenge, but have no specific target. They seek to incur maximum lethal damage in order to be memorialized. In short, by causing untold pain to strangers, they are able to achieve whatever notoriety or accomplishment that eluded them previously.
It will take weeks, if not months, for us to understand the motivations behind this crime as well as whether the suspect, James Holmes, shared signals with others in advance, such as on a blog or with friends. That he was in the process of withdrawing from an esteemed graduate program in neurosciences is probably not insignificant. The question that parents, friends and all of us now seek an answer to — "Why?" — parallels the very same questions posed in the aftermath of Columbine, Virginia Tech, Fort Hood and the nearly 200 public shootings that have occurred over the past 10 years in the United States alone.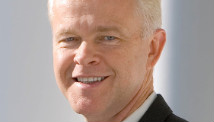 Larry Barton
The challenge for all of us is whether we will choose to avoid movies, festivals, state fairs and other activities out of fear, or whether we will choose to be aware and alert while also enjoying ourselves at these events.
News: Shooter had 100-round magazine rifle
We should remember that the citizens of New York, after an appropriate grieving period post 9/11, chose to return to Broadway, take the subway, shop Fifth Avenue and yes, commiserate the loss of friends and strangers— rather than isolating themselves in group fear. We can learn from them: Through prayer and reflection, we remember the victims. Through our actions and refusing to be intimidated by assassins, we are like those who have lived in Israel, Northern Ireland or Bali in the midst of terrorist events. We must re-engage, yet with heightened awareness.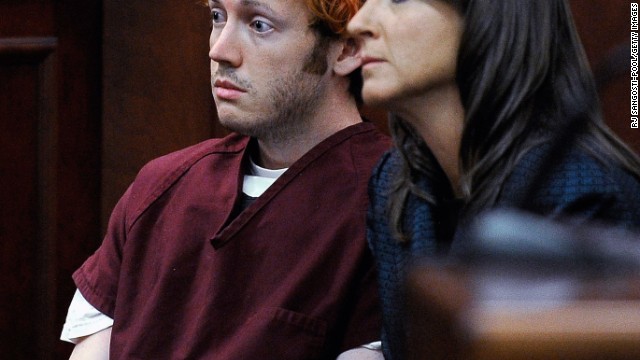 The public gets its first glimpse of James Holmes, 24, the suspect in the Colorado theater shooting during his initial court appearance Monday, July 23. With his hair dyed reddish-orange, Holmes, here with public defender Tamara Brady, showed little emotion. He is accused of opening fire in a movie theater Friday, July 20, in Aurora, Colorado, killing 12 people and wounding 58 others. More photos: Mourning the victims of the Colorado theater massacre
Police release the official photo from Holmes' booking after the shooting.
Holmes often had a blank stare during his court appearance Monday, appearing to be in a daze.
Victims and their relatives and journalists watch the proceedings Monday.
Flags fly at half-staff Monday at the Arapahoe County Courthouse in Centennial, Colorado, where the movie theater shooting suspect had his first court appearance. The prosecutor held a press conference outside the courthouse.
Arapahoe County District Attorney Carol Chambers talks to reporters Monday before heading into the courthouse. Chambers said the decision on whether to pursue the death penalty is a long process that involves input from victims and their families.
Family members of the victims arrive at the courthouse Monday for the suspect's first court appearance.
The Century Aurora 16 multiplex in Aurora becomes a place of horror after a gunman opened fire Friday in a crowded theater. At least 17 people remained hospitalized late Sunday, July 22, in the shooting rampage that shocked the nation.
Holmes is accused of opening fire during a midnight screening of the new Batman movie, "The Dark Knight Rises." Holmes purchased four weapons and more than 6,000 rounds of ammunition in recent months, police say.
Police investigate outside the Century 16 multiplex Saturday, July 21, a day after the mass shooting. Authorities have been tight-lipped about a possible motive in the case.
Agents search the suspect's car outside the theater.
Aurora police escort a sand-filled dump truck containing improvised explosive devices removed from Holmes' booby-trapped apartment Saturday. Authorities have said they believe the suspect rigged his place before leaving for the movie theater.
Police break a window at the suspect's apartment Friday in Aurora.
Law enforcement officers speak with Colorado Gov. John Hickenlooper, center, outside the suspect's apartment Saturday.
Law enforcement officers prepare to disarm the booby-trapped apartment Saturday.
Officials tow cars outside Holmes' apartment Saturday. Police disassembled devices and trip wires set up in the apartment.
Officers prepare to place an explosive device inside the apartment.
Debris flies out a window, right, after law enforcement officers detonate an explosive device inside the apartment Saturday.
People mourn the victims during a vigil behind the theater where a gunman opened fire on moviegoers in Aurora.
A woman grieves during a vigil for victims behind the theater.
A distraught woman receives counseling from Pastor Quincy Shannon, left, in front of Gateway High School in Aurora, where the families of the missing met following the shooting.
Lin Gan of Aurora holds back tears as she speaks to reporters about her experience in the Century 16 theater Friday.
People embrace before a vigil for victims behind the theater where a gunman opened fire on moviegoers.
Investigators work on evidence near the apartment of James Holmes on Friday.
Members of the Aurora Police Department SWAT unit walk near the apartment of James Holmes. Police have Holmes, 24, of North Aurora, in custody.
Television news crews gather in front of the home of Robert and Arlene Holmes, parents of 24-year-old mass shooting suspect James Holmes, in San Diego, California, on Friday.
A popcorn box lies on the ground outside the Century 16 movie theatre.
An NYPD officer keeps watch inside an AMC move theater where the film "The Dark Knight Rises" is playing in Times Square on Friday. NYPD is maintaining security around city movie theaters following the deadly rampage in Aurora, Colorado.
Adariah Legarreta, 4, is comforted by her grandmother Rita Abeyta near the Century 16 Theater in Aurora.
A cyclist and pedestrians pass a theater showing the latest Batman movie in Hollywood, California, on Friday. Warner Brothers said it was "deeply saddened" by Friday's massacre at a Colorado screening of "The Dark Knight Rises."
Obama supporters observe a moment of silence for the victims at a campaign event at Harborside Event Center in Fort Myers, Florida, on Friday.
Jessica Ghawi, an aspiring sportscaster, was one of the victims.
A woman waits for news outside Gateway High School, a few blocks from the scene of the shooting at the Century Aurora 16.
Aurora police chief Daniel J. Oates speaks at a press conference near the Century 16 Theater on Friday.
Agents search the trash container outside the suspect's apartment in Aurora.
A Federal ATF officer carries protective gear onsite at the home of alleged shooting suspect James Holmes.
Obama speaks on the shootings at the event in Fort Myers.
Moviegoers are interviewed at the Century Aurora 16.
Officers gathered at the theater Friday.
Investigators were a common sight at the theater Friday.
Authorities gather at the shooting suspect's apartment building in Aurora. Police broke a second-floor window to look for explosives that the suspect claimed were in the apartment.
Screaming, panicked moviegoers scrambled to escape from the black-clad gunman, who wore a gas mask and randomly shot as he walked up the theater's steps, witnesses said.
University of Colorado Hospital spokeswoman Jacque Montgomery said that all of the wounded had injuries from gunshot wounds, ranging from minor to critical.
Onlookers gather outside the Century Aurora 16 theater.
A woman sits on top of her car near the crime scene.
Police block access to the Town Center mall after the shooting.
Cell phone video taken by someone at the theater showed scores of people screaming and fleeing the building. Some, like this man, had blood on their clothes.
Witnesses told KUSA that the gunman kicked in an emergency exit door and threw a smoke bomb into the darkened theater before opening fire.
What is believed to be the suspect's car is examined after the shooting.
Police Chief Dan Oates said there was no evidence of a second gunman, and FBI spokesman Jason Pack said it did not appear the incident was related to terrorism.
Republican presidential candidate and former Massachusetts Gov. Mitt Romney delivers remarks regarding the shooting in an Aurora, Colorado, movie theater on Friday at a campaign event in Bow, New Hampshire.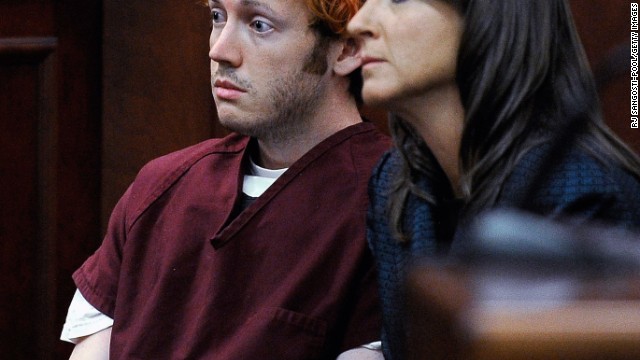 Colorado movie theater massacre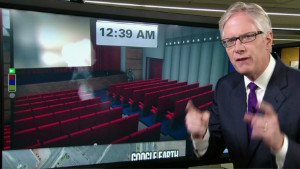 A timeline of the Colorado shooting
I have studied more than 2,800 attacks on civilians at workplaces since 1981 and have helped many Fortune 500 companies identify persons at risk before they pursued suicide or homicide. Here are some of the lessons I would share with you:
• Your intuition is a gift. If you find yourself in a public venue where someone, or something, seems out of place, act without hesitation to leave. Those who linger can engage in what medical specialists call "milling" — a sense of "this can't be happening to me." Think about those who fled from the Pentagon immediately upon guessing that a plane had crashed into their building in 2001, likely saving their lives.
Commenters debate guns, 'what if'
• Your plan of safety cannot be improvised. When you attend any public event, and that includes a service in a house of worship or an Olympic event, routinely look for and remember the location of exits in advance. If a perpetrator enters through an exit, such as in the Aurora shooting, a group assault on the individual may be the only tangible way to end a massacre. A few may lose their lives, but many others will be spared. It is in these moments, in the military or civilian life, where heroes emerge.
• Pay attention to signals. Year after year, according to my research, about 70% of those who commit suicide or homicide have told someone in advance of their possible intentions. If you sense that someone may be on a path to violence, contact law enforcement and allow them to manage the situation. They are experts and know how to address people with mental illness, substance abuse, anger and related issues.
Follow @CNNOpinion on Twitter
Join us at Facebook/CNNOpinion
The opinions expressed in this commentary are solely those of Larry Barton.