STORY HIGHLIGHTS
NEW: "It was a pretty rapid pace of fire in that theater," the police chief says
NEW: More than 6,000 rounds of ammunition was bought through online purchases, he adds
AR-15, Glock handgun and shotgun used in deadly movie attack
Expert: Shotgun blast across row of theater seats could kill or wound 15 people
Are you there? Share your story on CNN iReport and post tributes to the victims.
(CNN) -- Authorities in the Colorado movie theater massacre found an AR-15 rifle drum magazine Friday capable of carrying 100 rounds, and the police chief said thousands of rounds of ammunition for various weapons had been bought online in the weeks prior to the shooting.
Police took suspect James Holmes, 24, into custody Friday after they say he set off two devices and sprayed the theater with bullets from an AR-15, a 12-gauge shotgun and at least one of two .40-caliber handguns police have recovered. Investigators are confident that Holmes acted alone, police said.
Aurora, Colorado, Police Chief Dan Oates said Friday night that Holmes had purchased four guns at "local metro gun shops," and bought over 6,000 rounds of ammunition through online transactions.
Assessing what authorities have pieced together about the shooting and the weapons recovered, Oates told reporters, "As far as we know, it was a pretty rapid pace of fire in that theater."
Life and death decisions within Aurora theater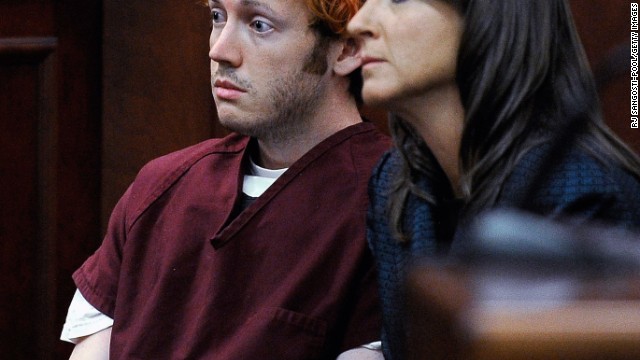 The public gets its first glimpse of James Holmes, 24, the suspect in the Colorado theater shooting during his initial court appearance Monday, July 23. With his hair dyed reddish-orange, Holmes, here with public defender Tamara Brady, showed little emotion. He is accused of opening fire in a movie theater Friday, July 20, in Aurora, Colorado, killing 12 people and wounding 58 others. More photos: Mourning the victims of the Colorado theater massacre
Police release the official photo from Holmes' booking after the shooting.
Holmes often had a blank stare during his court appearance Monday, appearing to be in a daze.
Victims and their relatives and journalists watch the proceedings Monday.
Flags fly at half-staff Monday at the Arapahoe County Courthouse in Centennial, Colorado, where the movie theater shooting suspect had his first court appearance. The prosecutor held a press conference outside the courthouse.
Arapahoe County District Attorney Carol Chambers talks to reporters Monday before heading into the courthouse. Chambers said the decision on whether to pursue the death penalty is a long process that involves input from victims and their families.
Family members of the victims arrive at the courthouse Monday for the suspect's first court appearance.
The Century Aurora 16 multiplex in Aurora becomes a place of horror after a gunman opened fire Friday in a crowded theater. At least 17 people remained hospitalized late Sunday, July 22, in the shooting rampage that shocked the nation.
Holmes is accused of opening fire during a midnight screening of the new Batman movie, "The Dark Knight Rises." Holmes purchased four weapons and more than 6,000 rounds of ammunition in recent months, police say.
Police investigate outside the Century 16 multiplex Saturday, July 21, a day after the mass shooting. Authorities have been tight-lipped about a possible motive in the case.
Agents search the suspect's car outside the theater.
Aurora police escort a sand-filled dump truck containing improvised explosive devices removed from Holmes' booby-trapped apartment Saturday. Authorities have said they believe the suspect rigged his place before leaving for the movie theater.
Police break a window at the suspect's apartment Friday in Aurora.
Law enforcement officers speak with Colorado Gov. John Hickenlooper, center, outside the suspect's apartment Saturday.
Law enforcement officers prepare to disarm the booby-trapped apartment Saturday.
Officials tow cars outside Holmes' apartment Saturday. Police disassembled devices and trip wires set up in the apartment.
Officers prepare to place an explosive device inside the apartment.
Debris flies out a window, right, after law enforcement officers detonate an explosive device inside the apartment Saturday.
People mourn the victims during a vigil behind the theater where a gunman opened fire on moviegoers in Aurora.
A woman grieves during a vigil for victims behind the theater.
A distraught woman receives counseling from Pastor Quincy Shannon, left, in front of Gateway High School in Aurora, where the families of the missing met following the shooting.
Lin Gan of Aurora holds back tears as she speaks to reporters about her experience in the Century 16 theater Friday.
People embrace before a vigil for victims behind the theater where a gunman opened fire on moviegoers.
Investigators work on evidence near the apartment of James Holmes on Friday.
Members of the Aurora Police Department SWAT unit walk near the apartment of James Holmes. Police have Holmes, 24, of North Aurora, in custody.
Television news crews gather in front of the home of Robert and Arlene Holmes, parents of 24-year-old mass shooting suspect James Holmes, in San Diego, California, on Friday.
A popcorn box lies on the ground outside the Century 16 movie theatre.
An NYPD officer keeps watch inside an AMC move theater where the film "The Dark Knight Rises" is playing in Times Square on Friday. NYPD is maintaining security around city movie theaters following the deadly rampage in Aurora, Colorado.
Adariah Legarreta, 4, is comforted by her grandmother Rita Abeyta near the Century 16 Theater in Aurora.
A cyclist and pedestrians pass a theater showing the latest Batman movie in Hollywood, California, on Friday. Warner Brothers said it was "deeply saddened" by Friday's massacre at a Colorado screening of "The Dark Knight Rises."
Obama supporters observe a moment of silence for the victims at a campaign event at Harborside Event Center in Fort Myers, Florida, on Friday.
Jessica Ghawi, an aspiring sportscaster, was one of the victims.
A woman waits for news outside Gateway High School, a few blocks from the scene of the shooting at the Century Aurora 16.
Aurora police chief Daniel J. Oates speaks at a press conference near the Century 16 Theater on Friday.
Agents search the trash container outside the suspect's apartment in Aurora.
A Federal ATF officer carries protective gear onsite at the home of alleged shooting suspect James Holmes.
Obama speaks on the shootings at the event in Fort Myers.
Moviegoers are interviewed at the Century Aurora 16.
Officers gathered at the theater Friday.
Investigators were a common sight at the theater Friday.
Authorities gather at the shooting suspect's apartment building in Aurora. Police broke a second-floor window to look for explosives that the suspect claimed were in the apartment.
Screaming, panicked moviegoers scrambled to escape from the black-clad gunman, who wore a gas mask and randomly shot as he walked up the theater's steps, witnesses said.
University of Colorado Hospital spokeswoman Jacque Montgomery said that all of the wounded had injuries from gunshot wounds, ranging from minor to critical.
Onlookers gather outside the Century Aurora 16 theater.
A woman sits on top of her car near the crime scene.
Police block access to the Town Center mall after the shooting.
Cell phone video taken by someone at the theater showed scores of people screaming and fleeing the building. Some, like this man, had blood on their clothes.
Witnesses told KUSA that the gunman kicked in an emergency exit door and threw a smoke bomb into the darkened theater before opening fire.
What is believed to be the suspect's car is examined after the shooting.
Police Chief Dan Oates said there was no evidence of a second gunman, and FBI spokesman Jason Pack said it did not appear the incident was related to terrorism.
Republican presidential candidate and former Massachusetts Gov. Mitt Romney delivers remarks regarding the shooting in an Aurora, Colorado, movie theater on Friday at a campaign event in Bow, New Hampshire.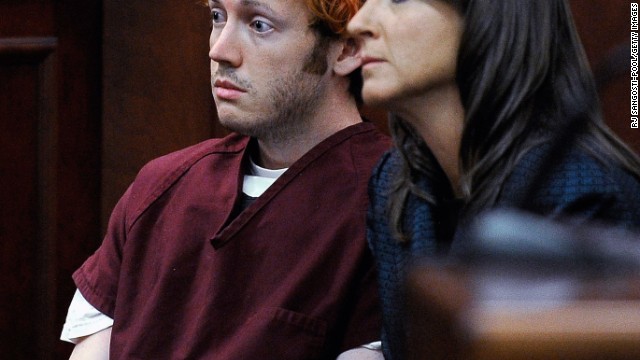 Colorado movie theater massacre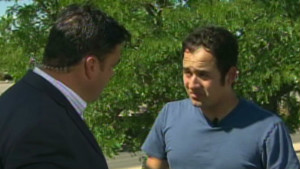 'The guy beside me was shot'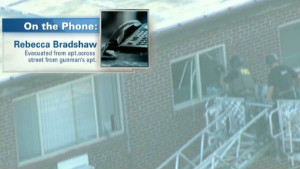 Feds: Items of interest in apartment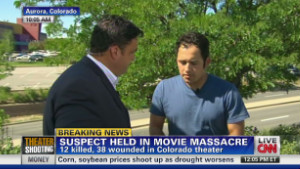 Witness: Shooter was aiming everywhere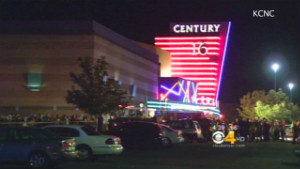 Listen to theater shooting 911 calls
Chad Weinman, CEO of TacticalGear.com of Chesterfield, Missouri, told CNN earlier that his company had a receipt matching Holmes' name and his Aurora address.
The receipt showed that Holmes bought an $106.99 Blackhawk urban assault vest, a $52.99 Blackhawk Omega Elite triple pistol magazine, a $52.99 Blackhawk Omega Elite M16 magazine pouch, and a $77.99 Blackhawk Be-Wharned silver knife.
With shipping costs, the total bill came to $306.99, according to a copy of the receipt provided to CNN.
The firm sells equipment to military and police personnel -- as well as weekend warriors, Weinman said.
The gear that the firm believes it sold to Holmes is manufactured by a company called Blackhawk Company, a "popular brand in tactical circles," Weinman said.
"We were pretty shocked to have discovered it," Weinman said.
Families of victims receive tragic confirmation
"Oh, my God, we couldn't believe it" was how one of the company's owners reacted, Weinman said.
Holmes paid for a two-day air delivery when he placed the order on July 2, which would seem to indicate he wanted the materials in a hurry, Weinman said.
Purchasing a 100-round magazine for an AR-15 is unusual, weapons experts said. The AR-15 is designed for easy reloading. "Even without the grand-sized mags, many people who are practiced can reload in 1½ to 2 seconds," said Steven Howard, a Michigan attorney and security and firearms expert.
Howard said a crowded theater offers an ideal location for a gunman -- particularly one armed with a shotgun -- to target dozens of victims. A large room such as a theater -- where people are seated in rows -- makes moviegoers easy targets, even for an inexperienced shooter, Howard said.
Investigators focus on suspect's apartment
Screaming, panicked moviegoers scrambled to escape from the gunman, who wore a gas mask and randomly shot as he walked up the theater's steps, witnesses said.
"The very nature of theaters makes them perfect killing zones," said Howard.
A shotgun would do more damage among a tightly packed theater audience because its ammunition comes out of the weapon in a reverse funnel shape and would disperse across a wider area, according to Howard.
In a theater scenario, he said, "so many people's heads are lined up next to each other that if you fire down these rows of people ... one blast is going to kill or seriously injure 10 or 15 people, depending on a number of variables."
An AR-15 nonmilitary model, Howard said, shoots one bullet at a time and that bullet "may go through two people."
Theater shooting unfolds in real time on social media
No weapons expertise would be necessary to execute an attack such as the one in Aurora, said Howard, a former U.S. Border Patrol agent. "Any idiot can do it."
Holmes was apprehended outside his white Hyundai parked in the back of the theater, police said. Three of the weapons were in the car and one was left at the scene inside the theater, said authorities.
Howard offered these details about the weapons police say were used in the attack: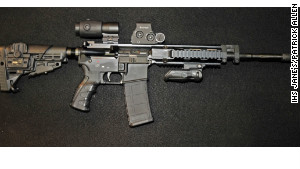 AR-15 rifles come in many different, customizable forms.
-- AR-15 rifle: A rifle that commonly fires bullets .223 inches in diameter. Originally manufactured by Colt before its patent ran out, but now also made by others. Cost: around $900 and up. Its military version is a machine gun, which allows a shooter to fire continuously by holding the trigger down. The nonmilitary AR-15 is a semi-automatic which shoots one bullet at a time, with each squeeze of the trigger. Ammunition magazines for the AR-15 commonly hold five to 15 rounds.
Aurora Police Chief Oates said Friday night that investigators had determined the suspect bought more than 3,000 rounds of ammunition for the rifle. As for the 100-round rifle drum and the weapon's firing capability, Oates said he did not know whether the rifle was fully automatic or sem-automatic but "even if it was semi-automatic, I'm told by experts that with that drum magazine, he could've gotten off 50 to 60 rounds ... within one minute."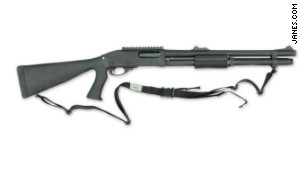 A 12-gauge 870 Remington shotgun.
-- 870 Remington 12-gauge shotgun: One of the most popular shotguns in history. It can be modified to have a short or long barrel.
Oates said the suspect had purchased 300 rounds for the shotgun.
-- .40-caliber Glock handgun: Common weapon for police. Similar in size to other popular handguns.
Oates said some 3,000 rounds of ammunition for the two Glocks had been bought through online purchases.
Opinion: Can we feel safe in a crowd anymore?
The attacker also used tear gas in the attack, according to police. Tear gas and smoke bombs would "add to the panic" and make victims less likely to be able to defend themselves against an attacker, Howard said.
The dozens of wounded victims in the attack could well have been hit by ricocheting bullets. "Once bullets hit a wall, they tend to ricochet down a wall, but they don't bounce like pool balls like a lot of people think and like the movies show. They follow the last surface they hit," Howard said.
Carpeted walls, which are common in movie theaters would reduce the risk of ricochets, said ballistics expert Jon Nordsby. Bullets that have first passed through objects such as theater chairs might cause worse wounds. The bullets start tumbling after they first penetrate the object. A tumbling bullet will tear more flesh when it hits, he said.
Gun debate renewed after shooting
Crime scene investigators will likely pay close attention to the location of ammunition shell casings and bullets to learn more details about the attack. They also will likely document the locations where victims fell to determine the trajectory of the bullets.
Share your tributes to the victims on CNN iReport.
CNN's Jake Carpenter and Joe Sutton contributed to this report.