STORY HIGHLIGHTS
Hospitals in Denver area have been doing biannual emergency drills
Gunshot wound patients are fairly regular at Denver Health, although not on this scale
Local hospitals say they were well prepared
Medical staffs includes doctors who treated victims at Columbine
(CNN) -- Hospitals near Aurora, Colorado, were flooded with victims after a movie theater shooting Friday morning.
An Aurora Fire Department call log reveals the urgency of the situation.
"If they're dead just leave them," a voice tells a fire department responder who reported that police said there may be a number of people dead inside the theater. "We're in a mass casualty situation at this time. Please make sure that you guys set up some kind of transport officer over there that can contact the hospitals so we don't overload one."
The emergency department at Denver Health Hospital was chaotic as staff prepared for the arrival of patients from the shooting, said Dr. Christopher Colwell, director of emergency medical services there. The hospital received seven victims, but called in extra personnel and was ready to take in more patients.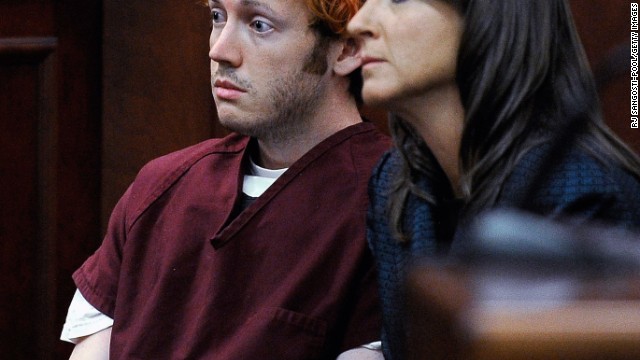 The public gets its first glimpse of James Holmes, 24, the suspect in the Colorado theater shooting during his initial court appearance Monday, July 23. With his hair dyed reddish-orange, Holmes, here with public defender Tamara Brady, showed little emotion. He is accused of opening fire in a movie theater Friday, July 20, in Aurora, Colorado, killing 12 people and wounding 58 others. More photos: Mourning the victims of the Colorado theater massacre
Police release the official photo from Holmes' booking after the shooting.
Holmes often had a blank stare during his court appearance Monday, appearing to be in a daze.
Victims and their relatives and journalists watch the proceedings Monday.
Flags fly at half-staff Monday at the Arapahoe County Courthouse in Centennial, Colorado, where the movie theater shooting suspect had his first court appearance. The prosecutor held a press conference outside the courthouse.
Arapahoe County District Attorney Carol Chambers talks to reporters Monday before heading into the courthouse. Chambers said the decision on whether to pursue the death penalty is a long process that involves input from victims and their families.
Family members of the victims arrive at the courthouse Monday for the suspect's first court appearance.
The Century Aurora 16 multiplex in Aurora becomes a place of horror after a gunman opened fire Friday in a crowded theater. At least 17 people remained hospitalized late Sunday, July 22, in the shooting rampage that shocked the nation.
Holmes is accused of opening fire during a midnight screening of the new Batman movie, "The Dark Knight Rises." Holmes purchased four weapons and more than 6,000 rounds of ammunition in recent months, police say.
Police investigate outside the Century 16 multiplex Saturday, July 21, a day after the mass shooting. Authorities have been tight-lipped about a possible motive in the case.
Agents search the suspect's car outside the theater.
Aurora police escort a sand-filled dump truck containing improvised explosive devices removed from Holmes' booby-trapped apartment Saturday. Authorities have said they believe the suspect rigged his place before leaving for the movie theater.
Police break a window at the suspect's apartment Friday in Aurora.
Law enforcement officers speak with Colorado Gov. John Hickenlooper, center, outside the suspect's apartment Saturday.
Law enforcement officers prepare to disarm the booby-trapped apartment Saturday.
Officials tow cars outside Holmes' apartment Saturday. Police disassembled devices and trip wires set up in the apartment.
Officers prepare to place an explosive device inside the apartment.
Debris flies out a window, right, after law enforcement officers detonate an explosive device inside the apartment Saturday.
People mourn the victims during a vigil behind the theater where a gunman opened fire on moviegoers in Aurora.
A woman grieves during a vigil for victims behind the theater.
A distraught woman receives counseling from Pastor Quincy Shannon, left, in front of Gateway High School in Aurora, where the families of the missing met following the shooting.
Lin Gan of Aurora holds back tears as she speaks to reporters about her experience in the Century 16 theater Friday.
People embrace before a vigil for victims behind the theater where a gunman opened fire on moviegoers.
Investigators work on evidence near the apartment of James Holmes on Friday.
Members of the Aurora Police Department SWAT unit walk near the apartment of James Holmes. Police have Holmes, 24, of North Aurora, in custody.
Television news crews gather in front of the home of Robert and Arlene Holmes, parents of 24-year-old mass shooting suspect James Holmes, in San Diego, California, on Friday.
A popcorn box lies on the ground outside the Century 16 movie theatre.
An NYPD officer keeps watch inside an AMC move theater where the film "The Dark Knight Rises" is playing in Times Square on Friday. NYPD is maintaining security around city movie theaters following the deadly rampage in Aurora, Colorado.
Adariah Legarreta, 4, is comforted by her grandmother Rita Abeyta near the Century 16 Theater in Aurora.
A cyclist and pedestrians pass a theater showing the latest Batman movie in Hollywood, California, on Friday. Warner Brothers said it was "deeply saddened" by Friday's massacre at a Colorado screening of "The Dark Knight Rises."
Obama supporters observe a moment of silence for the victims at a campaign event at Harborside Event Center in Fort Myers, Florida, on Friday.
Jessica Ghawi, an aspiring sportscaster, was one of the victims.
A woman waits for news outside Gateway High School, a few blocks from the scene of the shooting at the Century Aurora 16.
Aurora police chief Daniel J. Oates speaks at a press conference near the Century 16 Theater on Friday.
Agents search the trash container outside the suspect's apartment in Aurora.
A Federal ATF officer carries protective gear onsite at the home of alleged shooting suspect James Holmes.
Obama speaks on the shootings at the event in Fort Myers.
Moviegoers are interviewed at the Century Aurora 16.
Officers gathered at the theater Friday.
Investigators were a common sight at the theater Friday.
Authorities gather at the shooting suspect's apartment building in Aurora. Police broke a second-floor window to look for explosives that the suspect claimed were in the apartment.
Screaming, panicked moviegoers scrambled to escape from the black-clad gunman, who wore a gas mask and randomly shot as he walked up the theater's steps, witnesses said.
University of Colorado Hospital spokeswoman Jacque Montgomery said that all of the wounded had injuries from gunshot wounds, ranging from minor to critical.
Onlookers gather outside the Century Aurora 16 theater.
A woman sits on top of her car near the crime scene.
Police block access to the Town Center mall after the shooting.
Cell phone video taken by someone at the theater showed scores of people screaming and fleeing the building. Some, like this man, had blood on their clothes.
Witnesses told KUSA that the gunman kicked in an emergency exit door and threw a smoke bomb into the darkened theater before opening fire.
What is believed to be the suspect's car is examined after the shooting.
Police Chief Dan Oates said there was no evidence of a second gunman, and FBI spokesman Jason Pack said it did not appear the incident was related to terrorism.
Republican presidential candidate and former Massachusetts Gov. Mitt Romney delivers remarks regarding the shooting in an Aurora, Colorado, movie theater on Friday at a campaign event in Bow, New Hampshire.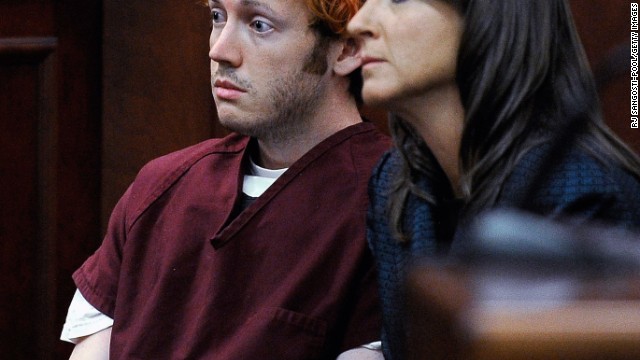 Colorado movie theater massacre
"You're not sure how they're going to arrive to you, so you prepare for the worst," he said.
Shooter had 100-round rifle magazine
Gunshot wound patients are fairly regular at Denver Health, although not on this scale, he said. In a mass shooting situation, staff assess the severity of the wounds and what steps must be taken -- some need to go straight to the operating room, others can wait, still others may not require surgery.
Colwell was a physician who treated victims at the scene of the Columbine High School shootings in 1999. Five patients were transferred to Denver Health; all survived.
"We have obviously done a lot of training exercises since then to try to prepare for an event like that," Colwell said.
Dr. Frank Lansville, medical director of emergency services at Aurora South Hospital, told CNN his hospital had seen 18 patients so far, 12 of whom suffered from gunshot wounds. There were several tear gas victims who were stable, he said. They had been seen, decontaminated and discharged. "The others had horrific gunshot wounds to various parts of their body," he said.
At Aurora Medical Center, the first victim of the movie theater shooting came in before the staff had even heard about the attack, said Tracy Lauzon, director of EMS and trauma services at the hospital.
Few hints of movie-theater shooting suspect's past
Soon after, the trauma surgeon learned more victims were headed their way. Four other trauma surgeons, two orthopedic surgeons and various other physicians came to help. Six patients have gone through surgery.
Aurora Medical Center has taken in 15 patients from the shooting, she said. Eight have been treated and discharged from the emergency room; the other seven were admitted.
"We do drills twice a year anticipating this kind of thing, so people are very well prepared and the hospitals are very well prepared," Lauzon said.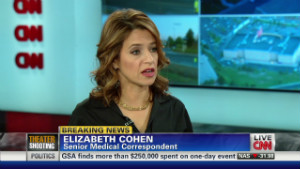 Discussing tear gas, gunshots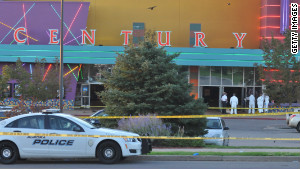 Police: 71 people shot in movie theater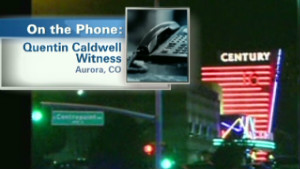 Witness sees shots through theater wall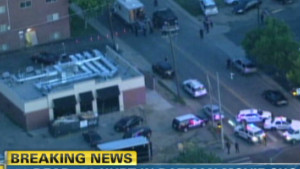 Suspect warns of explosives in his home
Most of the hospitals in the Denver area follow established federal guidelines for emergency response, said Nicole Williams, spokeswoman for Swedish Medical Center, which treated four victims from the shooting at the movie theater. "We were extremely prepared coming into this," she said because the hospital has already completed a couple of disaster drills this year.
During such a drill, a mass page goes out to the hospital administration alerting officials that EMS has multiple patients who could be transported to area hospitals, and the staff is told be on standby. Emergency workers call the hospitals to see how many beds are available and how many critical patients they can take.
Then, the hospital brings in essential staff, in addition to extra trauma surgeons or other specialists as needed.
"It's a very controlled atmosphere," Williams said. "We all try to stay very calm and just serve the community to the best of our abilities."
Theater shooting unfolds in real time over social media
Staff at Swedish Medical Center's command center fielded hundreds of phone calls "from very panicked people looking for their husbands, their wives, their children," Williams said.
Swedish Medical Center was still treating three patients for gunshot wounds: an 18-year-old male in fair condition, a 20-year-old male in critical condition and a 29-year-old female in critical condition. A fourth patient, a 19-year-old female, came in a few hours after the shootings with minor injuries, possibly caused by shrapnel. She was treated and released.
The family members of the victims at the hospital have been notified, Williams said. "All of the victims have loved ones -- family or friends -- by their side, while they're here," she said.
Kari Goerke, Swedish Medical Center's chief nursing officer, worked in the operating room in the aftermath of the Columbine shootings of 1999. Swedish Medical Center treated four Columbine victims, all of whom survived.
"We had them all in the operating room within an hour of the event," Goerke said. "That gives them much better chances."
The staff responded with expertise and compassion both in 1999 and on Friday morning, she said.
Aspiring sports reporter killed in shooting
"Afterwards you kind of think about what's happened and the shock and awe of the whole situation and how horrific it is," she said. Her voice cracked as she discussed the emotional aftermath. "Taking care of kids is always hard. I'm a mom, I can relate. That makes it difficult."
But, she added, "it's what we're trained to do."
Are you there or have thoughts about the shooting? Let us know on CNN iReport.