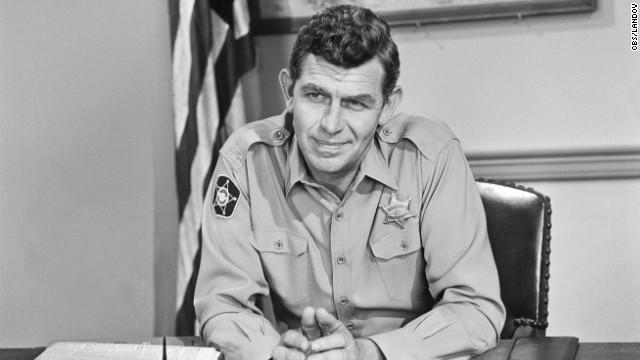 Andy Griffith, famous for his starring role in "The Andy Griffith Show," was an actor, director, producer and Grammy-winning Southern gospel singer and writer. He died Tuesday, July 3, at 86. Click through the gallery to see a glimpse of his career and life.
Future director Ron Howard played son Opie to Griffith's Andy Taylor on the TV show.
Griffith and Don Knotts were beloved co-stars in the CBS television series "The Andy Griffith Show" from 1960 through 1968.
Griffith as Sheriff Andy Taylor peers through laundry in "Andy and the Woman Speeder."
From left, Don Knotts as Barney Fife, Andy Griffith as Andy Taylor and Jim Nabors as Gomer Pyle.
A bird's-eye view shows the town in jail on set for "Andy Saves Barney's Morale."
Griffith plays the guitar for his television son, Opie, during "The Runaway Kid."
From left, Mickey Rooney, Connie Stevens and Griffith in a hospital room set in 1972.
In 1972, Griffith appeared on "The Sonny and Cher Comedy Hour" with Sonny Bono.
Griffith also starred in the television legal drama "Matlock" from 1986 through 1992 on NBC and from 1992 until 1995 on ABC.
The crew records the episode "The Idol," which aired May 19, 1994.
Griffith in the episode "Dead Air," which showed December 8, 1994.
In 2005, Griffith was awarded the Presidential Medal of Freedom by President George W. Bush. Fellow awardees included singer Aretha Franklin and former Chairman of the Federal Reserve Alan Greenspan.
Griffith read a poem after the 2009 inauguration of North Carolina Gov. Beverly Perdue in Raleigh.
Griffith in 1994.
Andy Griffith through the years
Andy Griffith through the years
Andy Griffith through the years
Andy Griffith through the years
Andy Griffith through the years
Andy Griffith through the years
Andy Griffith through the years
Andy Griffith through the years
Andy Griffith through the years
Andy Griffith through the years
Andy Griffith through the years
Andy Griffith through the years
Andy Griffith through the years
Andy Griffith through the years
Andy Griffith through the years
STORY HIGHLIGHTS
Bob Greene: When Andy Griffith died, most recalled him as the aw-shucks Sherriff Andy Taylor
But a stunning performance he gave earlier in his first film was the antithesis of his TV role
In "A Face in the Crowd" Griffith played a drifter-turned-star, an oily, monstrous character
Greene: Griffith owns the movie; you should see it to understand how good Griffith was
Editor's note: CNN Contributor Bob Greene is a bestselling author whose 25 books include "Late Edition: A Love Story" and "When We Get to Surf City: A Journey Through America in Pursuit of Rock and Roll, Friendship, and Dreams." He appears on "CNN Newsroom" Sundays during the 5 p.m. (ET) hour.
(CNN) -- What must it be like to step to the plate for your first appearance as a major-league baseball player and knock a grand-slam home run into the far reaches of the seats in Yankee Stadium?
Or to walk onto a National Football League field for the first time in your life, receive a kickoff while standing in the end zone, and return it 103 yards for a touchdown?
Very few people know that feeling-- the feeling of, against all probability, achieving magnificence on the very first try.
But Andy Griffith did.
When he died earlier this month at the age of 86, most of the obituaries and remembrances were centered on his role as the lovable, quietly wise Sheriff Andy Taylor in the long-running television series "The Andy Griffith Show." Which only made sense: that program, and that character, were so popular that when people hear Griffith's name, they almost automatically also hear in their heads the peppy, whistling theme music from the show. He, and the show, symbolized a sunny America that thrived on common sense and good intentions.
Yet, in the minds of some of us, Griffith's crowning achievement came at the outset of his career, the first time he appeared in a motion picture. The job he did was so stunning -- and so directly opposite in tone from the Sheriff Andy character that would later define him -- that watching the movie today is a revelation.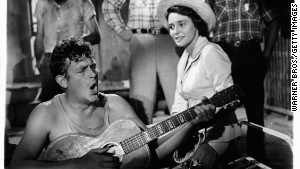 Andy Griffith plays guitar as Patricia Neal watches in a scene from the 1957 film "A Face In The Crowd."
The movie was called "A Face in the Crowd." Those of you who have seen it are likely nodding your heads in appreciation right now; those of you who haven't are in for a treat. You thought you knew how good the guy was at his job? Just wait.
You won't have to wait long. As part of a tribute to Griffith's career, Turner Classic Movies is presenting a special airing of "A Face in the Crowd" Wednesday at 8 p.m. ET. TCM and CNN are corporate siblings, but I would be recommending "A Face in the Crowd" to you if I'd heard it was being screened in a church basement, or in the most rundown revival theater on some desolate downtown corner.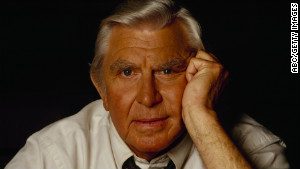 Andy Griffith dies at age 86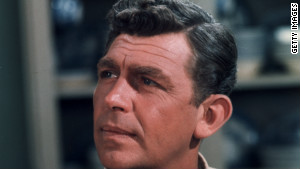 Eden: Griffith was a 'wonderful man'
Released in 1957, the movie told the story of Larry "Lonesome" Rhodes, a drifter we first see in a rural Arkansas jail cell. He is interviewed by a small-town radio reporter played by Patricia Neal, and the film follows his rise to radio, and then television, stardom, and what eventually transpires. Griffith made audiences love him as the kindly Sheriff Andy of Mayberry; as Lonesome Rhodes, he had the courage as an actor to dare audiences to hate him.
You cannot take your eyes off him. In his May 29, 1957, review of the movie in the New York Times, critic Bosley Crowther wrote that screenwriter Budd Schulberg and director Elia Kazan had managed to "spawn a monster not unlike the one of Dr. Frankenstein."
And as you watch the first-time movie actor Griffith, Crowther wrote, "you know you are in the vicinity of someone who has white lightning for blood."
Budd Schulberg was on a remarkable three-year run at the time; between 1954 and 1957 he had a hand in three unforgettable movies about the dark side of American life: "On the Waterfront" with Marlon Brando, "The Harder They Fall" with Humphrey Bogart, and "A Face in the Crowd."
As laceratingly first-rate as Schulberg's writing and Kazan's direction were, the film would not have worked had the lead actor failed to be convincing as a person whose hungers were so self-centered and all-consuming that he would do anything and step on anyone to get what he wanted. Griffith pulled it off seamlessly: As you watch him, you understand how the smiling, aw-shucks, I'm-just-a-country-boy Lonesome Rhodes could cynically use the then-new medium of national television to become as powerful as the president, while privately holding his viewers in utter contempt. Griffith looms physically large, and his menacing grin springs from the screen; this is, at its core, a horror movie, and Griffith plays it as such from the first frame in which we see him.
The movie did only tepid business upon its release, and -- in retrospect, this is astonishing -- was not nominated for a single Academy Award. The next year Griffith starred in the amiable military comedy "No Time for Sergeants," and by 1960 "The Andy Griffith Show" was on network television and he was on his way to sweet, gentle fame, under blue skies and white clouds.
As America says goodbye to him, and to his worthy acting career, I hope -- especially if you have never seen it -- that you'll take the time to watch him in "A Face in the Crowd," filmed before his own face had become universally recognizable.
You'll not only be honoring his life.
You will be doing something that none of us, when given the opportunity, should ever pass up:
Witnessing greatness.
Follow us on Twitter @CNNOpinion
Join us on Facebook/CNNOpinion
The opinions expressed in this commentary are solely those of Andy Griffith.