Gardener feeds family with $100 a month
Join the conversation
CNN iReport
updated 3:08 PM EDT, Fri July 13, 2012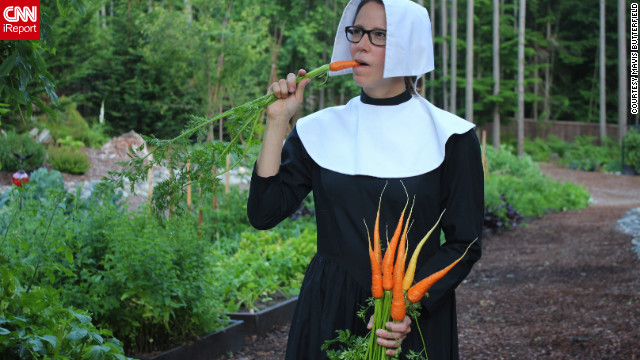 Mavis Butterfield plans on growing 2,000 pounds of food this year by channeling her inner pilgrim. "I think it would be a hoot to go back in time and be a pilgrim. I mean, think about it, you'd get to wear the same outfit every day, you'd save a ton of money on beauty products, and mealtime would be a snap because you wouldn't have to get in the car and drive to the store."
Mavis said she takes pride in preparing homegrown dishes. "Not only is gardening an inexpensive and rewarding hobby, but it's a hobby where I can literately enjoy the fruits of my labor."
Mavis said her first cabbage of the season was anything but a disappointment. "Once you harvest your first crop, no matter what the size, you'll start to gain the confidence you need to expand your next garden and to try new things."
Mavis plans on growing 2,000 pounds of food this year from her 1.25-acre backyard in Gig Harbor, Washington. "The way I see it, if the pilgrims could do it, so can you. So can anyone."
This was the first year Mavis was able to grow broccoli from seed. "I must admit, I danced a minor jig in the garden upon seeing the thriving heads of broccoli."
One of Mavis' favorite homegrown meals is roasted cauliflower, which she cooks at 400 degrees for 20 minutes and tosses in olive oil and pepper.
Mavis refused to let her overabundance of carrots go to waste, so she dressed up in a pilgrim outfit and handed them out for free.
Meet Mavis, the garden maven
Meet Mavis, the garden maven
Meet Mavis, the garden maven
Meet Mavis, the garden maven
Meet Mavis, the garden maven
Meet Mavis, the garden maven
Meet Mavis, the garden maven
STORY HIGHLIGHTS
Mother of two is on a mission to grow 2,000 pounds of food
Feeding family of four on $100 per month
Extreme couponer generally saves 80% on groceries every time she shops
DIY gardener offers tricks of the trade through personal blog
Editor's note: This article features Brandy Eldridge, who blogs under the pseudonym Mavis Butterfield.
(CNN) -- To housewife "Mavis Butterfield" of Gig Harbor, Washington, saving money is a game. And she isn't afraid to roll up her sleeves to win.
No, this thrifty, coupon-clipping mother of two plans on growing 2,000 pounds of fresh food this year right out of her own back yard. Armed with 1.25 acres of planting space, Butterfield says spending less on groceries and growing as much food as possible is a great way to save those pennies.
She went from spending $9,768 on groceries in 2008 to just under $1,200 in 2011. And now, she feeds her family of four on a mere $100 per month— that's $25 a person!
"I do live in high-maintenance suburbia, and all my neighbors think I'm crazy for growing my own food when you could just go to the store and buy it."
In addition to her dozen raised garden beds, raspberry patch and greenhouse chock-full of heirloom tomatoes, strawberries, peppers and basil lives a flock of pet chickens that provide an ample supply of fresh eggs.
But there's only so much produce a family of four can eat, so what her family doesn't end up using she either donates to a local food bank or offers to anyone with an open mouth and a hungry stomach.
"I have way too many carrots, so I'm gonna go stand on a street corner in my pilgrim outfit and hand them out for free."
When Butterfield isn't tending to her garden, she can likely be found clipping coupons before visiting local grocery stores. She generally saves 80% every time she shops, racking up a total of $2,000 in savings in the past year alone.
"I think people would be surprised how easy it is to whittle down your grocery budget in just a few months time."
iReport: Grow your own food challenge
And the food items Butterfield doesn't grow or purchase at a discounted rate, she receives through bartering. She recently cleaned up her neighbor's garden in return for a 25-pound sack of sugar and a Costco-size case of toilet paper.
So what is Butterfield doing with the extra cash in hand? She's planning family vacations that would otherwise be out of her reach.
"I wish more people would pick up a trowel and get a little dirt under their nails," says Butterfield, who encourages others to jump on the back yard garden bandwagon and channel their "inner pilgrim."
Want to learn more about Mavis Butterfield and her mission to grow 2,000 pounds of food this year? Visit her blog at www.onehundreddollarsamonth.com for simple summer recipes, a virtual tour of her back yard garden and tips on how you can feed your family with only $100 a month.