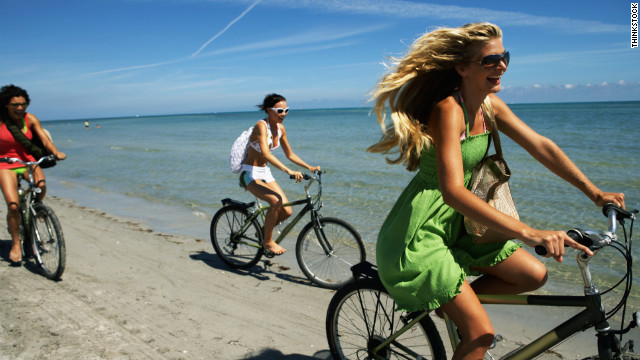 Remember that terrible bee sting you got last summer? Or the nasty sunburn from this year's first outdoor barbecue? Behind the many joys of summer are hidden health hazards that threaten to slow you down. Dr. Trevor Holly Cates, a naturopathic physician from Park City, Utah, offers natural methods to make this summer your healthiest -- and most chemical-free -- yet.
Editor's note: Although many experts swear by homeopathic methods, these are not FDA-approved.


If it's too late to save your skin, turn to aloe vera, preferably in its naturally grown form. If you can't find the plant, look for store-bought aloe, but avoid those with artificial coloring or other additives.


Nothing ruins a vacation like the annoying itch and, well, burning sensation that comes with a sunburn. Avoid becoming as red as a lobster by using zinc oxide or another mineral sunscreen, since the traditional kind contains chemicals.
Keep those little suckers away with essential oils like citronella or geranium oil. To treat a mosquito bite, look for
homeopathic apis
(which is made from a crushed bee's body ... really) in a health food store. It comes in both a pill and an ointment, and both help with itching.
Summer means spending balmy nights on the patio or taking long walks through the neighborhood, which unfortunately can bring some uninvited guests: hungry mosquitoes, waiting to bite.
homeopathic ear drops
, which are sometimes used for earaches. Or, to avoid that still-swimming feeling before it starts, pour a little hydrogen peroxide into the ear to help the water bubble out.
Nope, shaking your head vigorously is not the way to go on this one. Look for
calendula
to apply to cuts and scrapes. It's made from the calendula flower (which is similar to a marigold), comes in a non-alcoholic spray or an ointment, is antimicrobial and heals body tissue. Natural
comfrey
, made from the leafy comfrey plant that commonly grows in England, is also used on the skin for healing purposes, as well as vitamin E, which prevents scarring.
If you've just taken a spill on your Rollerblades, look for
Thanks for making beautiful summer flowers possible, bees, but we're not so grateful for your throbbing, itching sting.If you've had an unfriendly encounter with a hornet, wasp or bee, try making a simple paste out of baking soda and water. Spread the paste on the sting to soothe it.
Anacardium
or
rhus tox
, Cates says. They are frequently used as natural solutions to skin ailments. Anacardium is made from a plant in the cashew tree family, and rhus tox is made from a dilution of the poison ivy plant itself.
Forgot to wear gloves while doing some gardening? Got a little off-path on that hike? If you've gotten tangled in poison ivy, you'll be feeling the effects and want to act fast.Tame the itchy rash with
During the summer, blondes may not have more fun when it comes to rinsing chlorine and other pool chemicals from their hair. To avoid a green hue, rinse hair with tomato juice after a swim, Cates says.
arnica
as a topical ointment to reduce bruising and swelling. In its pill form, it helps with inflammation, but it can possibly be unsafe in large doses. Arnica is made from a family of plants known for their yellow flowers.
Knees and elbows covered in bruises from beach volleyball? Try a small amount of homeopathic
Natural solutions to summer health hazards
Sunburn
Mosquito bites
Swimmer's ear
Cuts and scrapes
Bee stings
Poison ivy
Hair envy
Bumps and bruises