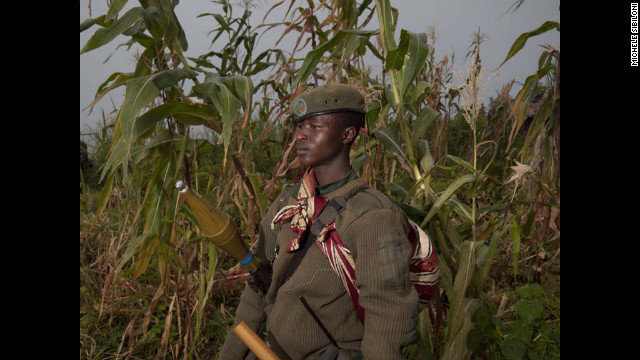 An M23 rebel soldier poses at a FARDC base in Rumangabo on July 9. Congolese M23 mutineers were pulled out of the key eastern town of Rutshuru, near the borders with Uganda and Rwanda a day after seizing it.
Soldiers from the M23 movement walk in the town of Bunagana. The M23--a group of former Tutsi rebels who had been integrated in the regular army in 2009--has been battling Democratic Republic of Congo troops since May. The army is known as the FARDC.
A UN helicopter pulls out of the town of Bunagana on July 7. Bunagana was claimed by renegade soldiers of the Democratic Republic of Congo on July 6, after fighting regular Congolese armed forces, police and the mutineers said.
Colonel Sultani Makenga is the head of the M23 group that has seized several towns in the country's troubled eastern Nord-Kivu province. The M23 rebels launched a mutiny against the government early this year after breaking away from the army.
The M23 rebels' territorial seizures are helping to consolidate their gains over government forces and tightening their grip on a Uganda border crossing.
Refugees in the Democratic Republic of the Congo make the 9.3 mile (15 km) trek to the Kisoro refugee camp.
Refugees escape to a refugee camp in Kiwanja on July 8, a trek made more dangerous by the looting of the Congolese army.
Refugees on the road to the Kiwanja refugee camp gather their children close.
A UN peacekeepers travel along the road with refugees headed for the Kiwanja refugee camp.
Refugees arrive en masse at the Kiwanja refugee camp as UN peacekeepers look on.
A refugee carries a baby and a bed roll to the Kiwanja refugees camp.
Refugees seeking to flee the FARDC carry what belongins they can on the long walk to refugee camps.
The toll of the journey is evident on the faces of the women and children traelling to the refugee camps.
Rebels of the M23 movement set up a machine gun in the seized town of Bunagana on July 8.
A girl shot by accident during a fight between Bunagana and Rutshuru undergoes treatment in Rutshuru hospital.
In Congo, war takes its toll
In Congo, war takes its toll
In Congo, war takes its toll
In Congo, war takes its toll
In Congo, war takes its toll
In Congo, war takes its toll
In Congo, war takes its toll
In Congo, war takes its toll
In Congo, war takes its toll
In Congo, war takes its toll
In Congo, war takes its toll
In Congo, war takes its toll
In Congo, war takes its toll
In Congo, war takes its toll
In Congo, war takes its toll