Paterno defended football, Penn State in letter before his death
updated 9:15 AM EDT, Thu July 12, 2012
STORY HIGHLIGHTS
"This is not a football scandal," Paterno writes in the letter
It was intended to be published as a guest editorial, his family says
Paterno was fired amid the sex scandal involving his former assistant coach
He died in January
(CNN) -- Former Penn State football coach Joe Paterno wrote a letter before his death saying the sex abuse scandal involving his assistant coach was "not a football scandal."
Read the full text of the letter
His family authenticated the letter, written late last year, after it emerged Wednesday.
"This is not a football scandal and should not be treated as one," wrote Paterno, who died in January. "It is not an academic scandal and does not in any way tarnish the hard-earned and well-deserved academic reputation of Penn State."
Anticipation builds ahead of Sandusky report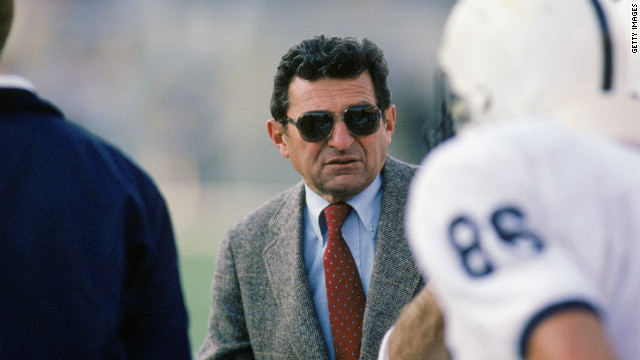 Former Penn State football coach Joe Paterno died on January 22. He was 85. The legendary coach, seen here in 1988, was fired in November 2011 during his 46th season at the helm of the Nittany Lions program.
The statue of Paterno outside Beaver Stadium is among many vestiges of Paterno's years as head coach.
Paterno sprints off the field with his team at halftime in a 1996 game.
Paterno celebrates after winning the Fiesta Bowl against Texas in 1997. Paterno was diagnosed with a treatable form of lung cancer, his son announced in November.
In October 2001, Paterno is honored before a game for having won the most games in Division 1-A. He continued to vie with Florida State's Bobby Bowden for the most all-time major college wins until Bowden retired in 2009.
Paterno and his Nittany Lions look on before facing Iowa at Beaver Stadium in State College, Pennsylvania, in October 2004.
Paterno shakes hands with Lloyd Carr of Michigan before their game in 2005 in Ann Arbor, Michigan.
Paterno celebrates a triple-overtime Orange Bowl win over Florida State in Miami on January 3, 2006. Paterno has guided his teams to more bowl victories than any other college coach.
Paterno speaks at a post-game press conference after winning the Outback Bowl on January 1, 2007, in Tampa, Florida.
Paterno walks the field as his players warm up before their game against the Syracuse Orangemen at Beaver Stadium in September 2009 in Pennsylvania. The coach was fired in November amid the outcry over the handling of accusations against former defensive coordinator Jerry Sandusky.
Paterno gives direction to his players before playing the Crimson Tide in Alabama in 2010.
Paterno walks the sidelines in October 2009 in Evanston, Illinois. In December 2011, he was admitted to a hospital after fracturing his pelvis when he slipped and fell at his home in State College.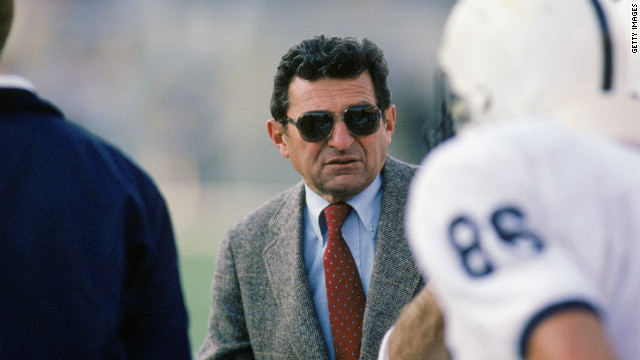 Photos: Paterno as Penn State coach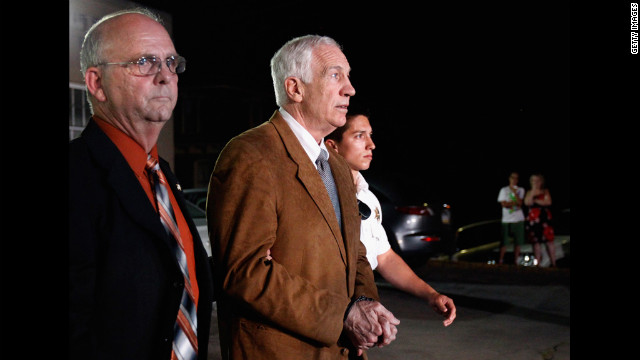 Former Penn State assistant football coach Jerry Sandusky leaves the Centre County Courthouse in handcuffs after a jury found him guilty in his sex abuse trial on Friday, June 22.
Sandusky is escorted in handuffs to a police car at the Centre County Courthouse under the glare of TV lights. The jury found Sandusky guilty on 45 of 48 counts.
Defense attorney Joe Amendola talks to the media after the trial.
Dottie Sandusky, who has been married to Sandusky for 46 years, walks with her husband while jurors deliberate. She testified that she did not witness any sexual abuse.
Matt Sandusky, one of Jerry Sandusky's six adopted children, said Thursday through his attorney that he also was sexually abused and was prepared to testify.
Shadows of the media are seen outside the courthouse during the second day of deliberations. Jurors took 21 hours over two days to convict Sandusky on 45 of 48 charges against him.
Sandusky's attorney Joe Amendola arrives at the courthouse Friday. After the conviction, Amendola announced plans to appeal despite the mountain of convictions against his client.
Judge John Cleland walks into the courthouse. Once the jury reached its decision, he revoked Sandusky's bail and ordered his arrest.
Prosecutor Joseph E. McGettigan III, second from left, and the rest of his prosecution team arrive at the courthouse Friday.
A crowd gathers outside the Centre County Courthouse in Bellefonte, Pennsylvania, to await the Sandusky verdict.
Sandusky faces the cameras as he is led to a sheriff's vehicle in handcuffs after the reading of the verdict.
Sandusky is put into a police car.
Sandusky was booked into the Centre County Correctional Facility.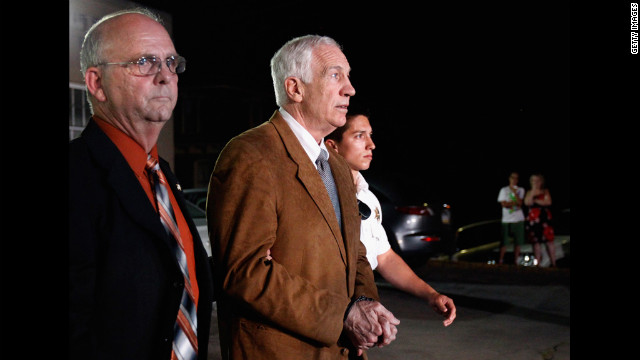 Photos: Jerry Sandusky convicted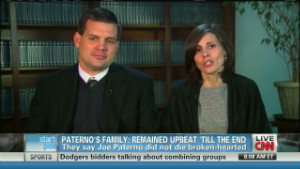 Paterno's family discuss his final days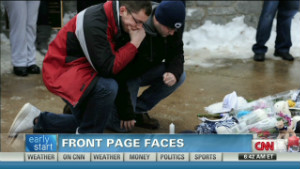 Community grieves Paterno's passing
Family spokeswoman Mara Vandlik said the letter was intended to be published as a guest editorial, but that never happened, and it was probably released by one of the former players who had received a copy.
Former assistant football coach Jerry Sandusky was convicted last month for sexually abusing young boys over a 15-year period.
Paterno and former Penn State President Graham Spanier were fired after the Sandusky scandal broke in November.
The findings of an internal review into the sex scandal are scheduled to be released Thursday. The lengthy report is expected to focus on school officials, what they knew about Sandusky's behavior and whether they tried to cover it up.
Despite scandal, Penn State draws $208.7 million in donations
The internal review is separate from criminal investigations that have resulted in Sandusky's conviction, and charges of perjury and failing to report abuse against former athletic director Tim Curley and former Penn State vice president Gary Schultz. Both men have pleaded not guilty.
The Pennsylvania attorney general's office is investigating what the university knew about a 2001 incident involving Sandusky and a young boy in a university shower, which was reported by then-Penn State graduate assistant Mike McQueary.
The scandal has shaken the university and the nation, and has raised questions about Penn State's response to the allegations. Some claim the school put its reputation ahead of protecting potential child victims.
Review into Penn State's handling of Sandusky released