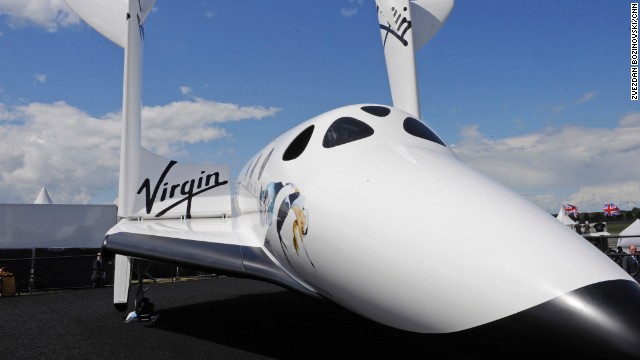 Virgin Boss Richard Branson announces on Wednesday that SpaceShipTwo will blast off with its first space tourists in 2013.
Flag dance ceremony to celebrate the unveiling of Qatar Airways' new Boeing 787 Dreamliner.
ATR, the world's leading manufacturer of regional aircraft below 90 seats, displays their updated version of the ATR 72-600. Proving to be a success at this year's show, the manufacturer has announced 23 firm orders from customers.
Embraer showcase their private jets including the 2012 edition of the Legacy 650 which is making its debut at Farnborough. The Legacy 650 is a large three-cabin jet with a transatlantic range of 3,950 miles and primarily aimed at the executive aviation market.
The Black Eagles (modified T-50Bs), formally known as the Republic of Korea Air Force Aerobatic Team, show off their skills at Farnborough this week. They are the only Asian-developed aircraft present at the aviation event.
A U.S. Marines Bell Boeing MV-22 Osprey tiltrotor flies across the sky at Farnborough 2012.
Boeing returns to the Farnborough Airshow after a 28-year aerial absence as it presents the 787 Dreamliner in Qatar colors.
The 787 Dreamliner in Qatar colors comes in for a landing after a rare seven-minute display.
Virgin Galactic's SpaceShipTwo is featured in a static display at Farnborough this week. The aircraft is making its European debut with a few modifications.
Virgin Group founder Sir Richard Branson announced an expansion for the business' space tourism research and development on Wednesday.
The Airbus 380 in Malaysia Airlines colors lands after a spectacular aerial performance of sweeping maneuvers at the Farnborough Airshow on Monday.
Breitling is at the airshow in Farnborough this week with aerobatic display troupes -- the Breitling Jet Team and the Breitling Wingwalkers -- who will conduct flying displays over the heads of crowds below.
Multi-million dollar military contracts are already being announced from Farnborough despite it only being the first day. On display, both as in a static and flying display, the Eurofighter Typhoon wowed the crowds.
The RAF Red Arrows take to the skies with the last remaining flying Vulcan for a flypast to open the week's aviation festivities.
SpaceShipTwo will blast off in 2013
Qatar 787 flag dance
ATR 72-600 static display
Embraer's Legacy 650
Black Eagles air display
Military tiltrotor on show
Boeing returns to the Farnborough skies
Boeing returns for rare aerial display
European debut for SpaceShipTwo
Virgin Galactic's SpaceShipTwo
A380 in Malaysia Airlines liveries
Breitling's aerobatic arts
The Eurofighter Typhoon
Red Arrows with the last Vulcan