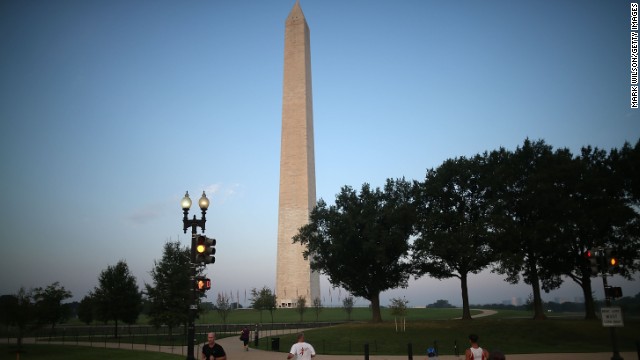 People jog past the Washington Monument on August 23. The monument remains closed one year after a 5.8 magnitude earthquake seriously damaged its structure. It may remain closed until 2014.
Barricades are in place around the monument to keep people a safe distance from the damaged structure.
Dan Megerle looks out a window from the top of the Washington Monument on Friday, September 30, 2011, as part of the National Parks service inspection of the structure.
No major injuries were reported after the 5.8-magnitude earthquake, which struck on August 23, 2011, about 40 miles northwest of Richmond, Virginia.
Emma Cardini, left, and Dan Gach examine a broken piece of the memorial.
Contractors began conducting a block-by-block inspection of the monument on September 28, 2011.
Gordy Kito, left, and Erik Sohn pull in rope for people working on the damaged landmark.
David Megerie traverses the exterior of the Washington Monument. Megerie is a contractor with Wiss, Janney, Elstner Associates, the engineering firm leading the inspection.
Members of the WJE crew installed climbing ropes and safety lines on all four sides of the monument.
A worker descends the length of the monument after the earthquake. Officials say the heaviest damage seemed to be near the top of the structure.
The inspection was originally scheduled to start on September 27, 2011, but it was delayed due to bad weather.
Dan Lemieux of the WJE engineering firm holds one of the larger pieces that fell from the monument during the earthquake.
Washington Monument remains closed one year later
Washington Monument remains closed one year later
Washington Monument remains closed one year later
Washington Monument remains closed one year later
Washington Monument remains closed one year later
Washington Monument remains closed one year later
Washington Monument remains closed one year later
Washington Monument remains closed one year later
Washington Monument remains closed one year later
Washington Monument remains closed one year later
Washington Monument remains closed one year later
Washington Monument remains closed one year later