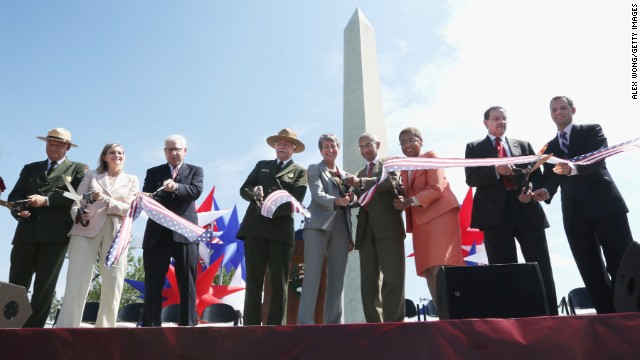 The Washington Monument is reopening after a 2011 earthquake caused $15 million in damage. Cutting the ribbon Monday, May 12, were, from left, National Mall and Memorial Parks Superintendent Robert Vogel; Caroline Cunningham, president of the Trust for the National Mall; David Rubenstein, co-founder and co-CEO of the Carlyle Group; National Park Service Director Jonathan Jarvis; U.S. Interior Secretary Sally Jewell; counselor to President Obama John Podesta; Rep. Eleanor Holmes Norton, D-D.C.; and D.C. Mayor Vincent Gray (with unidentified man).
The Washington Monument is seen in April through cherry blossoms on the edge of the Tidal Basin.
Geese fly in front of the Washington Monument during a winter storm in February.
The Washington Monument is framed by fall foliage in November.
The Washington Monument stands covered in scaffolding as people visit the Lincoln Memorial in October.
The monument is illuminated during a lighting ceremony in July.
Workers finish installing the last pieces of scaffolding in May 2013.
Workers walk on scaffolding around the monument as repairs continue in April 2013.
A tourist takes a photo of the Washington Monument -- half-covered in scaffolding -- in March 2013.
Barricades are in place to keep people a safe distance from the damaged structure in August 2012.
No major injuries were reported after the 5.8-magnitude earthquake, which struck on August 23, 2011, about 40 miles northwest of Richmond, Virginia.
Contractors began conducting a block-by-block inspection of the monument in September 2011.
Gordy Kito, left, and Erik Sohn pull in rope for people working on the damaged landmark.
David Megerie traverses the exterior of the Washington Monument. Megerie is a contractor with Wiss, Janney, Elstner Associates, the engineering firm leading the inspection.
A worker descends the length of the monument after the earthquake. Officials said the heaviest damage seemed to be near the top of the structure.
Dan Lemieux of the WJE engineering firm holds one of the larger pieces that fell from the monument during the earthquake.
Repairing the Washington Monument
Repairing the Washington Monument
Repairing the Washington Monument
Repairing the Washington Monument
Repairing the Washington Monument
Repairing the Washington Monument
Repairing the Washington Monument
Repairing the Washington Monument
Repairing the Washington Monument
Repairing the Washington Monument
Repairing the Washington Monument
Repairing the Washington Monument
Repairing the Washington Monument
Repairing the Washington Monument
Repairing the Washington Monument
Repairing the Washington Monument