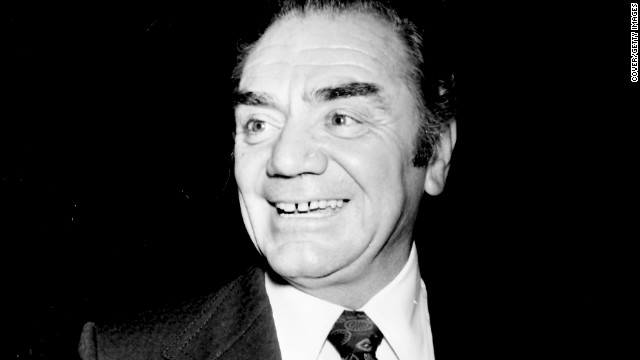 Ernest Borgnine died on Sunday, July 8, at age 95. He's pictured here in 1973. In his greatest acting achievement, he won an Academy Award for his role in 1955's "Marty."
Actress Betsy Blair stands with her back to Borgnine in a still from the film "Marty," directed by Delbert Mann.
Ernest Borgnine steadies his rifle while acting in a Western film circa 1955.
Debbie Reynolds, left, and Borgnine chat with Bette Davis on the set of the 1956 Richard Brooks' film "'The Catered Affair."
Borgnine sits outdoors during the filming of Michael Curtiz's "The Best Things in Life Are Free" in 1956.
In 1958, Borgnine appears as a Norseman in the Richard Fleischer film "The Vikings."
Borgnine leans in to kiss actress Ethel Merman during their 1964 wedding reception in Beverly Hills, California. They broke up in about a month and were officially divorced the next year.
A portrait of the cast from the television sitcom "The Single Guy." Borgnine, top right, played a doorman on the show, which aired from 1995 to 1997. Over the years, he racked up more than 200 film and television credits.
Named humanitarian of the year, Borgnine speaks on stage at the So the World May Hear fundraising event in Los Angeles on November 6, 2003.
Before getting his start in acting, Borgnine served in the Navy during World War II. He went on to star in the 1962-66 sitcom "McHale's Navy" and in 2004 (pictured), he was made an honorary U.S. Navy chief petty officer.
Borgnine and his wife Tova arrive at a special Hollywood screening of the 2010 film "Red."
After receiving the life achievement award, Ernest Borgnine speaks onstage during the 17th Annual Screen Actors Guild Awards in Los Angeles on January 30, 2011.
Borgnine through the years
Borgnine through the years
Borgnine through the years
Borgnine through the years
Borgnine through the years
Borgnine through the years
Borgnine through the years
Borgnine through the years
Borgnine through the years
Borgnine through the years
Borgnine through the years
Borgnine through the years