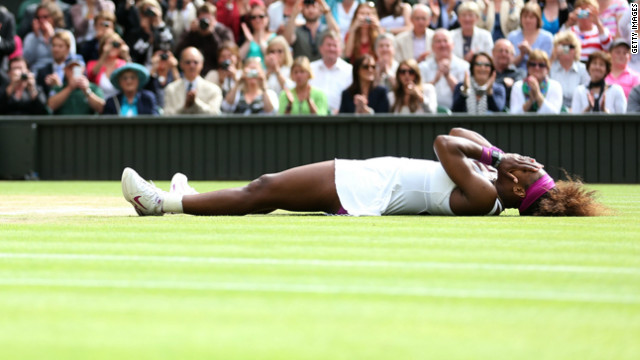 Serena Williams celebrates her win against Poland's Agnieszka Radwanska for her fifth Wimbledon title. Visit
CNN.com/tennis
for complete coverage.
Williams and Radwanska shake hands after the match on Saturday.
Williams reacts during a play against Radwanska. She finished the tournament with 102 aces, three times as many as the the next closest woman player, Sabine Lisicki, who had 34.
Radwanska hits a forehand return back to Williams.
Williams' mother, Oracene Price, center, finds shelter under an umbrella during a temporary rain delay.
Still held on the grass, Wimbledon has always been held at the All England Lawn Tennis and Croquet Club in London.
Radwanska reacts after a good play.
Williams serves during her final match against Radwanska.
Radwanska serves to Williams in the final match in the women's singles.
Radwanska, right, the No. 3 seed from Poland, took her place in a showpiece final for the first time in her fledgling career. Her opponent, 30-year-old Williams, also recorded a straight sets win.
Spectators in the royal box on Centre Court wait for the final match to begin on Saturday.
Radwanska rests on her chair during a break between games during the match against Williams. Radwanska won on her Grand Slam semifinal debut to become Poland's first major finalist in 75 years.
Williams hits a forehand return. The U.S. player is gunning for a 14th major singles titles.
The ground staff installs rain covers, causing a delay in the game.
"This is what I dreamed of since I was a kid," Radwanska said. "Everyone wants to reach a Grand Slam final. It is the best two weeks of my career."
Going into Saturday's final, Williams boasted 85 aces in this year's tournament, second only to German quarterfinalist Philipp Kohlschreiber, who has 98 to his name.
Ground staff rush onto the court to install the rain covers.
Women's singles Wimbledon Championship
Women's singles Wimbledon Championship
Women's singles Wimbledon Championship
Women's singles Wimbledon Championship
Women's singles Wimbledon Championship
Women's singles Wimbledon Championship
Women's singles Wimbledon Championship
Women's singles Wimbledon Championship
Women's singles Wimbledon Championship
Women's singles Wimbledon Championship
Women's singles Wimbledon Championship
Women's singles Wimbledon Championship
Women's singles Wimbledon Championship
Women's singles Wimbledon Championship
Women's singles Wimbledon Championship
Women's singles Wimbledon Championship
Women's singles Wimbledon Championship
Women's singles Wimbledon Championship