Aid workers detained in Myanmar, U.N. says
updated 12:02 PM EDT, Fri July 6, 2012
STORY HIGHLIGHTS
NEW: Doctors Without Borders says five of its staff members are being detained
Authorities in Myanmar's Rakhine state are holding aid workers for "questioning"
The United Nations is waiting for a formal response from the government on the matter
Scores of people have died from violence between Muslims and Buddhists in Rakhine
(CNN) -- About 10 aid workers, some of them from the United Nations, are being held by authorities in an area of western Myanmar where sectarian clashes killed scores of people last month, the U.N. office in the country said Friday.
The authorities in the state of Rakhine have detained the workers for "questioning," the U.N. Information Center Yangon said in a situation report published on its website. Yangon is the largest city and former capital of Myanmar.
The United Nations said it was waiting for a formal reply from the government after requesting information on the situation. Out of concern for the workers' privacy, the organization said it wasn't releasing any personal or professional information about them.
The aid group Doctors Without Borders said Friday one of its staff members had been released but that five were still among those in detention.
"We are in touch with the authorities to try to confirm their well-being," the group's Wai Sze Leung said in an e-mailed statement.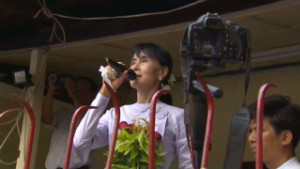 Suu Kyi's emergence as a global icon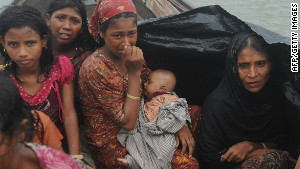 Sectarian violence testing Myanmar
The organization has temporarily suspended its activities and reduced staff in Rakhine, where it has worked since 1992, Leung said.
Myanmar frees more political prisoners
This incident comes at a time that Myanmar has released hundreds of political prisoners, including opposition leader Aung San Suu Kyi, and instituted a series of political reforms after decades of repressive military rule. Western governments have responded to the efforts by easing sanctions on the country.
Violence between Buddhists and Muslims in Rakhine has flared up after the police detained three Muslim men in relation to the rape and killing of a Buddhist woman in late May.
News of the crime appears to have motivated several hundred people to attack a bus in Rakhine in June, killing 10 Muslims.
Clashes then spread across the northern part of the state, resulting in the destruction of thousands of homes and the deaths of at least 62 people, the government has said. The national government declared a state of emergency in Rakhine, bringing in the military to help restore order.
Reports of further attacks in Rakhine have "substantially decreased" in the past couple of the weeks, the U.N. report said Friday.
But tensions between the two communities remain high, it said, noting government estimates that 55,000 people have been displaced at this point.
The strained relationship between Buddhists and Muslims is making humanitarian efforts more difficult, the United Nations added.
Rakhine is home to the Rohingya, an ethnic Muslim minority who say they have been persecuted by the Myanmar military during its decades of authoritarian rule.
Hundreds of Rohingyas have tried to cross the border into neighboring Bangladesh to flee the sectarian violence.
Will vice president's exit boost Myanmar's reform efforts?
CNN's Sara Mazloumsaki contributed to this report.

Part of complete coverage on
updated 8:13 AM EDT, Fri June 15, 2012

Aung San Suu Kyi's rise to Myanmar's parliament caps a remarkable turn around for the pro-democracy campaigner, who was kept under house arrest for 15 years.
updated 2:58 PM EDT, Sat June 2, 2012

Aung Sun Suu Kyi tells WEF delegates in Thailand some healthy skepticism is needed when it comes to the country's recent reforms.
updated 8:28 PM EDT, Wed May 30, 2012

By the time we arrived, a couple of hours before Suu Kyi was due, the streets were already thick with thousands of Burmese waiting to see her.
updated 4:45 AM EDT, Mon April 2, 2012

Two years ago, Myanmar's leaders were doing all they could to silence Aung San Suu Kyi. Now they're poised to welcome her into parliament.

From a bloodless coup in 1962 to Aung San Suu Kyi's win in 2012 elections, explore CNN's timeline of recent events in Myanmar.
updated 6:56 PM EDT, Fri April 13, 2012

British Prime Minister David Cameron became the first western leader in decades to visit Myanmar, where he met pro-democracy leader Aung San Suu Kyi.
updated 5:23 AM EDT, Mon April 23, 2012

Will the easing of sanctions lead to Myanmar's economic renewal? CNN's Paula Hancocks reports.
updated 4:24 AM EDT, Sun April 1, 2012

If Sunday's by-election in Myanmar is deemed to be free and fair, it will cap off a startling about-turn by the former military men currently running the country.
updated 2:16 PM EDT, Thu March 29, 2012

Five years after a brutal crackdown in Myanmar, CNN's Paula Hancocks asks monks if they trust the current changes.
updated 7:23 PM EDT, Sat March 31, 2012

Paula Hancocks describes the rush to do business in Myanmar, as the country transforms it's economy.
updated 1:43 AM EST, Tue December 6, 2011

While Hillary Clinton's historic visit to Myanmar might well unnerve China, analysts believe the relationship between the two Asian neighbors remains strong.